If you want to learn the rudiments of effective relationship marketing, there is no better coach than Melanie Sifton. Seriously, she will teach you almost everything you need to know to dominate your office this year. You may be surprised to learn that Melanie Sifton is not a broker or even an agent. Not even close. Melanie is a Horticulturist (a fancy gardener) at the Brooklyn Botanic Gardens.
Okay I know what you're thinking…but before you go back to curating your 20th Pinterest board of the month, hear me out. Melanie is tasked with keeping hundreds of different species of plants—each with different schedules for water, fertilizer, humidity, temperature, and light, and ranging in value from pennies to priceless—alive and flourishing. That's no easy feat. It takes rigorous organization, well thought out processes, consistent follow through, and the ability to gain insights from tracking progress.
As you'll learn in this article, this is also what it takes to succeed at relationship marketing. Here's what you'll learn:
Okay, enough with the gardening analogies, grab a cup of coffee and let's get started.
What is Relationship Marketing?
While most marketing efforts focus on short term goals like lead generation, relationship marketing focuses on building and maintaining relationships to stay top of mind and increase new business opportunities and referrals. Since NAR statistics tell us that the average Real Estate Professional receives 14% of their business from repeat clients, and 18% of their business from referrals, effective relationship marketing is the key to taking your business to the next level.
Don't just take my word for it. According to data from Contactually, real estate agents that use their relationship management platform close 4 more deals per year than agents who don't. What would you do with four more commission checks?
Before you answer, let's go over the first step in any good relationship marketing plan to see if it's right for your business.
What a Horticulturist can Teach You about Nurturing Relationships to Close More Deals
Here are three important lessons you can learn from a horticulturist to close more deals this year.
1. Relationship Marketing Can Grow Your Business Exponentially
For the botanic garden, growing healthy plants means they can seed new plants. Once those plants grow large enough, they can then seed even more new plants. That means if they follow their gameplan, they can expect exponential growth. The same is true for relationship marketing.
If you nurture your relationships properly, your clients will recommend your services to their family and friends. They, in turn, will recommend you to THEIR friends and family, and so on. In effect, that means the more relationships you can leverage the more deals you'll close, the more deals you close, the more relationships you can leverage. If you keep closing the loop and growing your circle, your business will grow exponentially.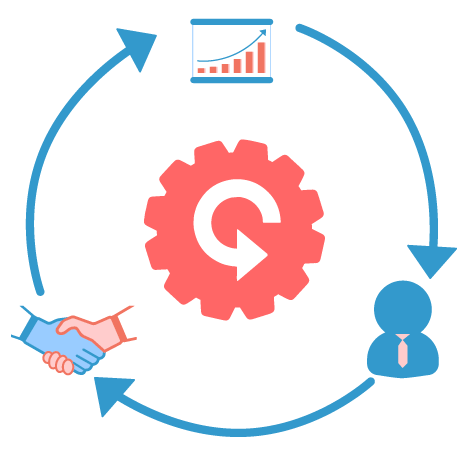 2. Different Relationships Demand Different Relationship Marketing Tactics
Just like different plants in the garden need different care, your relationships need to be nurtured differently in order to grow. For example, you may want to reach out to all your warm leads at least once a week, but only reach out to your cold leads or former clients once a month. You wouldn't send mortgage news to seller clients nor would you send curb appeal tips to buyers.
If you want to see your relationships flourish, you need a balanced relationship strategy that organizes your leads into unique categories that require unique relationship marketing strategies. This is a process called segmentation.
In order to segment your relationships properly, you're going to need CRM software that prioritizes relationship marketing. While there are myriad choices for small business owners on the market today, Contactually is one of the only CRMs to focus on relationship marketing. Even better, Contactually took the time to not only make their software intuitive and easy to use, but to make building and maintaining your relationships fun. Since maintaining a positive outlook is key to sales, this is no small matter.
One way that Contactually makes relationship marketing less of a grind is their RPA measure. Using Contactually's algorithm, their system actually assigns you a letter grade that measures how well you're maintaining your relationships. For many users, logging into Contactually each morning and seeing their score change becomes almost like a game.

Speaking of games, in most CRMs segmenting your contacts is a tedious chore. In Contactually, you have the option to play The Bucket Game, which turns a normally boring but necessary task into a game.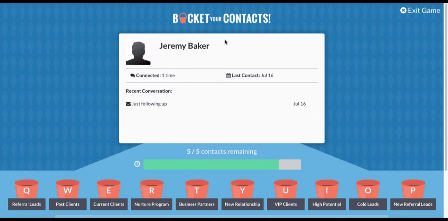 Those are just a few of the reasons why we chose Contactually as our number one pick for real estate CRMs. Even if you don't work in real estate, your industry is likely more relationship drive then you think.
3. You're Going to Need Help, and Lots of it
There's no way one person could take care of all the plants in the Brooklyn Botanic Garden by themselves. Even if they worked eighteen hour days, they would still need help with scheduling, logistics, and the care itself. That means they rely on tools like automated sprinklers and scheduling software to ensure everything runs smoothly.
Likewise, your current system of tagging leads in Gmail, or (god forbid) using a spreadsheet, might work for 20 leads or even 50, but there's no way you're going to catch everything. Even if you have an elephant's memory, you're going to forget people, and it's going to cost you money. Period.
Worse, the many hours per week you put into maintaining your leads could be better spent. In fact, many experts (myself included) would argue they NEED to be better spent! If you spend all your time in the weeds you'll never see the forest.
That's where a true relationship manager like Contactually can help you grow your relationships, and as a result, your business, exponentially. Contactually not only lets you segment your leads quickly and easily, but gives you powerful tools to automate your outreach efforts to make you sure reach the right lead, with the right message, at the right time. Even better, their Insight tools allow you to get the 30,000 foot view you need to push your team past the comfort zone and truly grow.

If you want a better idea of what we're talking about, check out the graphic below. Notice how mindshare (your potential client's awareness of your business) and business opportunities shrink over time without a balanced relationship strategy.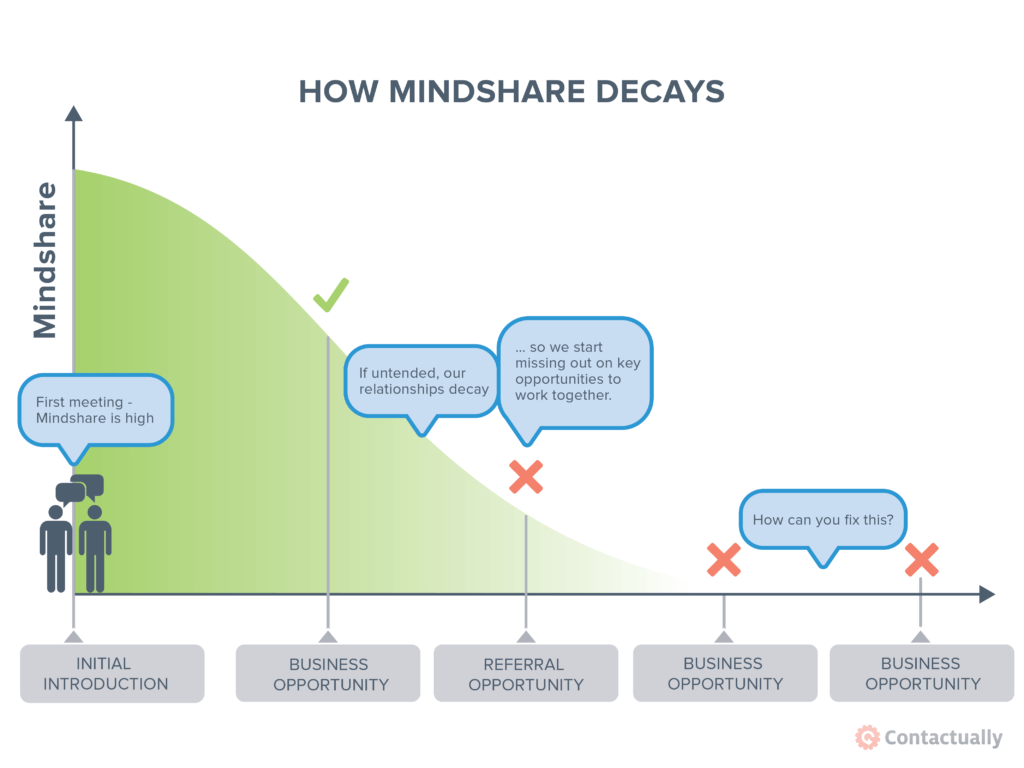 Relationship Marketing 101: What You Need to Know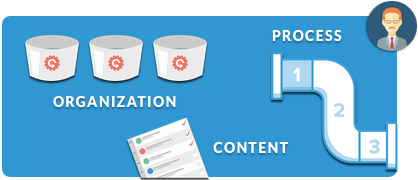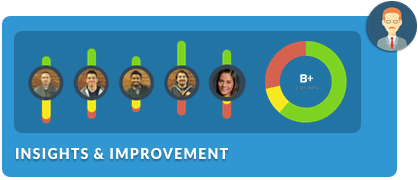 While many people assume that effectively leveraging relationships is a matter of charisma or charm, in reality, the agents that see the best results stick to rigorous schedules and processes. After all, charisma might work with your circle of friends or romantic relationships, but in order to succeed in real estate you need to reach a much wider audience.
In order to do this efficiently and regularly enough to grow your business, you need a solid gameplan. That means staying highly organized, having great content (think emails and phone scripts), solid processes to keep you on the right path, consistent follow-up to stay top of mind, and enough high level data to glean insights from your performance.
Again, think of the Botanic Garden. Having a "green thumb" is definitely helpful, but without a solid gameplan many of their plants either wouldn't grow as much as they could, or may even wither and die.
The Bottom Line
Relationship marketing is a lot like running a garden with a wide variety of plants. In order to become healthy enough to grow exponentially, you need to leverage different relationship marketing tactics for different leads. In order to truly grow, you need to use tools that are powerful enough to keep you organized, reach the right lead at the right time with the right message, as well as gain insights from your performance to make big picture decisions.
If you're curious about what a true relationship marketing platform like Contactually can do for your business, click on the link below to get a free trial.