Rental property inspections help to protect your investment by monitoring your asset at various stages of the tenancy. The steps to complete a rental property inspection include using a checklist to inspect the property before tenants move in, during the tenant's residency, and when everything has been moved out.
Included in this article you'll find tips from the pros on using a rental inspection as a tool to keep your property in top condition, as well as a free rental inspection walkthrough checklist.
Tips When Conducting a Rental Inspection Walkthrough
Always have the tenant present
Be as specific as possible in your documentation
Take time-stamped photos or video of any problem areas
Always have both the tenant and landlord sign off on observations that are documented
What a Rental Inspection Walkthrough Should Cover
The best rental inspection walkthrough checklist is thorough and will cover all the bases to your particular property. While we encourage you to download our free rental inspection walkthrough checklist, here are some items to be mindful of if crafting your own:
| Room/Space | Area to Address |
| --- | --- |
| Living Room | Floor & coverings, walls, ceilings, light fixtures, windows/screens, window treatments |
| Dining Room | Floor & coverings, walls, ceilings, light fixtures, windows/screens, window treatments |
| Kitchen | Floor & coverings, counters, sink, plumbing, cabinets/drawers, stove/burners, oven range/hood/fan, dishwasher, garbage disposal, fire extinguisher, walls, ceilings, light fixtures, windows/screens, window treatments |
| Bedroom(s) | Floor & coverings, walls, ceilings, light fixtures, windows/screens, window treatments, doors/locks, smoke alarm |
| Bathroom(s) | Floor & coverings, counters, sinks, plumbing, tub/shower, toilet, drawers, walls, ceilings, light fixtures, windows/screens, window treatments |
| Hallway(s) | Floor & coverings, smoke alarm, carbon monoxide alarm, walls, ceilings, doors/locks |
| Basement/Other | Heating system, cooling system, walls, ceilings, floor coverings (if finished), staircase |
| Porch/Balcony | Decking, safety, stairs, lighting, stability |
| Parking Area | Garage door operation, doors/locks, driveway, lighting |
| Lawn | Fencing, lighting, decking (if applicable) |
The Rental Inspection Cycle
The rental inspection cycle illustrates the optimum time periods to conduct a walkthrough to keep your asset well preserved. The stages of the cycle include a move-in empty property inspection, periodic inspections during occupied tenancy, a move-out empty property inspection, as well as a repair and clean phase before starting the cycle again for the next tenant.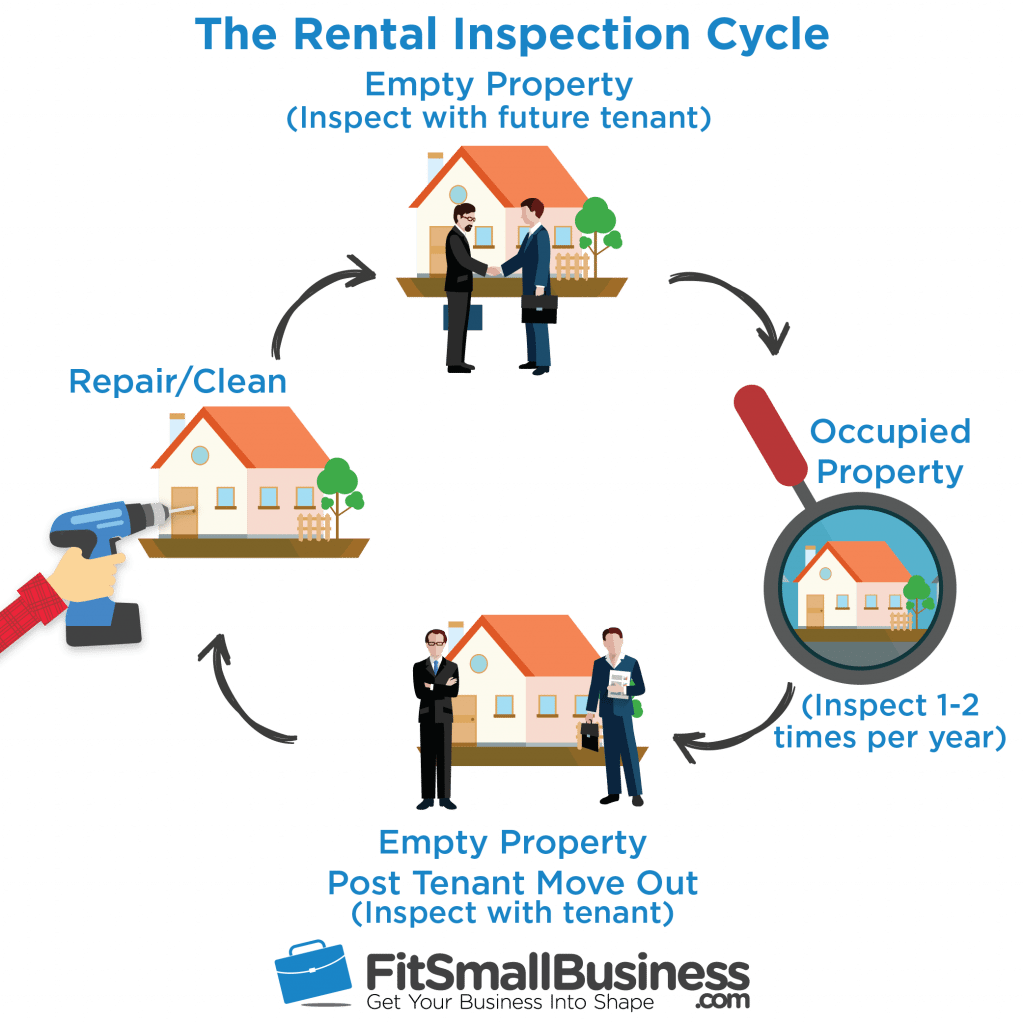 Moving Into an Empty Property: The First Rental Inspection Walkthrough with a Tenant
Before your tenant moves a single thing into their new home, grab your rental inspection checklist and walk through the property with them.
Daniel Tenenbaum, Pacific Crest Realty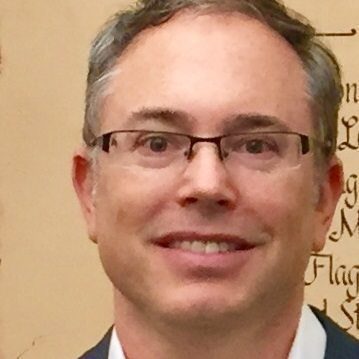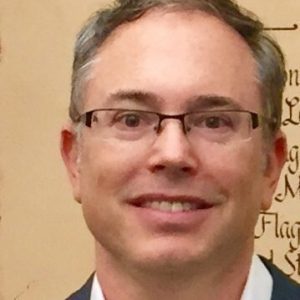 In conducting your inspection, be sure to take photographs of the current condition and make very specific notes on your checklist. According to Daniel Tenenbaum of Pacific Crest Realty, also be sure to ask the tenant for feedback on the condition and note those observations as well. Tenenbaum, whose company has overseen over 1,500 apartments, advocates that after filling out your rental inspection walkthrough checklist and signing the document yourself, you have tenants sign the document on the spot. While some may also advocate having the tenant initial every room on the document, that seems to boil down to individual preference.
Occupied Property: Rental Inspections During Your Tenant Residence
Even though you own the property, be mindful that it is currently your tenant's home. Be sure to give adequate notice (usually at least 48 hours) as specified in your lease agreement, and be respectful of walking through their living quarters.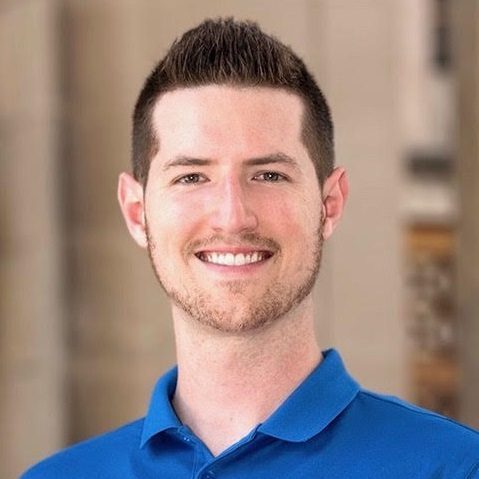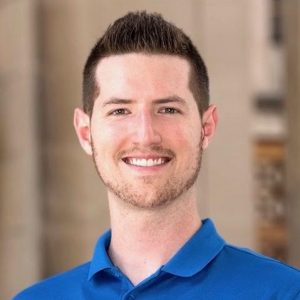 Matt Bigach, Co-Founder, Nexus Homebuyers
Matt Bigach, the co-founder of Nexus Homebuyers, owns ten rentals currently. Bigach states that performing an inspection while tenants are in the property is "extremely important" for a few reasons.
It helps you keep an eye on any repairs that are not being reported. Some tenants do not report repairs and something small could turn into something much more expensive.
It helps you make sure nothing illegal or against your agreement is going on in your unit…keeping a close eye on your tenants and your property helps you to handle problems at an early stage before they get out of control.
It helps you make sure that the correct number of tenants are living there. We went to see a potential investment property and the landlord said a family of five was living there. When we pulled up to the property, there were six cars and 20 people living in the home. Needless to say he was shocked.
While rental inspection walkthroughs can occur as often as you like, most landlords surprisingly do not conduct these at all. Being able to catch difficulties early can help preserve your rental and, for the 15 minutes it may take, is a worthy investment.
Moving Out of a Now-Empty Property: The Final Rental Inspection Walkthrough with a Tenant
The final rental inspection walkthrough occurs when the tenant has cleaned the property and moved all of their belongings out. Problem areas are best able to be seen when the rooms are vacated, so schedule an in person key exchange at the property to be sure the tenant is present to conduct the final walkthrough with you.
When conducting the final rental inspection walkthrough, bring your rental inspection checklist that contains the original comments made upon move in. Be sure to take photographs, write detailed notes, cite any damages, and compare the current condition of the property with its previous state for tenant signature. In your final assessment, leave nothing to chance. Conducting a rental inspection walkthrough properly will be useful for retaining a security deposit, and substantiating the grounds to do so, if need be.
Repair, Clean & Repeat
No matter how wonderful your tenant, there is always work to do before the next one moves in. Normal wear and tear should be expected; but hopefully, after inspecting the rental throughout the lease, no major repairs to damage are needed to get the unit back on the market as soon as possible.
Normal wear and tear versus damage can usually be distinguished by degree. Some common examples of normal wear and tear include worn carpets and faded wood flooring, whereas torn carpets and deeply scratched wood flooring with pieces missing can be considered excessive and may be recovered from your damage deposit. For more information on distinguishing what is normal wear and tear versus tenant damage, we've put together a landlord's guide that helps you determine the difference at a glance.
Most solid tenants will leave you with little to do but clean, check safety features, complete minor repairs, and refresh the space as you deem fit.
Include Rental Inspection Walkthroughs in the Lease
While most landlords include clauses about entry notification, if you're a new landlord, you'll find that putting rental inspections specifically in the lease helps set the expectation up front and creates a better atmosphere down the road. Be sure to include specifics — for example, that inspections on the property will take place quarterly, and the tenant will be given at least 48 hours notice.
Including rental inspection walkthroughs in the lease helps preserve tenant-landlord relationships down the road. Often when landlords inspect property, tenants can wonder if the landlord suspects poor behavior or activity. Including a quarterly inspection, or whatever your timetable, will assure them that your rental inspection walkthroughs are routine and expected of all your tenants.
The Bottom Line
Rental inspection walkthroughs are the key to preserving your property, and maintaining it well for years to come. Being mindful and planful about how you conduct these inspections can help you preserve good relationships with tenants while checking the status of your rental.
Using a rental inspection checklist is the cornerstone of a thorough assessment of the property, that should always be done with the tenant present and observations validated by signatures of both parties. Should problems occur down the line with damages to the property, using a signed rental inspection checklist will give you the authority to do what you need to do to remedy these, such as withholding a deposit for repairs.