Crystalynn Shelton
Moderator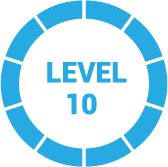 1 year, 3 months ago
Hi Francis,
Managing credit card transactions can be a challenge to reconcile. However, it can be done. It's important for you to gather the following information from your credit card processor:
1. What are the fees that you will be charged (i.e. per transaction and monthly)
2. Are fees deducted from the credit card sale before the deposit is made to your account or separately. Note: Some processors allow you to change this in which case I would recommend that you have them deposit gross sales and then deduct the fees separately.
3. From the time the sale takes place, what is the turnaround for receiving the funds in your bank account. As you mentioned, this may vary between the big 3: MC/Visa, Amex and Discover.
Once you understand how it works, you need to request a monthly statement that provides you with your sales for each day, the fees charged and the deposit amount. While this may sound time-consuming, it's something that you need to do if you want to verify that you are in fact receiving the correct amount in sales and paying the fees you agreed to each month.
If everything is working as it should, you might have a small difference due to the timing of when deposits are made. You can set up a clearing account and put the difference there; it should clear the following month. Consult with a CPA or accountant who can review your books and give you some additional guidance. Check out How to Find a ProAdvisor to help you find an expert:https://fitsmallbusiness.com/how-to-find-a-quickbooks-proadvisor/.
If you use QuickBooks Online, check out this video tutorial on how to manage credit card sales with a 3rd party processor: https://fitsmallbusiness.com/credit-card-sales-3rd-party-credit-card-processor/.
All the Best-
Crystalynn Shelton
1 Reply