Crystalynn Shelton
Moderator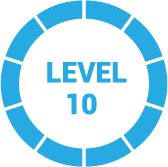 1 year, 1 month ago
Hi Sherry,
Great question! Depending on which QuickBooks Online subscription you purchased, you will be able to add up to 3 users (QBO Essentials) or 5 users (QBO Plus) plus 2 accountant users. In order for folks to access your QBO file, you will have to set them up as a user and select the level of access that you would like them to have.
For example, you may only want someone to be able to review information but not make any changes if so that person would get View only access. Below is the link to the video tutorial that will walk you through the steps on how to set up multiple users in quickbooks online: https://fitsmallbusiness.com/set-up-multiple-users-quickbooks-online/.
Thanks so much for reading!
Best wishes for a prosperous 2018,
Crystalynn Shelton
1 Reply