Jeremy Marsan
Participant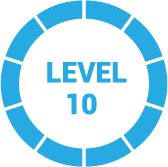 3 years, 6 months ago
Hi Tony,
It looks like like record limits are for the whole group – not for each individual user.
See Insightly's support page on record limits.
While this could definitely be an issue for larger teams, Insightly is really only intended for small teams anyway (>25 users). I say that because there's minimal territory management & no lead assignment rules, which a larger sales team would likely need to stay organized.
Zoho is much better for larger teams – they have these features, plus they give you unlimited record storage on a pro account or higher ($20/user/month).
Best,
Jeremy
1 Reply