Crystalynn Shelton
Moderator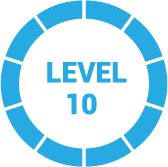 1 year ago
Hey Julie!
I'm glad our QuickBooks video tutorials were helpful but sorry that you have this issue.
Honestly I can't pointpoint any one thing that would have caused you to have duplicate transactions. I don't know if you are aware but Intuit actually will convert your QuickBooks Desktop data to QuickBooks Online for free. This is what I would recommend just so if there are any issues they can resolve them.
I don't know how long you have had your QBO file but if it hasn't been too long it might be worth it to start completely over. If you decide to do this, I would recommend that you take the following steps:
1. Contact Intuit and cancel your existing subscription. Tell them what happened.
2. Follow the instructions in the article I wrote on how to convert from QuickBooks Desktop to Online (which involves you uploading your QBDT file to QBO support so they can do the work)
Link to article: https://fitsmallbusiness.com/convert-quickbooks-desktop-to-online/
If you don't want to start completely over, contact the tech support. With your QBO subscription you have unlimited free tech support so they can probably provide other options.
Let me know how things work out and good luck!
Thanks,
Crystalynn Shelton
1 Reply