Crystalynn Shelton
Moderator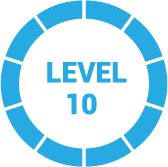 1 year, 1 month ago
Hi Katherine,
Unfortunately QuickBooks Online does not have the functionality to manage subsidiary companies. However, there is a feature that you can use called Classes. You can turn this feature on in Account Settings. Essentially the way classes works is you would set up both your parent company as a class and your subsidiary company as a class. Each time you enter an income or expense item, you will have to select which class(or company in your case) it is for. Classes is only available in QBO Plus. If you don't have QBO Plus, you will have to upgrade in order to gain access to use class tracking.
The only other QuickBooks product that can handle parent and subsidiary tracking and reporting is QuickBooks Enterprise. You can learn more about QuickBooks Enterprise by checking out this article: https://fitsmallbusiness.com/quickbooks-pro-vs-premier-vs-enterprise-vs-accountant/.
Finally, I was able to find a video on the Intuit Support site on how classes work:https://quickbooks.intuit.com/au/resources/product-updates/using-classes-and-locations-in-quickbooks-online/
I hope this info helps but feel free to reach out if you have additional questions.
Best-
Crystalynn Shelton, CPA
@CrystalynnPens
1 Reply