The restaurant industry is highly competitive, with Statista reporting approximately 660,000 restaurants currently in the United States and growing. For restaurant owners, this means keeping their marketing strategies up to date, beginning with a great restaurant business card design. We've curated some of the best examples around the web to help get you started.
Here are 27 examples of restaurant business cards to inspire your own.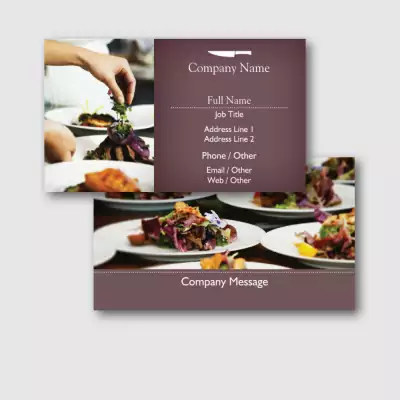 Restaurant business cards require colors that bring photos of your food and your brand to life. Anything less than perfect can affect its potential to impress and retain customers. Make sure that your business cards are professionally printed with Vistaprint. Vistaprint is the business card provider of choice for small businesses with its affordable price and great turnaround time. If you still haven't finalized your business cards design, you can choose easily from its more than 10,000 templates or get help from one of its professional designers.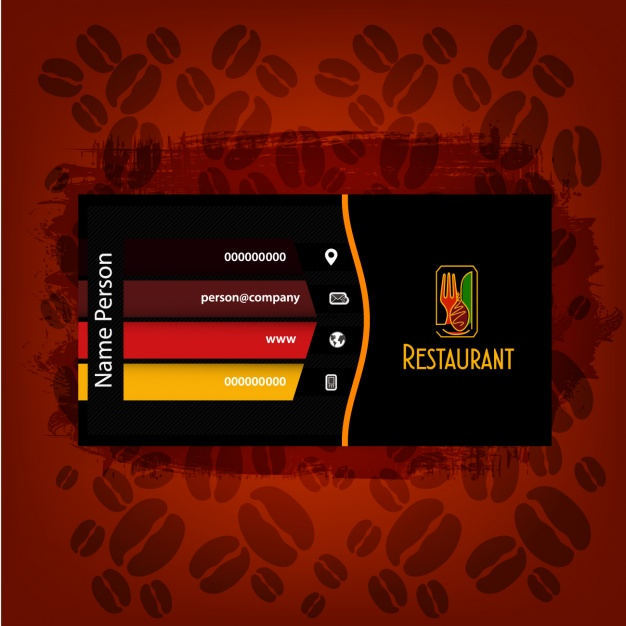 This multipurpose restaurant business card can work well with any type of restaurant. The lines and shapes are interesting, and the layout is clean yet playful. Change the colors and fonts to match your brand as well as the mood that you want to create.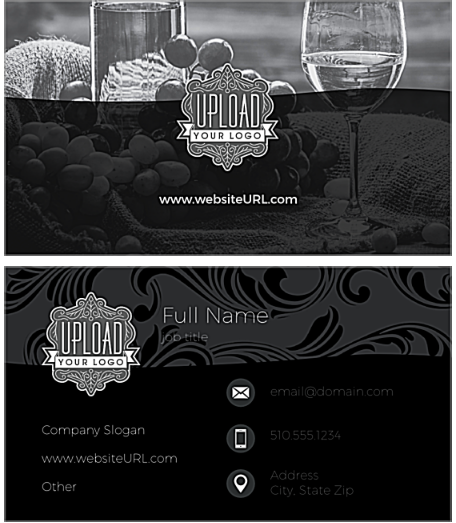 Elegance is key for restaurants that are attached to a winery. Notice how the design for this business card involves elegant shapes and lines in monochrome for a dramatic look. The layout is also simple and the message clear to balance the flourish in the design.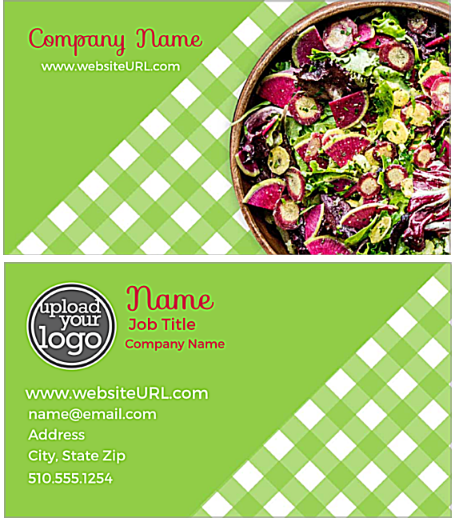 The image and the colors used for this business card are perfect to remind its audience of fresh greens and healthy food alternatives. We like how the designer made use of block colors and checkered patterns for a very outdoors vibe that ties well with the brand.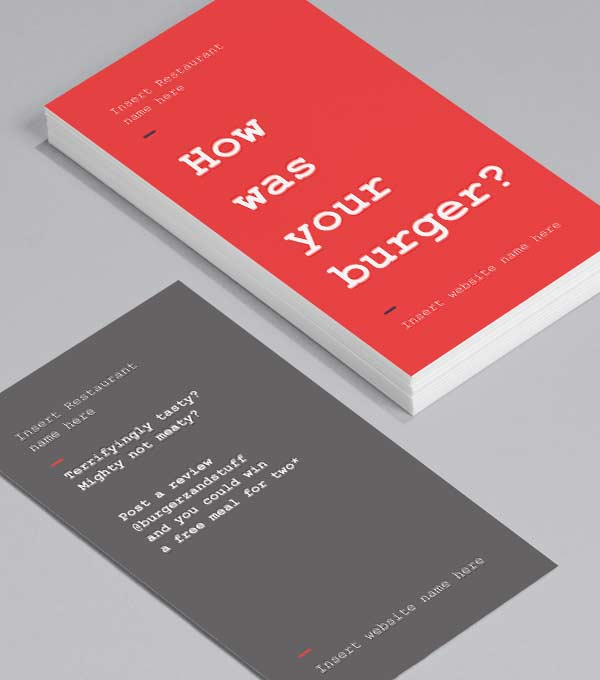 Tired of the usual restaurant business card design? How about one that speaks to your customers directly? A more personal message used as a caption on your business card is a refreshing change that will truly stand out. However, you'll also want to have a variety of designs ready to go at a moment's notice, which can be a struggle when working on a budget.
Moo offers a money-back guarantee service with its Printfinity program. Print a different design, double-sided, in full color, fix a typo or request a design change at no extra cost. You can also choose from its wide variety of designs or upload your own and customize using its online design tool. Sign up with Moo today and get started with your business card design for as low as $19.99.
6. Vegetarian Restaurant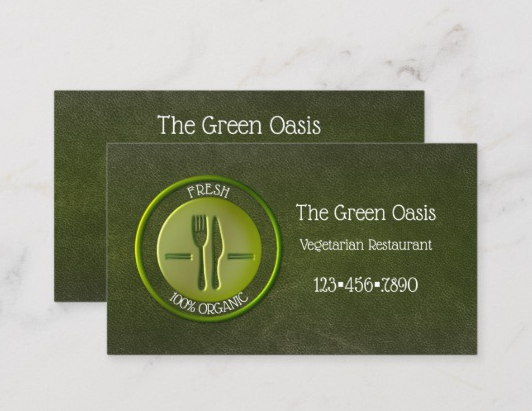 Here's another take on a vegetarian restaurant business card. Notice how both examples keep the same color scheme, but the different design completely changes the vibe. This one doesn't make use of the image but still gives a clear message. The elegant use of logo and layout implies a more refined presentation of vegetarian food.
7. Professional Chef Business Card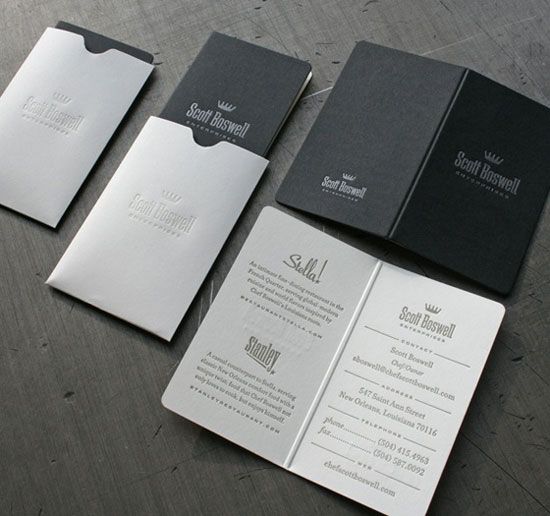 Restaurants that carry the name of professional chefs immediately imply high standards and expectations from customers. This business card example lives to that expectation by providing something more than the usual. This example is a folded business card that uses high-quality paper stock featuring the chef's name, a short introduction and the restaurant's details.
8. Japanese Restaurant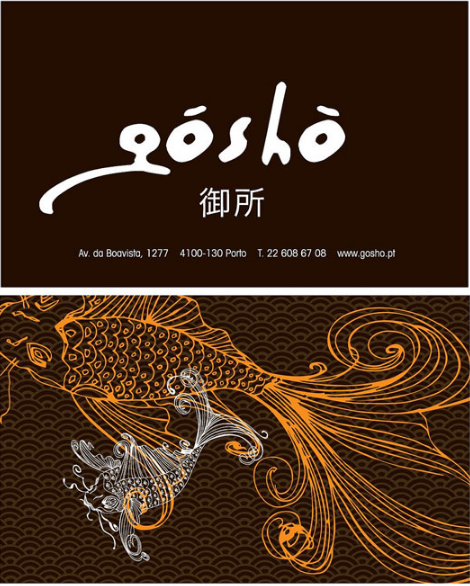 Our first example of a Japanese restaurant business card is from Gosho, which means "Imperial Palace." The restaurant is a fusion of modern and classic so that the business card reflects a mix of classic elegance in the brown and copper scheme while the illustrations share a hint of modern but still befitting restaurant's name.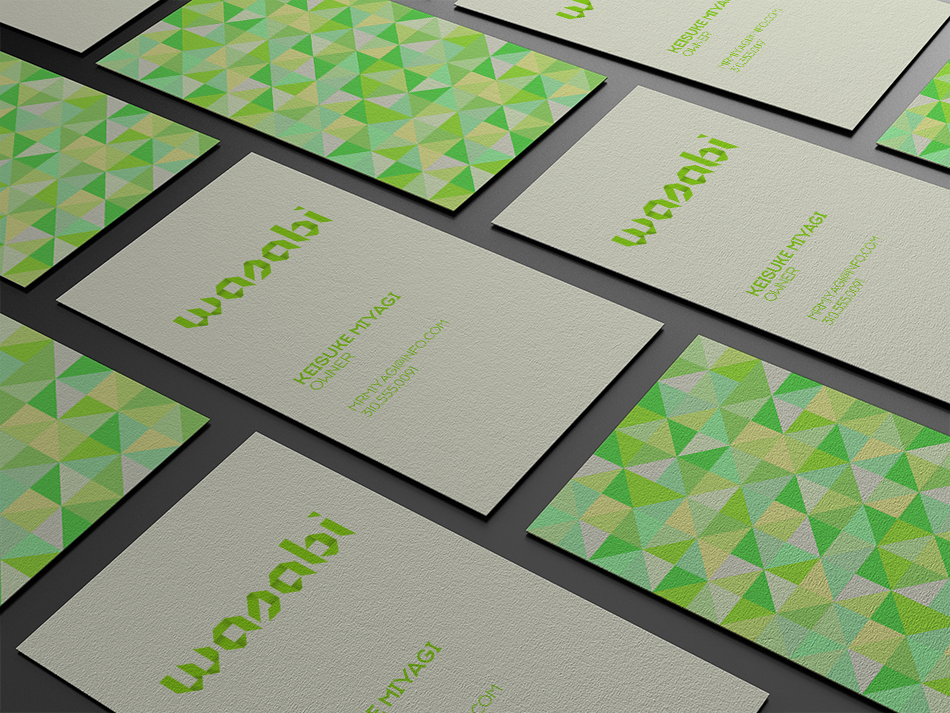 This is a different approach to a Japanese restaurant business card that screams modern in its overall look. The anchor of the design is the business name, using a color scheme and font that's reminiscent of the name's origin.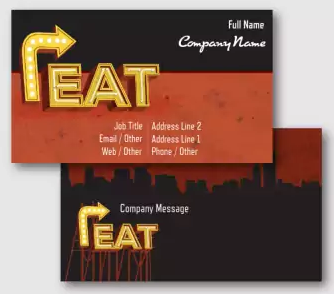 If you run a local diner, there are many design cues that you can include in the style of your business card. This example makes use of the traditional marquee type font commonly seen on diner business signs. You can choose a combination of colors and your taste in font style to make your brand unique and easy to recall.
11. Fine Dining Seafood Restaurant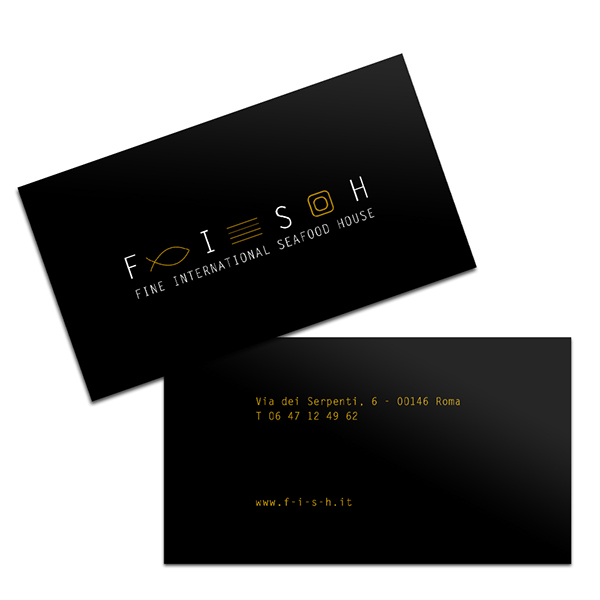 This seafood restaurant business card is clean and elegant. The minimalist approach to the design draws the audience attention to the business name that's both an acronym and theme for the restaurant. This is ideal for fine dining restaurant types that want to build a reputation on the details of their menu.
12. Greek Restaurant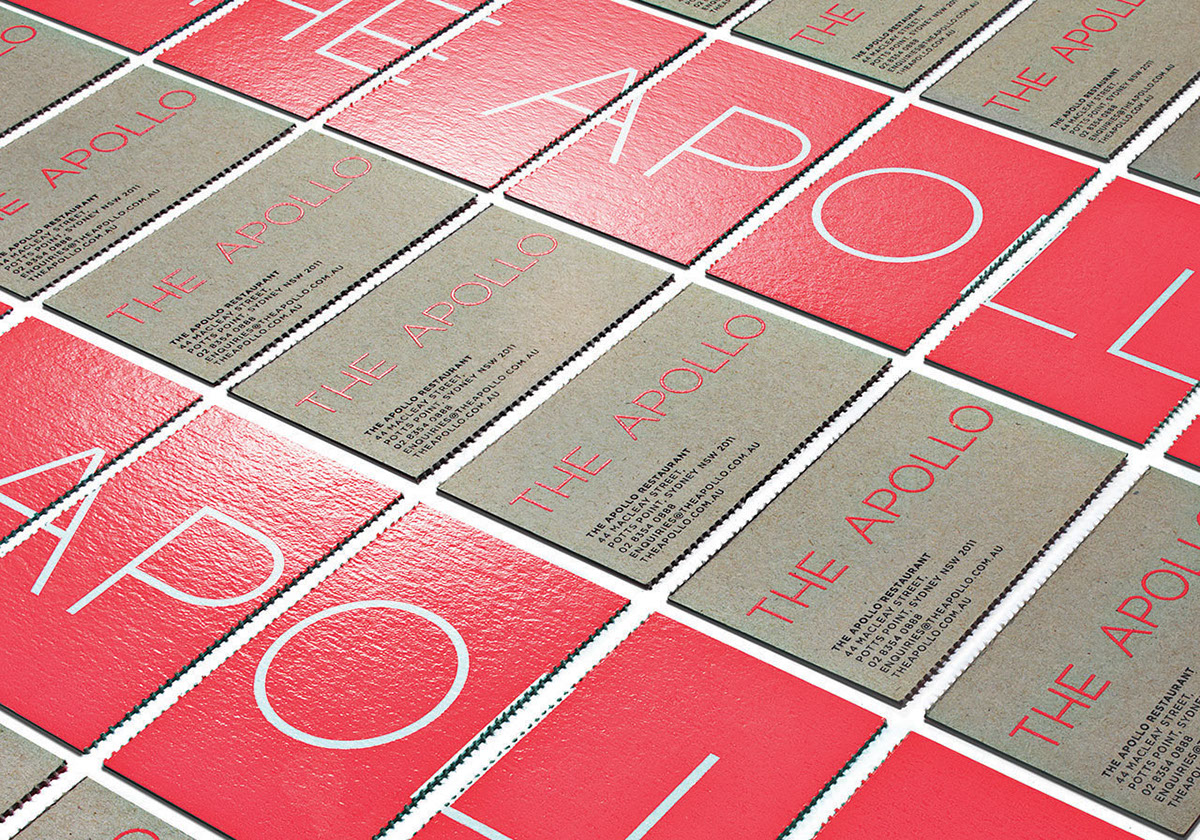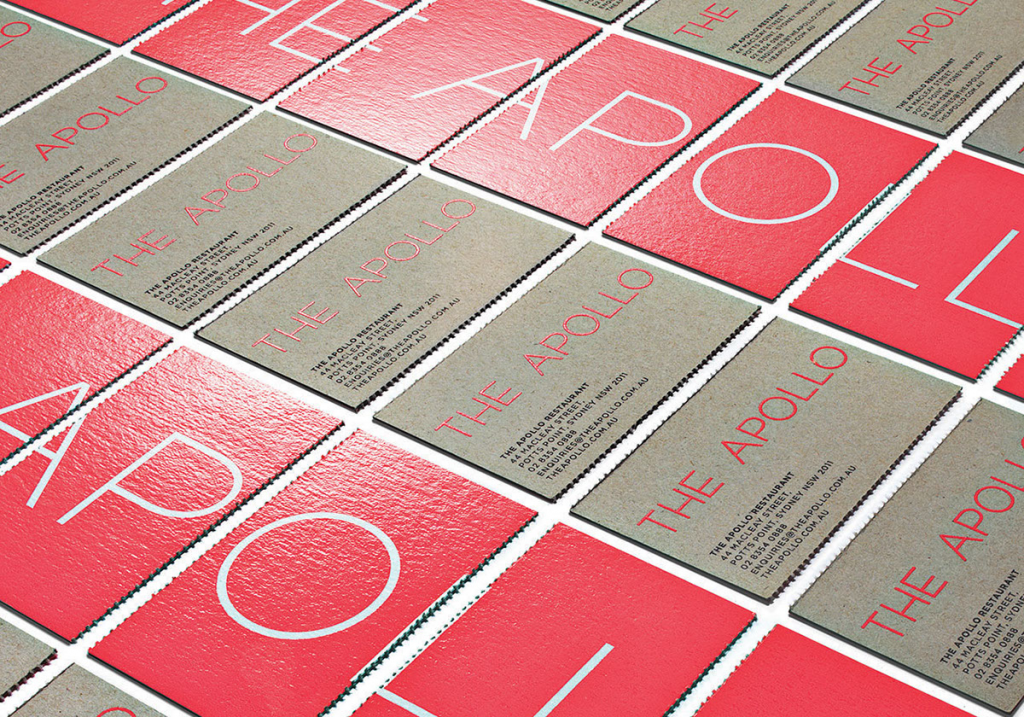 This isn't your traditional Greek restaurant business card design. However, the concept is smart and eye-catching that it immediately stands out from its competitors. The perforated edges give it a unique, modern look and an opportunity to engage customers as conversation starters.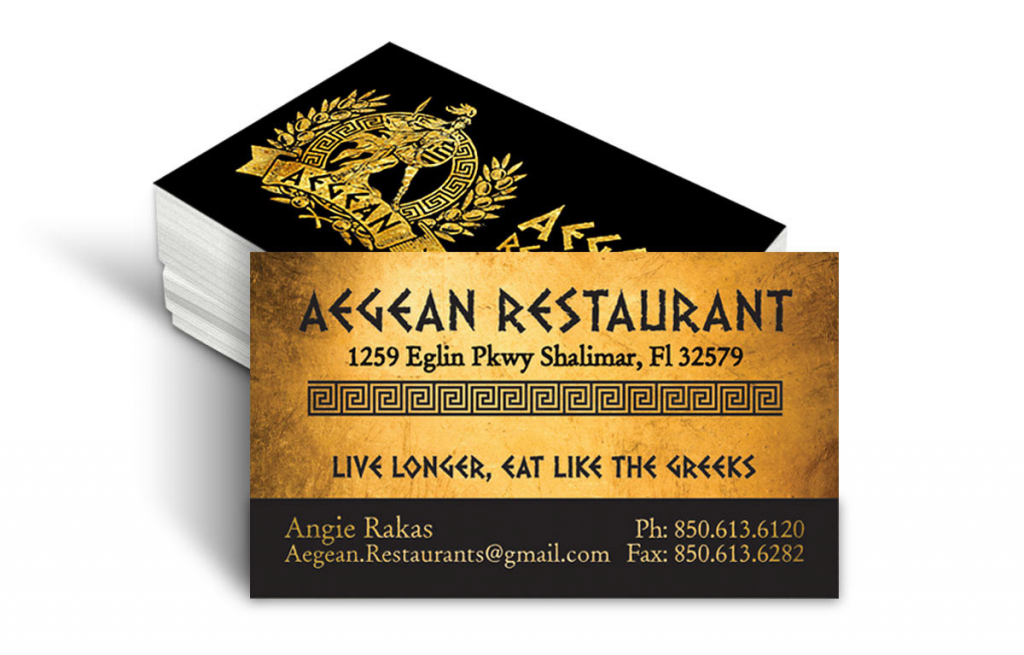 If you're using a traditional Greek font for your business name and logo, a more traditional business card look would work for you. The gold logo and business name on top of a black background work for an elegant look, The back of the card, however, gives off a more traditional vibe, replacing gold with a more parchment like the textured look as well as a classic Greek pattern design.
14. South African Restaurant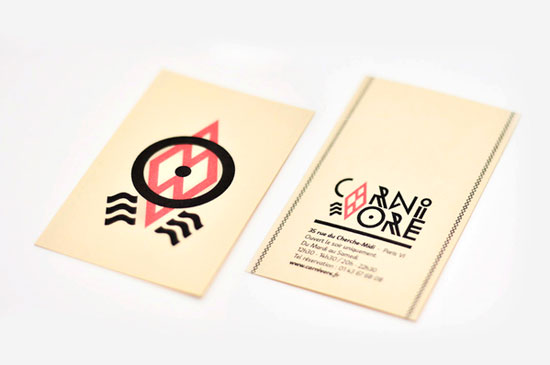 This is a business card concept for a South African restaurant, and we love how the whole look is a combination of the business logo. A white background draws the audience attention to appreciate the details even more. If you have a business name logo designed like this, there's no need for additional decoration to make your business card memorable.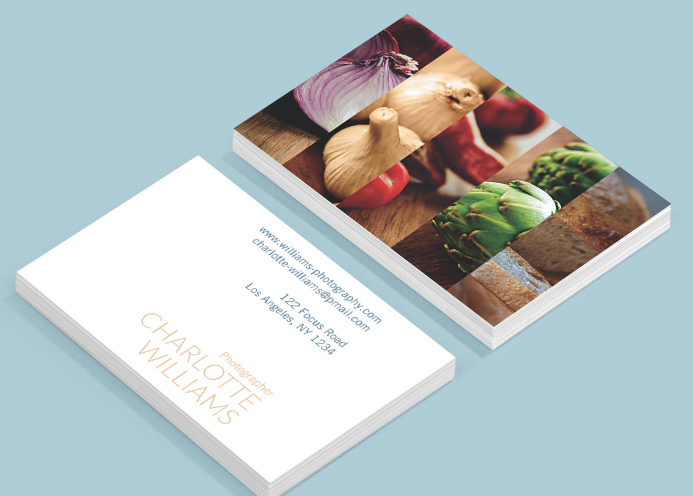 This example doesn't refer to a particular restaurant theme. Instead, it creates the charm of showing fresh ingredients behind a perfect dish. There's also space for a self-portrait to introduce your chef and add a logo on the opposite side of the card.

16. New Zealand Bar and Restaurant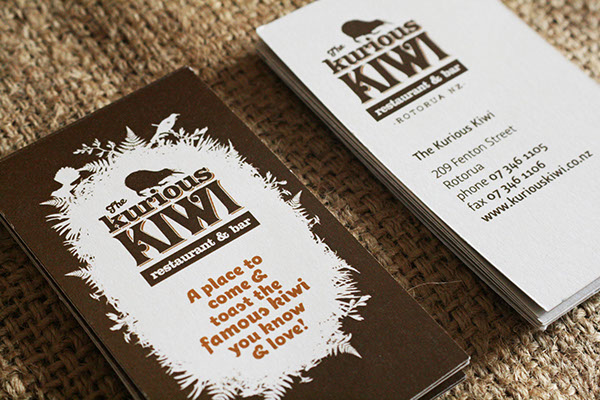 The business name alone speaks volume on the brand. A New Zealand themed restaurant and bar deserves a business card that's as interesting. We love how the designer used a frame and color that matches the logo. It also included a memorable tagline to motivate the audience in visiting the restaurant.
17. Mexican Restaurant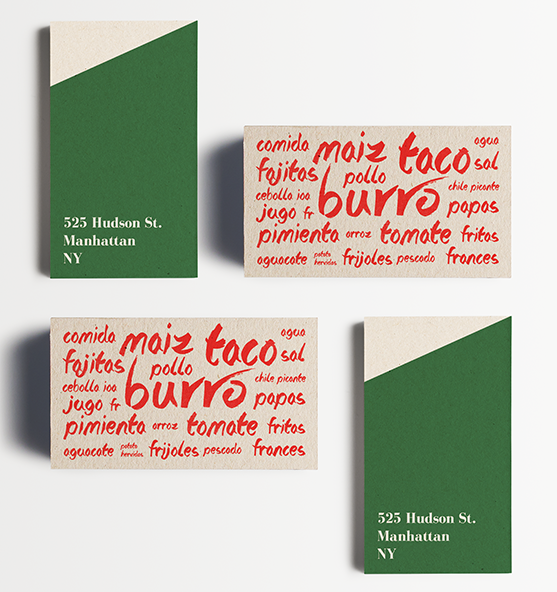 When we hear Mexican restaurant, we expect images of plates of hearty food in festive red and yellow flaglet designs. This design, however, is a refreshing approach that makes the restaurant stand out from the usual look. However, once it catches your audiences' attention, they're greeted with the familiar festive font in red listing traditional Mexican dishes to complete the brand.
18. Grill and Smokehouse Restaurant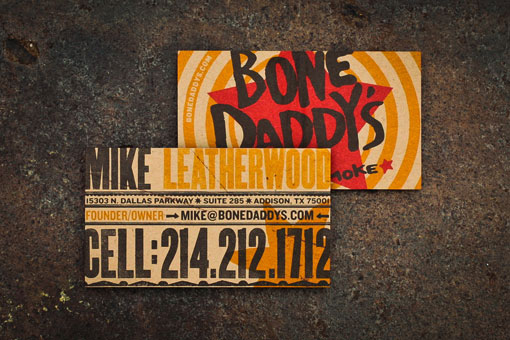 This business card design is perfect for casual, homestyle types like a grill and smokehouse restaurant. The use of large, cut-off fonts is eye-catching and makes the design memorable. We love how one side of the card is like a zoomed in a snapshot of the business logo that gives the business card a more personalized feel for its customers.
19. Italian Pizzeria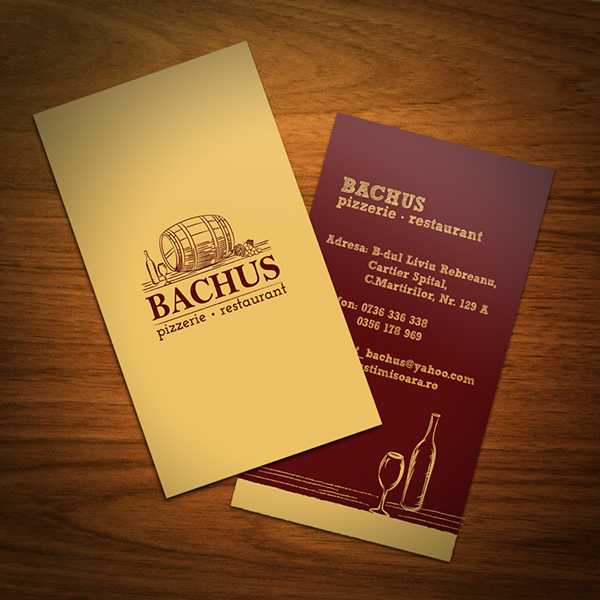 Our first Italian restaurant business card example is one for the elegant, fine dining types. The clean, simple layout and the tasteful use of illustration give it a classic feel, while the choice of colors completes the overall mood. The messaging is short and simple but has all the important contact details for the customer.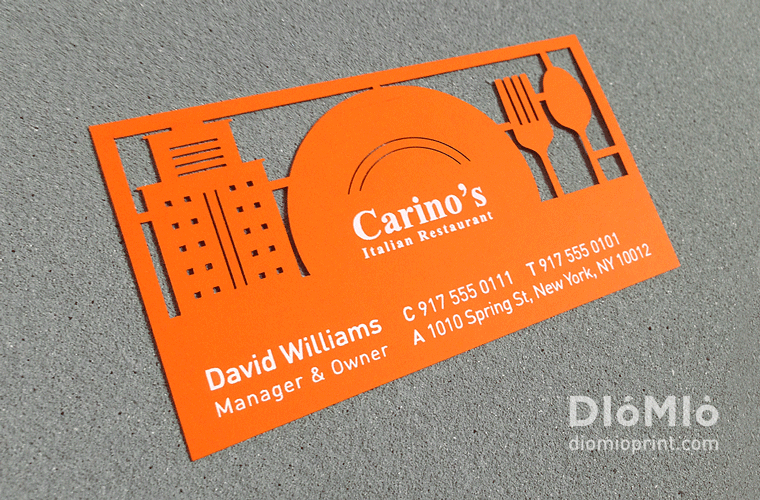 From the color choice alone, you'll notice how different this example is from the previous one. It makes use of more vibrant color for the background and fonts. The overall look is perfect for a more modern, casual Italian restaurants and the cut-out design is a sure conversation starter to engage customers.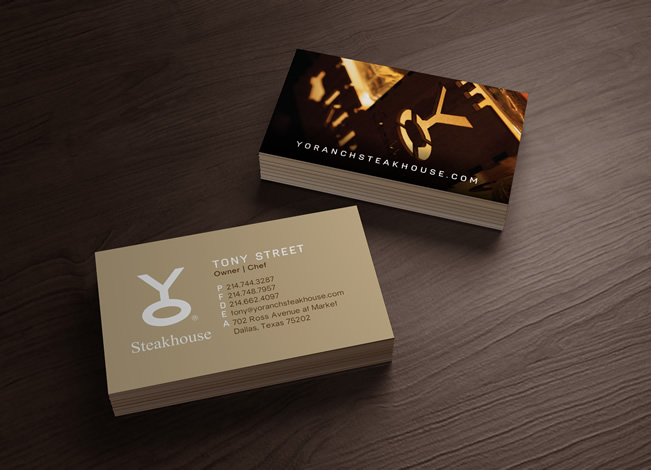 A modern steakhouse restaurant matches this business card look. Notice how the focus is on the business logo on both sides of the card. The full-color image on one side is a perfect contrast to the more subdued design at the back. We also like how the company's website is strategically placed just below the logo.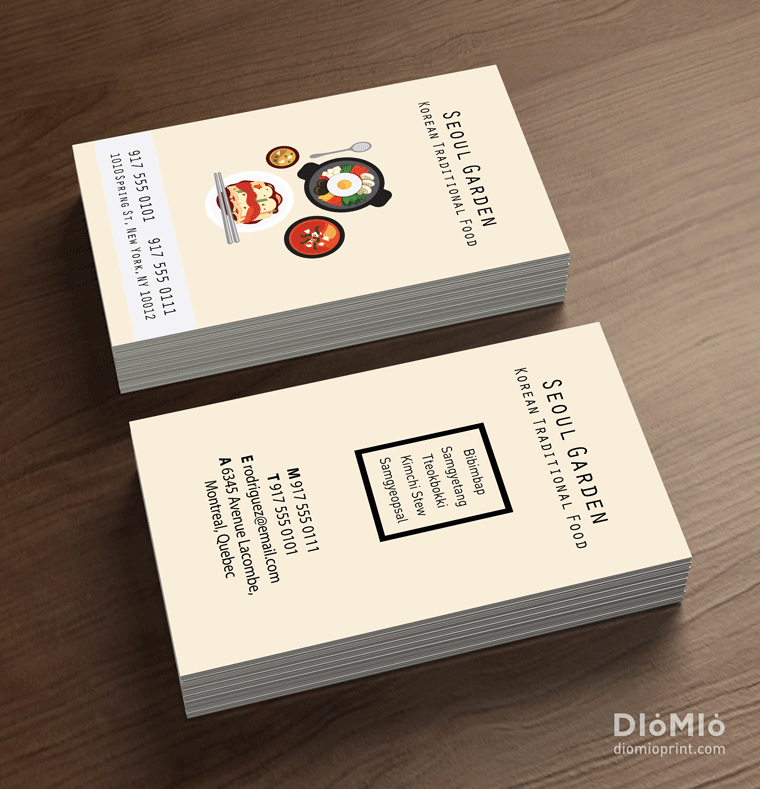 This business card is for a Korean restaurant offering traditional dishes in a modern setting. You'll notice the design is very simple and clean, using black and white with minimal colorful illustration. It doesn't have any of the classic, elegant fonts or traditional Korean writings but it still manages to show a lot of personality, giving justice to its cuisine rich in history.
23. French Restaurant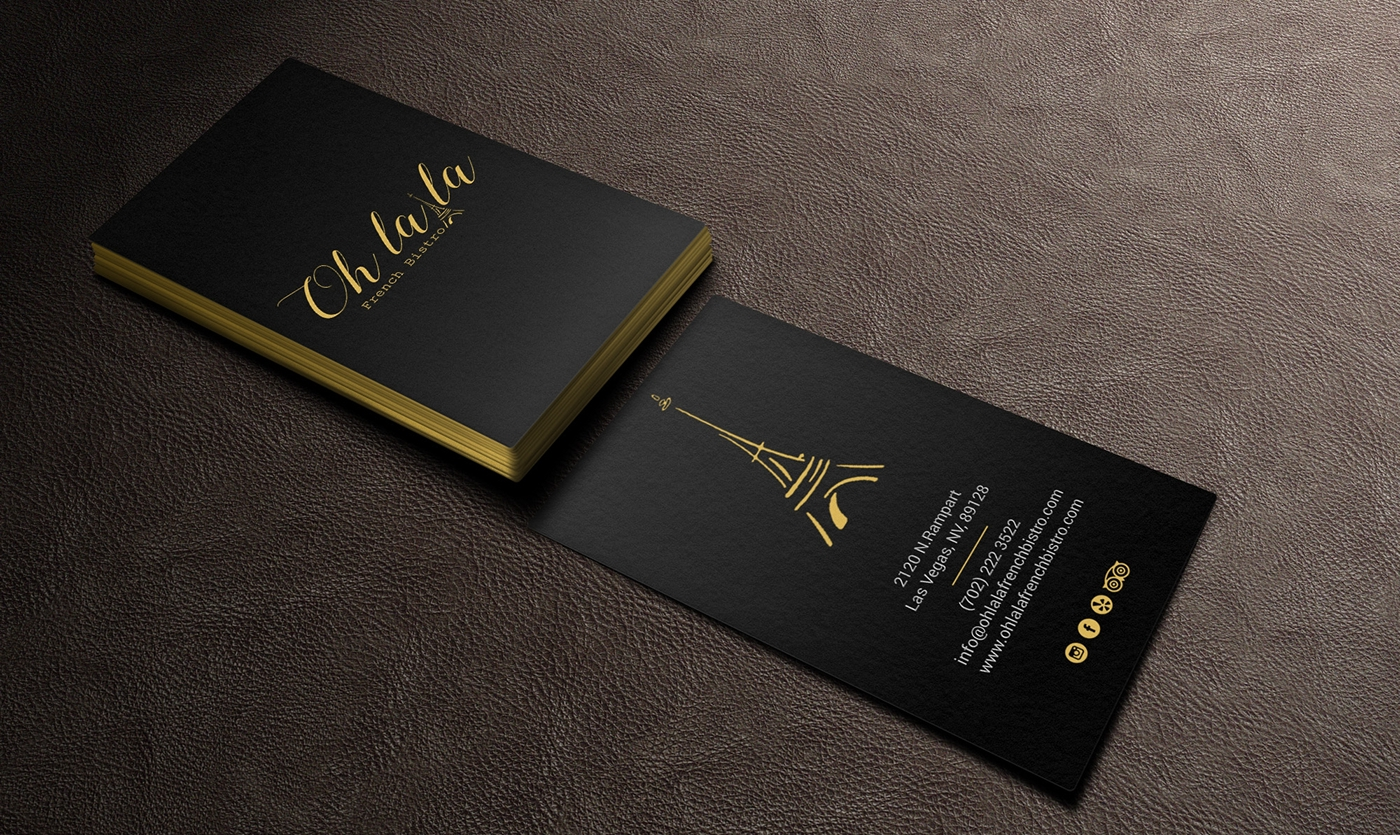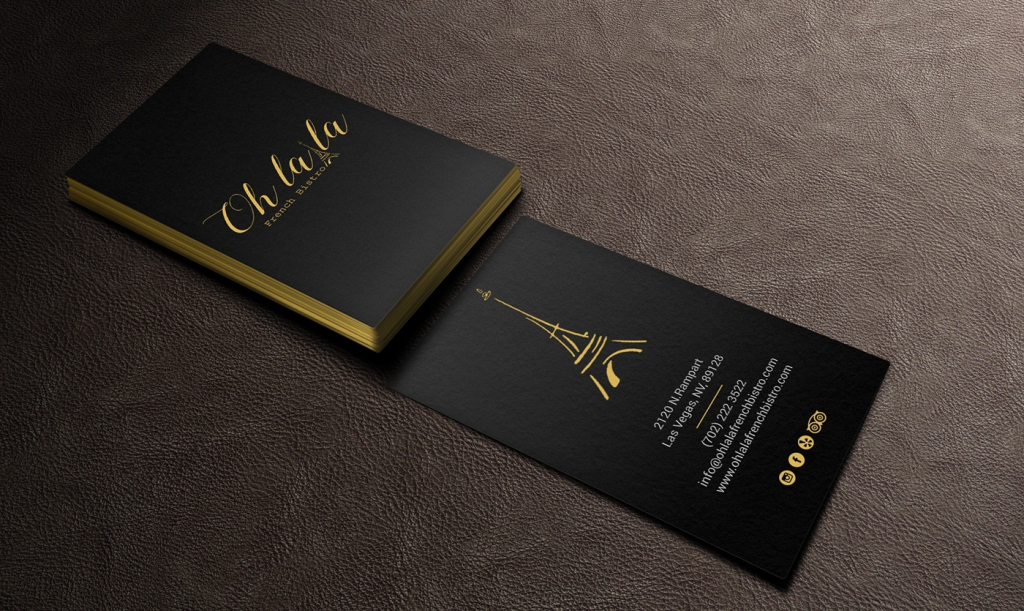 This business card just screams French elegance, ideal for fine dining restaurants offering classic French cuisine. The tasteful use of gold on the business name, logo and sides of the card gives it an expensive look without going over the top. Notice how the business card also includes social media buttons to let customers know that they can be found online.
24. Gourmet Indian Restaurant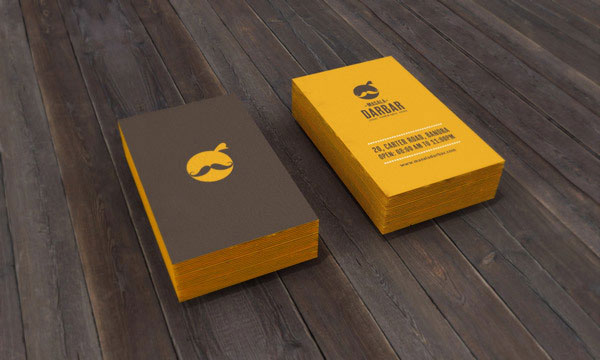 When you think of Indian dishes, you think of golden yellow, delicious curry which this business card ultimately made use to engage the senses of its audience. The layout is kept simple, with the logo, company name and contact details printed clearly in the center of the business card. This is one way to take advantage of what makes your dishes memorable to promote your brand.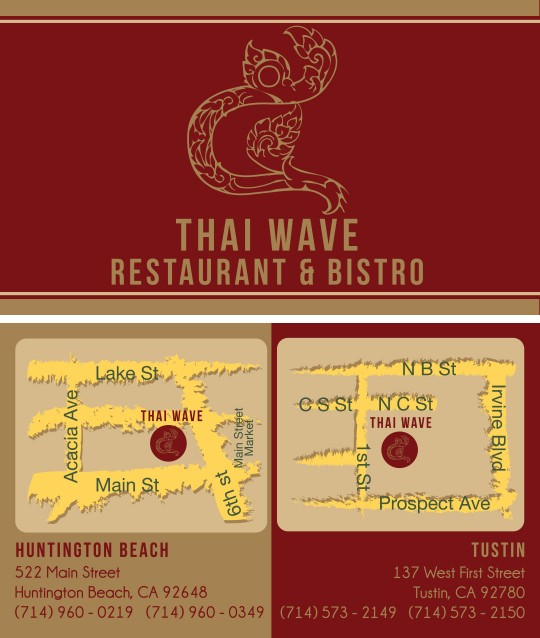 This is a very simple business card design for Thai restaurants but the look is unmistakable, and the fonts are large and easy to read. We also like how the layout includes a small map for not one, but two branches, giving contact details for both while keeping the look clean and organized. If you have more branches, you can print cards with maps depending on the location.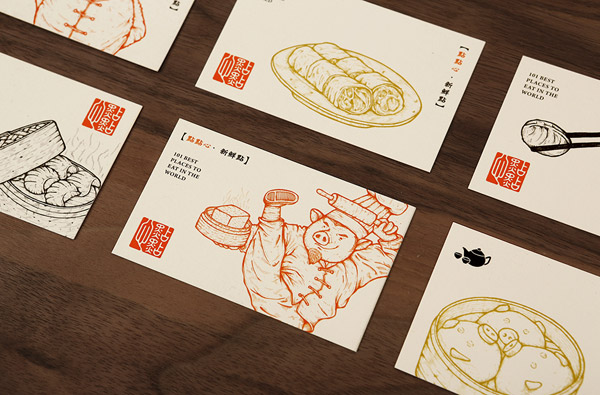 We love the colored illustration designs for this business card. The concept looks like it came straight out of a traditional book that's unmistakably Chinese. The layout is clean with the logo standing out in the design because space is color-filled as opposed to the illustration. It's fun, engaging and impressive all at the same time.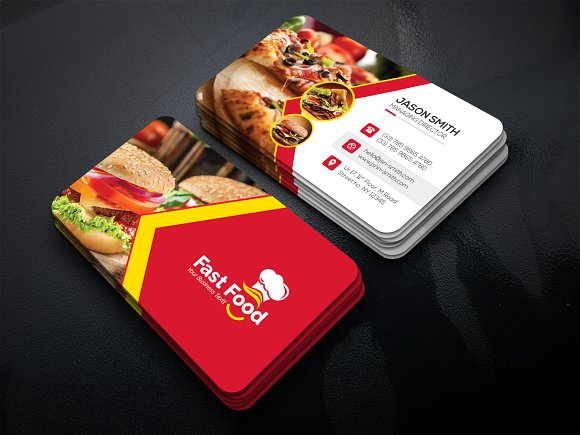 Last but certainly not the least, this business card design is perfect for contemporary fast food restaurants. The use of frames and geometric lines work well for an overall modern look. Change the colors depending on your brand and replace the images with your own high-quality photos.
Over to You
If you haven't changed your business card design in a while, now should be a good time for an upgrade. Get inspired with our list of business card examples to help keep your restaurant on top of the competition.
Want to add to our list of inspiring restaurant business cards? Share them with us in the comments.