Restaurant insurance protects owners from a variety of business-related losses, such as lawsuits, property damage, data breaches, or employee injuries. Different policies cover different types of loss, but one coverage common to most restaurants is general liability. A small, limited-service restaurant can usually get general liability insurance for about $1,000 to $2,000 annually.
Finding reasonably priced restaurant insurance is essential to your business' survival. An insurance company like The Hartford understands the concerns of small business owners and has standout products that you can afford. Start by getting your free, no-obligation quote in minutes.
How Restaurant Insurance Works
Restaurant owners face many risks, so there isn't a single restaurant insurance policy that covers them all. Instead, restaurant owners, like most business owners, need separate policies to guard against many kinds of loss. For example, restaurants have customers, vendors, and other visitors coming in and out of their space. If a customer suffers a slip-and-fall and sues, the owner needs general liability insurance to cover her legal defense.
Owners of small restaurants often qualify for a business owner's policy (BOP). This is an insurance package carriers created to make coverage more affordable. By combining general liability and property insurance, carriers can offer this fundamental coverage for a lower annual rate. Even better? BOPs almost always include business interruption insurance too. This covers your ongoing expenses if a covered loss causes you to cease operations.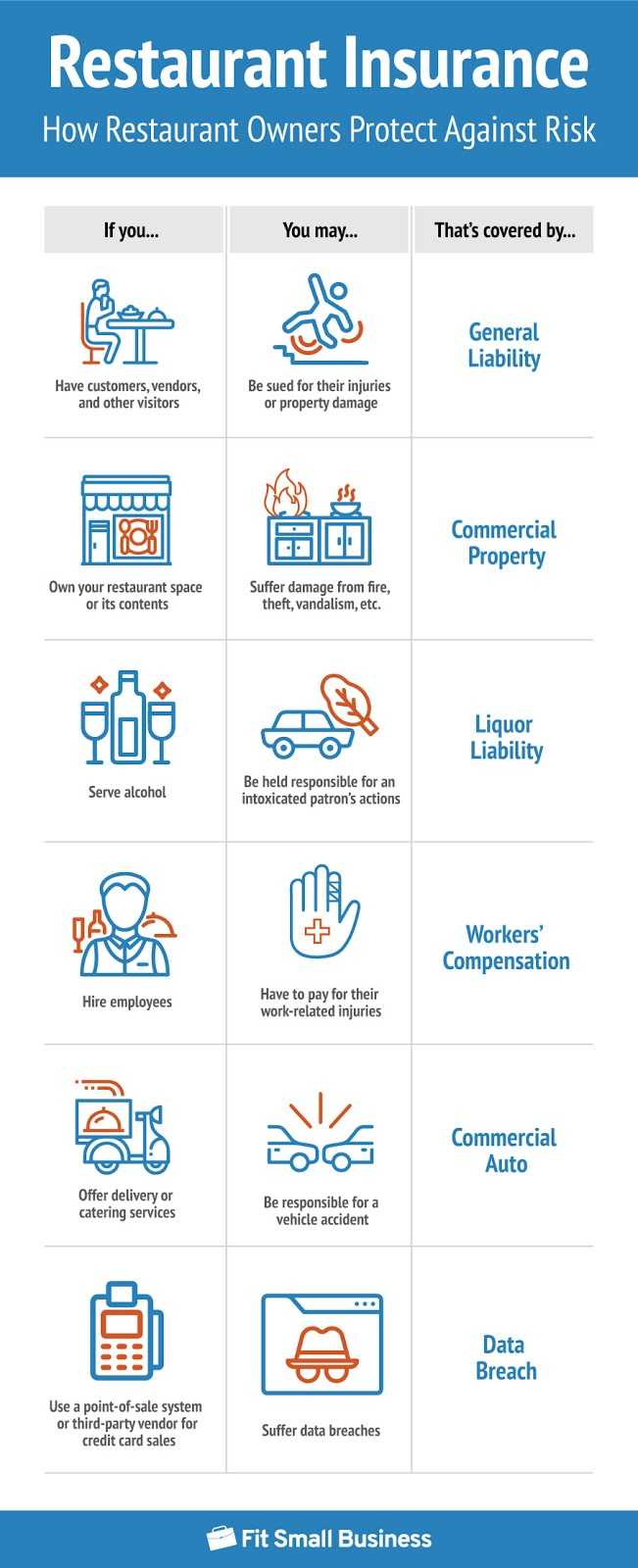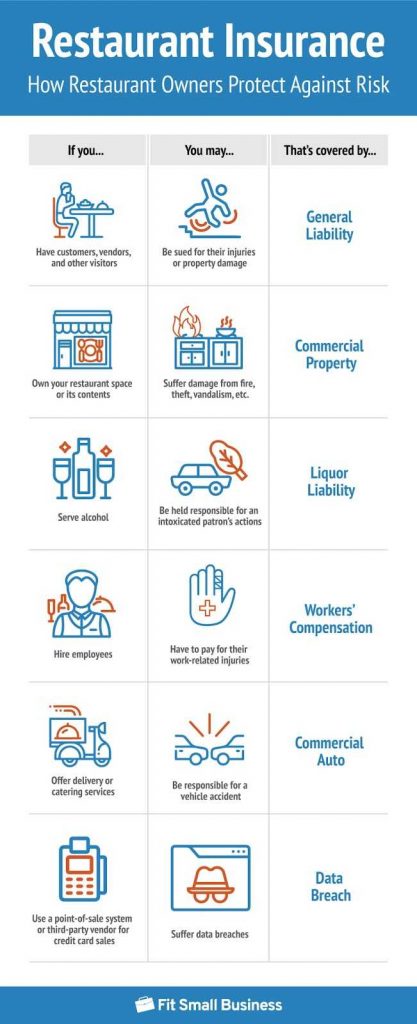 Essential Restaurant Insurance Policies
| Type of Insurance | What It Covers |
| --- | --- |
| General Liability | Property damage, physical injury, and reputational harm claims brought by nonemployees |
| Commercial Property | Damage to business-owned property |
| Liquor Liability | Property damage or injuries caused by an overserved patron |
| Workers' Compensation | Medical bills and lost wages for injured employees |
| Commercial Auto | Losses caused by auto accidents |
| Data Breach | Costs associated with cybercrime and lost physical data |
General Liability Insurance
General liability insurance covers claims that you or your employee caused a third-party physical injury, property damage, or reputational harm, typically called personal and advertising injury in the policy language. Policies typically pay for your legal defense if the injured party sues but can also cover medical costs and repair bills. For example, general liability usually kicks in when:
Your waiter spills coffee on a patron's new laptop
A delivery driver slips on your wet floor
A competitor claims you infringed on his copyrighted logo
General liability also includes products-completed operations coverage that can cover claims about foodborne illnesses. For this to work, however, restaurant owners need an endorsement called Product/Completed Operations Hazard Redefined.
Tip: Restaurants may be exposed to claims that a customer contracted COVID-19 at their restaurants. These are difficult allegations to prove but, if they are made, owners still need to defend themselves. Some general liability policies may cover their legal defense, but two situations may prove tricky:
Restaurants that fail to follow safety guidelines: In this case, transmission could be considered an expected result, so your insurer may deny coverage.
Policies with a communicable disease exclusion: Not all general liability policies have this exclusion, so you want to check your policy and discuss your options with your agent.
Commercial Property Insurance
Commercial property insurance pays to repair or replace business-owned property, including buildings, equipment, and inventory. Most property policies cover damage up to policy limits when its caused by external risks, such as:
Fire
Windstorms
Theft
Vandalism
Because restaurants rely on equipment like ranges, fryers, and refrigerators, most owners should look for property insurance with equipment breakdown coverage. It pays for damage caused by internal malfunctions, including power surges, short circuits, and motor burnouts. Additionally, many restaurants add spoilage coverage to their property policies to pay for food ruined by refrigeration malfunctions.
Liquor Liability Insurance
Liquor liability insurance covers your responsibility for the damage caused by an intoxicated patron by paying for your legal defense, including settlements or court awards. Many states require bar and restaurant owners to have a policy to get a liquor license. Even if you don't need liquor liability for a license, you may be in one of the states where restaurant owners can be liable for an overserved patron's actions if the patron is a minor or visibly intoxicated.
Commercial Auto Insurance
Commercial auto insurance covers the vehicles your business uses to make deliveries. Most states require liability coverage, but restaurant owners can opt for more, including:
Collision: Pays for damage to your business-owned vehicles in a collision regardless of fault
Comprehensive: Covers damage to your business-owned auto caused by other events, like fire or theft
Medical payments: Pays for immediate medical care for you and your passengers after an accident regardless of fault
Hired and nonowned auto: Covers vehicles your restaurant hires, borrows, or rents
Nonowned auto coverage is essential for restaurant owners who allow workers to drive their personal vehicles to make deliveries. If an employee is in an accident while making a delivery for your restaurant, the damage may be to her car, but the responsibility could be yours because she was working for you.
Restaurant owners who now offer delivery services because of COVID-19 should either talk to their agents or work with a leading commercial auto insurance carrier like Progressive Commercial to add this essential coverage.
Workers' Compensation Insurance
When employees sustain work-related injuries or illnesses, workers' compensation insurance pays their medical bills and replacement wages while they recuperate. For example, workers' compensation typically pays out if an employee:
Cuts her hand on a meat slicer
Strains his back lifting a sack of potatoes
Suffers respiratory disease from being exposed to cleaning chemicals
Every state except Texas requires at least some employers to carry coverage, and many mandate it as soon as you hire a single employee.
Tip: Workers' comp is a state-mandated coverage, and most states only cover communicable diseases when they clearly are connected to a person's employment. Employers should still file a claim if a worker contracts COVID-19. The worker will need to prove her job was the source of her illness for the insurance company to cover her costs.
Data Breach Insurance
Data breach insurance covers the costs that follow a data breach, whether the data that's lost is in a digital or physical format, such as:
A hacker infiltrating your point-of-sale (POS) system
Your accountant leaving your financial records in a coffee shop
A criminal attaching a card skimmer to your out-of-date credit card reader
After a data breach, a restaurant owner might have to pay regulatory fines while also notifying customers and launching a PR campaign to regain its reputation. All told, the median cost of a breach for businesses with fewer than 10 employees was $7,000 in 2019. Data breach insurance, however, helps pay these costs so your business can survive.
Unfortunately, small restaurants are ideal targets for cybercriminals because most don't have the resources to guard against attacks, and that makes data breach insurance a crucial coverage. One good option for restaurants is The Hartford. It offers endorsements that cover data breaches, business income after a cloud service interruption, and reimbursements for replacing destroyed electronic data to its BOP.
Additional Restaurant Insurance Policies
The previous six policies cover restaurants' most common exposures. However, some owners may have additional concerns that can be addressed with these additional policies.
Commercial Crime Insurance
Commercial crime insurance can be purchased as a standalone policy or as a rider to your property insurance. It covers financial losses caused by illegal activities whether the criminal is an employee or an outsider.
Employment Practices Liability Insurance
Employment practices liability insurance (EPLI) covers your liability in employee relations. For example, policies typically pay your legal fees if a current or former employee or a job candidate accuses you or a manager of discrimination, harassment, or wrongful termination.
Restaurant Insurance Costs
Foot traffic, sharp knives, and alcohol mean restaurants face more risk than many other businesses. Therefore, they typically have higher insurance costs too. Your specific restaurant's insurance costs depend on the number of policies you purchase, the coverage and deductible you select, and several business characteristics like revenue and location.
Restaurant Insurance Costs & Deductibles by Insurance Type
| Insurance Policy | Annual Premium Range | Deductible |
| --- | --- | --- |
| General Liability | $800 to $5,500 | $0 |
| Commercial Property | $950 to $2,500 | $1,000 to $2,000 |
| Liquor Liability | $600 to $3,000 | $1,000 |
| Workers' Compensation | $1,000 to $8,000 | $0 |
| Commercial Auto Insurance | $1,500 to $3,500 | $500 to $1,000 |
| Data Breach | $1,000 to $2,000 | $5,000 |
Many different factors can affect costs including:
The number of employees: The more workers your restaurant has, the higher the costs of workers' compensation insurance.
The value of your property: Your kitchen equipment can be expensive to insure, especially if it's newer. Plus, you may need several endorsements for outside signs, equipment breakdown, and food spoilage.
The number of vehicles in your fleet: If you have many delivery drivers who transport food to clients using company vehicles, you'll pay much higher commercial auto insurance costs.
Your past claim history: Having many claims in your history can make you look riskier to insure, so you could be charged more. On the flip side, many insurers also increase the premium on a new business because it has no track record to evaluate.
The type of establishments: Limited-service restaurants and cafeterias often cost less to insure than full-service establishments.
Restaurant owners can save on their general liability and commercial property insurance by getting a BOP that bundles these policies. For example, say you own a limited-service restaurant with 10 employees and $200,000 in revenue. A general liability insurance with $1 million limits might cost around $2,000, and your property coverage around $1,500 per year. A BOP would be more like $2,500 for both coverages, with the bonus of business interruption coverage.
Top Restaurant Insurance Providers
| Provider | Best For |
| --- | --- |
| | Business owner's policy with broad coverage and multiple customization options |
| | Family-friendly restaurants with multiple locations |
| | Comparing offers from top-rated insurers |
| | Getting the right coverage fast and with minimal hassle |
The Hartford
Small business insurer The Hartford offers a comprehensive BOP to a wide range of restaurant and franchise owners with sales up to $15 million, including fine dining, full service, and quick service. Additionally, you can add key optional coverages for liquor liability, data breach, and food spoilage and contamination so that all your policies are with one carrier and easier to manage. The Hartford policyholders also get discounts on valuable services like employee background checks and slip-resistant footwear.
AmTrust Financial
AmTrust Financial has a preference for family-style and fine-dining restaurants that have been in the same location for at least three years and liquor receipts that make up 45% or less of their total sales. That said, AmTrust is a great choice for established restaurateurs with multiple locations. Through its surplus lines arm, AmTrust offers general liability with coverage limits of $3 million, $5 million, and $10 million.
CoverWallet
CoverWallet is the place to go for restaurant owners who want to save money on business insurance. As an online brokerage, CoverWallet works with more than one carrier, which means restaurateurs can usually fill out a single application to see multiple quotes. This way, you get to compare offers based on price and policy terms, and then pick the ones that best fit your needs.
Insurance 321
Insurance 321 is a different sort of insurance company in that it does a lot of the legwork for you. Its proprietary technology identifies the best carrier or broker for your particular restaurant operations with just a few questions. Then, the insurance company contacts you with its quotes so you can get covered quickly.
Restaurant Insurance Frequently Asked Questions (FAQ)
Still not certain what coverage your restaurant needs? Below are answers to a few of the most commonly asked questions about restaurant insurance.
Does restaurant insurance cover COVID-19 losses?
Whether or not restaurant insurance covers COVID-19 losses depends largely on the language in each of your policies, your state government, and how courts respond to the number of suits currently moving through the system.
Your workers' comp policy may cover a worker who can show he caught COVID-19 because of his employment. That seems rather tricky to do, but it depends on the particular situation. Meanwhile, business interruption seems even less likely to kick in if only because insurers are going to fight it tooth and nail.
Do I need to insure employees who drive their personal cars for deliveries?
Personal automobile insurance policies typically don't cover cars used for commercial purposes. Because drivers likely won't be covered by their insurers if they cause an accident, someone must pay the bills. Agency laws in most states make business owners responsible for employee actions, so your restaurant could be liable. You need coverage to protect you.
Am I covered for spoilage if my refrigeration breaks down?
To ensure coverage in the event of a problem with your refrigerator or freezer, you may need a spoilage coverage endorsement on your BOP. Spoilage coverage, sometimes referred to as temperature change coverage, kicks in if heating or cooling equipment breaks down or if a power outage shuts down your system and food spoils. It pays out to replace perishable items.
Does property insurance provide coverage for my restaurant in a natural disaster?
BOPs generally provide coverage for damage caused by hurricanes, tornadoes, and other natural disasters. However, flooding often is excluded from commercial property policies. If your restaurant is located in a flood-prone area, you will need special coverage to ensure your space and equipment is protected in case of a flood.
Bottom Line
Buying a BOP—along with additional coverage for risks specific to the restaurant industry—is important to protect your company and your finances. Shop carefully for insurance options that bundle policies for convenience and cost savings.
Restaurant owners should make sure they purchase a policy that meets the needs of their industry. The Hartford is one insurance company that tailors policies specifically to help restaurant owners and managers. Get a free, no-obligation quote in minutes.