How to Use a Restaurant Schedule Template [+Free Templates]
A restaurant schedule template can help you keep your staff schedules organized that, in turn, can help you control labor costs and positively impact your staff morale. Creating a restaurant schedule can be tedious and time-consuming, but with the right tools and a little preparation, you can easily speed up your scheduling process.
Restaurant Scheduling Templates
A restaurant scheduling template is a calendar-based form that organizes your workflow when creating a weekly schedule for your staff. Most restaurant workers are part-timers, and the needs of a business can shift dramatically from day-to-day. Many restaurants rely on a scheduling template to prevent mistakes and miscommunications in the schedule writing process. A restaurant template typically includes a log of your staff's availability and outline of the shifts your operation needs covered.
We have included three restaurant scheduling templates below, as employee scheduling for restaurants typically requires more complex shift scheduling. One suited best for quick service restaurants (QSR), a second for the front of house (FOH) full service restaurants (FSR), and a third specifically for restaurant kitchens. Download the appropriate template for your restaurant, and then scroll down for directions to walk you through how to use this template to create a customized schedule for your business.
Quick Service Restaurant Schedule Template
This template is for quick service restaurants that operate with food preparation and sales tasks shared across one team, such as a counter-service burger joint, pizzeria, or coffee shop.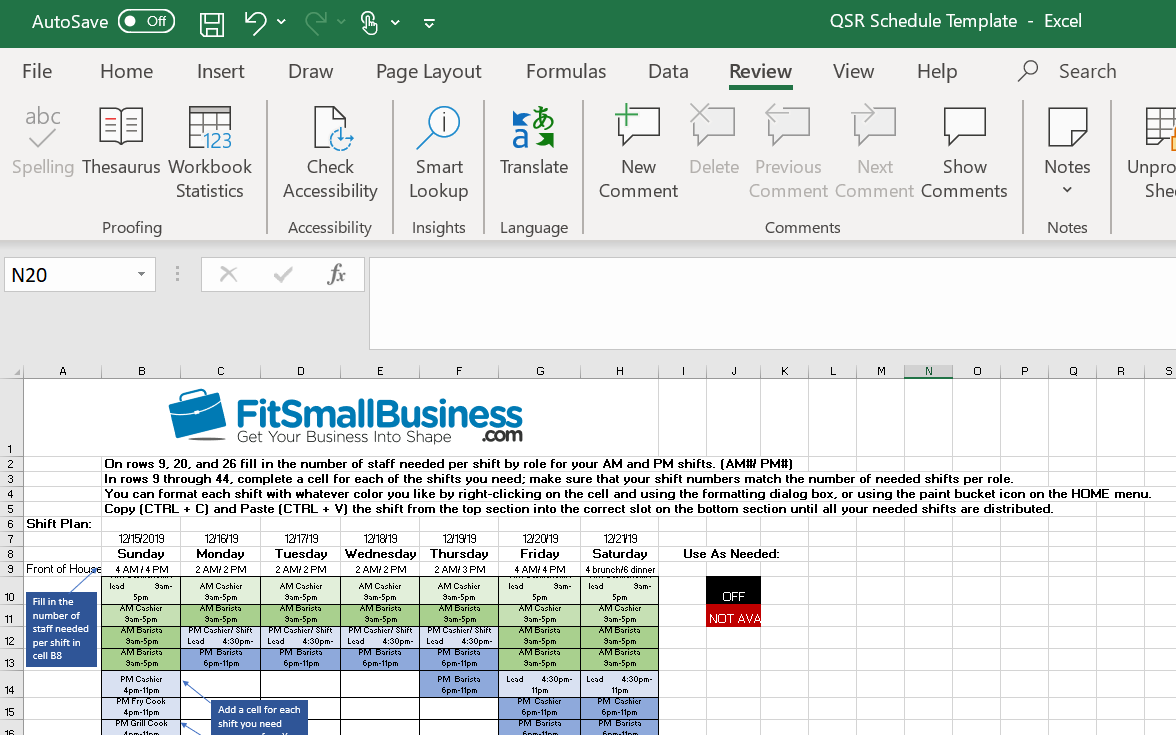 Download QSR Schedule Template
Full Service Restaurant Front of House Schedule
This template for the FOH staff in a full service restaurant. Because a full service restaurant tends to have a larger staff working a greater variety of roles, this template is slightly more detailed with room to include several types of staff.
Download Full Service Restaurant Schedule Template
Restaurant Kitchen Schedule Template
This template is for the back of house (BOH) staff in a full service restaurant. The kitchen team tends to work slightly different hours than the FOH, so it makes sense to separate the schedules. Typically a FOH manager completes the FOH schedule while the executive chef completes the schedule for the kitchen.
Download Restaurant Kitchen Schedule
How These Restaurant Schedule Templates Work
These customizable template is formatted as a three-sheet schedule workbook that is customizable for your restaurant. Separating your scheduling data across three sheets allows you to keep your scheduling information organized to prevent confusion. To create an accurate schedule, you need to know your staff's individual availability as well as what roles you need to schedule to cover each shift that your restaurant is open.
The "Roster" sheet ensures that your schedule takes staff availability into account. The "Schedule Worksheet" includes a "Shift Plan" section that allows you to tailor the shifts you need week by week to match the flow of business. The "Printable Schedule" organizes the information from your schedule worksheet into a format that is easy to print and easy for staff to read.
Customize Your Template
There are just a couple of steps to customizing any of these templates to the unique needs of your restaurant. After you have downloaded the schedule template, save the blank template as is on your computer. Gather your staff availability; most restaurants collect this information on employment applications, others track availability on a separate form. If you need a template for an availability form, we have included one below.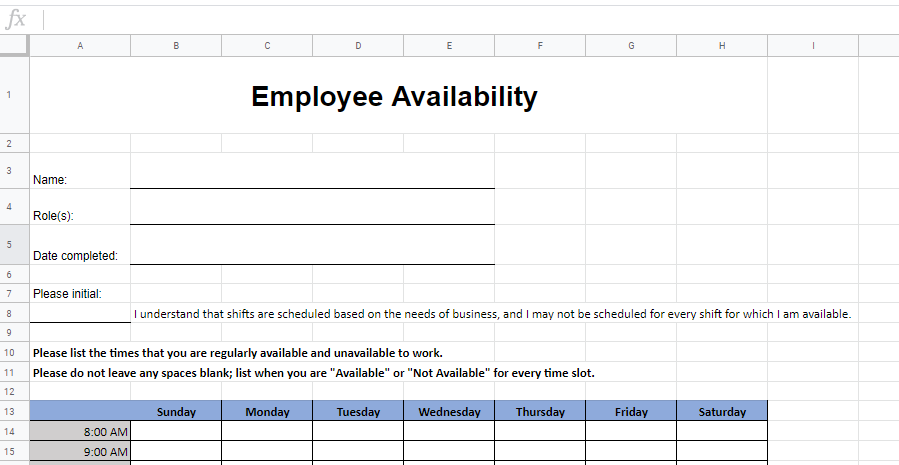 Download Employee Availability Template
Before customizing your template, you will also need to organize any notes you have made about the restaurant's operational hours. If you have not yet launched your business, these may be only projections. If you are already in operation, these notes would include changes to your hours of operation or upcoming holidays. Your notes should include what staff roles your restaurant requires for each shift, as in how many servers, bartenders, cooks, and so on.
Customize your Roster
Open the template and begin on sheet one, "Roster."
This first page provides the baseline information for creating your schedule: your staff names, their roles, and when they are available to work. Begin by entering your staff names in column A and their roles in column B. It is a good idea to keep staff who work in similar roles in the same part of the sheet to keep your plans organized. Once your staff are entered, input their usual availability.
You can use whatever format makes sense for you to log this information "AM/ PM" or "9 a.m.-10 p.m.," or "Not available." Don't worry at this point about specific dates in the future that your team may have requested off. You will be able to update those dates on those specific schedules when you create them. Right now, you are just inputting your team's usual information.
If you have team members that work in various areas, such as a server who sometimes bartends, it is easiest to keep them on a single roster line and list their dual role in the role field, as in "Jane Smith, Server-Bartender." This way, in the completed schedule, all of Jane's shifts will appear on a single line, which cuts down on the possibility that you will double book her.
If, however, you want to see these shifts on separate lines, you will have to create two slightly different "Jane Smith" entries, such as "Jane Smith Server" and "Jane Smith Bar," as this template auto-populates based on names.
Customize Your Shift Plan
Once you have entered your team and their availability, move onto the second sheet, the "Schedule Worksheet." The top portion of this sheet contains a "Shift Plan" space for you to edit the shifts you need coverage for during a typical week. This will act as a guide for future schedules.
For each day of the week, figure how many shifts you need for each role, and complete a cell for each one that contains a brief description of the role (as in "AM Opening Server" or "Closing Cashier"), as well as the in-times and out-times. Each template is populated with some common shifts, but you can edit these or create your own in these fields. The color coding is to help you see at a glance what roles and hours you have listed.
Don't worry about specific dates or upcoming holidays at this point. You will be able to update those on schedules as they arise. Right now, you are setting the foundation for your future schedules.
Further Customization
These templates also allow you to change the colors to whatever is most helpful for your restaurant. Select the cell you want to change and use the paint bucket icon on the home screen or the "format cell" dialog box to adjust. It is helpful to choose different color schemes for day and night shifts or opening and closing shifts.
If you need more rows in a section, you can add them by right-clicking on the numbered row just below where you want the new row to appear. A dialog box with the option to "insert" will pop up. Click on this option, and a new, empty row should appear.
Once you add your usual shifts for each role, save this document as your master template. You can return to this template to update it when staff is terminated, newly hired, or their availability changes.
Write Your Schedule
To begin writing your schedule, open your customized template, then immediately "Save As" a new Excel file. You can do this in Excel by clicking "Save As" on the file menu.
It is a good idea to title the new file with the dates that you will be scheduling, as in "Schedule Dec.15-Dec.21." If you use the end date of pay periods as your point of reference, "Schedule PPE 12.21." It is important to immediately create a new document so that your work does not erase the formulas in the worksheet.
Once you have created a new document, begin with the roster sheet. Enter the date in cell D5. This one date entry will auto-populate the rest of the date and day of the week fields in the rest of the workbook.
Take a moment to look over any schedule requests you have from your team that are outside of their typical availability and adjust the availability fields beside their names. The availability you input here will auto-populate on the schedule worksheet.
Use Your Customized Schedule Worksheet
Move onto the "Schedule Worksheet." Take a moment to ensure that the Shift Plan at the top of the sheet contains the shifts you need for the week you are scheduling. You may need to add or subtract shifts in some roles if there is a holiday or a large event.
Weather, sporting events, and holidays will all impact your expected business levels. Each type of restaurant, however, will be impacted differently. A coffee shop might be empty on Super Bowl Sunday, but a pizzeria will be extra busy. The day before Thanksgiving is slow for full service restaurants, but bars tend to be jam-packed with travelers returning to their hometowns.
Once you are sure that you have all of your necessary shifts with the correct in-times, scroll down to the "Actual Schedule" portion of the "Schedule Worksheet." In column A, enter the names of your staff with the same spelling and capitalization as they are written in your roster. Their availability will auto-populate into the fields beside their names.
Now, all you need to do is copy shifts from your "Shift Plan" and paste them over the availability in the actual schedule.
It is important to note that once you have pasted new information into the 'Actual Shift' cells, the information they originally contained will be erased. This is why it is important to save each new schedule as a new document, so your template document retains the auto-populating function that makes your scheduling easier.
For shifts that you are scheduling staff off, or for days that they are not available, copy and paste the "OFF" and "NOT AVAIL" fields at the top of the sheet.
Once all of the schedule fields are filled with color, your schedule is complete. You should be able to tell at a glance based on the color codes when you have filled in all the available shifts, and if the shifts in your "Actual Schedule" match the shifts that you put in your "Shift Plan."
Print Schedule
All those colors might be helpful as a cue that you have covered all your bases, but they can be hard on the eyes. Now is the time when you can click over to the third tab, "Printable Schedule." All you need to do is type your staff names in column A on this sheet in the order you would like them to appear on your final schedule. The schedule fields to the right of their names will auto-populate with the schedules that you entered in the Schedule Workbook.
If there are empty fields that you do not want to print, simply select the area you want to print by highlighting all the fields you want and selecting the "Print Area" button on the "Page Layout" tab in Excel.
Now you have a clear, legible schedule that you can post in your restaurant or save as a PDF or image and email to your staff.
Creating Your Own Restaurant Schedule Template
Many restaurants create their own employee schedule templates using Excel or Google Sheets. When creating your own template. There is a lot of information that goes into creating a weekly schedule, from requests off to tracking the shifting needs of business and assigning work roles within each shift. To ensure accuracy, it is best to gather all the information you need— like staff availability and expected operational hours— before you begin.
At a minimum, every restaurant schedule template should include the days and dates you are scheduling for as well as shift in-times and out-times. Including your employee roles for each shift on the schedule helps your team bring the correct tools and wear the right uniform for their shift.
Some templates include much more information, such as space to attach your employee availability. Others may include features that calculate wage and hour information so it can be used for labor forecasting and other comparative metrics. If that is your goal, it is a good idea to ask an accountant that specializes in restaurants to create a template for you. At that point, it might be more efficient to consider restaurant scheduling software for your business.
When to Use Restaurant Scheduling Software
Restaurant scheduling software is a great option for restaurants that have several labor centers to manage. If you are having trouble maintaining your labor targets or notice that your staff is regularly working outside of the hours you have scheduled them, these applications are an excellent way to get your costs in line.
Most of these apps have similar baseline functionality for scheduling. Some alerts prevent you from scheduling employees in roles they are not qualified for, and trackers that allow you to see how much you are projected to spend in labor based on your schedule. They all have a downloadable smartphone app that gives staff access to their schedules in real-time and switch shifts with co-workers.
7 shifts: This app starts at $19.99 per month for basic scheduling and team communication functions for 20 employees. To get labor reporting and point-of-sale (POS) integration, you'll have to upgrade to the Entree level at $43.99 per month. 7shifts integrates with the widest variety of POS systems. Best for: Small restaurants that want a scheduling solution tailored to restaurants.
When I Work: When I Work is priced at $2 per employee per month for teams of up to 100 at multiple locations. This app includes great timesaving scheduling features, but if you're looking for reports that sync with your POS, When I Work currently only integrates with Square POS. Best for: Restaurants looking for an affordable scheduling solution.
HomeBase: The HomeBase Basic package is free for single locations and allows you to schedule unlimited employees. The basic functions include the scheduler, POS integration as well as a time clock. For high-level reporting and the money-saving feature that prevents early clock-ins, you'll have to upgrade to the Plus level at $40 per month. Best for: High-volume restaurants with staff in more than one labor center.
Alternatively, you may be able to use built-in scheduling in your POS. Several helpful restaurant software options can give you an all-in-one solution. Some scheduling solutions, such as 7 shifts, is precisely a restaurant scheduling app. At the very least, your POS should include integrations with popular scheduling tools, such as the ones listed above.
Any of these applications will save you time when creating employee schedules. If you leverage all their available tracking and reporting functionality, you will likely save money on reduced overtime and early clock-ins in the long term.
Tips for How to Schedule Employees
While a restaurant schedule has a huge impact on your bottom line, it can have an even more explosive impact on your employee morale (and on the efficiency of restaurant management). According to data from the United States Bureau of Labor Statistics, 30% of hospitality employees work part-time. This means that at least one-third of your staff likely choose to work in your restaurant because of the flexibility it can offer them.
These are some easy steps to keep your restaurant schedule staff-friendly:
Avoid "Clopens": These are shift patterns where an employee is scheduled to close one night, then open the restaurant early the following day. Some cities, like New York City, require large employers to obtain written consent from employees scheduled this way as well as offer extra pay for these shifts.
Allow reasonable shift changes: It can be frustrating to receive requests for changes to the schedule after it is posted. Keep in mind that many restaurant employees work part-time and expect that their position comes with some flexibility.
Post schedules in advance: Posting schedules a week or two in advance allows your staff to better plan their lives, which can boost your team morale. The precarious nature of restaurant schedules can impact workers' health, which could mean your staff needs more sick days, increasing the chances that your business will be understaffed.
Be mindful of burnout: Data from the National Restaurant Association shows that 7% of restaurant workers leave the industry entirely because of burnout. It's true that sometimes long, taxing shifts are unavoidable in a restaurant. Smart restaurant operators take care, however, to ensure that their staff gets breaks and time off when business permits, especially during busy seasons.
Because most of your staff have smartphones, it is a good idea to post your schedule in a mobile-friendly way. This can be as simple as emailing a PDF of the schedule to the team once it is completed. Take care to send a fresh copy if there are any changes. These may seem like small things, but in an industry with a reputation for high turnover, anything you can do to have a positive impact on staff culture makes business sense.
Bottom Line
Creating a restaurant schedule is very detailed work. Learning how to schedule your team effectively can have a huge impact on your bottom line and your guest experience. A scheduling plan that allows your staff some flexibility to request days off or get their shift covered goes a long way to maintaining positive staff morale.
If you don't have the bandwidth to create a schedule by hand every week, there are many great scheduling apps available to help streamline your process. Several of them have a free basic option that will allow you to track projected labor costs as well as communicate with your staff where they are most of the time: on their smartphones.