The restaurant industry is changing at a more rapid pace than at any time in hospitality history. There are hundreds of tools available to wrangle tasks from voice ordering to employee productivity, with new tools emerging every day. Tools work together or separately to create a full-spectrum solution for your restaurant. The tricky part is knowing what tools are available and which will help your specific restaurant type.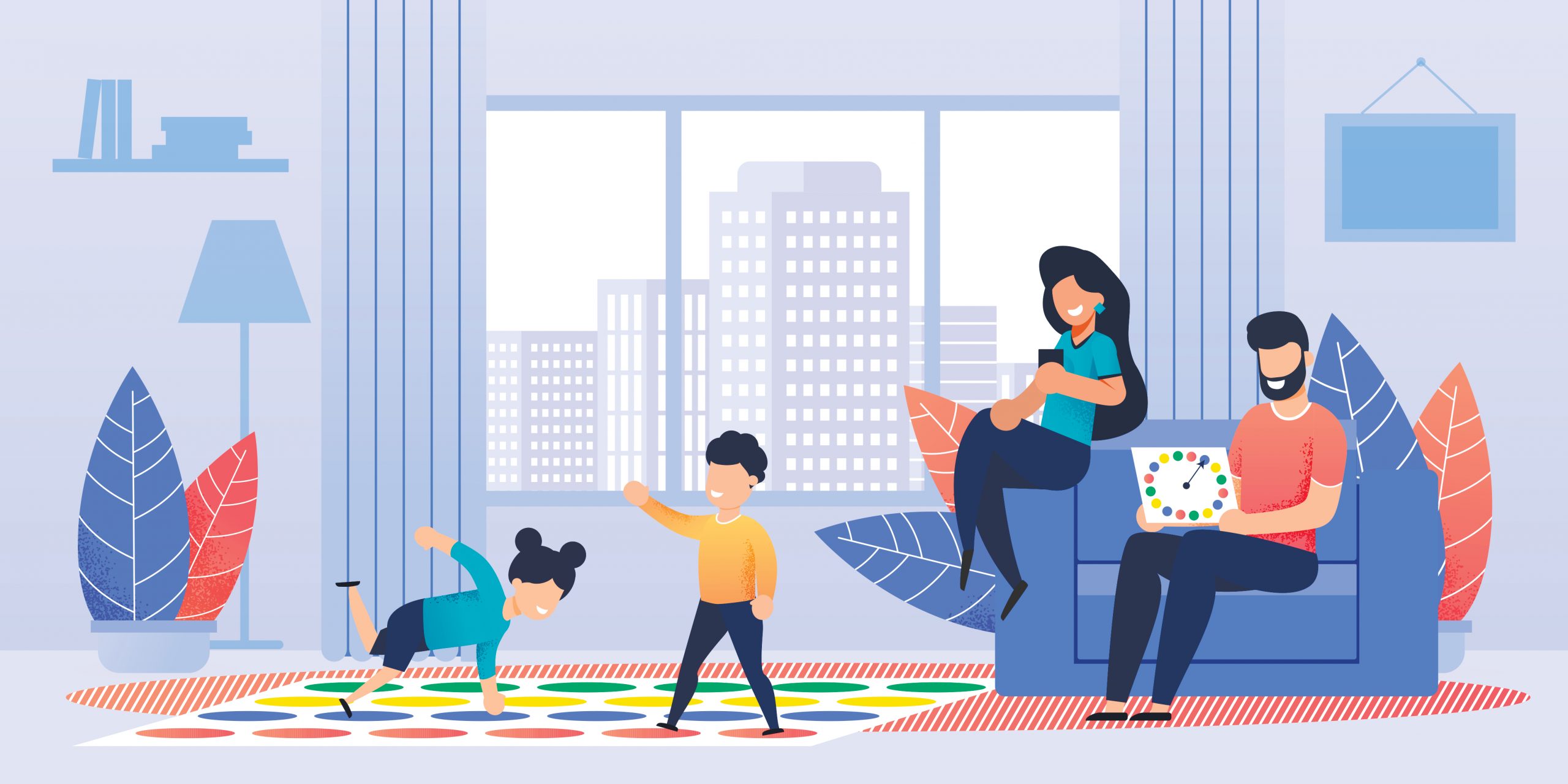 Deciding which software tools to use in your restaurant is a bit like navigating a game of Twister. You can know where you want to go, but there are several ways to get there. This guide will be your Twister board. We'll lay out all the dots and show you how they can work together or independently to get you where you need to go.
Sales & Payments Tools
A restaurant cannot exist without sales, so it makes sense to begin with tools that manage a restaurant's sales, especially since most restaurants use their most dynamic software tool, the point-of-sale (POS), to process all sales. Other sales tools include systems that allow customers to place orders themselves like online ordering systems, self-service kiosks, or voice ordering.
Point-Of-Sale System
It is a little unfair to call a point-of-sale (POS) system a sales and payment tool since most POS perform a ton of different tasks. Sales and payment processing, however, is their most basic function.
A Restaurant POS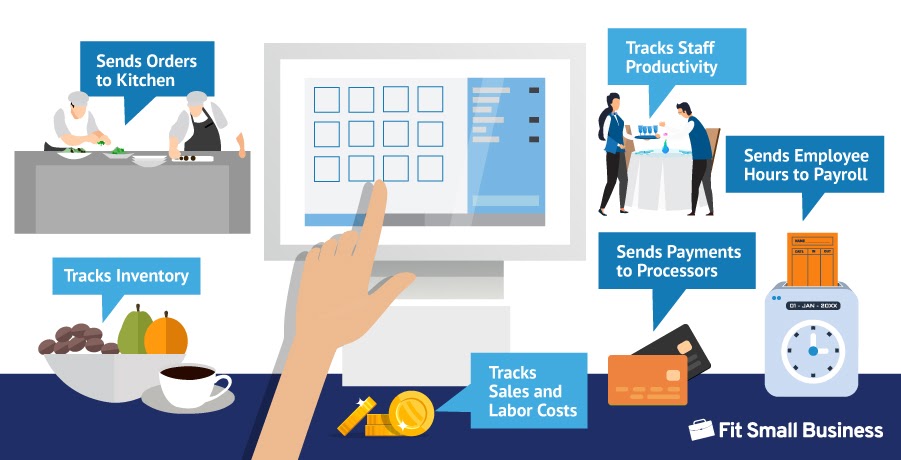 How a Restaurant POS Works
POS systems send orders to your kitchen and payment information to your payment processor. They can also act as your time clock and send your employee's hours to your payroll system. Robust POS systems also track your ingredient level inventory, which can alert you of low stock and remind you to order supplies.
Your POS can also connect with other tools like accounting software or scheduling tools. Many restaurant POS systems have built-in online ordering modules, and several integrate with third-party plug-ins that route orders placed on platforms like DoorDash to appear seamlessly in your kitchen's order stream.
Who Needs a Restaurant POS
Any restaurant can benefit from using a POS system. Since POS systems come in all sizes and levels of functionality, there really is a POS for everyone. Even micro-operations will be more efficient with no-to-low cost POS options like Square or Loyverse.
Restaurant POS Price Range
POS systems have two major costs: hardware and software. Hardware ranges in price from $499 to $1,500. Software is typically a monthly subscription that costs $60 to $200.
Our Top Restaurant POS Recommendations
We compared several restaurant POS systems and compiled a list of the best restaurant POS systems. Since the category is so large, we also researched the best systems for bars, cafés, and delivery-based restaurants like pizzerias.
Restaurant Merchant Services & Payment Gateways
Merchant services and payment gateways are what enable your restaurant to accept credit and debit card payments and direct those payments to your bank account.
How Merchant Services & Payment Gateways Work
When a customer pays at your restaurant, the payment processor sends the transaction information to the card brand's network, unlocking the funds from the customer's bank account and sending it to yours. Most cloud-based restaurant POS systems come with built-in payment processing, but some allow you to find your own payment processor and connect it to the POS.
Who Needs Merchant Services & Payment Gateways
Any restaurant that wants to accept credit and debit card payments needs a merchant service provider or payment gateway. If you will also accept online payments or transactions via a mobile app, payment gateways are appealing, because they tend to be more secure.
Merchant Services and Payment Gateways Price Range
Payment processors charge fees for using their payment network. They are usually between 1% and 3% of the total, plus $0.10 – $0.50 per transaction. The rates vary based on your sales volume, average check size, and credit history.
Processing fees also vary based on the type of transaction you are processing. Rates are higher for transactions where the "card is not present," like online or mobile payment. Payment processing is a competitive industry, however, so you can usually negotiate a good rate by talking to several processors and letting them compete for your business.
Contactless Payments
Contactless payment tools enable you to accept payments from smartphone apps like Apple Pay and Google Pay. Some credit and debit cards are also embedded with contactless technology.
How Contactless Payment Works
Contactless payment tools are also sometimes called "near field communication," or NFC. NFC transactions communicate via a specific radio frequency that connects the card or smartphone and payment reader when they're in close proximity, usually less than 3 inches.
Most payment processors, like First Data, are set up to easily add contactless payment services to a contract. If you want to accept contactless payments, check with your payment provider to ensure that they have options for this service.
Who Needs Contactless Payments
Contactless payments are a great way to provide the contactless service that customers desire in a post COVID-19 world. If, however, you are a completely mobile-based restaurant—like a ghost or cloud kitchen—then you probably want online payments rather than contactless.
Contactless Payment Price Range
Transaction fees for contactless payments are usually in line with swiped and dipped credit card payments. If your payment processor supports contactless payments, they may refer to them as "tapped" payments. Contactless payment readers range in price from $50 to $100 each.
Our Top Contactless Payment Recommendations
Comprehensive payment processors like Fattmerchant, Square Payments, and First Data roll NFC payments and standard credit card processing into one all-inclusive service. If you are considering which payment processor is the best fit for your restaurant, check out our guide to the 10 Best Merchant Service Providers for a comprehensive comparison.
Online Ordering Systems
Online ordering systems allow your customers to place orders online, via a computer or mobile device. The best systems fold online orders directly into your POS order stream, so they appear in your kitchen the moment the customer finalizes the order. Some online ordering systems include online payment processing, others do not.
How Online Ordering Works
Online ordering tools come in a variety of sizes and functions. You can set up simple online ordering with a freestanding Square online store or a website plug-in like GloriaFood. You can partner with third-party delivery platforms that integrate into your POS or sign on with several third-party platforms and integrate them all via a middleman application like Chowly.
Restaurant Online Ordering Systems Can Be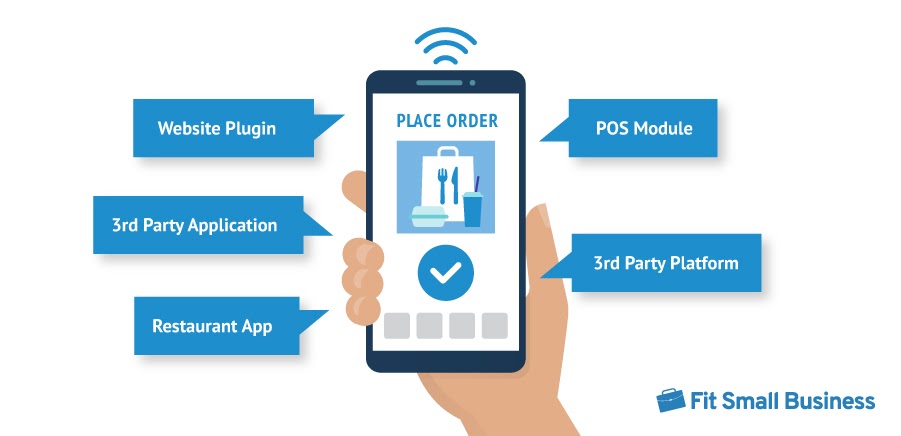 Most restaurant POS brands also have online ordering modules. These are built into the POS system and usually require an additional monthly subscription payment. The onset of social distancing during COVID-19 encouraged lots of innovation in this space. Even if your restaurant operates without a POS or a reservation system, you can get free-standing online ordering tools from industry giants like Toast, Tock, and Revel.
Who Needs a Restaurant Online Ordering System
Restaurants of all sizes and styles benefit from online ordering tools. They can be used for takeout orders or delivery. They can process online payments or allow customers to pay in cash when they arrive in your restaurant. Now more than ever, the options are limitless.
Restaurant Online Ordering System Price Range
Online ordering tools range from free—for GloriaFood or a Square Online Store—to $75 per month plus credit card processing fees for some POS modules. The amount you pay will depend on your sales volume, whether or not you include online payments with online ordering, and whether or not the system integrates with your POS.
Our Top Restaurant Online Ordering Recommendations
Toast Now and Tock To Go are really topping the market right now. They both have month-to-month subscription options and are competitively priced. A Tock To Go subscription, for example, only costs 3% of your total sales. You can see more options in our 7 Best Online Ordering Systems.
Voice-Ordering Systems
Voice-ordering tools enable customers to speak their orders into a speaker or smartphone without interacting with restaurant staff.
How Restaurant Voice Ordering Works
Some voice-ordering systems operate through smartphones, with customers calling a restaurant's phone number and speaking their order to an automated attendant. The automated system then directs the order to your POS order stream. Some take orders via in-home smart speakers like Alexa. Other voice-ordering systems are installed on-site and allow customers to order via a speaker rather than through a cashier or counter attendant.
Who Needs Restaurant Voice Ordering
Quick service restaurants, restaurants with drive-thrus, and counter service restaurants are a natural fit for voice ordering. Restaurants with a high volume of to-go orders that are set up for mobile and contactless payments can save labor costs by investing in voice ordering.
Restaurant Voice-Ordering Price Range
Voice ordering is currently emerging technology, and getting pricing for each system requires signing up for a free demo.
Our Voice-Ordering Recommendations
If voice ordering interests you, reach out to OpenCity IO, BensenAI, Voix, or Encounter AI for a demo and price quote.
Digital Menu Displays
Menu display tools allow you to put your menu in front of customers on mobile devices and digital display boards. They may also allow customers to view menus right on their smartphone screen via a QR code.
Restaurant Menus Can Be Displayed On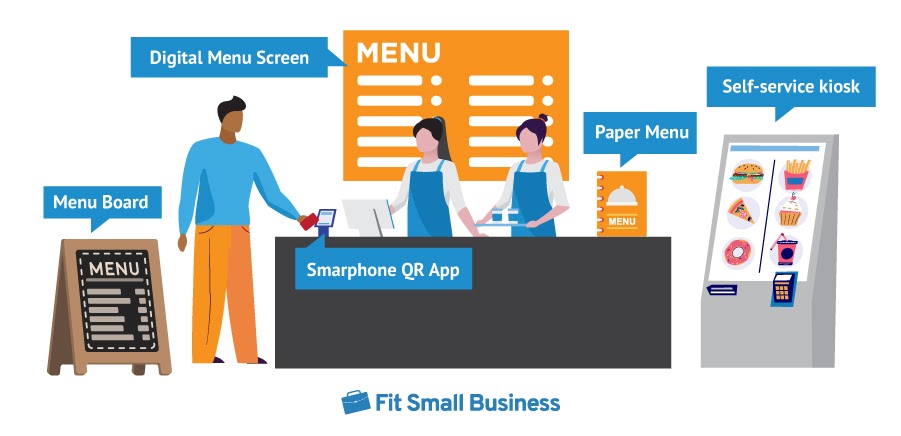 How Digital Menu Displays Work
Digital menu displays are typically tied to your restaurant POS platform. They can be updated easily on your back office computer, which takes a lot less time than handwritten menu boards. Digital menu displays can also help you adhere to social distancing guidelines that require you to dispose of menus after one use.
One of the most exciting new developments in digital menu displays are apps that allow your customers to scan a QR code with their smartphone camera and get your menu displayed on their phone screen. In some restaurants, these digital menu options can completely replace printed menus.
Who Needs Digital Menu Displays
Digital menu displays are a great fit for counter service and quick service restaurants. They are useful to restaurants of all types where single-use menus are required due to social distancing requirements.
Digital Menu Display Price Range
Whether you choose an inbuilt POS module or an independent option for digital menu displays, you'll need to budget between $400 and $1,500 per display screen hardware. For software, you can expect monthly fees of $30 to $55 per screen for free-standing options, and $50 to $120 per month for a POS-based system.
Our Digital Menu Display Recommendations
Most of these digital menu display options are tied to your POS provider. It makes the most sense to start there. Find out what options your POS provider has available or what third-party products integrate easily with its system. If you operate without a POS, a freestanding platform like Enplug can help you design a digital display plan.
For QR code menus, you will also have POS affiliated options. In the free-standing field, apps like Dinify and Menulingua take the additional step of translating your menu into your customers' preferred language.
Restaurant Self-Service Kiosks
Self-service kiosks allow customers to place their own orders and pay via a free-standing order and payment terminal.
How Self-Service Kiosks Work
Restaurant self-service kiosks are typically an extension of a POS system. They allow customers to ring up orders themselves and also have built-in payment processing tools to enable contactless payments or swiped and dipped credit and debit cards. Kiosks are usually free-standing terminals placed in the customer areas of a restaurant. Most major cloud-based POS systems offer a self-service kiosk module for an additional price.
Who Needs Self-Service Kiosks
Quick service restaurants that experience unpredictable rushes in service are a great fit for self-service kiosks. If you have been to a fast-food chain or a busy airport restaurant, you have probably ordered through a self-service kiosk. Restaurants of any style that are trying to limit human interaction, however, will find a self-service kiosk useful.
Self-Service Kiosk Price Range
Kiosks are always attached to a POS system. So if you don't yet have a POS, you'll need one to get kiosks up and running. Prices for hardware range from $150 for a tablet-based kiosk up to more than $1,000 for a robust, free-standing column kiosk complete with a card reader and receipt printer.
Our Self-Service Kiosk Recommendations
Since self-service kiosk options are tied to POS platforms, it makes sense to check with your POS company first. We found that Toast has the best self-service kiosk options overall. For more options, see our list of the 6 Best Self-Service Kiosk Systems to help you find the best fit.
Restaurant Delivery Management Tools
Pizzerias provided delivery services for decades before online ordering was available. The two systems—online ordering and delivery—can be part of the same tool, or you can design a delivery system without online ordering if that works best for your restaurant. The options listed below can be used to enhance your online ordering system or operate a delivery program without an online ordering function.
Delivery Driver Dispatch System
Driver dispatch systems allow you to assign orders with a delivery address attached to an in-house team of delivery drivers. Robust dispatch systems further allow you to track your drivers' location when they are out of the restaurant and provide them with detailed driving directions.
How Driver Dispatch Works
A dispatch tool can be free-standing or it can integrate with your POS or online ordering system. Some POS systems—like Toast and HungerRush—have comprehensive driver dispatch and driver management capabilities built-in. These typically come at an additional cost but increase the tool's functionality considerably. A dispatch system that is part of your POS allows you to assign orders to drivers in the same way that you assign tables to servers in your dining room.
If you operate without a POS, however, you can still use a free-standing driver dispatch system. Both free-standing and POS dispatch systems provide your drivers with map directions and delivery instructions. Some allow your drivers to accept credit card payments via a smartphone and can track your drivers' location using a smartphone app.
Who Needs a Driver Dispatch System
Restaurants that want to staff their own delivery drivers can run a more efficient operation with a dispatch system. Any restaurant that processes a high volume of deliveries will benefit from the ability to organize deliveries by location and provide drivers with detailed directions that dispatch systems provide.
Driver Dispatch Price Range
The price for a driver dispatch tool depends on which type of system you choose. Some freestanding apps base their fees on the number of deliveries you process, from $0.30 to $1.50 per order. Others base their fee structure on a monthly or annual subscription contract. These fees average around $100 per month.
Our Top Driver Dispatch Recommendations
Driver dispatch tools are a quickly shifting environment in 2020. For the most robust POS dispatch system, HungerRush crushes the competition. For a free-standing tool, QuestTag is versatile and low cost. For more options, see our ranking of the 6 Best Food Delivery Software options.
Mobile Payment Systems
Mobile payments allow restaurants to process payments away from a POS terminal. Using a mobile payment system can help you avoid manual entry fees for credit card transactions since the mobile payment tool can run cards wherever the customer is, whether tableside or on their doorstep.
How Mobile Payments Work
Sometimes people will use "mobile payments" to refer to online payments or contactless NFC payments. Most often, however, mobile payment systems are tools that allow you to process payments at a customer's doorstep in a delivery scenario. You can also use mobile payment systems to accept payments tableside, which will help you maintain EMV (chip card) compliance.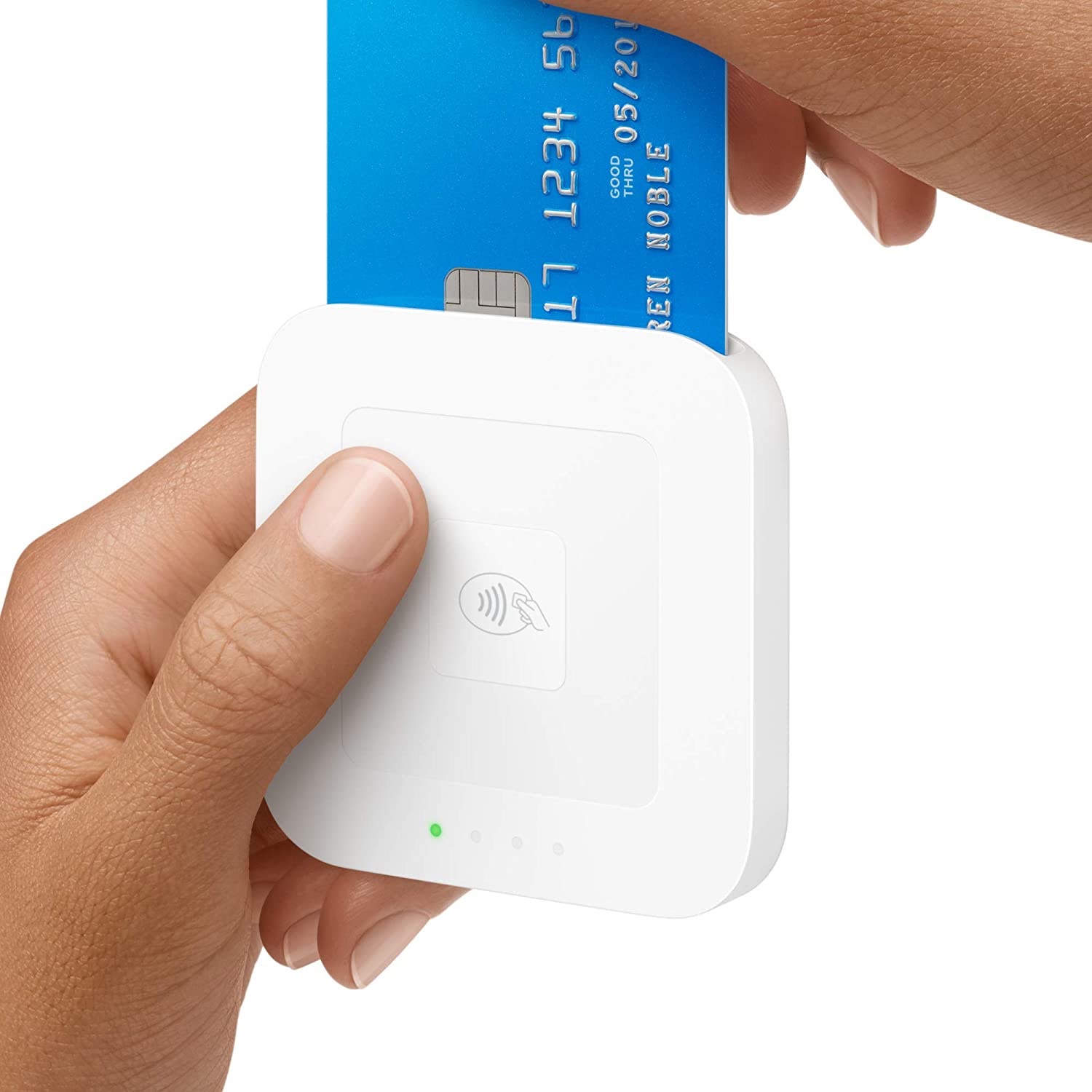 Who Needs Mobile Payments?
Dine-in restaurants that want to accept payments tableside
Delivery restaurants that want to process payments at the point of delivery
If you are looking to decrease the fees you pay for "card-not-present" credit and debit card transactions, a mobile payment tool is a good solution.
Mobile Payment Price Range
The price you pay for a mobile payment solution will depend on your payment processor and the tools their system supports. Square, for example, has designed incredibly inexpensive mobile card readers that attach to smartphones or other mobile devices. Other payment processors integrate with handheld Ingenico, Moby, and MagTek mobile card readers. These tools are sometimes offered for lease from your payment processor or can be purchased for $50 to $200 each.
Our Top Mobile Payment Recommendations
The most user-friendly mobile payment solution is hands down Square. Its Square Reader allows you to accept payments from any smartphone. If you have a different payment processor than Square Payments, however, you may want to check out our comprehensive ranking of Best Mobile Credit Card Readers to see more options.
Restaurant Accounting & Back Office
Restaurants handle a lot of numbers. You need to track sales to ensure you pay the correct sales taxes, track hours to pay employees accurately, and pay your share of Unemployment Insurance. You also need to ensure that you pay vendors on time and that you have enough money in your bank accounts to cover payroll and other payments. Beyond these basic functions, you'll also want to stay on top of your daily sales and performance data so you can make educated forecasts for the future.
If your restaurant is small, you and your managers may be able to wrangle all of the information on a series of spreadsheets. If you have the budget for it, accounting and other back-office software can save your sanity, and potentially some money in the long run.
Restaurant Accounting Software
Accounting software tracks your revenue and expenses. It enables you to input invoices from vendors and categorizes those costs into food, beverage, staffing, and tax expenses, which comes in handy at tax time.
How Restaurant Accounting Software Works
Some restaurant accounting software are desktop applications that you install in your back office computer, while others are cloud-based tools that you can access on any web-enabled device. Some accounting software syncs with your POS to pull sales data, but many systems are free-standing tools that must be manually updated when you receive vendor invoices or payments from payment processors.
Who Needs Restaurant Accounting Software
Every single foodservice operation of any size should have accounting software. Trying to keep track of the many expenses and revenue streams with handwritten notes or spreadsheets is prone to human error and can also gobble all your administrative bandwidth.
Accounting Software Pricing
Accounting software comes in all sizes for all types of restaurants. You can subscribe to a month-to-month plan for $10-$60 per month, depending on the system. The most robust desktop applications can run in the range of $3,000 to $5,000 annually.
Our Top Recommendations
Small operations will probably find Xero is a great fit. Full-service operations with a large staff would do better with QuickBooks or QuickBooks Online. There are options for every size of restaurant operation; you can see our top six in our guide to Best Restaurant Accounting Software.
Restaurant Payroll Software
Payroll software connects your employee wage and hour records to a payroll system that prints and delivers paper checks or handles direct deposits. It saves you and your managers time from having to manually figure the correct employee wage and tax withholding amounts.
How Payroll Software Works
Payroll software is typically tied to the payroll service that you choose to handle your employee checks and direct deposits. The software either integrates with your time clock to pull employee wage and hour information, or it is a simple platform that enables you to manually enter wage and hour information. The payroll software will calculate your payroll taxes, employee tax withholding, and Social Security withholdings.
Who Needs Payroll Software
Virtually every restaurant uses payroll software. Any restaurant with 10 or more employees should have payroll software, if for nothing else then ensuring that your operation stays in line with state and federal tax regulations.
Price Range
Annual costs typically range from around $450 to $4,000 depending on the size of your restaurant payroll and staff.
Our Top Recommendations
SurePayroll is our top recommendation for restaurant payroll services. Your needs may vary depending on the size of your staff and payroll volume. You can get an in-depth look at other options by checking out our ranking Best Restaurant Payroll Software.
Restaurant Management Software
Restaurant management software is a super streamlined sales and cost management tool, enabling you to pay invoices, reconcile inventory, and generate a deep analysis of your restaurant's performance.
As restaurant POS systems have expanded their functionality, some have begun calling themselves "restaurant management systems." This can be confusing. Restaurant management software is a separate tool from a POS System.
How it Works
Restaurant Management Software connects your POS, payroll provider, food and beverage vendors, and bank. Most systems enable you to place vendor orders and pay invoices with a quick click of a button. Combining all of your revenue and cost centers in one program that tracks in real time allows you to see how you can adjust your operation to increase profitability on a daily basis.
Who Needs Restaurant Management Software
Restaurant Management Software is a robust tool. Due to the cost and massive functionality, these are best for larger restaurants. If, however, you are running your restaurant as the owner and only manager, then restaurant management software can save you a lot of administrative time.
Price Range
The prices for these tools vary depending on the functions that you opt to use. Some are priced annually, and others are a monthly subscription. If you are interested in restaurant management software, you should budget for $1,500 to $5,500 annually.
Keep in mind that to get the most out of restaurant management software, you must already have a POS and payroll software installed.
Our Top Recommendations
The top players in the field are Restaurant365 and Compeats' Ctuit Radar. The resources on their websites can guide you to the best fit for your restaurant.
Floor & Table Management
Any restaurant with tables can use some help keeping seatings organized. Floor and table management tools can be in the form of reservation systems or waitlist applications for restaurants that do not take reservations. Some floor management systems rely on paging systems or two-way SMS texting to customer phones. You can also purchase some paging systems as free-standing tools.
Reservation Systems
A reservation system allows a restaurant to accept reservations from customers and anticipate the flow of business days or weeks in advance. As the nerve center for compiling customer information, many reservation systems also contain customer relationship management (CRM) functions.
How Reservation Systems Work
The most popular reservation systems are robust programs that operate on a tablet installed at your restaurant. A full spectrum reservation system like this will also allow you to place "reserve now" buttons on your restaurant website and social media channels. These systems may also log credit card numbers for large party deposits or ticket-based reservations.
Keep in mind: A reservation system may be able to process credit card payments for ticket sales or large party deposits. These systems do not process on-site transactions. You will still need a POS or other credit card processing system.
Less robust reservation systems come in the form of widgets that you can add to a WordPress or Squarespace website. These plug-ins are usually more of a virtual guest book; many do not come with the ability to create a floor plan and "seat" guests at open tables as they arrive, like a full-scale reservation system can. If all you need is the ability to track who has come to your restaurant—for COVID-19 contact tracing purposes, for example—a guest book may be all you need.
Who Needs a Reservation System
Restaurants that need to control the flow of customers will find reservations most useful. Reservation systems come in so many sizes that there are options for restaurants of any size. If you need to take reservations to meet your state-mandated COVID-19 social distancing measures, a low-cost reservation system will help you log your customer information and adhere to occupancy guidelines.
Price Range
On the low-end, you can add a reservations plug-in to a WordPress site for free. On the high end, reservation systems include installation fees of up to $1,200 for hardware, with monthly software subscriptions from $10 to $200. Cloud-based solutions that operate on mobile devices generally cost between $50 to $199 per month. POS reservation modules are becoming more common and can run between $50 to $125 per month.
Our Top Recommendations
Resy and Tock are the most interesting free-standing software options for restaurants. Toast and Cake both offer excellent in-built POS reservation modules. If you host your restaurant site on WordPress, check out the free Five Star Reservations plug-in.
Waitlist Management Systems
Waitlist management systems allow restaurants to track customers when they check-in and assign them to tables. This can allow your staff to quote accurate wait times to newly arriving customers, and keep the waiting queue of guests organized.
How Waitlist Management Works
Some restaurant waitlist software operates on a freestanding tablet at your host stand. Others allow you to place a waitlist button on Yelp or your restaurant social media channels to allow customers to add themselves to a waitlist before they arrive. Some waitlist software is included with a reservation system, which may enable it to integrate with your POS. Many waitlist systems prompt customers to include a cellphone number so that you can text them when their table is ready.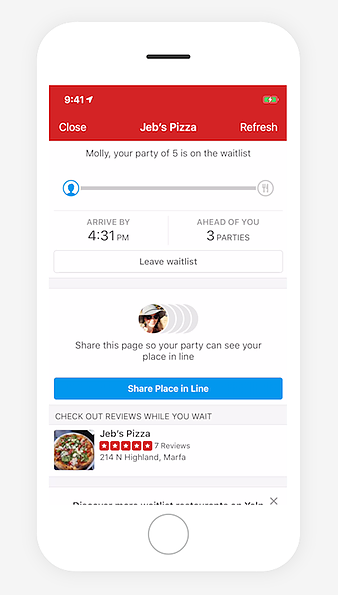 Who Needs Waitlist Management
Busy restaurants that do not accept reservations are the ideal candidates for waitlist software. They can also be used to control the flow of customers if you need to maintain low-occupancy targets.
Price Range
Waitlist software ranges from free to $250 per month. Most pricing depends on the number of waitlist entries your restaurant uses per month. For example, most free tools max out at 100 entries per month. If your restaurant is busier than that, you can expect subscription rates to start at $59 per month and up.
Our Top Recommendations
The major players in waitlist technology are the reservation system Resy and Yelp Waitlist. Yelp is polarizing among restaurant owners, but if you have a high Yelp score, its waitlist app really is great. Both of those systems are more than $50 per month and might be more robust than you need. Smaller operations would probably be fine with something like Waitwhile or TablesReady.
Guest Paging System
Paging systems allow you to alert on-site guests when their table or order is ready. Paging systems have been around since the 1980s and are a time-tested way to communicate with on-site customers without relying on the internet or smartphones. Truthfully, they are more hardware than software tool, but if you are looking for a guest paging system that does not rely on smartphones or the internet, these systems are pretty foolproof.
How Guest Paging Systems Work
Most paging systems operate on a radio frequency, similar to Bluetooth and contactless payment systems. They consist of a charging base that houses 10 to 20 rechargeable pagers. Your staff hands pagers to waiting customers, notes the number on the pager, then uses the charging base to set an alert to the correct pager number when the table or order is ready.
Who Needs a Guest Paging System
Busy restaurants that need to keep track of customers when they arrive commonly use pager systems. Counter-service restaurants that ask customers to pick up their food when it is ready are also a great fit for this tool.
Price Range
Paging systems are a one-time investment. There are no subscription fees involved in owning and operating a pager system. You plug the unit into a power outlet and start using it right away. There is no downtime or installation time. Since it is a one-time investment, these systems cost a little extra upfront, usually between $200 and $1,200 per system, depending on the number of pagers you need and the range you need the transmitter to reach.
Our Top Recommendations
You can purchase a pager system from most any restaurant supplier or paging company. Simply performing an internet search for "restaurant paging system" should return plenty of results.
Venue Management Systems
Venue management systems enable restaurants with private event spaces to track sales as well as organize and communicate event information across many parts of the restaurant operation.
How Venue Management Works
Venue management software is a free-standing tool that runs parallel to a POS. Since most event software includes the ability to process online payments, however, operations that only handle special events or catering orders can use this tool to process all payments and forgo a POS if they wish.
Event management platforms track every private event or banquet inquiry that comes into your restaurant (or venue). You can track proposals that are sent to clients, accept signed event contracts, and process deposits in the system as well. Events are tracked on a calendar and can be assigned to specific rooms or spaces at your venue.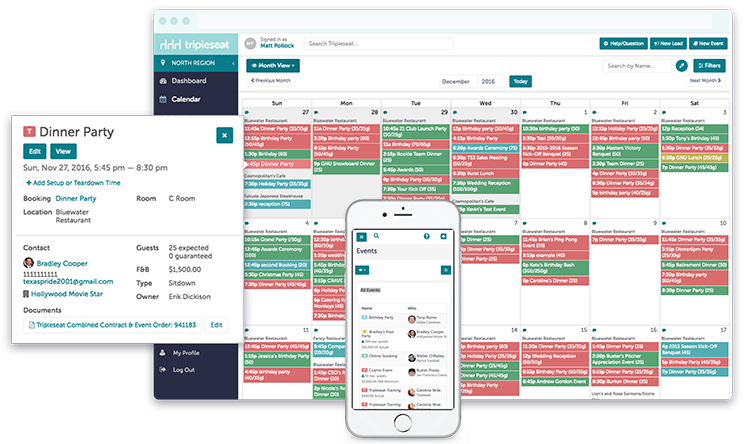 As information like menus and the event schedule are added, the system will organize all of the information into various formats depending on who you are communicating with. For example, your chef and front of house manager need to see the menu and pricing. Service staff will benefit from reading the Banquet Event Order (BEO) that includes details of internal procedures, without pricing. Your customer needs to see a descriptive menu and a full invoice of total costs.
Who Needs Venue Management
Venue management software is best for restaurants or event venues that book events in multiple spaces. They are especially useful to spaces that have multiple event spaces and multiple event managers. They can also be used to organize busy off-site catering businesses. Currently, these tools are designed for venues that do a high volume of events, but packages for smaller operations are likely to debut soon.
Price Range
Pricing varies and may require a customized quote. If you budget between $100 to $300 per month, you're in the right ballpark.
Our Top Recommendations
Tripleseat and Social Tables are the two major players in event management. Both tools are continuously developing additional functions that keep both pretty competitive. If you need room mapping tools, though, Social Tables is the most functional option.
Kitchen Management
Commercial kitchens are pretty organized spaces. With all the fire, smoke, and sharp objects flying around, they have to be. Beyond keeping food prep organized, however, your restaurant kitchen managers need to track inventory, place orders with suppliers, and keep incoming food orders organized. These are the tools that will keep your restaurant kitchen organized.
Kitchen Display Systems
Kitchen display systems (KDS), sometimes called bump screens, are digital screens that display order tickets in your restaurant kitchen. They typically replace kitchen printers, though some restaurants use a combination of KDS and printers.
How KDS Work
KDS are invariably programmed as an extension of your POS system. There are, however, some free-standing systems that integrate with several different POS systems. KDS are networked with your POS via the cloud. They can usually be set up to receive orders from online ordering platforms in addition to your on-site POS.
Who Needs KDS
KDS are mostly seen in high-volume, quick service restaurants where customers order and leave quickly. KDS are a great fit for pizzerias, burger joints, and barbecue spots. They are less popular in full-service restaurants where customers linger over multiple courses. Though some full-service chefs swear by them.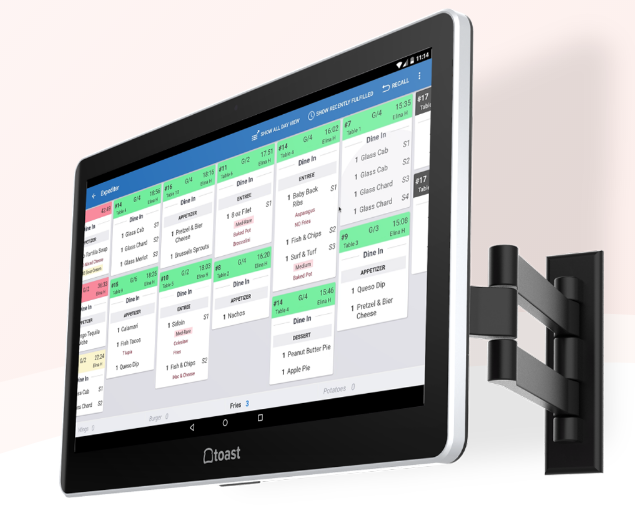 Price Range
KDS systems, even if they come from your POS provider, always come at an extra cost. There is the upfront cost of the screens themselves; if you are going completely paperless, you'll need one at each cooking station. They can range from $500 to $1,200 each. Then the software to operate them and connect to your POS is typically an additional monthly fee. None of the major POS players list this price publicly; you will need to reach out for a customized quote.
Our Top Recommendations
Your first best option is to reach out to your POS sales rep and find out if they offer KDS options. The best KDS is the one that seamlessly communicates with your POS system. There are, however, free-standing systems that work with several different POS systems. For more information, see our ranking of the 6 Best Kitchen Display Systems.
Inventory Management
Inventory management systems track your food and beverage inventory from the time it is ordered to the time it is either served or thrown out. This allows you to see and control waste, shrinkage, and spoilage on a daily basis.
How Inventory Management Works
Many inventory management systems are built into or integrate with your POS system. To be completely accurate, they must. They use real-time sales data to subtract items out of your virtual inventory so you always know how much of a raw ingredient you have on hand. This streamlines your ordering process.
In order to get the most out of an inventory management system, you must input all of your vendors and supplies into the system before you use it. The best inventory systems will communicate directly with your suppliers so you can generate and place orders for all your ingredients directly through the system.
You will also need to create recipes for all of your menu items, including all ingredients and their quantities. This is the information the system will use to subtract items from your inventory as dishes are sold. Once you put in this time, however, you will be rewarded with low-stock alerts, order reminders, and deep reporting functions.
Who Needs Inventory Management
High volume restaurants can gain a lot of insights from inventory management systems. Multi-venue restaurant groups also love these tools. If you do not have the administrative time to set up all the inventory items and tie them to vendors and recipes, however, it doesn't make sense to spend the money on inventory management tools. If they only half-function, they only will frustrate you and your team.
Price Range
Inventory management modules typically come with an additional monthly fee of $25 to $100, depending on the POS provider.
Our Top Recommendations
Most inventory management systems are built into POS systems, so it would make sense to start with your perfect POS and build from there. You can see our top restaurant POS recommendation in this guide.
Inventory Physical Count App
Inventory physical count apps are tools that allow you and your team to log inventory counts on mobile devices like tablets and smartphones. If you've ever performed a month-end liquor inventory count, you don't need me to tell you what a lifesaver this can be.
How Physical Count Apps Work
Inventory counting apps are downloaded onto your teams' smartphones or mobile devices. The best apps allow you to enter your ingredients into the system in the order in which they are stored, so you aren't constantly jumping from one shelf to another to count.
The most robust apps identify items by their manufacturer's bar codes and connect to scales to record an accurate inventory by weight. Some bar counting apps enable you to take a picture of the bottle to register a count. Most every one of these systems allows multiple users to perform counts simultaneously from separate devices. The system then syncs that count in a central document.
Who Needs a Physical Count App
Anyone who hates inventory count sheets with tiny scrawled numbers on them will love a physical count app, though high volume bars and restaurants with large inventory stored in multiple locations see the biggest benefit. If you struggle to find staff willing to work on inventory count days, a physical count app can help alleviate staff pain points.
Price Range
These tools can be pricey. They range from $100 to $400 per month depending on your number of locations. When considering the price, keep in mind that they can shave hours off your inventory counting days. If you perform inventory counts weekly, a physical count app may save you money in the long run.
Our Top Recommendations
Most of the big chain restaurants rely on CrunchTime!. That tool may be more robust than small restaurants need, though. Smaller operations will want to check out BevSpot or Foodager. For bars, Bevager and Partender are also good options.
Guest Management
Most guest management tools are systems that gather and track the massive amounts of information you have about your restaurant's customers. This can be information like birthdays, anniversaries, favorite dishes, and allergies. This can also be information like the average spending amount and the last time they visited your restaurant.
Gathering and tracking information can sound a little impersonal, but it's the opposite of hospitality. Restaurants have been tracking this sort of information for years; they were just doing it in pocket-sized address books that they kept in the host desk. Nowadays when you interact with customers on Facebook, Instagram, and via text-messaging in addition to seeing them face to face, software tools can help ensure that you provide the same welcoming experience everywhere.
Restaurant Loyalty App
A loyalty app creates a mobile interface for customers to interact with your restaurant on their smartphones. Loyalty apps can be tools built specifically for your restaurant or features that are supported by a POS system.
How Loyalty Apps Work
Remember those punch cards we all carried around in the early 2000s where after 10 punches you got a free coffee/ pizza/ sandwich? Loyalty apps are like that on steroids. A mobile app is more flexible than a punch card, though. A loyalty app lets customers access your restaurant via their smartphone, where they can place orders for pick up or delivery and earn points for each purchase. You can choose to personalize your loyalty program, offering your most engaged customers perks from early access to special menus, discounts on certain days, or even a free slice of birthday cake.
Most loyalty apps track enrolled customers by phone numbers, so they can collect points on in-restaurant purchases as well. Most restaurant loyalty apps are add-on modules to POS or online ordering systems—though there are some free-standing solutions available. If you have very specific needs, you may also choose to hire a software developer to build an app for you.
Who Needs a Loyalty App
Restaurants in cities with a lot of foot traffic and lots of competition nearby probably see the biggest returns on loyalty apps. Though, if you are a seasonal restaurant in a vacation community, loyalty might be a worthwhile investment to help you get the most business in a short period of time.
Price Range
Loyalty apps attached to other systems generally range from $50 to $75 per month. Freestanding systems are usually $65 to $120 per month. A custom-built system will vary widely depending on your needs and whether or not your designer will accept food for a portion of their compensation. You should reach out directly to freelance developers to get custom proposals. You can find them on sites like Fiverr and Toptal.
Our Top Recommendations
For an entry-level POS price, Lavu has a great loyalty app that is easy to add-on to your POS. Toast also has a great loyalty app. For ease of use, a loyalty program that at least integrates with your POS will save you a lot of time and administrative headaches.
Customer Relationship Management (CRM)
Customer Relationship Management (CRM) software collects information like contact details, average spending, visit frequency, and meal preferences about your restaurant customers. CRM tends to work hand in glove with your loyalty program and reservation systems.
How Restaurant CRM Works
Most restaurants interact with their customers through multiple channels—on the phone, on social media, via email, and in-house. A CRM solution gives you a central program to compile and track the information you gather about your customers from these various channels and produce highly personalized reports and analysis that can guide your business decisions.
Years ago, CRM was only available to restaurants as a free-standing tool that operated alongside other systems—like your POS—but did not integrate with them. Nowadays you are most likely to encounter CRM as an add-on function to your POS or reservation system. You get the most bang for your buck when your POS, reservations or waitlist system, and CRM all talk to each other.
Who Needs CRM
Mostly medium to high volume restaurants use CRM systems. If your restaurant is in a competitive market, however, a CRM can be a good fit for small operations too. Basically, if you have so many customers that you don't know them all by name, a CRM can be helpful.
Price Range
Restaurant CRM tools are typically add-on modules from either your POS, reservations, or waitlist systems. Prices vary from product to product, but you can expect a range of $25 to $75 per month.
Our Top Recommendation
Restaurant POS system Upserve got its start as a free-standing CRM plug-in for restaurants. So if you are looking for a CRM with a POS attached, you can hardly do better. POS competitor Toast and reservations systems Resy and Tock also have excellent functionality here.
Restaurant SMS Texting Tools
Customers want to text, and you don't want to (and shouldn't) use your personal cellphone to do it. SMS texting—sometimes called two-way texting—software allows you to text customers and receive texts from them on a desktop app that approved staff members can monitor and operate.
How SMS Texting Works
SMS Texting platforms for restaurants operate in a similar way to VoIP systems. The system will generate a 10-digit local phone number that customers see on their phones and will associate with your restaurant. You can use this system to receive customer orders or send happy birthday messages to your guests. If something comes up and you must update your procedures or hours of operation, you can send a bulk email blast to your customer base.
These systems further allow you to set up multiple users, so you can track who responded to a customer text. This will allow your managers or host team to monitor and respond to messages when you are unable to. Even restaurant owners take a day off sometimes.
Who Needs SMS Texting
Restaurants that want to communicate with customers via text for ordering or customer feedback should invest in a two-way texting tool.
Price Range
Pricing ranges from $25 to $249 per month, depending on the number of texts you send, and whether you choose to send advertisements via those texts.
Our Top Recommendations
There are several companies that support two-way texting for small businesses. Hungry Text and Texthood are two that specialize in restaurants. Many customer feedback apps also offer SMS texting packages as well.
Employee Management
Restaurants tend to have large staffs that work different hours week to week, depending on the needs of the business. As a whole, the restaurant industry employs a lot of part-time workers and is many workers' first job, so it makes sense that the industry has a reputation for high staff turnover. Keeping track of your employees' training, schedules, and tips can take a lot of administrative time. Luckily, there are software tools that can help you organize training, scheduling, and daily tasks.
Restaurant Training Platforms
Restaurant training platforms enable even small restaurants to benefit from video training resources. These platforms allow you to accurately track what information has been covered in your employees' training. Since your highest performing staff are usually your best trainers, using training platforms for some or all of your new hire training can keep your top staff focused on your restaurant performance.
How Training Platforms Work
Most restaurant training platforms are online resources that have compiled skills courses from industry experts. Member restaurants can then organize the available resources into training modules that are tailored to your restaurant style and staff experience level.
Who Needs Training Platforms
You hate to say it, but it's true—most restaurants do not take the time to train new employees. As managers and owners, we tend to rely on hiring people with some experience, handing them a menu, and expecting them to figure it out. So it's not a stretch to say that any restaurant can benefit from using a restaurant training platform. Most platforms have memberships for individuals as well, so beyond individual restaurants, any restaurant worker can benefit from using a training platform.
Price Range
Restaurant training platforms are an emerging tool. Currently, the biggest player in the market is the training website Typsy. Annual memberships range from free to $99 for individuals or free to $160 per restaurant. Some niche sites like Restaurant Owner offer access to a training video library for $29 per month.
Tip Out Calculators
Tip out calculators log and figure the distribution of simple tip pooling arrangements, ensuring a transparent communication between all members of a tip pool. They allow employees to see how many tips were added to the pool and how the distribution was calculated.
How Tip Out Calculators Work
Most of these tip out calculating tools are apps that work on mobile devices and smartphones. The apps prompt the restaurant manager or a lead employee to enter the names and roles of all the employees in a shift's tip pool. They then prompt employees to input their tips individually before calculating the total pool and figuring the amount that should be distributed to each employee.
A different type of tip pooling tool is a third-party plug-in that integrates with a restaurant POS. These tools pull the tip and staff information directly from the time clock and server sales reports for each shift. Some of these plug-ins also offer employee scheduling functions.
Who Needs a Tip Out Calculator
Most of these tools are still developing. One day they will probably be of excellent quality. The transparency for the tipped staff is definitely welcome, and they can save restaurant managers time in daily administrivia.
Currently, the apps can only handle very simple tip out arrangements like tip pools that are evenly split among staff. If your tip pool is based on points, hours, or points and hours, you are better off working with an accountant or payroll expert to create a spreadsheet specifically for your restaurant. A hands-off approach is not ideal when it comes to tip handling; it is too sensitive, and mistakes can lead to charges of wage theft or even full-blown lawsuits.
Price Range
Prices vary from free to more than $600 annually depending on whether the tool is a smartphone app or a POS integration.
Our Top Recommendations
Tips are a very sensitive area in restaurant payroll. As of the writing of this article, none of the available tip-pooling tools are robust enough for us to fully recommend. If you would like to explore more about how to organize a tip pool, however, see our guide to restaurant tip-outs.
Restaurant Scheduling App
Restaurant employee scheduling apps enable you to transmit schedules to your staff via a smartphone app. In the app, employees can switch shifts, update their availability, and request days off.
How Scheduling Apps Work
There are two major types of restaurant staff scheduling systems. The first type is free-standing tools that you can use independently of your POS. Most of these types still integrate with POS, though. The second type consists of modules that are built into your restaurant POS.
Both types of scheduling apps present you with a management dashboard that organizes your staff by role and shows their availability on the scheduling screen. The apps won't let you schedule an employee for a shift they are not available for or qualified to work. Many of the apps will learn from every schedule you write and ultimately develop the ability to auto-schedule your team.
You'll get the most bang for your buck by integrating your scheduling app with your POS. When you do this, the scheduling app will prevent early clock-ins, which could absolutely save you money. Some studies have shown that early clock-ins can cost $1,000 per week.
Who Needs a Scheduling App
Unlike tip pooling apps, I cannot recommend scheduling software highly enough. If your restaurant has more than five employees, a scheduling app can help support your business. Employees love scheduling apps. You will be amazed how much more productive your management team will be when they don't constantly have employee scheduling issues running in the back of their minds. These tools are a slam-dunk as an employee morale booster.
Price Range
Scheduling systems range in price from free to $150 per month. Most restaurants can get by with a small or mid-level package that is closer to the $65 to $100 range, though.
Our Top Recommendations
These are easy tools to recommend because there are options at every price range (including free). Staff loves them. Plus, they really do save time, money, and managers' sanity. 7Shifts and Homebase have excellent functionality for restaurants. You can see even more options in our guide to the 8 Best Employee Scheduling Software.
Daily Task Management App
Daily task management apps enable smartphones and tablets to act as virtual checklists to ensure that all your daily cleaning and side work tasks are completed. These apps help identify training opportunities, ensure food safety compliance, and boost employee performance.
How Task Management Apps Work
Daily task management apps allow you to assign tasks to employees and track their completion via a smartphone or tablet. In most task apps you can attach instructions or training documents directly to the relevant task in the app, so employees are never confused. You can track the completion of checklists from a central manager account so you know tasks are completed or if they need to roll over to the next shift.
Who Needs Task Management Apps
Daily task management tools are excellent for ensuring that cleaning and sanitizing tasks are completed. They are especially useful for restaurants with a large staff or a staff that works irregular shifts.
Price Range
The cost ranges from free (for basic systems) to $89.99 per month for a more robust option. These apps can save you money in the long run, by preventing fines for health code violations or the loss of revenue associated with dropping a health grade. This is a place to keep your finger on the pulse of POS developments too. It would be surprising if restaurant POS systems don't develop their own versions of these tools in the near future.
Our Top Recommendations
The two biggest players in daily task management for restaurants are Jolt and Sling. They are both highly functional and offer multiple pricing tiers. The main difference between the two is the user interface. Your favorite will depend on which interface you prefer.
Earned Wage Access Apps
Earned wage access (EWA) apps are financial technology services that allow employees to receive, on-demand, a portion of their wages for hours they have already worked but not yet been paid for by their employer. EWA apps are gaining popularity in the restaurant industry because they simulate the flexibility of getting paid in cash at the end of the day. An EWA can help ensure that employees have funds when they are most useful, rather than running into late payment or payday loan fees while waiting for their paycheck.
How EWA Apps Work
EWA apps connect to your payroll and scheduling systems to compile employees' expected daily earnings and tips. Employees that subscribe to the EWA connect the app to their bank account, eWallet, or reloadable debit card. Some EWAs will prompt employees to pick up more work hours if a large bill is coming due.
Who Needs an EWA App
If your employees are frequently stressed about meeting their bills or requesting advances on their paychecks, an EWA might be a nice perk. If you already pay your staff cash at the end of the shift, however, an EWA platform probably isn't necessary. Some consumer protection groups are critical of these apps, so it would be a good idea to check with your staff to see if it's a tool they would appreciate before subscribing.
Price Range
Most EWA systems charge a monthly subscription fee per user or a flat fee per each request for funds. Some are free to use and operate on "tips" that users volunteer to give the platform. Monthly subscription fees range from about $5 to $8 per user, per month. Some restaurants opt to pay the entire subscription fee for employees, while others split the cost with them.
Our recommendations
EWA platforms have only been around for a few years, and most offer similar functions. If you are interested in offering an EWA, start by looking at the most popular players, PayActiv, Branch, and DailyPay.
Restaurant Marketing Tools
Figuring out how to get your restaurant in the public eye can be a challenge for any restaurant owner. Luckily most customers are eager to interact with their favorite local eateries online and via social media. The tools below are cost-effective ways to increase your restaurant's online footprint and remind your community how cravable your food is.
Website Creation Platforms
A website creation platform makes it easy for you to easily create a dynamic restaurant website. Some are drag and drop design tools, while others offer a range of highly customizable templates and plug-ins so your restaurant site has everything you need.
How They Work
Website creation platforms allow you to use a series of pre-designed templates and plug-ins to create a professional restaurant website without spending a fortune. The biggest advantage for small restaurant owners is that these platforms allow you to easily update the website yourself. You won't need to call a web designer every time you need to change the menu or edit your hours of operation.
Who Needs a Website Creation Platform
Small restaurants and restaurants with management teams that have the administrative bandwidth to update their own websites will find the most use out of these tools. If your restaurant retains a web designer then you probably don't need a full-spectrum platform to build and manage your website.
Price Range
The price of these platforms varies entirely based on what template you choose, and what plug-ins you opt to add. For basic functions, you can use some platforms for free. You will, however, have the cost of purchasing a customized web domain ($12 to $15 per year). For customized templates and miscellaneous plug-ins, you'll want to budget between $60 and $120 annually, which is still a lot less than hiring a web designer.
Our Top Recommendations
WordPress and Squarespace are the big kids in website creation platforms. Squarespace is a website builder with drag and drop functionality. WordPress is more of a customizable "Content Management System." To determine which is best for you, check out our comparison of the two platforms.
Social Media Management System
A social media management system allows you to monitor all of your restaurant's social media pages from one dashboard. You can create posts and schedule them to go live on a social media site at a certain time, or you can quickly cross-post the same content on multiple platforms. These tools save you and your managers time from monitoring and managing your restaurant's social media presence.
How a Social Media Management System Works
Social media management tools enable you to schedule posts, manage incoming messages, and analyze your performance across a number of social profiles in one place. Some focus on organic interactions with your customers, which can lead to creating a community of loyal guests. Other tools specialize in managing your social media advertising.
Either tool is great for restaurants because they allow you to design your social media posts when you have the downtime, rather than demanding your attention when customers need you.
Who Needs a Social Media Management System
Small restaurants with tight marketing budgets really benefit from a social media management system. This tool allows you to get the benefits of social media engagement and advertising without spending hours on each site.
Price Range
These tools have been around for several years, so it is easy to find free options. For more robust systems that balance organic interactions with paid advertising campaign management functions, you can expect to shell out $17 to $80 per month.
Our Top Recommendations
Hootsuite works well for restaurants of any size. There are a ton of options in this realm at a range of price points.
Customer Feedback Apps
Customer feedback apps give you deep insights into the way your guests experience your restaurant. Some allow you to collect and read positive or negative comments on your own platform, rather than having to go through public forums like Yelp.
How Customer Feedback Apps Work
There are two major types of customer feedback apps. The first allows you to prompt feedback from customers in the form of surveys or reviews that are then delivered directly to you. The second type monitors and aggregates reviews from popular review websites like Yelp, Facebook, and TripAdvisor, so you never miss an opportunity to respond to a negative customer experience. The most robust tools help you analyze trends in food quality, staff behavior, and ambiance so you can make informed adjustments to your restaurant. Some also have customer loyalty functions, so you can easily address reviewing customers directly.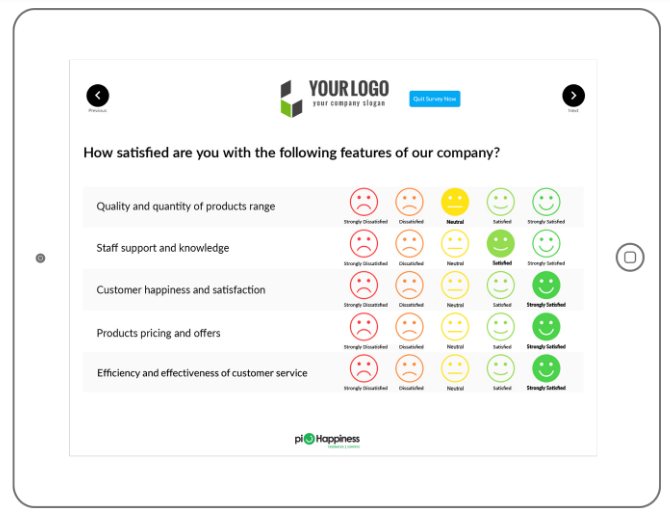 Who Needs a Customer Feedback App
Restaurant owners that want a deep look at their customers' experiences will appreciate this tool. If you sense that you need to make some changes to your operation but aren't sure what will have the most impact, a customer feedback tool can help you make an informed decision.
Price Range
These tools can vary widely in price. Most range between $15 to $75 per month, depending on the functions you opt into. Most also offer seven to 14 day free trials.
Our Top Recommendations
FellaFeeds is an incredibly well-reviewed customer feedback platform. It allows you to monitor online reviews from a single dashboard as well as prompt for customer feedback via SMS texting. If you prefer a less robust DIY option, check out our 5 Free Customer Service Survey Templates.
How to Craft Your Restaurant Software Solution
The best software solution for your restaurant will support you in growing your business. The specific tools that work for you may be vastly different from what colleagues at other restaurants use. For most restaurant owners, the most significant determining factor for software tools is cost. Since most restaurants operate on incredibly tight margins, it makes perfect sense to prioritize cost. It won't surprise you that my first bit of advice when designing your restaurant software plan is: Decide on a budget and stick to it.
Budgets, however, are more than just money. Your second most precious resource when running a restaurant is your time. Many of the least expensive software tools will require more of your daily and weekly attention to make them work for your restaurant. For example, you might choose a free WordPress plug-in to handle your online reservations. However, if you want to use the customer information from this system, you may need to add a daily or weekly budget to transfer it into your customer loyalty app.
So, when you create your budget, include your available time as well as available money. Also, consider your skill set and the skills of your managers. If one of you is a whiz with scheduling, you may be able to work without scheduling software. If you enjoy wrangling multiple social media accounts, then specific marketing tools won't be worth it. The best tools for you and your team will be affordable, easy to use, and time-saving.
After you have determined your budget and assessed your needs, it will be time to take a look under the hood of some software. Most restaurant tools provide limited information on their websites. To get a full picture of functions and costs, you or one of your managers will have to sign up for a demo.
Make Demos Work for You
When you are in the process of opening a restaurant, being forced to participate in multiple software demos can feel annoying and overwhelming. I know. I have been there myself many times. Since many restaurant tools are robust and multi-functional, it would be tedious and confusing to showcase every function and cost variable on a simple webpage. Online demos allow you to talk to a human and request the functions that you need.
In most cases, you'll get a customized quote after the demo. As time-consuming as they can be, demos ultimately ensure that you don't pay for functions that you won't use. Below is our advice for what to do before, during, and after a restaurant software demo to ensure you make the best decision.
Before scheduling a demo for a particular software tool:
Determine your needs: Ask yourself—and your management team if you have one—what types of tasks you need software to support.
Determine your budget: Decide how much money you can afford to spend on a particular tool. Also, determine a ballpark estimate of the time you have to spend managing the tool in question.
Create a list of questions: Write down the information you need to know about each tool. In the middle of a product demonstration, it can be easy to forget to ask something important.
Create a list of answers: The sales representatives will have questions for you too. Knowing your service style, expected sales volume, and the number of seats will help the sales rep determine what functions will be most useful to you.
Schedule demos with multiple service providers: For each type of tool you need, try to see at least three demos from different providers.
Spread the demos between management staff: With all of your needs clearly stated, you can spread out the demos among your managers. Sharing the load saves time and allows you to benefit from others' expertise. If you don't use managers, see if your business partners can assist here.
During a Demo:
Be clear about your schedule: Your time is valuable. If you only have 45 minutes to an hour to spare, be clear about that at the beginning of the demo.
Ask questions: Remember that list of questions from above? Now is the time to use it. Ask to see the functions that you want.
Take notes: Write down the information you gathered during the demo. You might think that you'll remember it, but trust me, you will be glad to have a written record of each product when you are processing so much information.
After a Demo:
Compare notes with your team: Set up a meeting with your management team or business partners. Look at your notes from each demo and rank your top choices.
Compare estimates from providers: Compare your top product choices to their cost. You may find that, in some cases, you are willing to spend a little more on your top choice tools.
Follow up with providers: Especially the providers that you decide not to use; telling the sales representative clearly that a tool is not a good fit is a kind thing to do. Honesty will save both of you time with follow-up calls.
Use Free Trials
If a tool you consider offers a free trial, use it. A free trial will give you and your team the best sense of what it will feel like to use this tool daily. During a free trial, you may discover that a product is either more robust than you need or missing key functions you assumed were included. You may also find that the user interface is incredible or that it makes your brain hurt. It is better to discover these things when you're using the software for free than after you signed a yearlong contract.
Go Month-To-Month
Many restaurant software companies offer a month-to-month subscription. Most do not advertise it if they do. It is always a great idea to ask if a month-to-month subscription is available during your demo. Month-to-month membership fees tend to be higher than fees for annual or multi-year contracts. It could be money well spent, however, if you determine that a tool is not right for you before committing to a longer relationship.
Be Honest About Pain Points
Software tools should support your business. If the price is a little high, or you need tools that integrate easily, tell the salesperson. Your honesty may unlock promotional offers or modules that they are testing. Alternatively, it will save you and the salesperson time if the tool you are considering is just not the right fit.
It is OK if a tool is not the right fit for your business. There are usually plenty of other options available, including building an in-house solution that is specific to your business. Restaurant technology is growing at a breathtaking speed right now. If a tool that you need doesn't seem to exist, you can find software and app designers on several freelancing websites like Fiverr. Building a tool requires longer lead time, but once you have purchased the work, you would own the system outright; no monthly subscription fees.
Bottom Line
There is no single software solution that works for every restaurant. Your software needs will vary based on the size of your restaurant, the size of your staff, and how much time and money you have to spend. Crafting the best solution for your business will require your attention. If you carefully weigh all of your options, you will be rewarded with the right-size solutions to grow and manage your restaurant.