Restolabs Review: Is It Right for Your Business?
This article is part of a larger series on POS Systems.
Restolabs is an affordable freestanding online ordering system for restaurants that integrates with multiple restaurant POS systems and payment processors. The software's open application programming interface (API) also allows you to build custom integrations with your preexisting restaurant software. This user-friendly, browser-based online ordering system is an excellent fit for small to midsize restaurants that want easy-to-use online ordering tools.

What We Like
60-day free trial
Multiple options for payment processing
50+ POS integrations available via ItsaCheckmate plug-ins or open API
Tools to manage in-house or on-demand third-party delivery drivers
What's Missing
POS Integration requires additional fees for API development or plug-in subscription
Does not include an aggregated platform site to drive new business
Delivery tools require extra fees
Deciding Factors
Monthly software fees:

Basic: $69
Premium: $99
Enterprise: $199

Transaction fees: Varies based on processor; choose from Stripe, Worldpay, PayPal, Authorize.net, and more (see Payments section below for full list)
Compatible hardware: Operates on any web-enabled device
Standout features:
Detailed menu builder supports complex combos and add-ons
Built-in promotions, coupons, and loyalty tools
Easy-to-build ordering site that requires no additional hosting fees
Optional integrated ordering app
Supports quick response (QR) code orders for inexpensive self-service
When to Use Restolabs
Restolabs offers great value for your money. The system offers a ton of functions, and pricing is flexible, with no commissions or per-delivery fees. It particularly stands out because of the breadth and flexibility of its integration options, making our list of best online ordering software as a result. Restolabs offers three pricing tiers to support restaurants of any size, ensuring that small operations aren't on the hook for tools that they don't use.
In particular, we recommend Restolabs for:
Restaurants that need POS integration: With an open API, the Restolabs software integrates with virtually every available restaurant POS system and supports easy plug-in integration via ItsaCheckmate.
Flexible payment processing: Restolabs integrates directly with several popular payment processors, so you're unlikely to need a new merchant services provider to handle online payments.
Restaurants that use on-demand third-party drivers: Restolabs integrates with DoorDash and Postmates to route deliveries to third-party drivers. Additional fees apply, but you can direct these charges to customer checks.
Managing curbside pickup and in-house delivery drivers: Restolabs lets you include detailed pickup directions for curbside orders. To dispatch in-house drivers, Restolabs directly integrates with our favorite delivery management app, Tookan.
When to Use an Alternative
Small restaurants that want free online ordering software: Restolabs is affordably priced, but if your small operation needs a free online ordering option, Square Online (with or without the free Square for Restaurants POS) is a better bet.
Restaurants that want to market on a platform website: Restolabs provides an online ordering website that can stand alone or link directly to your restaurant site. If you want the boost of a hosted third-party site, look at Tock or third-party apps like DoorDash.
Small-budget restaurants that need delivery management: Restolabs delivery management tools are great, but they come with additional costs. If you need driver management included in a basic online ordering tool, try Tock or a delivery-enabled POS like Toast or Revel, which are two of our top-rated POS systems.
Restolabs Pricing
Restolabs offers its online ordering software at three different pricing tiers: Basic, Premium, and Enterprise. Pricing for the Basic package starts at $55 per month, per store, for restaurants that pay their fees annually. You can also opt to pay month-to-month for a slightly higher fee of $69. You can test drive the system free for 60 days before you commit, though. If you want the Restolabs team to set up your menu for you, there is an additional setup fee of $149.
Basic

Premium

Enterprise

Monthly subscription fee

(paid monthly)

$69

$99

$199

Monthly subscription fee

(paid annually)

$55

$75

$165

Unlimited orders

✔

✔

✔

Online payments

✔

✔

✔

Rewards program

✔

✔

✔

Coupons and promotions

✔

✔

✔

Tookan integration

✔

✔

✔

DoorDash and Postmates integration

Not included

✔

✔

QR code ordering

Not included

✔

✔

POS integration via ItsaCheckmate

Not included

Not included

✔
Since the Restolabs management dashboard is browser-based, you can access it from any internet-enabled device. The system also integrates with most restaurant POS systems, so you probably won't need to purchase any new hardware to run Restolabs. Small operations that run without a POS or opt not to integrate with their POS will want to set aside an internet-enabled tablet or desktop computer to run their Restolabs dashboard so they never miss an incoming order.
Restolabs Payments
40+ payment processors: If Restolabs doesn't already integrate with your payment gateway, you can request a custom integration.
Payment Card Industry (PCI)-compliant: Secure enough to comply with all major credit and debit card requirements.
PayPal compatible: If you want added security for online payments, Restolabs integrates with PayPal.
Gift cards: Accept gift cards for online orders.
Restolabs is one of the most payment agnostic online ordering platforms available. This software hosts prebuilt integrations with more than 40 payment gateways, including popular processors like Stripe and PayPal. Small restaurants that want a plug-and-play online ordering and payment solution can get started quickly with Stripe, while high-volume restaurants can shop around for the best processing rates from multiple processors.
Restolabs integrated processors are
Accept.Blue
Authorize.Net
Bambora (formerly known as Beanstream)
Cayman
CCAvenue V2
Checkout.Fi V2
Checkout Frame
Clover Payment
Datafast (HTTPS)
Elavon
Freedom Pay
Global Gateway E4 / First Data
Heartland Payment Systems
JCC Payment
Judopay
Kushki
Mercado Pago
Mercado Pago Hosted
Moneris Canada
NAB Velocity
Nuvei
Payeezy
PayFast
PayFort
PayFort Start
PaymentSense
PayPal Pro
PayTabs
PayuMoney
RAKBANK Pay
Redsys
REPAY (formerly known as APS or American Payment Solutions)
Spreedly + Toast
Square Connect
Stripe
Telr
Transbank
USAePay
Web Pay
WOMPI
Worldpay
Worldpay Express (formerly known as Element Vantiv)
OrderCloud
ZOOZ
---
If you don't see your preferred processor on the list above, you can integrate whatever processor you choose for an additional fee of $10 per month. You can also accept gift cards as payment for online orders. Many popular payment processors like Heartland will create custom gift cards for their clients.
Restolabs Features
Restolabs is a browser-based online ordering app. Once you've created your online menu or had the Restolabs team build it for you, you choose from a selection of predesigned templates to finish your online ordering site. You can append your Restolabs ordering site to your preexisting restaurant website or—if you don't have a restaurant website—use Restolabs as a free-standing ordering site that connects to your Facebook page to generate orders from social media.
This high-functioning online ordering software includes a Swiss Army knife of functions for food and beverage businesses. These include:
Customizable combos and modifiers: You can include every possible modification online because Restolabs' modifier screens are checkbox-based. You can also add prices to specific modifications so that every addition is accounted for. Because Restolabs supports multiple combo order styles, you can build individual burger deals or family-style meal deals.
Multilocation management: You can manage several restaurants from a single Restolabs dashboard. View all your locations at once, or filter through them individually. You can clone menus from one location to another and track your customers in bulk or by location.
Customizable user permissions: You can give employees, drivers, and managers access to your Restolabs dashboard and limit what information each role has access to.
Mobile app: For a one-time development fee of $499, the Restolabs team will build a custom mobile app that your customers can download to their iOS or Android smartphones. The app retains customer order history to support one-click reordering and allows you to send location-based text notifications when customers enter your vicinity.
Restolabs Menu & Order Management
---
Restolabs Delivery Management
Multiple driver options: Use your own drivers or direct orders to third-party delivery drivers.
Tookan integration: In-house driver dispatch operates on the Tookan platform, one of our favorite delivery management software tools.
Multiple delivery zones: Create custom delivery zones and block orders from addresses that are too distant.
Customizable delivery fees: Set automatic delivery fees for various delivery zones.
You can use your Restolabs site to solely process takeout and curbside pickup orders or add delivery service. For delivery orders, Restolabs lets you choose to use an in-house team of drivers or direct orders to third-party drivers on the DoorDash and Postmates platforms. These on-demand third-party drivers cost a flat rate per order. Rates vary depending on the service and distance but are usually between $4 and $9 per delivery. Restolabs lets you pass these charges directly to customers if you wish.
Basic Restolabs memberships allow you to set delivery areas and charge delivery fees, but to unlock maps-based driver dispatch tools, you'll need a Tookan subscription. Tookan is a robust delivery tool that includes real-time driver tracking, route optimization, scheduling, and till tracking. Tookan pricing ranges from $29 to $359+ per month, and also offers a 14-day free trial. If you're a small operation with a solid analog delivery tracking system, then you can simply use your Restolabs dashboard to set delivery areas and delivery fees without adding driver management tools.
---
Restolabs Marketing & Customer Management
Loyalty: Built-in points-based loyalty lets you apply dollar amounts or percentage discounts for returning customers.
Email marketing: Create email campaigns to alert existing customers to specials and promotions and drive repeat online orders.
Robust coupons: The system allows you to create coupons just for your online customers or replicate your dine-in offers.
Customizable promotions: Assign custom promo codes to offer to specific customers or offer an employee or investor discount for online orders.
Automated notifications: Mobile app users can send automated messages to nearby customers.
Promotional banners: Create unique banners on your ordering site to drive orders of new menu items or specials.
Restolabs includes a lot of common-sense customer management functions, including a built-in loyalty system. Restolabs logs your customer addresses, phone numbers, and email addresses alongside their order history. If you already have a customer list, you can import it into Restolabs via .csv or .xls file. You can leverage this information to send regular newsletter-style emails with offers and seasonal promotions. You can also set up your online ordering site and mobile app to accept Google or Facebook credentials to log in to customer accounts.
Templated reports allow you to track customer behavior across locations or during certain hours of the day. You can also easily add pop-up promotions to ordering screens to draw customer attention to special offers or products that you want to move.
Restolabs users who add the custom mobile app can create location-based automated notifications that target customers near your restaurant. So, you can alert nearby guests to your daily lunch special or offer a coupon to prompt a future order. You can paste your online ordering menu URL onto your social media accounts to drive orders from your followers. These marketing options are great for restaurants that already have a loyal fanbase, but it would be nice if Restolabs also had a central platform to promote member restaurants to new customers like competitors Tock and Toast do.
---
Restolabs Ease of Use
Guided setup: Pop-up dialog boxes guide you through all your setup details.
Multiple language options: Let employees use the Restolabs interface in their preferred language to speed service.
Robust training resources: Access user manuals and guided tutorials easily, or schedule one-on-one sessions with Restolabs reps.
24/7 Customer support: Reach customer support via phone, email, or in-app chat.
Multiple notification options: Set orders to arrive via email, short message service (SMS) text, POS integration, fax, or printer.
From end to end, Restolabs is incredibly easy to use. Restolabs strikes an outstanding balance between offering prebuilt templates and supporting customization. When you first open your Restolabs dashboard, a series of pop-up dialog boxes prompt you to fill in the granular details of your restaurant's location, phone number, and operating hours. The dashboard also guides you through setting up your menu. Restaurants with streamlined menus can get a fully functioning Restolabs online ordering site up in less than an hour.
Click through the slideshow below to see how easy your Restolabs setup can be: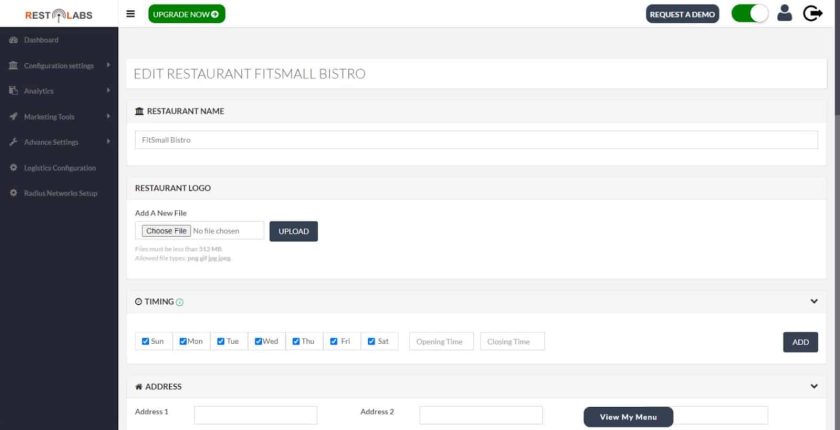 ---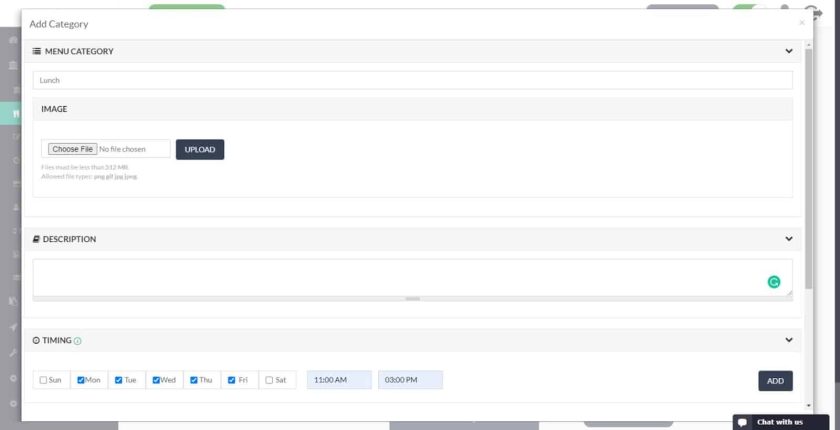 ---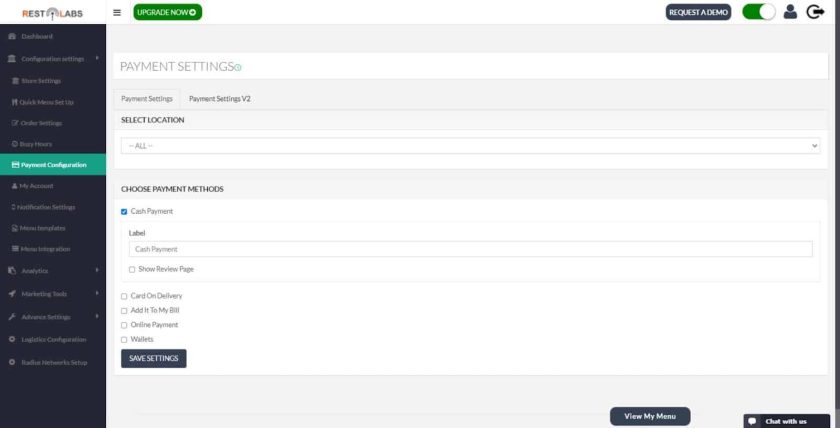 ---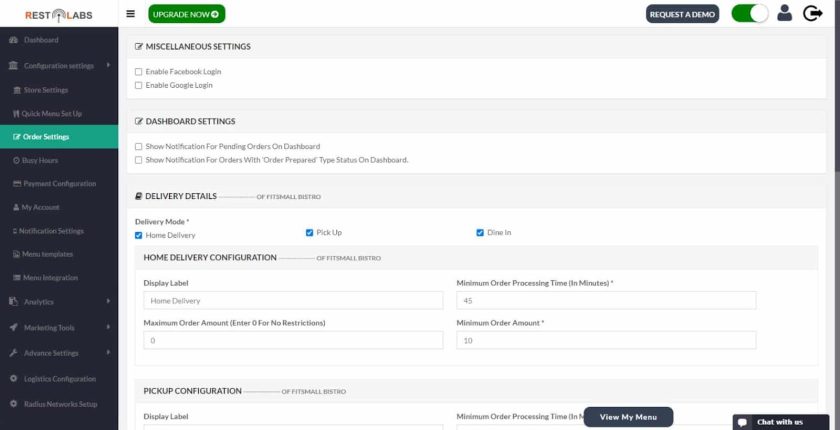 ---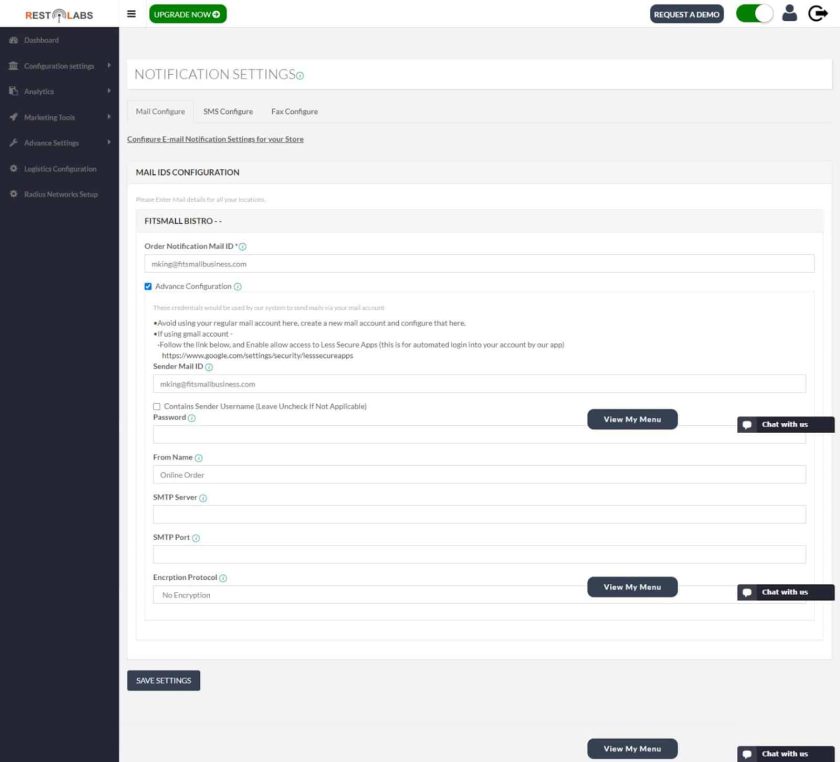 ---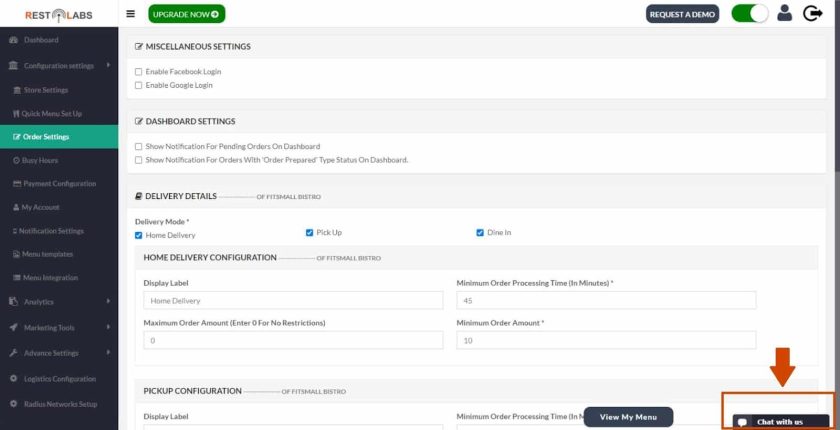 ---
If you need further assistance, you can schedule a one-on-one Skype training session. Customer support is available via phone, email, or in-app chat. Customer service representatives are, technically, available 24/7 via the in-app chat function, but in our experience, the Restolabs off-hours team can get spread a little thin.
The company promises to respond to urgent requests immediately and all others within three hours, however. Several Restolabs reviews mention the excellent customer support, so it doesn't appear that its support configuration limits most users' experience.
Restolabs Alternatives
Restolabs is a useful tool for restaurants of all sizes. But depending on your operating style, you may want something a little different. If you're on a tight budget, a free system like the Square Online Store might be a better fit. However, if you want online ordering built into your POS, you'll be better served by something like Toast.
| | | |
| --- | --- | --- |
| | | |
| Best for: Restaurants that want online ordering built into their POS | Best for: Small restaurants that want free online ordering | Best for: Online ordering with included driver management |
| Pricing: from $0 to $165 per month | Pricing: $0 | Pricing: 3% per order, plus processing fees. |
| | | |
What Users Think of Restolabs
There are few online user reviews for Restolabs, although the few that exist tend to be positive. Users often cite the software as affordable, intuitive, and customizable for restaurant businesses. Many users also mention that Restolabs' customer support is friendly and responsive. Popular software review aggregating sites showcase users' love for Restolabs:
The rare negative review mentions some occasional software glitches; one reviewer specifically mentions their Restolabs software has double-charged customers. Some customers would also like to see more robust loyalty tools; though you can extend Restolabs' loyalty functions by integrating with the third-party loyalty app, Como.
| Users Like | Users Don't Like |
| --- | --- |
| Easy customization | Occasional software glitches |
| Affordable pricing | Included loyalty tools are basic |
| Responsive customer support | |
Bottom Line
Restolabs is a user-friendly, affordable online ordering software tool for restaurants and other food businesses like catering companies. With an open API and dozens of prebuilt integrations, Restolabs can plug in to whatever other restaurant software you use. Three pricing tiers ensure that you'll never pay for tools that you won't use. To see if this online ordering software is a fit for your restaurant, contact Restolabs for a demo and a 60-day free trial.