Retail insurance refers to the various insurance policies retail businesses need in order to cover the liability they face in their day-to-day operations. Most small business retailers need, at a minimum, general liability and commercial property insurance, and can expect to pay at least $1,000 – $2,000 per year in combined premiums.
Finding the right coverage for your retail store is easy with The Hartford. Their team of experts will help you identify the insurance you need at the right price. Get a free, no-obligation quote online in minutes.
Retail Insurance Providers
Many large insurance carriers have quality retail insurance products, but shop owners should focus on those with high financial ratings from ratings agencies. This indicates the insurer will be able to cover claims if the time comes. Our list includes four examples of highly rated national carriers, plus a broker that works with multiple A-rated insurers.
Top Retail Insurance Providers
| Provider | Best For |
| --- | --- |
| | Retailers & franchisees who want fast quotes for customizable retail store insurance |
| | Small store owners who want to compare retail insurance quotes from multiple carriers |
| | Shop owners with delivery service who want to save money by bundling policies |
| | Jewelry stores and florists who want personalized service from a local agent |
| | E-store owners who work from their home and want an affordable business owner's policy |
The Hartford is a trusted national insurance company with excellent financial ratings and a long history of helping small business owners. They offer all the primary coverages retail businesses need, such general liability, commercial property, and workers' compensation insurance.
Retailers and franchisees who want to get a fast, online insurance quote should work with The Hartford. The company is one of the few large carriers with an online application, and store owners can get insurance quotes within minutes of submitting. Plus, their business owners policy can be customized with endorsements for data breaches, franchise upgrades after a loss, and employee benefits liability.
AP Intego is an online agency that specializes in providing small businesses insurance from industry leaders such as Berkshire Hathaway GUARD, Travelers, and AmTrust. Shop owners can use the company's online application to get quotes from multiple carriers in a matter of minutes.
This makes AP Intego the best choice for retailers who want to comparison shop before they buy. Store owners review premiums and policy terms on their own or with the assistance of one of AP Intego's licensed insurance agents to make sure they're getting the best coverage for their operations.
Progressive Commercial is another national insurance company that specializes in commercial auto coverage and partners with other carriers to offer a full range of small business insurance. Their Progressive Advantage Business Program provides business owners with fundamental retail insurance, including workers' compensation, general liability, and commercial property coverage.
Shop owners who have business-owned vehicles or who drive their own vehicles for business-related trips may want to work with Progressive Commercial. The company has a long history of writing auto insurance, and retailers can earn up to 15% off their commercial auto premiums when they add a business owners policy (BOP) or general liability.
Farmers Insurance is a large insurance company with thousands of agents in locations all around the U.S., and A ratings from financial ratings agencies. Like the other large carriers on our list, they offer liability and property insurance for retailers, plus endorsements that cover equipment breakdown and spoilage of perishable inventory.
Farmers is the best choice for store owners who don't want to go it alone when they're picking their retail insurance policies. Even when retailers complete the online application, Farmers matches them to a local agent who can walk them through their quote and give them advice.
Hiscox specializes in small business insurance and offers coverage to a diverse set of industries. Retail, however, is one of their top industries, and Hiscox has a business owners policy that starts at $500 per year for up to $4 million in coverage.
Their business owners policy (BOP) is available for most retailers, but home-based ecommerce business owners may have even more reason to work with Hiscox. The company offers discounts up to 5% off for work-from-home businesses, and an endorsement that covers interruption of computer operations and loss of electronic data.
How Retail Insurance Works
Retail insurance is a term used to describe all the policies retailers may need. Not every retailer needs every policy. Since retailers have customers and own property, their primary insurance needs can usually be met with a business owners policy (BOP). BOPs combine general liability and commercial property and cost about $1,000 per year.
BOPs makes it easy for small retailers to administer and pay for their insurance because they combine fundamental coverages into a single policy. This saves time since they only have to deal with a single provider for their main coverages. BOPs also save retailers money because insurers sell them for less than what you would pay if a retailer bought each coverage individually.
Retailers who have employees generally have to get workers compensation insurance because this policy is required in most states. Depending upon the nature of their operations, retailers may need other policies, such as commercial auto insurance for shop owners who use vehicles in their operations. These additional coverages usually need to be purchased individually and add to their overall retail insurance costs.
Who Needs Retail Insurance
Whether you have a brick-and-mortar location, an online store, or both, retail insurance is a necessity. Every retail business has at least one exposure that requires insurance. In fact, smart retail business owners have coverage in place prior to opening because the public is one of their biggest sources of risk.
Key factors that indicate you need retail insurance include:
You work with the public out of a space that you lease or own or you have an online store
You have inventory that is at risk of theft, damage, or spoilage
You have employees.
You or your employees use a vehicle to perform business tasks
You sell or ship products to customers
You store customer data
Each of these factors represent a risk your business faces, and any one of them suggests a need for retail insurance.
Retail Insurance Costs
Retail insurance costs for small businesses range from about $500 to $1,000 per year for each policy you need. However, depending upon the coverage types selected and the risk exposures to the business, premiums can be lower or higher than this average range. For a better idea of annual cost, look at the average cost of insurance most retailers buy in the table below.
Retail Insurance Costs & Deductibles by Insurance Type
| Insurance Type | Typical Deductible Range | Typical Annual Premium |
| --- | --- | --- |
| General liability insurance | $500 - $1,000* | $450 - $850 |
| Commercial property insurance | $500 - $1,000 | $500 - $1,000 |
| Workers' compensation insurance | None | $500 - $1,800 |
| Commercial auto insurance | $500 - $1,000 | $750 - $1,200 |
| Inland marine insurance | Varies with value of goods being shipped | $350 - $4,000 |
| Cyber liability insurance | $1,000 - $3,000 | $1,000 - $7,500 |
*General liability insurance does not usually require a deductible, but retailers can opt for one to help lower costs.
Insurers use a number of factors to determine retail insurance costs. One factor that has a major impact on your premium is the type of goods you sell. Some products, like e-cigarettes, are inherently more risky, so insurers charge more for the retailer's general liability insurance. Others may be more attractive to thieves or more likely spoil, so those retailers pay more for commercial property coverage.
Below are some examples of what different retailers might pay for a BOP:
General merchandise store: $800
Clothing store: $930
Flower shops: $1,050
E-cigarette or vape shop: $1,000
Grocery store: $1,200
Jewelry store: $1,670
Your industry isn't the only thing that determines your retail insurance costs. You also typically pay more when you have employees or ask for a lower deductible. Each individual retailer gets a cost quote based on their business attributes and the number of policies they need.
Business attributes that insurers consider when calculating retail insurance costs include:
Number of employees
Annual revenue
Coverage limits needed
Value of merchandise and inventory
Store location
Industry
Type and amount of stored customer data
As you can imagine, retail insurance costs vary widely. A florist with one employee doesn't pay as much as a jeweler with five employees. Not only does the jewelry store require more workers' compensation coverage, but they need higher limits on their commercial property for their expensive merchandise.
Types of Retail Insurance
Retail insurance is a group of policies, each designed to cover risks retailers typically face, like customer injury. General liability covers this risk by paying the injured party's medical bills or your legal fees if they sue. Small retailers can save money by combining liability with property insurance in a business owners policy.
Most Common Types of Retail Insurance
General Liability Insurance
General liability insurance is a fundamental insurance policy for retailers because it covers some of the most common risks they face, namely third-party accusations of bodily injury, property damage, and advertising injuries such as defamation and copyright infringement. Standard general liability policies also cover a retailer's product liability.
Some situations where you might need general liability insurance include:
A delivery person suffers a head injury when your shelving unit topples onto them.
A customer's laptop disappears after your clerk allowed them to charge it in the break room.
An artist claims you stole their artwork and used if for your store logo.
A customer suffers third-degree burns when the e-cigarette they purchased at your store explodes in their pocket.
In cases like these, general liability often pays for the injured party's medical bills or damaged property, and it can also cover your legal defense if a lawsuit follows.
Commercial Property Insurance
Commercial property insurance covers retailers' physical business assets, including their building, equipment, and inventory. Small shop owners often qualify for a business owners policy. BOPs combine property and general liability into a single, convenient package and often include business interruption coverage to pay for expenses when covered events keep retailers from operating.
Events typically covered by property insurance include:
Windstorms
Fire
Hail
Vandalism
Theft
"BOPs are fantastic coverage for 90% of small business owners because they cover your building, your contents, and your liability, plus they provide business interruption insurance. That's probably the most important coverage any insured can have. It covers their loss of profit and operating expenses if an event forces you to suspend operations."

– Mike Mansel, Certified Insurance Counselor, Aegis Insurance Markets
Mansel goes on to say that while business interruption coverage is essential, retailers need to be aware that it can have serious limitations: "Most BOPs are written on a 12-month actual loss sustained form. As such, the BOP only pays extra expenses, such as rent, utilities, and insurance, at a temporary location for 12 consecutive months." According to Mansel, the expenses following a claim can be staggering, so many insurers now offer 18- and 24-month actual loss sustained policies.
Workers' Compensation Insurance
Workers' compensation insurance is a state-mandated policy that provides coverage for your employees when they suffer occupational injuries and illnesses. Policies typically pay the employee's medical bills and partial lost wages, and most workers' comp policies also cover your legal bills if an employee claims your negligence or bad intentions caused their injuries.
Every state has its own requirements for workers' compensation, but most require employers have a policy in place as soon as they hire staff. Depending on your state, failure to comply with workers' comp law can result in fines and penalties. You can learn more in our ultimate guide to workers' compensation insurance.
Commercial Auto Insurance
Retailers with business-owned vehicles or who drive other vehicles for work-related trips need commercial auto insurance. Most states require business owners have at least liability coverage to pay for damage and injuries they cause other people while driving, but retailers can opt for additional coverages.
The coverages retailers can add to their commercial auto liability insurance include:
Collision: Pays for your car's damage after an accident with another vehicle
Comprehensive: Pays for your car's damage caused by something other than a collision
Uninsured/underinsured motorist: Pays for damage caused by motorists who don't have enough insurance
Medical payments: Pays for medical bills related to injuries you and your passengers suffer during a collision
Retailer store owners who drive their personal vehicles for work-related errands and deliveries may be on the hook for damage they cause if they don't have commercial auto insurance. Most personal auto coverage excludes business-related driving, leaving them uninsured.
Inland Marine Insurance
Inland marine insurance is a type of property coverage that covers goods in transit, making it an essential coverage for retailers who ship products to customers. However, inland marine also covers customers' property in your care and big-ticket items that are excluded in standard commercial property insurance, such as medical equipment, computers, antiques, and musical instruments.
Some examples of situations inland marine insurance covers include:
An online store owner whose shipment is destroyed in transit.
A hardware store owner who also offers repair services and whose workroom is broken into.
An art gallery owner whose sprinkler systems goes off unexpectedly.
Inland marine covers these instances by paying to repair or replace your damaged property.
Cyber Liability Insurance
Cyber liability insurance covers cyberattacks and data breaches by paying for the costs that typically follow. For retailers, those costs may include paying for lawyers, customer notification, credit monitoring services, public relations campaigns, and fines.
Retailers who sell products online or store customer information like credit card numbers may be especially vulnerable to cybercrime. That said, cyberattacks take many forms, and shop owners may need coverage if they accept credit card payments, use email, or offer free Wi-Fi to their patrons.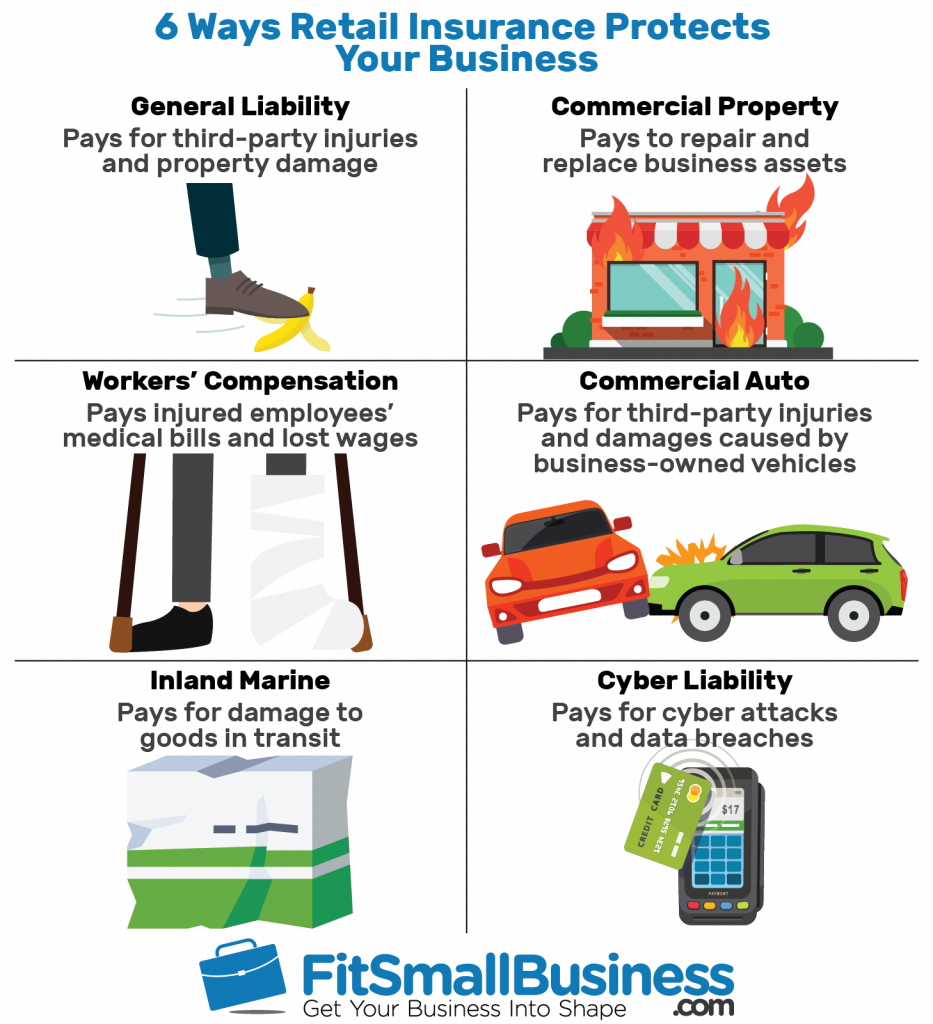 Additional Types of Retail Insurance
The list of common retail insurance explains the fundamental policies needed to cover exposures shared by most retailers. However, it leaves out a few important coverages that are necessary in certain situations. These additional policies are listed below.
Commercial Umbrella Insurance
Commercial umbrella insurance is a secondary policy that extends the limits on underlying liability coverage. For example, let's say a customer sues you after a slip-and-fall in your store. The total for medical bills and legal fees comes to $500,000, but your general liability limits are only $250,000. If you have an umbrella policy, it would pay the remaining $250,000.
Retailers may want umbrella insurance when they have lots of foot traffic or own vehicles, both of which may increase their chance of being sued. They may also need an umbrella policy to lease a larger storefront. Commercial landlords often require tenants to have general liability with $1 million limits, and adding umbrella insurance is usually less expensive than increasing your limits on your other liability policies.
Spoilage & Temperature Change Coverage
Spoilage and temperature change coverage is an endorsement added to commercial property insurance to cover the cost of replacing perishable stock when it's stored at the premises listed in the policy. Some insurers also cover lost income in their spoilage and temperature change insurance.
The causes of loss covered by spoilage and temperature change endorsements are:
Breakdown or contamination: A change in temperature or humidity resulting from mechanical failure of refrigerating or humidity control equipment or contamination by the refrigerant.
Power outage: Change in temperature or humidity caused by a complete or partial interruption of electrical power.
These events aren't typically covered by standard commercial property insurance. Retailers with perishable inventory, like pharmacists, grocers, and florists, need spoilage and temperature change coverage.
Jeweler's Block Insurance
Jeweler's block is a type of inland marine insurance designed to protect jewelry stores' expensive inventory plus the raw materials, customer property, and jewels loaned to the store. Since the coverage is an inland marine policy, it can also cover these items when they're in transit. Some insurers have jeweler's block insurance that pays for security guards if a store's alarm system fails.
Jewelry store owners and pawnbrokers typically need jeweler's block insurance in addition to their property coverage. Standard property policies do not offer sufficient coverage for fine jewelry, gemstones, or precious metals.
Errors & Omissions Insurance
Errors and omissions insurance (E&O) covers accusations of negligence by paying for your lawyers, investigators, and any judgements or settlements up to your coverage limits. Most retailers have minimal E&O exposures, but there are situations when coverage may make sense.
Situations where errors and omissions insurance might be necessary include:
Retailers who offer additional services, such as a jeweler who also offers repair services.
Retailers who deal with specialty orders, such as a boutique owner who supplies dresses and tuxedos for large weddings.
Retailers who have specialized knowledge, such as a pharmacist who owns a drugstore.
Tips on Getting Retail Insurance
Each retailer has different insurance needs depending on the type of retail business they own, their specific operations, their revenue, and the number of employees they have. An important part of getting the right coverage is understanding what your risks are and making sure you apply for policies that cover those risks as much as possible.
Three tips to remember when applying for retail insurance include:
1. Know Your Risks
Every business has inherent risks, or the losses they face simply because of the nature of their industry. In retail, some of the biggest risks include theft of merchandise, property damage, and customer and employee accidents. Larger stores, more employees, and high foot traffic typically increase the amount of coverage you need.
2. Don't Underinsure
Most business owners want to save money, but it's not wise to risk losing your business by cutting costs with cheap insurance. When you shopping for small business insurance, it's best to think about the best value rather than the lowest cost for retail insurance. Leaving significant risk exposures uncovered can potentially bankrupt your business.
3. Reduce Costs by Bundling Coverage Types
When possible, bundle your policies into one package for broader, more cost-effective coverage. For example, most retail businesses need commercial general liability and commercial property insurance, and many insurers offer a business owners policy (BOP). This bundle combines both coverages into one package for a lower rate than buying them separately.
According to Chris Orletzki, Blankit Insurance Group:
"Generally, a BOP will allow 'a la carte' style coverages, meaning you can pick and choose to add-on the coverages that are important to your business. This can be a great way to save money by using a single provider."
Retail Insurance Frequently Asked Questions (FAQs)
Retail insurance covers the exposures that put your business at risk, so getting the right policies for your shop is important to your success. We've answered a few of the most frequently asked questions about retail insurance here.
Do I need product liability insurance?
General liability insurance has coverage for products and completed operations that pays for lawsuits over defective products. This is usually enough coverage for retailers, but some store owners may want a standalone product liability policy, especially if they sell high-risk items.
Does my retail insurance cover floods?
Commercial property insurance generally excludes water damage when it comes from storm surge or overflowing riverbanks, but it may pay for damage caused by burst pipes, gradual leaks, and sewer backup. You should review your policy to see if you have coverage and consider getting commercial flood insurance if your store is in a flood-prone area.
Bottom Line
Small business insurance may be the most important investment you can make other than the business itself. Choosing the retail insurance policies that work best for your business can keep the doors open for the long run. To get started on choosing the best retail insurance for your business, be sure to get multiple quotes from various providers.
Finding the right retail insurance policy is easy with The Hartford. Their team of experts will help you identify the coverage that best suits your needs. Get a free, no-obligation quote online in minutes.