If you are opening a retail store, you have probably already thought a lot about your big ticket ticket supplies and accessories, like displays, lighting, pos systems, etc. But there are many less sexy retail store supplies that are just as necessary for the average retail store. Here are 7 of the most commonly overlooked items that your retail store will need and our recommendations for each item.
Before we dive into the details on this topic, we also suggest you check out Square, a free POS system that can manage inventory, process credit cards and so much more. Visit Square to learn more.
7 Crucial Retail Store Supplies You Can't Go Without:
1. Retail Bags
Every retail store needs some way for their customers to carry product out of the store. In other words, your store is going to need to purchase some kind of merchandise or grocery bag. Below you will find several of the most popular kinds of retail bags and our recommendations for each.
T-shirt bags
T-shirt bags are a standard for many retail stores, from grocery stores to clothing stores. They are cheap and easy to find. The only negative, is that some areas have outlawed the use of plastic t-shirt bags for environmental reasons. Be sure to check your local ordinances.
Our Recommendation: T-shirt Carryout Bags – 1000ct.
Price = $20.16
With over 242 reviews on Amazon and a 4.5 star rating, these bags are a killer deal. You get 1000 bags for $20.16 and best of all, shipping is free. Reviewers specifically mentioned that they liked the fast shipping, the high quality of the bags, and the great price. If you need non-printed bags and already do business with them, Uline is a great option, though shipping can be expensive on smaller orders.
Paper Bags
Paper bags, also known as kraft bags, are another popular retail bag option. They are sturdy and a little classier than a traditional t-shirt bag, making them a great option for boutiques, galleries, gift shops, and as takeout bags for restaurants. Another plus, is that it is really easy to brand paper bags, either by using a logo stamp or logo stickers.
Our Recommendation: Duro Medium Kraft Shopping Bag – 250ct.
Price = $62.46
Duro has a pretty good reputation for their paper bags and have a variety of options on Amazon. Their medium bags are a great size for the average retailer, costing $62.46 with free Prime shipping. Their small bags are also popular. These bags have a 5 star rating and customers specifically liked the sturdiness, ability to customize with a logo easily, and fast shipping.
2. Industrial Mirrors
Industrial mirrors are a must for any retail store that sells clothing, shoes, glasses (sun or prescription), etc. of any kind. In a small retail store, there are generally 3-5 mirrors, one or two on the sales floor and several in the dressing rooms. Check out our recommendation below.
Floor Mirror
Floor mirrors are ideal for use on your sales floor, you can put them anywhere and they provide a customer with immediate visual feedback. The size or mirror you need, is dependent on what kind of product you are selling (full length for clothing, small tablet size for glasses, etc).
Our Recommendation: Adesso Alice Floor Mirror (Steel)
Price = $96.47
The Adesso floor mirror is a solid choice for any retailer, boasting a 4.5 star rating with nearly 100 reviews. It is made of solid steel and stands 59" tall and 13 ½" wide, providing a great full length viewing window for your customer. Buyer's cited the mirror's sturdiness, quality, modern look, and superior reflection (very minimal distortion) as top reasons for their positive reviews.
3. Retail Marking Gun and Labels  
Retail marking guns and labels are a must for every retail store. It makes price-marking a breeze and is way more effective and legible than writing prices out by hand. Here are our recommendations.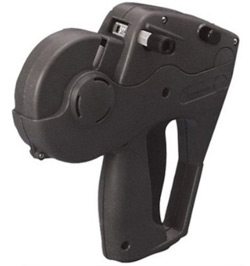 Our Marking Gun Recommendation: Monarch 1131 Pricemarker
Price = $46.72  
Monarch is pretty much the brand of choice in the pricemarker field, and the 1131 marker is one of the best for the money. It has over 119 customer reviews on Amazon and holds an impressive 4.6 star rating. According to reviewers, reliability, ease of use, value, and ready availability of replacement labels were top reasons for the high reviews. With a pricetag of $46.72 and free prime shipping, this deal is hard to beat.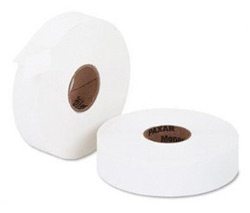 Our Pricing Label Recommendation: Monarch Paxar 1131 White Labels (8 rolls x 2,500 labels)
Price = $17
Monarch's Paxar 1131 Labels are a perfect compliment for the Monarch 1131 pricemarker. With 2,500 labels in each roll and 8 rolls in each order, one $17 pack should keep you pricing for awhile. The labels have 30 reviews and a 4.6 star average. According to reviewers, these labels are a good buy because the labels are quality, they have superior sticking power, and you get 8 rolls for the price of two from an office supply store.
4. Benches
If you plan to have customers in your store for very long, you better have some kind of seating for them to rest a bit if they need to. This is especially true if your store normally attracts customers that come with family members who are not actually doing the shopping and need a place to chill while the rest of their party shops (jewelry, bridal, shoe store, etc).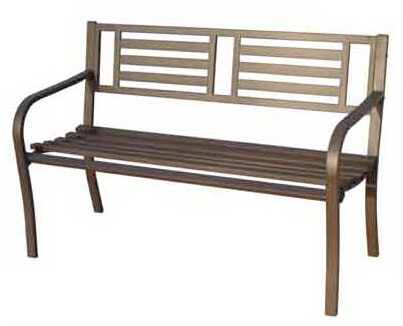 Our Traditional Bench Recommendation: 50" Brown Steel Bench by Imperial Power
Price = $58.05 + $11.58 s/h
With nearly 30 reviews, Imperial Power's brown steel bench has an impressive 4.7 star rating. It has a solid steel frame and has a neutral brown powder-coated finish. Customer reviews were overwhelmingly positive, identifying sturdy construction, ease-of-assembly, good price, aesthetics, and durability in all weather conditions as the main reasons for a positive review.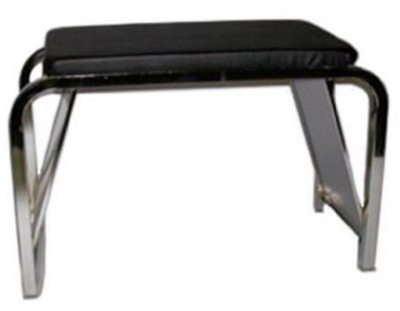 Our Shoe Bench Recommendation: Classic Shoe Bench With Padded Seat and Two Mirrors
Price = $105.06
If you own a shoe store, skate shop, or any retail store that sells any kind of footwear, a shoe bench is a must. It gives customers a place to sit when they try on shoes and a way for them to see how the shoe looks on their foot. This bench, with its sturdy chrome tube construction, padded seat, and two mirrors, will be a great addition to your shoe or footwear department. With free shipping and a price of $105.06, this bench is at least $30-$40 cheaper than most of its competition.
5. Fire Extinguishers
Fire extinguishers, although not necessarily the first retail store supply to come to mind, are vitally important. They are the first line of defense against fires which could potentially demolish your property and product. That's why it is important to know the requirements for your building and get a quality fire extinguisher. Here is our recommendation.

Our Fire Extinguisher Recommendation: Kidde Pro 10 MP Fire Extinguisher
Price = $71.86
Although many small retail stores may only be required to have a 5lb fire extinguisher, this is one situation where going overboard is a good thing. Kidde's Pro 10 MP Fire Extinguisher has a solid 10 lbs. of fire extinguishing agent, guaranteeing you will have enough extinguishing agent for even the most threatening of business fires. The only con, is that several reviewers mentioned that the extinguisher was discharged during shipping. But, for around $5-$10, you can get a recharge from your local equipment rental store. Customers have given the Pro 10 a 4.2 star average with over 100 reviews. Reviewers said that the large size, a sturdy wall mounting bracket, and reliability (several used 5-10 years after purchasing with great success).
6. Sign Holders
Whether you are trying to push a specific product or just advertise a general sale, signs are a great way to get customers attention and influence purchase decisions. But, to have a sign, you need a sign holder.
Our Recommended Sign Holder: Displays2Go Pedestal Sign Holder
Price = $106.02
Displays2Go Pedestal Sign Holder is a solid bet for all your retail sign holder needs. It has a telescoping pole, so you can set the sign at any height. The holder is top loading, has a protective plastic cover for your signs, and fits 11" x 17" signs/posters. Reviewers gave the holder a 4.8 star rating, which is exceptional. They liked the easy adjustability of the holder, its high-quality look, and the fast shipping. If you need a sign holder, this one is hard to beat.
7. "OPEN" and Business Hour Signs
People need to know if your store is open, and if it is not, when to come back the next time. That's why every retail store needs an "open" sign and something that will tell customers their business hours. Here are our recommendations.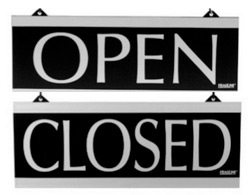 Our  "OPEN" Sign Recommendation: U.S. Stamp and Sign Century Series Open/Closed Sign
Price = $9.76
This black and silver sign is a great way to alert customers to when your business is open and when it is not. It is simple, elegant, and professional. With over 30 reviews, it holds an impressive 4.5 star rating. Reviewers identified the sign's high quality and professional/clean look as the main reasons for their high marks. For under $10 and free Prime shipping, it does not get much better.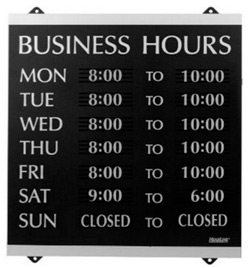 Our Business Hour Sign Recommendation: U.S. Stamp and Sign Century Series Business Hour Sign
Price = $20.98
This black and silver business hour sign is no-nonsense, professional, and will work for any retail store. With over 176 characters, you have plenty of customizability options. When paired with its matching Stamp and Sign Open/Closed Sign, you have a great business storefront sign combo for only $30. The business hour sign has a 4 star rating with over 70 reviews. Customers cited the professional look and quality of the sign as their main reasons for their positive review.
Summary
Getting a retail store up and running can be a pretty intimidating task. But never fear, you do not have to figure everything out on your own. That's why we have put together a whole section dedicated to getting your retail store in-shape. Whether you need to plan your store layout, buy your displays/shelving, or find the right POS system, we have you covered. Not only will you be sure not to overlook important retail supplies, but you will be primed and ready to make your retail store a force to be reckoned with in your local market, by having the essential information and action steps you need to make your business a success.
Want to Reduce Retail Theft and Better Manage Your Inventory? Click Here to find out how.