Reporters, business experts, and ecommerce industry watchers all name Amazon the great retail disrupter, and they're right on the money. The ever-growing Amazon marketplace has retail's biggest names reeling and small sellers fighting tooth-and-nail for shoppers' attention. But sellers small and large can survive, and even thrive, alongside Amazon by putting 5 key strategies into action.
1. Use a Multichannel Platform to Sell on Amazon, Your Own Website & Other Marketplaces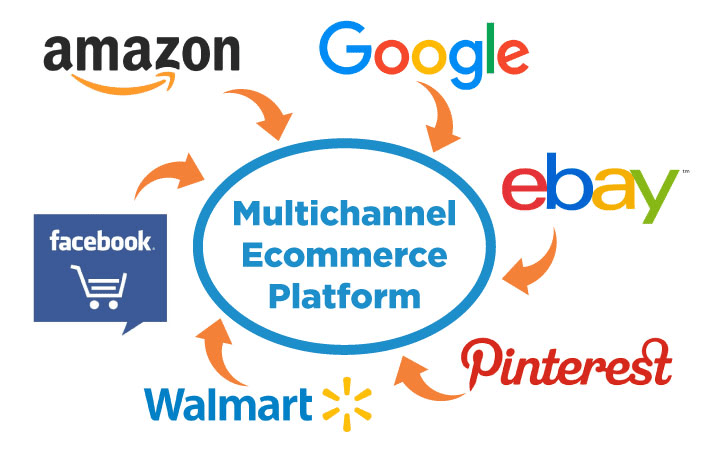 Let's face it, the days of putting all of your ecommerce eggs into one basket are over. The good news is your website is far from obsolete since customers still shop everywhere. But, roughly half of them have a main online shopping destination: Amazon. In fact, Amazon accounted for half of all online sales within the US in 2016. And that percentage increases by the day.
Isn't it time you started getting a slice of that pie? If so, the first thing you need to sell on Amazon as well as on your own site and other sales channels is an ecommerce platform that supports multichannel selling.
"A branded storefront will always be a key draw for any
serious online business. That's the only place where sellers fully control their brand and end-to-end customer experience. But to thrive online, sellers must put their product catalog where customers already shop. For some, it may be Amazon, for others, it may be eBay, Facebook, Pinterest, Walmart or all of the above. Managing multiple sales channels used to be cumbersome, but BigCommerce has removed that barrier. Our native sales channel integrations let sellers expand into any or all of these top marketplaces with the click of a button."

— Jimmy Duvall, Chief Product Officer, BigCommerce
If you don't already sell on Amazon, on your own site, and on other sales channels, then you need to move in that direction to survive long-term. The good news is you don't have to jump in headfirst. In fact, baby steps are the best way to expand your multichannel sales reach efficiently and strategically. Plan to:
Expand into new sales channels slowly and selectively
Throwing your entire catalog onto one or more sales channels is a recipe for frustration. Instead, use a multichannel-ready ecommerce platform like BigCommerce to take it slow. You can select specific products to list on each marketplace and on your own site, and build up channels and products at a pace you can manage.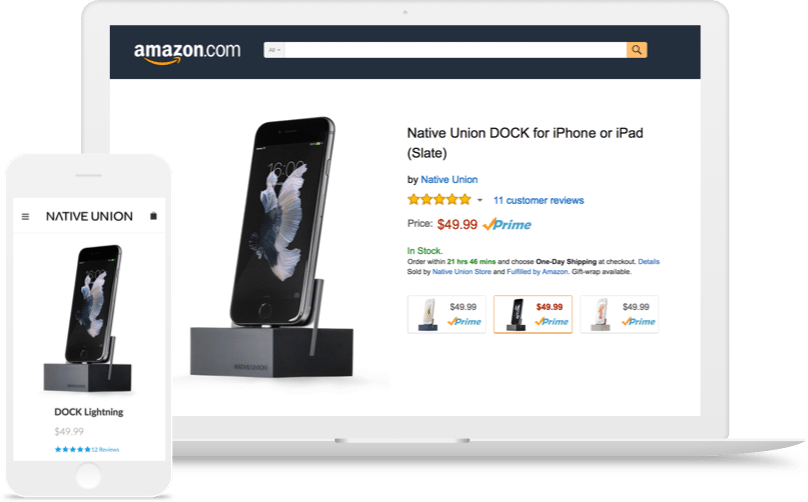 As shown above, BigCommerce's easy-setup multichannel platform lets you list products on your website, Amazon, and other sales channels, or only on your website and/or selected channels.
"If you want to dive into multichannel, then you should absolutely try to find software that will help automate orders to your fulfillment center. You also should add some well trained customer service reps to your team."

— Michael O'Donnell, Amazon & Multichannel Seller, Chief Executive Officer, CaveTools
Remember, certain products sell better than others on each channel. Start by researching which products are best to sell on Amazon, on eBay, and even on Facebook and Pinterest. Many sellers find that special product sets or bundles are best to sell on Amazon, eBay and other marketplace channels, but an a-la-carte selection is best on their own website.
Manage product listings and inventory across all channels
Manually listing products on both your website and various sales channels can be quite a task. Here again, a multichannel ecommerce platform comes to the rescue. These systems push your online store's product listings to different channels, all from one central product catalog. Plus, multichannel platforms like BigCommerce include all of the data fields needed for product listings on Amazon and other channels, so you can manage pricing, inventory, and information updates from one central hub.
Efficiently manage orders from all channels
Multichannel ecommerce platforms also let you manage incoming orders from your website and all sales channels within one central hub, without additional order management software. This is a great timesaver for small businesses and makes it possible to expand across sales channels without needing extra staff to manage each individual channel.
Turn marketing tools into sales channels
Multichannel platforms make it easy to turn every marketing effort into a sale. For example, along with seamless marketplace integrations, BigCommerce has a Buy Button feature. You can insert this buy button into marketing emails, as shown below, as well as into blog posts and even social media posts, to turn each customer contact into a potential sale. This powerful tool actually moves you from simple multichannel selling into the customer-centric omnichannel realm.
Clearly, a multichannel platform is the launchpad needed for small sellers and one-person shops to efficiently sell on Amazon, on a website, and far beyond. Now let's explore other ways you can survive and thrive in the Amazon economy.
2. Scrutinize Your Products & Rethink Your Profits
Amazon's competitive pricing extends across a great many products and categories. As Amazon-driven price pressures grow, profitable selling opportunities are going to shrink. To survive, you must make wise choices in what you sell. And to truly thrive, you need to think like successful Amazon sellers: on a profit-per-product basis.
Analyze each product on a profit basis
The traditional method of growing revenues and averaging profits across an overall line, collection, or category is old-hat. Instead, top sellers find focusing on the profitability of each product to be far more sustainable than driving up revenues on shrinking margins.
"Make sure you analyze the market price and see if there is room to be profitable. Spend more time invalidating the idea versus validating it. Find everything that can go wrong with your product launch before you spend a ton of money investing in a product."

— Chad Rubin, Amazon & Multichannel Seller, Founder, Crucial Vacuum, Think Crucial & Co-founder, Skubana
In fact, the most successful sellers both on and off of Amazon consider each product listing as a micro business with its own profit-and-loss data. If a product's profit margin doesn't make the cut after factoring in its total cost of goods, such as manufacturing cost, Amazon seller fees, and fulfillment and shipping costs, they move on to one that does.
Capitalize on profitable product niches
With good research, small sellers and brands can find plenty of profitable opportunities within many product categories. And, whether you plan to sell on Amazon or not, you should use Amazon to research profitable products. If you're just starting out, or are trying to expand your brand into more profitable niches, consider these 4 types of products:
1. Custom-made and hand-made products
Artisans and sellers of customized products have the upper hand over Amazon in these categories. Shoppers are happy to pay for quality handmade and customized goods, both on and off Amazon.
2. Private-label products
Suppliers offer a huge range of products that can be sold under your own brand on Amazon and on your other sales channels. In fact, private label products are one of the most profitable ways for small businesses to sell on Amazon.
3. Private-label cosmetics, skincare products, and supplements
Private label cosmetics and personal care products are a huge sales opportunity for small sellers on Amazon and beyond. They're also a great way for an established or growing brand to expand into the personal care market with minimal costs.
4. Things you make, trademarked brands & patented items
You'll find little competition for products that you manufacture and market under your unique trademarked brand. Plus, products that you invented and patented are unique and tend to stand out from the crowd on large marketplaces. Both are profitable opportunities to sell on Amazon, on your own website, and on other sales channels.
"The first step in product development is always market research. You can skim through and read a thousand reviews in a couple hours and come out with the main pros and cons and buyer pain points from the existing products in the market. Armed with this objective information, you can now develop a product that suits the needs of the customers."

— Michael O'Donnell, Amazon & Multichannel Seller, Chief Executive Officer, CaveTools
Be selective about what you sell on Amazon and other channels
As you expand into new sales channels, take the time to learn which of your products are best to sell on Amazon and on other marketplaces like eBay, NewEgg, Wal-Mart, and even Facebook and Pinterest.
Remember, not every product you sell on your website needs to sell on Amazon or other sales channels. In fact, dumping your entire catalog onto a new channel is the worst way to expand into multichannel selling. For example, you might find that grouping, or kitting, some products into sets or bundles give you better profits on large marketplaces where you also have to pay seller fees for every item sold. There are all sorts of options you can test out. This is where a multichannel platform that lets you selectively list products on each sales channel comes in very handy.
Don't just sell on Amazon, try selling to Amazon
Do you make something yourself, or have something rather unique made under your own brand? Then you can take yourself out of direct sales loop altogether by becoming an Amazon vendor, they make it incredibly easy. In fact, you can do this and still list the item on Amazon yourself at a slightly higher price. If Amazon runs out of stock, your listing would pop up and the sale would become yours, along with the higher profit.
So, we've explored how you can fine-tune your products to sell on Amazon and beyond, and given you a look at how top Amazon sellers view profits. Now let's look at the side of ecommerce that can make or break your multichannel business: order fulfillment.
3. Be Like Amazon: Perfect Your Order Fulfillment
Amazon is the master of online order distribution and sets the standard for fast, accurate, and cheap (or free) delivery. Customers now expect that from most online sellers, and Amazon demands it from anyone selling on their marketplace. To survive, you need to get the fulfillment side right using one (or a combination of) these 4 fulfillment options:
1. Do it yourself with in-house order fulfillment
In-house fulfillment requires storage space, packing materials, shipping equipment, and labor to pack and ship each order. This is how many startups and small businesses handle fulfillment for their website orders, at least in the early days. Many also fulfill orders in-house for products that sell on Amazon and other sales channels. Amazon calls this Fulfillment by Merchant (FBM). On the pro side, you have control over the entire process. But, running your own fulfillment operation is time-consuming and Amazon has strict shipping requirements if you go this route. It can even be more expensive than outsourcing in the long run.
2. Outsource order fulfillment to a third-party logistics 3PL warehouse
If in-house fulfillment seems daunting, you can hand off the some or all of the fulfillment process to a fulfillment center that specializes in getting ecommerce orders out the door. This is a very popular option for online sellers of all sizes and across all sales channels. In fact, sellers moving as few as 100 orders a month can get help with this task, thanks to small business-friendly fulfillment providers like ShipBob.
Obviously there are costs to outsourcing fulfillment with services like Shipbob and it's important to find the right fit. Our comparison of three top small business fulfillment companies gives you an idea of the services available and the costs involved. Once you factor in the time you'll save, outsourcing usually is worth the cost since your time is better-spent sourcing products and building your business.
3. Use Amazon's Fulfillment by Amazon (FBA) service
If you sell on Amazon, their Fulfillment by Amazon service is definitely worth considering, but may not be for everyone. Depending on your products' size and weight and your sales volume, FBA's storage, order processing and shipping fees can be a great deal or a bit pricey. However, Amazon sellers who use FBA get many sales-driving perks on the Amazon marketplace. FBA products are eligible for Prime free shipping, plus FBA product listings tend to rank higher than FBM listings.
"If you're not FBA, you're simply not relevant on Amazon. You get more traction and boost your product up the Amazon search algorithm by making your product FBA. For long-tail products or kitting/bundling, you can be FBM (fulfillment by merchant) until you see traction on the product, then to move it to FBA."

— Chad Rubin, Amazon & Multichannel Seller, Founder, Crucial Vacuum, Think Crucial & Co-founder, Skubana
FBA can also ship your non-Amazon orders, but this service comes with higher fees. Higher volume multichannel sellers often let FBA handle the items they sell on Amazon, then use in-house or outsourced fulfillment for their own website orders and other channels.
"FBA in my opinion is the best solution for small and light items and inexpensive items. For larger items, you need to really know your numbers and then make a judgement call. When you run the numbers, you'll notice that storage fees add only a few pennies per month to the costs of goods sold for smaller items, but for larger items, storage fees can literally add $0.50 – $0.60 or more to product COGs each month."

— Michael O'Donnell, Amazon & Multichannel Seller, Chief Executive Officer, CaveTools
4. Use dropshipping suppliers to stock & ship what you sell
Dropshipping has many benefits, namely, you don't pay for any stock until your customer has purchased it. So, dropshipping lets you launch an online store and even sell on Amazon and other channels with little to no upfront investment. But, there's not a lot of exclusivity for the small dropship seller. Dropship suppliers make their catalogs available to all comers. Plus, the margins tend to be rather low. But, it's a low-cost and low-risk way to get started in online selling, and many use it as a launch pad then source their own products down the line.
Now you know your options for getting all of your website, Amazon, and other sales channel orders out the door and into customers' hands. Now let's see how you can free up even more time in your busy day by automating key tasks on your website, Amazon, and beyond.
4. Automate Key Tasks Across All Sales Channels
Automation tools are an online seller's best friend. They free up enormous amounts of time by automating mundane tasks like inventory updates and status emails. You can automate many other day-to-day tasks, too, but it's surprising how many sellers don't to do it. Since most platforms easily automate these key tasks and more, there's really no excuse.
Automate order processing and import
Modern ecommerce platforms automatically process payments and complete orders the moment they're placed, and imports orders from all of your sales channels into one convenient hub. From there, orders can be automatically sorted and sent to the warehouse or to one or more fulfillment centers for shipment.
Automate inventory updates and low-stock rules on all channels
Modern multichannel ecommerce platforms have excellent inventory management tools built right in. With them, you can set, track, change, and update inventory counts both on your website and across all of your sales channels.
You also can set up rules to make items unavailable when stock is depleted or low, and have the system alert you when stock reaches a low threshold so you can reorder quickly to avoid backorders. And, if you want to automate the entire purchase order process, advanced order and inventory management systems like Ordoro have you covered.
Automatically send order status and ratings request emails
Multichannel ecommerce platforms take care of sending order status updates and shipping notifications automatically to your website customers and across all sales channels. And if you sell on Amazon, you can also automate the ever-important ratings request emails using your choice of third-party solutions. Feedback Five and Feedback Genius both offer free entry-level plans.
Use repricing tools to keep your product prices competitive
If you sell on Amazon, there are two things you must understand about pricing:
1. Prices change constantly, and
2. Your prices need to stay competitive day-in and day-out if you hope to survive
Automated repricing tools are a must for most Amazon sellers. These tools automatically watch the competition and when their prices change, up or down, yours move according to the profit margin rules you set. Repricing tools like SellerRepublic and AppEagle automate the whole process and keep your prices competitive so you never miss a profitable sale.
Now let's take a look at the last piece of the puzzle, learning to use data to drive profitable business decisions across all of your sales channels.
5. Fall in Love with Data & Analytics
Data is what matters the most to Amazon and drives their every move. You can learn a lot from Amazon, but it's hard to know where to start. Again, multichannel ecommerce platforms like BigCommerce deliver by turning data gathered from web traffic and multichannel sales into actionable reports that tell the complete story of any business, including:
Store Overview Reports
Every business owner should check this store overview snapshot report often to track trends and spot changes in your online store's overall visits and conversions, channel-specific sales, cart abandonment, top selling products, and more.
Marketing Reports
Ever wonder how visitors find your website and online store; and which sites, search engines, and marketing efforts drive the most traffic? Then marketing reports are for you. This data is extremely useful in tracking conversion ROI and helping fine-tune your SEO, social marketing, email marketing, and paid advertising programs.
In-Store Search Report
This report is keyword gold. Think you know the terms customers use to find the items you sell? You'd be surprised. Site search reports tell you what shoppers are looking for, and expecting to find, when they arrive on your website. You can use this report two ways. First, use this data to fine-tune your product titles and navigation to deliver better results to shoppers. Second, use it to spot the brands and products your shoppers already seek so you can add those to your mix.
Merchandising Reports
This handy report the sales of your products in aggregate and all the way to the single SKU level. You get the usual units sold, average sale value, and gross revenue, but BigCommerce also includes page views for each product. This is terrific information. Have a product with lots of views but no sales? Check out your competition's pricing. It might be time to lower yours to get the item moving.
As you can see, good reports are an invaluable tool for any business. These are just a few of the many detailed reports that multichannel ecommerce platforms provide. Even small sellers can benefit from the wealth of information at their fingertips using platforms with great analytics and reporting tools like BigCommerce.
Bottom Line: How to Survive & Thrive In The Amazon Economy
Amazon is changing the ecommerce landscape daily and if you hope to survive, you need to adapt to the Amazon economy, fast. That doesn't mean you have to abandon your own website. Rather, you need to make the most of it, plus seek more selling opportunities on Amazon and beyond. This means becoming a multichannel seller. For that, you need a multichannel-ready ecommerce platform or order management solution that easily manages all of your sales and products within a central hub.
You also need to start thinking like Amazon's top sellers and become laser-focused on the profits that each product brings in. Gross revenues are low on the list these days. If you want to survive and thrive in the Amazon economy, you simply have to adjust your thinking. Don't glory in what you make, instead, celebrate what you keep.
After that, try taking three more pages out of the Amazon playbook:
Page 1: Get fulfillment right. Whether you do it yourself, outsource it, or use a combination of solutions, understand that shoppers expect what Amazon delivers. So does Amazon, for that matter.
Page 2: Let your tools do the work for you by automating as many tasks as possible.
Page 3: Love the data and believe what it tells you. It certainly has worked for Amazon and their top sellers thus far.
Do you sell on Amazon, on your own website, or on several sales channels? Please let us know how you navigate the challenges of multichannel selling in the comments below.