Customer Relationship Management (CRM) Software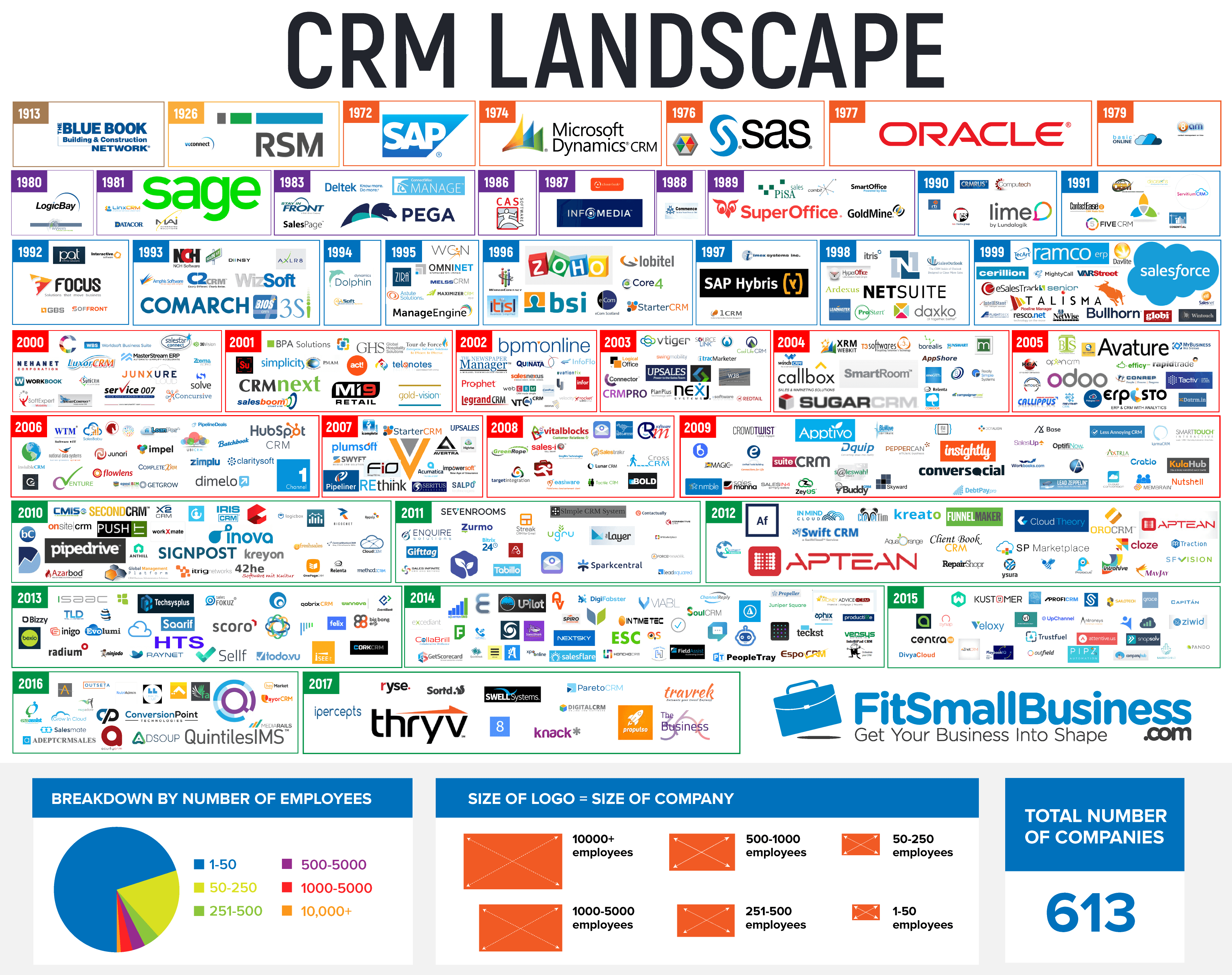 The CRM landscape is vast and continuously evolving with each software provider offering different functionalities. Popular features include keeping track of contacts, scouting for potential leads, managing sales pipelines, monitoring project progress, and analyzing business performance. The number of CRM in the space is reflective of how important the software is to businesses of all sizes and industries.
CRM By the Numbers
There are currently over 600 CRM in the space, with the growth of the CRM industry only continuing to boom. According to Grand View Research, the CRM market is expected to reach $81.9 billion by 2025
53% of companies identified investing in a CRM software as one of the top priorities of their IT departments in 2018, alongside Enterprise Resource Planning (ERP) software.
Small to medium-sized businesses are driving the growth of the CRM industry with the segment estimated to grow at a compound annual growth rate (CAGR) of 18.0% over the next nine years.
More CRMs have already been founded in the current decade (2010-2018) than any previous decade.
The vast majority of companies (70%) have less than 50 employees. Only 1% of CRM have 10,000+ employees.
The average year founded for CRM companies with more than 10,000 employees is 1980. This means that the current most successful CRM companies were founded over 25 years ago.
Interesting Facts About the CRM Industry
Giant CRM companies are leading the pack with Salesforce, Microsoft, SAP, Oracle, and Adobe, taking the spots as top picks among all business sizes.
From the pool of players, there are also small business winners. For smaller companies, the top CRM include Insightly, Pipedrive, and Prosperworks.
According to users, the three most important features they look for when it comes to choosing the right CRM are ease of use, schedule management functionalities, and a complete snapshot of their overall customer management activities.
The landscape is continuously evolving with social media functionalities being one of the biggest emerging trends. On the other hand, cloud-based solutions and analytics capabilities are already considered as necessary features of every CRM software.
Some CRMs are also made to fit specific industries. There are CRM software that are particularly designed to cater to real estate companies, call center operators, pharmaceutical companies, and manufacturing companies, among others.
How Do Businesses Benefit From Using CRM Software?
Did you know that, more often than not, customers stop patronizing a product or a service because they feel that the company doesn't care about them? According to a study, 82% of customers don't really stop purchasing due to pricing or because of the product, they leave because they don't feel valued.
This is where the need for a CRM software comes in. Businesses need a tool to help them organize the various customer-related aspects of their company to ensure that they don't miss any important aspect when servicing their customers.
Proven benefits of using a CRM tool in running a business are increased productivity and better performance of customer service agents and sales representatives. Additionally, using a CRM tool also contributes to the business growth of a company because it provides actionable insights that help business owners navigate their operations better.
Post the CRM Technology Landscape on Your Site
<iframe style="height: 650px;" src="https://fitsmallbusiness.com/wp-content/uploads/2018/05/crm-landscape-test2.html" width="1000″ height="500″><span data-mce-type="bookmark" style="display: inline-block; width: 0px; overflow: hidden; line-height: 0;" class="mce_SELRES_start"></span></iframe>