Hard Money Lender Directory By State
Our state-by-state hard money lender directory lists loan details and contact information for local and national lenders. It has up to date lending parameters and borrower qualifications and is your one-stop-shop to find a financing partner for your next project. Simply select a state below to see the hard money lenders serving your area. 
National Hard Money Lender Directory
Hard Money Loans
A hard money loan is a short-term financing option used to fund the purchase and/or renovation of an investment property. Hard money loans are commonly used by real estate investors for fix-and-flip projects, renovations and rehabs of rental properties, or simply to facilitate the speedy purchase and transfer of real estate.
Lenders typically set a borrowing limit based on loan-to-value (LTV), after-repair-value (ARV), or loan-to-cost (LTC). Which is right for you will depend on the type of project you're undertaking and how much cash you can bring to the project. Often times rates and fee will vary based on which borrowing limit you choose to use.
The trade-off for this increased speed and versatility is that hard money loans comes with higher rates and fees than permanent mortgages. They typically have rates of 7% – 12% and lenders charge a fee upon disbursement of 1-10% (each percentage point called a "point"). There may be additional fees for third party services like credit checks and appraisals.
Hard money loans often have terms of 3 - 36 months. Virtually all hard money loans are structured as interest-only mortgages with monthly payments. Investors using hard money will typically plan to refinance their investment property into a permanent mortgage or sell the property upon completion of the renovations. Before borrowing hard money make sure you have a clear exit strategy.
Hard Money Lender Rates & Terms
The rates, terms, and fees associated with a hard money loan vary a little from state to state and county to county. That said, hard money loans generally track the loans we're more familiar with, like permanent homes loans and conforming mortgages. Based on the research involved with compiling this national hard money lender directory, here's what you can generally expect from a lender's program:
Typical Hard Money Lender Rates and Terms
| | |
| --- | --- |
| Loan Amount | $100k - $2MM |
| LTV | 80% |
| ARV | 70% |
| Rates | 14% |
| Terms | 12 Month |
About the Hard Money Lender Directory
The FitSmallBusiness hard money lender directory is the result of a dedicated team searching the web to find active lenders that are ready to work with investors. With all the loan program information in one place, you can find the right lender in minutes. After all, the best deals move fast.
Our writers and researchers pull information from lenders' websites. Sometimes the right information is very easy to find, other times it can be a challenge. When information is incomplete, we reach out to lenders by phone and email to collect any missing information and seek clarification. Sometimes the lenders are responsive and sometimes not. We always keep our leander database as up to date as possible.
How to Claim or Add a Listing
If you'd like to claim your listing, simply click here and fill out the form. We'll follow up with you shortly after receiving your completed form. Claiming your business will enable you to expedite updates and ensure your hard money program's information is never stale.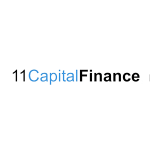 Visit Website
11 Capital Finance LLC offers loans for business owners and real estate investors. Their rates, fees, LTV, and ARV vary per project and borrowe... View Profile