RingCentral Analytics Metrics to Track & Key Features for Teams
This article is part of a larger series on VoIP.
RingCentral Analytics is a tool to gain sufficient data and insights from phone calls—improving customer experience and driving contact center performance. It enables users to generate real-time reports and access call center tools, such as alerts, meetings, dashboards, and subscriptions. However, real-time analytics requires an upgrade to the RingCentral MVP Premium plan, which costs $33.74 per user, per month.
For businesses that don't need all the reporting features and monitor call metrics concerning the performance of their phone calls, this feature might not be worth the upgrade. However, RingCentral Analytics offers great value for contact centers wanting to understand potential problem areas during phone calls. Learn more about what RingCentral has to offer by checking out our comprehensive RingCentral review or by visiting their website.
Key Metrics to Track Using RingCentral Analytics
RingCentral Analytics uses call center metrics to understand workforce or customer behavior patterns. Using the data collected, this tool allows you to measure performance management and agent productivity, and can help you ensure your team is providing your customers with expected service levels and making the most effective use of your business phone system.
Here are some of the key metrics included in the RingCentral Analytics portal:
Metrics for Tracking Agent Performance
One of the main objectives of call centers is to provide superior customer experiences to their callers. To make this possible, you need to track the performance metrics of your agents.
Customer satisfaction (CSAT): Customer satisfaction is one of the best indicators of agent performance as it measures how customers are satisfied with their experience. This metric is calculated by dividing the number of satisfied customers (those who rated you higher) by the total number of survey responses and then multiplying by 100.
First-call resolution (FRC): First-call resolution measures how your agents address customer needs and issues during the initial interaction. Its value is obtained by dividing the total calls resolved on the first attempt by the number of incoming calls.
First response time (FRT): The first response time refers to how long it takes for an agent to respond to customer concerns. To get the FRT, simply divide the total time from query to initial response by the total number of inquiries.
Average call abandonment rate: This performance metric examines the rate of incoming calls that are abandoned by the customer before speaking to an agent. It is calculated by dividing the total number of abandoned calls by total inbound calls.
Customer effort score (CES): This service metric measures how much effort customers put in to do business with your company. The CES score is calculated by dividing the total sum of responses by the total number of survey responses.
Customer churn rate: The customer churn rate refers to the percentage at which customers stop doing business with a company over a certain period. Churn rate is calculated by dividing the number of customers you lost by the number of customers you started with for a given period of time, then multiplying by 100.
Net Promoter Score (NPS): The NPS is a customer experience metric that calculates customer loyalty and predicts churn. It is calculated by subtracting the percentage of detractors from the percentage of promoters.
Metrics for Measuring Productivity & Operational Success
Measuring productivity and operational success is an equally important aspect of examining call center success. It ensures agents follow an efficient workflow and are achieving performance indicators. Here are essential metrics to measure this:
Calls answered per hour (CPH): The CPH tells managers how productive a call center is based on the number of calls agents receive in an hour. Calls answered per hour are measured by dividing the number of calls taken by the total time worked.
Cost per call (CPC): This metric is used to determine the budget allocation per call. It also examines how the money is efficiently spent in relation to labor, how effectively you're spending money, and the overall efficiency of your contact center when handling calls.
Average handle time (AHT): The AHT refers to the average duration of the entire customer call transaction and also measures how efficiently agents are using their time. AHT is calculated by adding the total talk time, hold time, and after-call tasks, and then dividing the sum by the number of total calls.
Average speed of answer (ASA): This call center metric refers to the total wait time it takes for a call center to answer a call from a customer. ASA is calculated by dividing the total wait time for answered calls by the total number of answered calls.
Occupancy rate: The occupancy rate of a call center refers to the rate that agents spend handling customer inquiries. It is measured by dividing the time an agent spends handling calls by all their available working time.
Call transfer rate: The call transfer rate is the percentage of inbound calls transferred to another agent or department. This is calculated by dividing the number of calls transferred by the total number of calls, then multiplying by 100.
Agent schedule adherence: This workforce management metric tells how an agent adheres to their work schedule. Its value is obtained by taking the time an agent is required to work and dividing it by the time they're available for calls.
RingCentral Analytics Top Features
RingCentral Analytics consists of various categories for monitoring all calls, devices, users, and meetings, including call quality scores. Each category provides graphical representations of account activities, allowing users to spot issues and make real-time decisions.
Here are the different types of features you'll find in the RingCentral Analytics Portal.
| Key Features | Description |
| --- | --- |
| | Ensures complete visibility into usage and adoption patterns of RingCentral products across the organization |
| | Provides real-time alerts on call issues before they escalate and allows customized notifications for call quality metrics |
| | Provides real-time data on the global health of RingCentral products and allows for proactive monitoring of call quality and reactive troubleshooting of potential issues |
| | Monitors call queue and agent performance using customizable, real-time dashboards |
| | Displays details of selected KPIs for a deeper understanding of performance data and customer behavior |
| | Helps IT admins proactively monitor the global health of RingCentral Rooms and hard phone infrastructure |
| | Presents all activities and monitors the performance of company numbers, such as sales and customer service |
| | Provides an overview of the overall meeting usage and analyzes issues concerning live and past meetings |
| | Generates email reports concerning company numbers and performance to selected recipients |
Continue reading below for a more detailed discussion.
Adoption & Usage
RingCentral lets you have complete visibility into the platform's usage levels and adoption patterns. With these insights, users get an in-depth understanding of how employees use the RingCentral system, identify adoption issues, and leverage best practices to drive optimal adoption. It will also help users implement initiatives to track its impact across the organization and understand behaviors, preferences, and user trends better.
This feature is recommended for understanding the adoption levels for Message, Video, and Phone (MVP) products and viewing captured data on usage across the department. Interactive widgets are available to see usage behavior, active user trends, usage frequency, and device type.
Alerts
Alerts is an analytics tool that enables admins to set up customized notifications for specific call quality metrics and provide alerts when an issue occurs. This eliminates the need to constantly track metrics on several screens since it allows users to identify the problem directly from the alert notification. Automated monitoring of essential key performance indicators (KPIs) and parameters includes call quality and device connectivity status.
The Alerts tool is particularly useful when issues happen frequently, specific locations require constant monitoring, or call quality for certain users needs to be guaranteed. There are two dashboards available in Alerts: Alerts list and Alerts log. The Alerts list shows the list of alerts to which you are currently subscribed, while the Alerts log monitors alert notifications in your account for the last six months.
Quality of Service
Quality of Service (QoS) offers real-time data on the health of your company's phone system and allows for proactive monitoring of call quality and reactive investigation of potential issues. It comes with comprehensive dashboards, including graphic representations and detailed data for calls, meetings, and webinars.
QoS reports look at various metrics, such as call scoring, account bandwidth, packet loss, and latency. They are useful in identifying root causes of call quality issues and pinpointing a specific concentration of problematic calls.
Live Reports
Live reports use customizable dashboards to show real-time information on over 30 metrics about queue calls and queue member activities, including agent-level and queue-level visibility. Agent-level visibility includes status, talk time, and transfer rate, while queue-level visibility includes customer waiting and average hold time (AHT) data.
Note that Live Reports is an optional product of RingCentral and requires additional licensing to get full access. Having full access allows you to add dashboards, customize widgets, and set the privacy settings. This feature also enables users to monitor agent performance and patterns for efficient staffing, excellent customer experience, and better service level agreement (SLA) management.
Performance Reports
RingCentral's Performance Report is an additional tool that allows users to research historical data and trends on calls, users, and call queues. It also allows you to evaluate call flows and user performance with visual call maps and get better insights into customer behavior. Users have access to over 30 prebuilt KPIs and targeted filters, allowing you to combine call activities to analyze performance and support corrective course-of-action decisions.
Rooms & Devices
Rooms and Devices is an analytics tool dedicated to IT admins responsible for managing and maintaining the infrastructure. This feature also ensures that all employees in the company have the ability to use the communication tools with little interruption. It also allows IT admins to proactively monitor the current state of the company's RingCentral Rooms and hard phones globally.
RingCentral allows IT admins to gain visibility into unprovisioned devices and device history. This enables them to track online and offline devices in real time and create reports to identify issues affecting users regarding the service availability of Rooms and hard phones.
Company Numbers
Company Numbers enable users to view all activities and track the performance of company numbers, such as sales, customer service, marketing campaigns, and interactive voice response (IVR). Having access to this data allows users to streamline workflows, maximize coverage for callers, monitor success metrics, and determine areas of improvement.
In the Company Numbers dashboard, RingCentral allows for the modification of relevant KPIs and columns. These include the number of inbound calls answered, missed, transferred, and parked as well as the total amount of handle time.
Meetings Dashboard
The Meetings Dashboard provides admins an overview of the overall meetings usage across the company, allowing them to view account-wide usage data and examine issues for past events. These include overall meeting usage, Rooms usage, and past and live meetings and webinar information. This feature is specifically useful in understanding user preferences and usage patterns as well as identifying issues for troubleshooting.
Subscriptions
The Subscription feature allows users to automatically generate and distribute Performance Reports through email. This tool is useful for admins who need to send the report to users who don't have access to the analytics portal but require constant access. The Performance Report files are delivered to their emails on a specified schedule. Admins have the option to set up report subscriptions for specific users to view the data without admin privileges.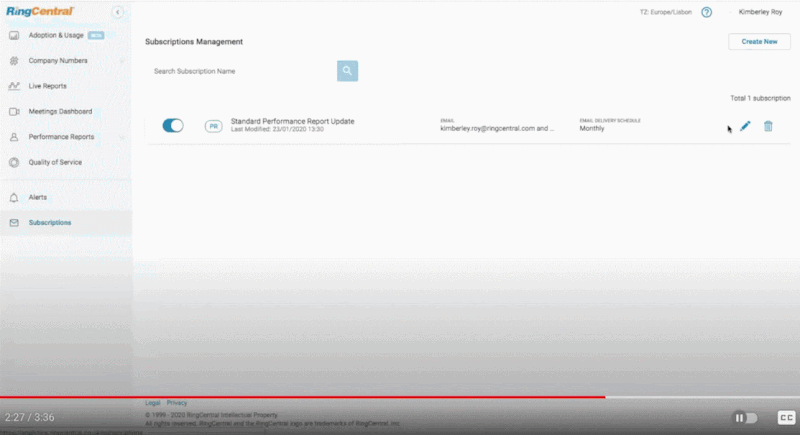 RingCentral enables auto-generation of performance and company number email reports on a daily, weekly, or monthly basis. This ensures the automation of repetitive tasks by creating a convenient email delivery schedule and sharing of reports for easier collaboration.
Why RingCentral Analytics Is a Beneficial Tool for Businesses
The RingCentral Analytics feature is a useful tool for companies wanting to improve the quality of their phone calls. It offers a wide range of analytics and reporting tools that provide powerful insights into your contact center, performance, and teams. The data captured allows you to gain visibility into RingCentral usage, troubleshoot call issues faster, evaluate key performance, and develop insights into customer behavior.
RingCentral also offers a wide range of categories of reports, which you can fine-tune to get the information you need. Each report is easily accessible in its Analytics portal with unique widgets and customizable options.
Bottom Line
RingCentral Analytics is a comprehensive call center tool for businesses wanting to gather, track, and evaluate insights from phone calls to identify problem areas and enhance the customer experience. It comes with real-time dashboards, configurable KPIs, and live reports. All these capabilities enable users to gain valuable insights into your RingCentral platform with actionable data.