How to Use the RingCentral Chrome Extension in 3 Steps
This article is part of a larger series on VoIP.
The RingCentral Chrome extension makes RingCentral features available from right within your Google Chrome browser—no extra apps or tabs necessary. Use the extension to improve efficiency by empowering your agents to dial numbers, send messages, check voicemails, and schedule meetings without ever leaving the web browser.
We'll show you the step-by-step process for downloading and installing the RingCentral Chrome Extension in three easy steps.
1. Download & Install the RingCentral Extension
First, open your Google Chrome web browser. Next, visit the RingCentral for Google page in the Chrome web store.
Click the blue button that says "Add to Chrome." Your Chrome browser will ask to confirm that you want to add "RingCentral for Google." Click "Add extension."
And that's that—the RingCentral Chrome extension has now been added to your Chrome account. You can access it from your extensions shortcut next to the address bar.
2. Log In to RingCentral
Click on the RingCentral logo icon on your extensions shortcut bar. This button will open a prompt for you to sign in to your RingCentral account.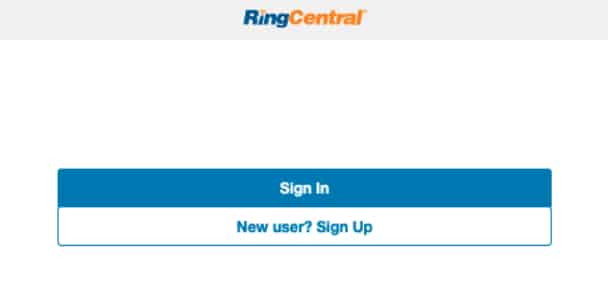 Click "Sign in," and then enter your account credentials.
If the RingCentral login prompt doesn't open, check your browser settings to temporarily enable pop-ups. This step usually does the trick. If that doesn't work, contact RingCentral's technical support for help resolving the issue.
3. Authorize the Connection With Google

You'll need to authorize RingCentral to work with Google. Click on the three horizontal bars in the RingCentral call controller application and select "settings." Click "Authorize," and sign in using your Google account username and password. Click "allow" to finish the sync.
That's it. You're now ready to use the RingCentral Google extension.
Ready to get started using the extension? Here are the seven best ways to take advantage of all the extension has to offer.
The Best 7 Uses of the RingCentral Chrome Extension
1. Schedule & Join Meetings From Google Calendar
Schedule meetings with your clients and leads within Google Calendar. There's an easy-to-find button on your side menu that makes setting up a meeting quick and straightforward. While it's a simple module, it can prove to be a very useful VoIP feature in your daily workflow.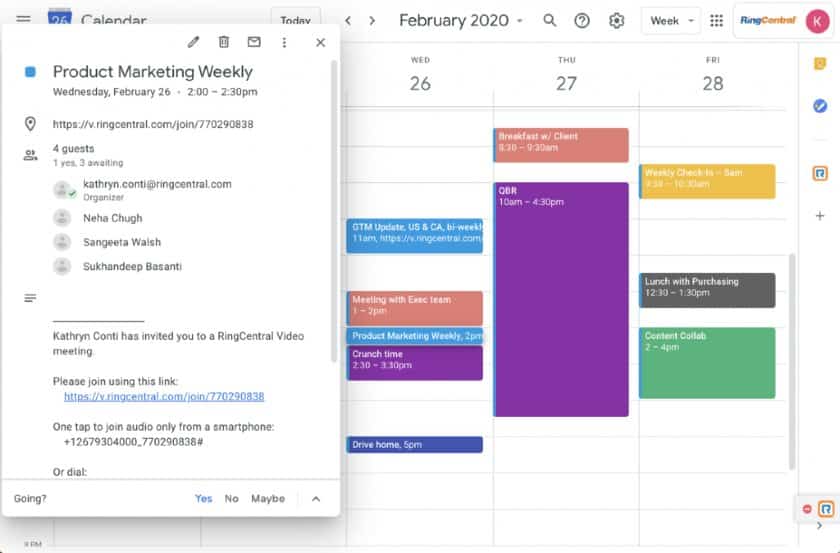 You can also add video meetings via Google Hangouts or RingCentral's video functionality straight to your calendar invites to make it easy for you and your contacts to join. You can invite as many as 1,000 audio participants to any of your Google Hangouts meetings through the integration.
2. Click-to-Dial From Within Google Workplace Applications
Phone numbers within your Google Workplace applications (Gmail, Google Docs, Google Calendar, and Chrome browser) become clickable links with the browser extension. Click-to-dial or click-to-SMS straight from within these apps to initiate a conversation with your contacts—no copy and paste necessary.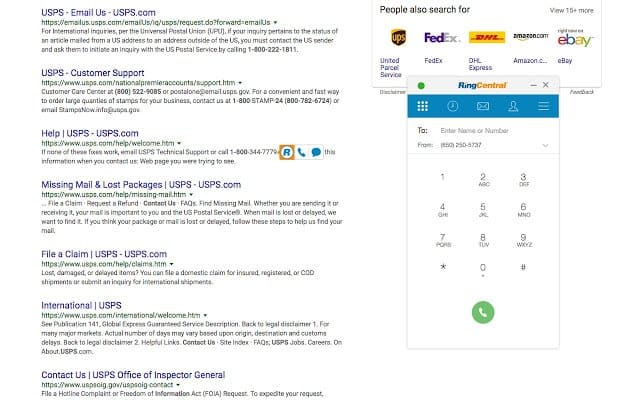 With your account synced, any conversation is sent from your RingCentral phone number and recorded in your messaging history.
3. Check Your Voicemails & Messages
The RingCentral for Google extension empowers you to view all your text messages, calling history, faxes, and voicemails from your browser. This messaging hub gives you the at-a-glance information you need to answers calls with confidence and kick off every conversation with complete confidence.
4. Sign In on Your Devices With Google Single Sign-on (SSO)
Once your accounts are synced, you can use your Google credentials to log in to your RingCentral account on any device. You now have one less username and password to memorize.
5. Check Your Contacts' Presence (& Set Your Own)
Check the status of any of your contacts to know their availability. You can also update your own presence to let your contacts know if you're away from the desk or currently unable to take a call. These status updates reduce the need for back-and-forth messaging and improve team collaboration.
6. Combine Your Contact Lists
With the browser extension, you get merged access to all your contacts in one easy-to-search screen—no more manually checking and double-checking your contact list to find where you stored a contact's information.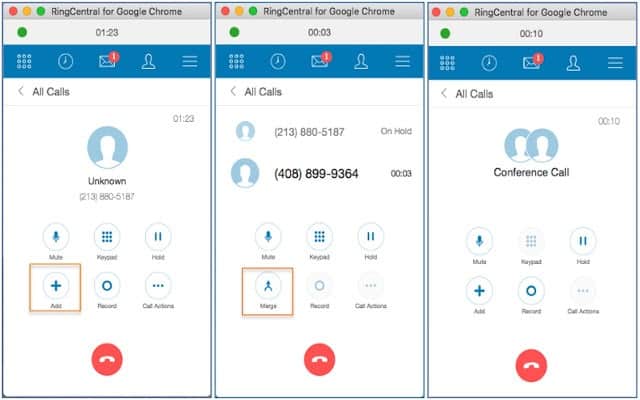 7. Manage Incoming Calls
The RingCentral for Google extension displays a live pop-up caller window whenever someone dials your number. You'll have the ability to forward calls, reply to calls with a text message, send contacts straight to voicemail, start a multiway call, record a call, and call flip straight from the Chrome interface.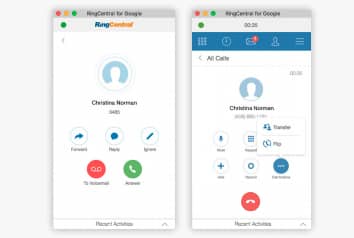 Other Reasons to Install the RingCentral for Google Extension
The RingCentral for Google Chrome extension isn't just a nice-to-have—it's a need-to-have. Here are a few ways it can simplify your workflows, improve productivity, and ultimately make your life easier:
Automate Tedious Tasks
Save precious time every day with click-to-dial functionality and Google Calendar integrations. With click-to-dial and click-to-message links in your browser, you'll never have to copy and paste again or manually redial a phone number.
And with the Google Calendar integrations, you won't have to jump between your tabs to access RingCentral and join your call—you can do it straight from your calendar. These might seem like small timesavers, but they add up to substantial cost savings when added up day after day and month after month.
Improve Agent Efficiency
The more time your agents spend on the phone with customers and leads, the more money you make. The RingCentral for Chrome extension eliminates unnecessary tasks and makes it quicker and easier for your representatives to do their job.
Streamline Business Communications
Keep all your messages in one place to make it easy to pick up conversations where you left off. With the extension, you won't have to look through your text messages, RingCentral call logs, or fax records to find the information you need—it'll all be stored in one simple to access location.
Evolve Team Collaboration
Your team members have a lot to do, and collaboration often becomes an afterthought. Fortunately, the RingCentral extension makes it simple for your agents to update their presence so everyone stays in the know. It eliminates unnecessary messaging, overbookings, and missed calls.
Did you know? There's a lot more to RingCentral than just its fantastic Chrome extension—check out all the communications platform has to offer in our comprehensive review.
Frequently Asked Questions (FAQs)
Is the RingCentral for Google extension free?
Yes, the RingCentral for Google extension is 100% free. Plus, there are other free RingCentral extensions. If you're using Microsoft 365 or Contact Center Voice, check out the other available extensions on the Chrome web store.
What do I do if my RingCentral Chrome extension isn't working?
If you run into any issues with your Chrome extension, first check the RingCentral support page. If the resources there don't help you solve the problem, contact the support team for personalized help.
Can I host a video conference from the extension?
While you can't host a video conference from the extension, you can schedule meetings and add a RingCentral video or Google Hangouts link to the calendar event.
Is the Outlook extension very different from the Google extension?
The two systems share a lot in common, but there are some apparent differences. Visit RingCentral's YouTube page to learn more about the similarities and differences if you're interested in integrating the Microsoft Office suite with RingCentral.
Bottom Line
Streamline the way you and your team work with the RingCentral for Chrome extension. It'll save countless minutes and hours every week by giving you all the important RingCentral features you need right within your browser—no matter what tab or app you have open.
The RingCentral Chrome extension helps you answer calls faster, schedule and join meetings with ease, and improve your business' overall communication efficiencies. RingCentral is already a robust business phone system that helps unify small business and enterprise VoIP communications. And the Google Chrome extension is just another example of how this service continues to innovate and provide top-notch functionality to its customers.