A Rollover for Business Startups (ROBS) is a way to invest funds from your retirement account, like a 401k or IRA, into your startup business without paying early withdrawal penalties or taxes. A ROBS isn't a business loan, or even a 401k loan, so there's no paying back debt or interest.
Guidant is our recommended ROBS provider. Visit them today for a free consultation.
What is a Rollover for Business Startups (ROBS)?
Normally, if you take money out of a 401(k) or other tax advantaged retirement account before reaching age 59 ½, you must pay income taxes on the money as well as a 10% early withdrawal penalty. Alternatively, if you borrow against your 401(k) you might need approval from your current employer. You'll also have restrictions on the amount you can borrow and need to repay the loan with interest.
But a ROBS is not a withdrawal of funds from, or loan against, your retirement account. It is a rollover that invests in your new business rather than more traditional investments, like mutual funds.
A ROBS lets you invest your retirement funds in your business without paying income taxes or early withdrawal penalties. It can be used to fund a new business (or franchise), buy an existing business, or recapitalize an existing business. When you use a ROBS, your retirement account owns shares of your new business. So if your business is profitable, a large portion of those profits can be returned to your tax advantaged retirement account. This can result in significant tax savings and allow your profits to grow tax free.
ROBS are a popular way to start or buy a franchise. In fact, more than 60% of all new ROBS clients helped by the best ROBS providers we reviewed were franchisees. Just like any other type of startup financing, a ROBS has pros and cons that should be carefully weighed before deciding if it's right for you, which we'll discuss later in the article.
Business owners who use a ROBS often see higher success rates than those who rely on traditional business financing. According to a study by Guidant, 81% of small businesses funded with a ROBS were still operating after 4 years. Only 39% of businesses funded with a traditional business loan fared that well.
Visit Guidant now for a free ROBS consultation.
How To Setup a ROBS in 5 Steps
Setting up a ROBS is a complicated process that typically requires the help of experienced CPAs and attorneys. This is why most people work with a dedicated ROBS's provider, a company that specializes in ROBS transactions day in, day out.
Here are the 5 steps involved with a ROBS: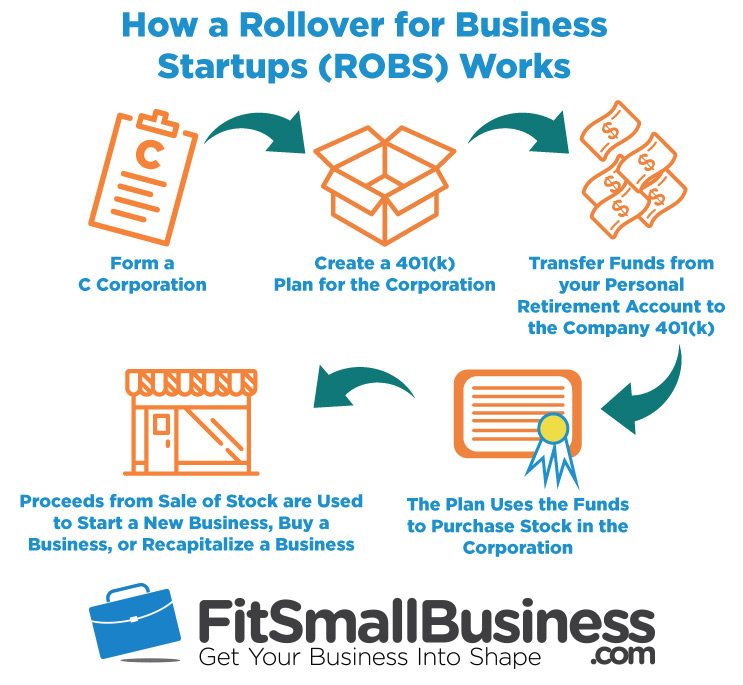 Step 1: Form a C Corporation
The first step when using a ROBS to fund your startup is creating a C corporation. A ROBS does not work for an LLC, Sole Proprietorship, LLP, or S Corporation. Your business must be a C corporation to qualify for a ROBS because the IRS prohibits certain transactions involving qualifying employer securities which only a C corp can pass.
Once your C Corporation is formed, you can move on to the second step of setting up a ROBS: establishing a retirement plan for your new C Corporation.
Step 2: Create a Retirement Plan for Your New C Corporation
The second step in doing a ROBS is establishing a retirement plan, like a 401k, for your new business. You have a few options when deciding on what retirement plan you want to use for your new business. Some of the most popular ones include:
401(k) Plan
Profit Sharing Plan
Defined Benefits Plan
Defined Contribution Plan
A combination of plans, such as a 401(k) with a profit sharing component
According to the ROBS providers we have asked, the most popular plan for most startups using a ROBS is a 401(k) plan.
You'll also need to find a custodian that can manage the actual investments of the retirement plan (such as Wells Fargo, Merrill Lynch, or Schwab). Most ROBS providers do not offer those services but will help you find a custodian to work with.
Step 3: Transfer Funds From Your Personal Retirement Account to the New Company Retirement Plan
The third step is what makes this a rollover. Once the company retirement plan is set up within your new C corporation, your personal retirement funds are transferred to the new retirement plan.
Step 4: The Retirement Plan Purchases Stock in the Corporation
The fourth step is to use the funds in your new retirement plan to purchase stock in your new C corporation.
Typically the number of shares that are given to the retirement plan are equal to the percentage of the funding the plan is providing for the business. The percentage of startup financing that the retirement plan is providing won't always be 100%. That's because a ROBS can be used in conjunction with other financing, like SBA loans, personal savings, or additional partners and outside investors.
Additionally, you may not issue 100% of your business's shares during this round of funding. It may be advisable to issue only a fraction of the shares in case you want to raise money by issuing additional shares at a later date (bringing on new investors, partners, etc.). This can get a little complicated, but a good ROBS provider will be able to walk you through it.
Step 5: Funds Become Available to the Corporation
The fifth step in setting up your ROBS is the fun part. It's time to put the proceeds from your ROBS to use. Your new C Corporation now has access to the funds it needs to launch and you can get down to growing your business.
But keep in mind that there are ongoing administrative duties after your ROBS is set up. This includes a number of reporting requirements outlined by the IRS and DOL, which we will discuss in more detail later in the article. A ROBS provider will handle these reporting responsibilities for you.
If the 5 steps involved with setting up a ROBS sound complicated, you're right. It is. That's why so many small businesses have entrusted the ROBS process to a ROBS provider. You can read our article that reviews the best ROBS providers here or reach out to our recommended ROBS provider, Guidant, directly.
The 4 Requirements for a ROBS
Now that you have an idea of what is involved in setting up a ROBS, let's look at what is takes to qualify for a ROBS. A ROBS is not a loan, so you don't have to meet traditional underwriting criteria, like a credit check or cash flow analysis, to qualify. However, there are generally four requirements to be eligible for a ROBS:
1. Currently hold a qualifying retirement account. Here are some popular types of retirement accounts that are eligible to be rolled over when doing a ROBS:
401(k)
403(b)
SEP
TSP
Keogh
Traditional IRA
Note: Roth IRAs and Roth 401(k) accounts are not eligible for ROBS.
2. Have at least $50K in retirement funds to use. Anything less than $50K and the fees (which we discuss below) will be cost prohibitive. In fact, most ROBS providers will not be willing to work with you.
3. Retirement account can't be from a current employer. If you're keeping your day job, most employers will prohibit you from rolling over a retirement account while you still work for them. You can, however, use a retirement account from a previous employer, no matter who the current custodian is.
4. Be a legitimate employee of the new C corporation. There is no published specifics of how much you need to work in the business, but a conservative approach is that you work 1,000+ hours in the business per year. This means that ROBS may not be a good fit for absentee owners or for passive income businesses like real estate investing, unless there will be a constant flow of work.
If you are using a ROBS to recapitalize a current business, then you should keep a few things in mind.
Jeremy Ames, President and Co-Founder at Guidant, says that "if you're planning to use a ROBS to recapitalize an existing business, it needs to be a good investment for your retirement plan. While the business doesn't have to be profitable, there needs to be a plan to profitability once you get access to the rolled over funds."
If you're looking to fund your startup but don't have any retirement savings, take a look at other startup financing options in this article.
How Much Does a ROBS Cost?
A Rollover for Business Startup is a not a loan, so you don't have debt or interest to pay back. However, Guidant and other ROBS firms will typically charge you two fees:
Upfront Setup Fee = Approx. $5,000 (This fee must be paid out of your own pocket before the ROBS is set up. The funds being rolled over can't be used to pay the setup fee)
Ongoing Monitoring Fee = $120 – $140 per month plus you may be charged a per employee fee if you have more than 10 plan eligible employees. (Some providers may charge you an annual fee instead of a monthly fee.)
The setup fee pays for setting up the ROBS through a ROBS provider like Guidant. This includes setting up the C Corporation, a financial valuation of the business, the creation of the company retirement plan, and filing paperwork with the IRS.
The monitoring fee pays for monitoring the ROBS on an ongoing basis. This typically includes providing employees notifications when they become eligible for the plan, adding and subtracting employees from the plan, annually submitting required IRS filings like the 5500 form, and keeping track of any owner's obligations for the plan.
Because of these fees, it generally doesn't make financial sense to do a ROBS for amounts below $50,000. Anything below $50K and you're looking at setup costs that run more than 10% of your funding. Considering that most startup loans have origination fees of under 4%, this level of expense is generally deemed too costly.
It's possible to avoid some of these fees if you do a ROBS on your own without the help of a ROBS provider. We don't recommend this because it's easy to run into legal and tax violations when administering a ROBS unless you are very experienced.
You would need to hire individual attorneys and CPAs to work on your behalf. However, few professionals have the experience necessary to fully protect you from the potential tax and legal liabilities. It also isn't likely to save you much money, if any at all, by using these professionals instead partnering with an experienced ROBS provider.
ROBS Compliance
A ROBS comes with a number of potential compliance issues, including which employees you offer retirement plans to and what investments those employees can choose from. While it doesn't happen often, the IRS and DOL can audit your business to make sure you're in compliance with all ROBS rules. Most of the ROBS providers we've reviewed report the rates of audit at under 1%.
ROBS Requirements if You Have Employees
ROBS are designed to benefit the employees of the C corporation that the funds are invested in. This includes the owner of the business, who themselves must be a legitimate employee. However, if you have additional staff, there are strict requirements that must be abided by at all times, including:
Eligible employees must be offered the opportunity to invest in the company retirement plan
Employees are entitled to invest the same way owners are
Eligible Employees Must Be Offered the Opportunity to Invest in the Company Retirement Plan
When using a ROBS, your business is required to educate eligible employees about your retirement plan, provide them with plan documents, and make sure they have sufficient time to invest in it. Who qualifies as an eligible employee may vary by state, but generally they must be at least 21 years old, have worked for your business for 1 year, and have worked at least 1,000 hours during that time.
Once the employee decides to invest in the retirement plan, you must process contributions and take care of any employer tax obligations related to the plan. Keep in mind that employees can become eligible to participate in retirement plans at different times throughout the year.
When employees become eligible you need to inform them they're eligible to participate in the company's retirement plan and provide them with information about their investment options within a reasonable time period.
Having a ROBS provider makes it easier to know when to do this, and helps make sure you don't break any rules.
Employees are Entitled to Invest the Same Way You Are
All employees that are eligible for the company's retirement plan must have the ability to invest in the same offerings as everyone else. In other words, you can't offer some investments to certain people and not to others. Investment options within a retirement plan can change. So, while your plan may offer the option of investing in your new C Corp for a period of time, that may change later on. If your retirement plan changes its investment options before employees become eligible, then the newly eligible employees are not entitled to invest in past offerings.
You must meet the "effective availability" requirements when educating your employees on the retirement plan. Essentially this means you must make investment vehicles available for a significant amount of time for the employee to make an informed decision on whether to invest or not.
Abiding by the rules for eligible employees can be difficult without the right guidance. This is why we recommend partnering with a ROBS provider who is experienced at both setting up ROBS and getting their clients successfully through audits. You can read our ROBS buyers guide for our top 3 recommended providers.
Government Audits of ROBS
ROBS are held to certain compliance standards by both the Internal Revenue Service and the Department of Labor. While either of these government agencies can initiate an audit of the business using ROBS to determine if the business's retirement plan has violated any rules, the chance of an audit is extremely low. In fact, our recommended ROBS provider, Guidant, reports that less than 0.35% of their clients have been audited.
If you do face an audit some of the things checked on include:
The retirement plan was set up correctly. They want to make sure that all requirements we discussed above have been met.
All required annual filings have been completed. They will double check that forms such as the annual IRS 5500 has been properly filed for each year the ROBS has been in place.
You meet all employee requirements. The business is required to educate employees about the plan, provide all necessary forms, and take care of all employer taxes related to the retirement plan. We cover this in greater detail below.
The complexity of these rules and the difficulty of dealing with a potential audit may be reason enough to hire a third party ROBS provider to set up and administer your ROBS for you. Our recommended ROBS provider, Guidant, will pay for outside legal counsel to represent your interests through any audit, on the off chance you actually face one.
Pros & Cons of a ROBS
A top concern of many entrepreneurs have with ROBS is that, if their startup isn't successful, they could lose their investment. What many people don't realize is that the financial risk involved with a startup and the possibility of business failure aren't unique to ROBS.
No matter how you fund a small business, there's something on the line. If you do a ROBS, there certainly is a chance that the business could fail, and you could lose your nest egg. But if you take out a business loan instead, you'll likely have to sign a personal guarantee and put up collateral. If the business fails, you could lose your home or other personal assets.
The risk of entrepreneurship exists no matter how you finance your business, so as with other types of business financing, we recommend balancing the pros and cons of ROBS before deciding whether it's the right choice for you.
Pros:
No debt or interest payments. It can be difficult and expensive to obtain capital to start or purchase a business. Many loan providers to small businesses, particularly for startups, charge interest rates that are over 55% per year! A ROBS is not a loan, so you do not incur debt and do not have to pay interest. That means the business is more cash rich, and more of the gross income can be reinvested back into the business.
Better business success rates. Guidant commissioned a study showing that companies funded by ROBS have a much better survival rate than other startups. This is partly because they are not starving the business for funds in order to make debt payments. About 81% of Guidant clients are still operating after 4 years or have successfully sold their business, whereas the standard is around 39%.
No income taxes or early withdrawal penalties. If you were to simply take money out of your retirement account and use it for your business, you would have to pay income taxes and, if you're under age 59 ½, early withdrawal penalties. The penalty is typically 10% of the amount withdrawn. By structuring the transaction as a ROBS, you avoid these costs.
No impact to personal credit or personal assets. When you do a ROBS, there's no credit check, and you do not have to sign a personal guarantee. Most loans require both, which means the personal credit of the business owner can be damaged and personal assets taken if the business can't afford to pay back the loan. In contrast, with a ROBS the failure of the business means only that the funds you invested are lost. It won't impact your personal credit or other personal assets.
Retirement funds can grow in a tax-advantaged account. A loan is one-sided with money flowing from your business to the lender to pay back the loan. When doing a ROBS, a 401(k) plan is created for the company. You can contribute to that account as your business produces revenue and use the funds for retirement.
Cons:
Possibility of losing money. Most new businesses fail, and if yours does, then you could lose all the money you invested. Also, consider the opportunity costs: If the money was not invested in your company, it could be invested in stocks, bonds, ETFs or mutual funds. Assuming a reasonable rate of return, the money invested in the business could have earned much more had it been placed in more traditional investments.
Doing a ROBS increases the likelihood that the IRS or Department of Labor will audit your business. If they find that you violated certain rules, you may have to pay penalties and taxes. Fortunately, the increase in risk is small. With Guidant, only about 0.32% of plans face an audit. Also, most ROBS providers will help you if you're audited and back up their work by paying for your audit costs. Guidant even provides outside counsel to represent your best interests at no additional cost to you.
Must administer a retirement plan. When you commit to a ROBS you become the administrator of a company-provided retirement plan. Although ROBS firms will provide guidance with this, you will need to market the plan to employees and tell them how to enroll. This can take time away from your business.
Must operate as a C Corporation. It's only possible to do a ROBS if you're structured as a C Corporation. Many small businesses prefer the simplicity and tax advantages of an LLC or partnership instead of a Corporation. You're giving that up if you decide to do a ROBS.
Given the risks associated with a ROBS, we think it's important to use the guidance of a professional ROBS provider. One reason we recommend Guidant as the best ROBS provider for small business owners is because they give access to independent counsel before, during, and after the ROBS setup process. This gives you the opportunity to ask as many questions as you like so you can decide for yourself if the risks are worth it.
Unwinding or Selling Your Business After a ROBS
You probably have the goal of opening a business, growing that business, and eventually selling it off or exiting it down the road. Starting a business with a ROBS can add a few changes to the normal unwinding of a business. We'll outline these below.
If you sell the stock of your business then winding down your ROBS is very easy. Everyone who owns a percentage of stock in the business typically receives that portion of the sale's proceeds, minus any funds required to wind down your ROBS or other potential business obligations.
The funds given to the retirement plan for its owned stock in the business are rolled into an IRA for the benefit of you, or whichever owner put the ROBS funds up from their retirement account at the beginning of the business.
Many businesses sell their assets, instead of their stock, to prevent any potential future liabilities that the current company may have. In these circumstances it becomes more difficult to unwind your ROBS. Once the business assets are sold then the funds are used to pay off liabilities and administrative obligations. The net proceeds remaining after those payments are then distributed to the owners of the business, including the retirement plan.
If your business fails then there is still a need to wind down your ROBS by closing out your retirement plan and helping your employees get educated about what options they have for the funds they've already invested in the plan. When your business fails you do not have any obligation to pay back your original funding to anyone, but you will lose the money.
Frequently Asked Questions about ROBS
What can a ROBS be used for?
A Rollover for Business Startups can be used to start a new business (or franchise), buy an existing business, or recapitalize an existing business. According to Guidant, here's the approximate breakdown of how ROBS is used:
Start a new business – 60%
Buy an existing business – 20%
Recapitalize an existing business – 20%
Does the company have to be a C corporation, or can it be an LLC, partnership, or S corporation?
The company must be a C Corporation to do a Rollover for Business Startups. Learn more about business structures here.
As the business owner, do I have to offer the company retirement plan to all employees?
You must offer the retirement plan to all eligible employees. Without getting into the nitty gritty of the law, the government does set minimum requirements on who's entitled to a company retirement plan. Generally speaking, an employee must be at least 21 years old, have worked for one year, and have worked at least 1,000 hours during that time. Learn more here.
Do employees have to be provided the opportunity to purchase stock in the company?
No, unless you or other owners are given that opportunity. The legal requirement is that company stock has to be made "effectively available" to employees in the same way it is available to the owners. However, company stock can only be purchased with retirement funds, such as retirement monies rolled over from another retirement plan. Since stock in new companies is usually illiquid (cannot be easily sold), most employees tend to avoid investing even when it is offered.
What happens if the business fails?
If the business fails, you could lose the money you rolled over from your personal retirement account. When a business that is financed with ROBS is forced to shut down, the assets of the corporation are liquidated and used to buy back as many shares of stock owned by the 401(k) plan as possible. Any funds remaining in the 401(k) plan are placed into an IRA for the business owner's benefit, and both the plan and the corporation are dissolved.
Who is actually holding the retirement accounts?
The actual cash accounts are held by a custodian, which is typically a brokerage firm such as Fidelity or TD Ameritrade. In general, the cost of having a firm like Fidelity or TD Ameritrade hold the retirement accounts is negligible or free. The brokerage firms make their money through their normal charges for buying or selling stocks, mutual funds, and ETFs.
Can a ROBS be used to purchase real estate?
A ROBS can't be directly used to purchase real estate, but it can be used to invest in a C corporation which does buy real estate.
How many people can invest in a business using a ROBS?
There is no maximum. Anyone using their own ROBS to invest must be a legitimate employee of the business. It is fairly common for multiple business partners to invest in using a ROBS. You can also take funding from as many other sources or investors as you would like to that are not using a ROBS to invest.
Does the business owner's retirement account sell shares or get paid dividends?
Although it is not commonly done, should the corporation issue a dividend to shareholders, the 401(k) plan gets its proportionate share of the dividend since it is a shareholder of company stock. The more common practice is for the business owners to pay themselves bonuses and higher salaries as the company starts generating excess cash flow.
As for selling shares, if the company is sold, the retirement account(s) holding shares will get payment in exchange for the shares it held. Also, the corporation can offer to buy back ("redeem") shares from the plan which provides another way to increase the cash in a retirement account.
Can I Use Additional Financing With a ROBS?
Yes. Many forms of financing, such as equipment financing, can be used with a ROBS to give the business more capital to work with. The most popular is getting an SBA loan to handle any additional capital requirements your business may need. A ROBS can also be used as a down payment for other financing. In fact, most ROBS providers will will help you obtain additional startup financing if you need it, though many will charge for this service.
Bottom Line
A Rollover for Business Startups (ROBS) can be a great option for funding a small business, whether you're just starting out, want to buy a business, or recapitalize your current business. Ultimately, you should weigh all the pros and cons of a ROBS and get all your questions answered by a professional before deciding if it's right for you. If you're read to speak with a ROBS professional about your options, we recommend speaking with Guidant.