Rydoo Expense Management Review: Pricing, Features & Alternatives 2023
Rydoo, an expense management software program, can process business expenses and streamline your expense processing and approval without the need for excessive paperwork and labor hours. You can submit and approve expenses through the web or on-the-go via the app. Rydoo offers plans that start at $10 per month if billed annually.

Pros
Integration with accounting software and enterprise ERP systems
Expense approval flows and expense policies
Records mileage and per diems
Cheaper monthly fees if paid annually
Cons
No expense card option
No reimbursement system
Not an alternative for a bookkeeping system
Those who want a detailed expense management app: Rydoo organizes your expenses based on users, categories, and status. You can manage your expenses easily, depending on what information you want to see and analyze.
Those who report expenses in multiple currencies: If your business has foreign operations or if you hire overseas employees, Rydoo can accept expenses in multiple currencies. You can also set expense rules by country to control expenses.
Those looking for affordable plans: Rydoo is the best choice for inexpensive expense management software. With its affordable annual plans, you can save hundreds of dollars without sacrificing much-needed features like expense workflow approvals and integration features.
---
Those who need a built-in reimbursement system: Rydoo has many expense management and processing features, but it doesn't have a reimbursement system. Once you approve an expense, you have to go to another app or manually reimburse expenses. Instead, we recommend Zoho Expense because it has expense recording, categorization, approval, and reimbursement.
Those looking to combine expense tracking and accounting: Rydoo only processes expenses and cannot be used as an alternative to bookkeeping apps. You can only use it to control expenses, and you still need to export expense data to your accounting software or ERP system. If you want to combine expense management and bookkeeping, we ranked QuickBooks Online as the best overall small business accounting software.
Those who want a flexible and free expense tracker with built-in card program: Emburse Spend is a card program with expense tracking capabilities. The platform is free to use and users will only pay for transaction fees. It's a flexible option because it doesn't charge a fixed monthly cost.
---
Rydoo Deciding Factors
Supported Business Types

Businesses looking for an affordable expense tracker

Pricing

Essentials: $12 per user, per month; minimum of five users
Pro: $14 per user, per month; minimum of five users
Enterprise: Custom priced

Free Trial

14 days

Accounting Software Integration

QuickBooks Online
Xero
Microsoft Dynamics 365 Business Central
Microsoft Dynamics 365 Finance & Operations
Oracle NetSuite

Standout Features

Clean and intuitive user interface (UI)
Spending limits and policies
Automatic expense approvals
Analytic tools
Per diem management
Mileage tracking
Receipt scanning with optical character recognition

Customer Support

Email and knowledge base
Rydoo Alternatives
| | | |
| --- | --- | --- |
| | | |
| Best for: Freelancers and small businesses looking for an all-around expense tracker with a reimbursement feature | Best for: Companies looking for full-featured accounting software with expense tracking | Best for: Companies looking for a free expense tracker with card program |
| Costs: $0 to $12 | Costs: $30 to $200 | Free |
| | | |
Rydoo Pricing
| | Essentials | Pro | Enterprise |
| --- | --- | --- | --- |
| Monthly Price | $12 per active user | $14 per active user | Custom priced |
| Scanning of Receipts | ✓ | ✓ | ✓ |
| Submit & Track Mileage | ✓ | ✓ | ✓ |
| Trip & Project Allocation | ✓ | ✓ | ✓ |
| User Permissions | ✓ | ✓ | ✓ |
| Expense Approval Flows | ✓ | ✓ | ✓ |
| Integration With QuickBooks, Exact, Xero, Slack, Uber & Lyft | ✓ | ✓ | ✓ |
| Spending Rules & Policies | ✕ | ✓ | ✓ |
| Per Diems | ✕ | ✓ | ✓ |
| Create Unlimited Branches |  Maximum of 3 | ✓ | ✓ |
| Dedicated Project Manager | ✕ | ✓ | ✓ |
| Enterprise Resource Planning (ERP) Integration | ✕ | ✕ | ✓ |
| Application Programming Interface (API) Access | ✕ | ✕ | ✓ |
| Single Sign-On (SSO) | ✕ | ✕ | ✓ |
| Integration With SAP, Oracle, NetSuite & Microsoft Dynamics | ✕ | ✕ | ✓ |
Rydoo Features
As one of our best business expense trackers, Rydoo's main features focus on expense processing. You can use its features to create workflows to organize and structure processing. When using Rydoo, there are two roles: personal and approver. Let's check out these roles.
Personal Role
Users assigned a personal role are allowed to submit and track their expenses.
Once a user logs in to the web version of Rydoo, they'll see the dashboard. The dashboard shows a summary of information about the user's expenses. They'll also see upcoming bookings that have been logged using Rydoo:
On the dashboard, you can see expenses classified based on their status. Each status has a corresponding amount to show the expense to be accounted for along the workflow.
---
There are different modes of submitting an expense in Rydoo. At the upper-right corner, click "Add an expense." A drop-down menu will appear and show the ways to submit an expense:
Upload: You can upload a receipt directly from your computer
Email: Digital receipts sent to your inbox can be forwarded to Rydoo by forwarding them to receipts@rydoo.com
Manual: A form will appear so that you can fill in the expense manually
Mileage: You can input miles and let Rydoo apply the standard mileage rates
Per diem: Employees on business trips can submit per diem based on the lists uploaded in Rydoo
---
Users can also submit expenses using Rydoo's mobile app. The mobile app is available on Android and iOS. A significant advantage of having the mobile app is that users can capture receipts with their smartphone's camera and upload them directly to Rydoo:
When users capture receipts, Rydoo will scan the receipts and extract the date, amount, merchant, and currency automatically. If you want to add more information, fill in the blank fields in the expense submission form:
---
Whether on the web or mobile version, every expense has a status to keep you informed of its position in the approval workflow:
To be verified: Incomplete and unsubmitted expenses.
To submit: Complete but unsubmitted expenses.
Submitted: Completed and submitted expenses awaiting action from the approver.
Rejected: Expenses rejected by the approver. As a user, you'll see a rejection reason.
Approved: Submitted expenses approved by the approver.
Controlled: Second optional level of approval—can be disabled in the settings menu.
Reported: Approved expenses awaiting reimbursement.
---
Approver Role
In your company, you can set approvers to review and approve employee expenses. You can give approver roles to managers or supervisory employees. You can switch to this role by clicking "Approver" in the dashboard.
The Approver dashboard shows the list of all submitted expenses. You can view these expenses under Expenses for Approval. As an approver, you can also see the unsubmitted expenses of employees, including your expenses.
---
If you click the name of an employee, you'll see the summary of all expenses. The summary will provide basic information like the date, merchant, amount, type, status, and category. At the bottom right of the list, you'll see the total amount of the expense:
---
By clicking on the item, Rydoo will show more detailed information about the expense. As an approver, you have to check if the expense complies with company policies, such as limits and documentation requirements. Moreover, you can save time by setting expense policies to limit or remind submitters to comply with all the requirements.
When the approver rejects the expense, they must state the reason for rejection. By clicking the Reject button, a pop-up window will prompt the approver to include a reason for rejection. Below the rejection reason, approvers can add additional notes or instructions: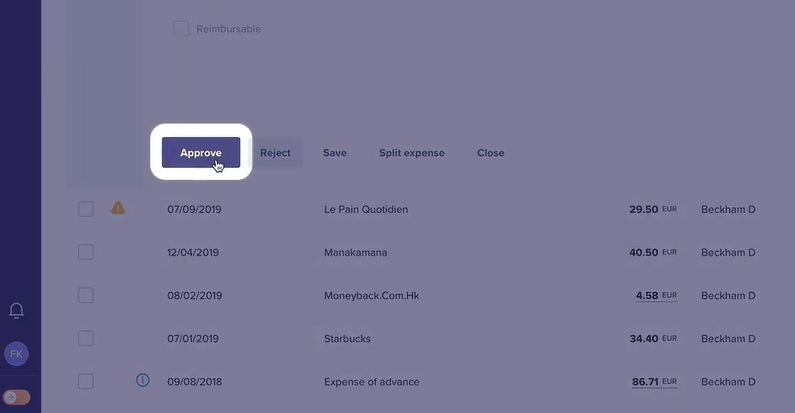 ---

---
---
If the approver is on a business trip, they can keep up with expense submissions via the mobile app. As with the web version, approvers can scrutinize and review expenses. It's easier and more comfortable to approve and reject expenses this way because you don't need to open your laptop or computer all the time. Through your smartphone, you can manage company expenses wherever and whenever you want: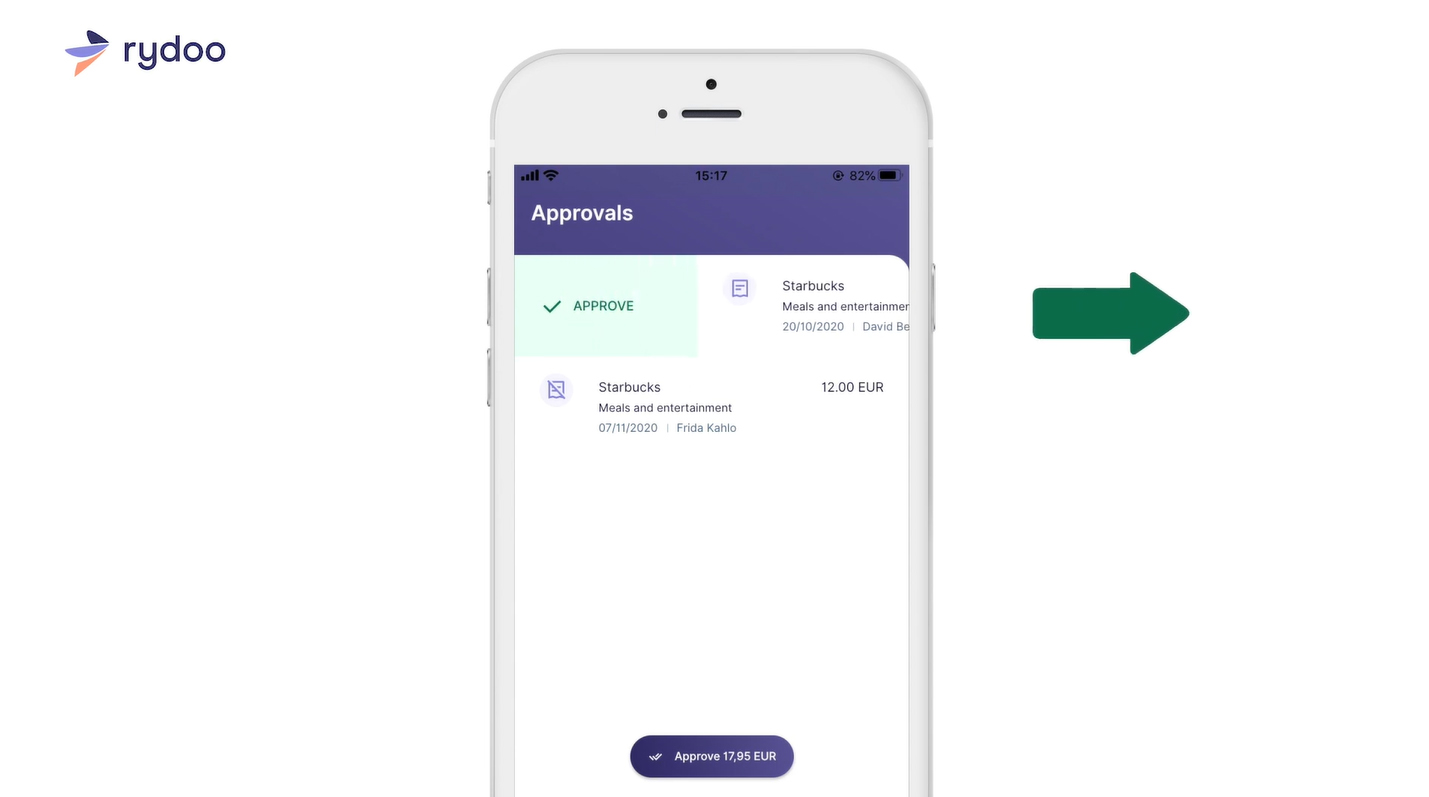 ---
---
When you reject an expense on mobile, the app will also require you to include a reason for rejection.
---
If there are unsubmitted expenses, you can remind employees to submit them. This feature is helpful if your company's workforce is working from home:
To remind employees, you have to click "unsubmitted expense," then head to Actions. Click "Send Reminder."
---
Expense Policies
Another helpful feature of Rydoo is its expense rules. You can reduce the work of approvers by setting up expense rules and letting Rydoo filter out expenses that don't comply with expense limits, minimum documentation requirements, or that have incomplete descriptions.
The dashboard shows the list of rules you have set previously. You can edit or delete existing rules as you see fit:
You can access expense rules in the Admin Tab. On the right-side panel, click "Admin" and head to "Expense Rules." Then, on the top right corner, click "Add Expense Rule." A new window will appear where you can set the limits and applicability of the rules.
When you want to create a new rule, there are four main items you need to fill out: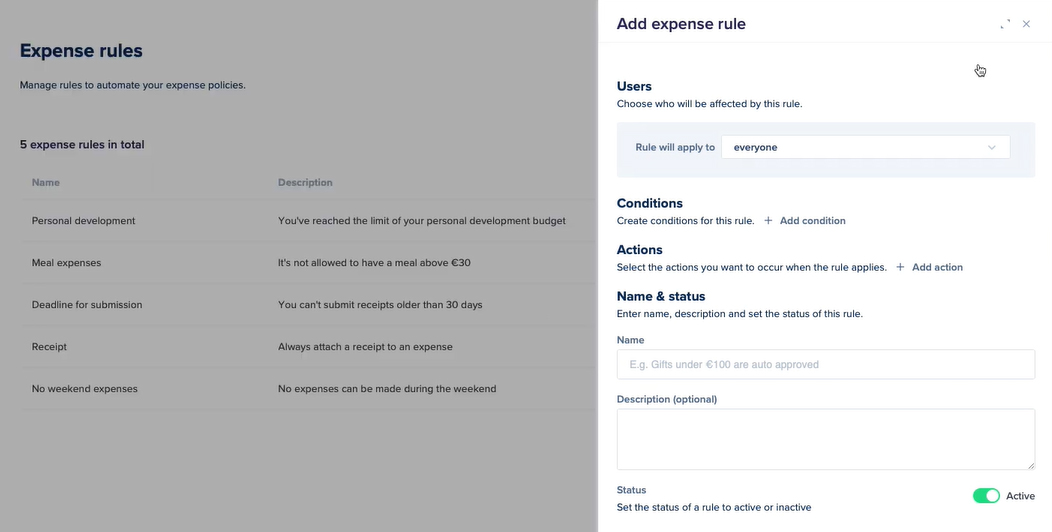 ---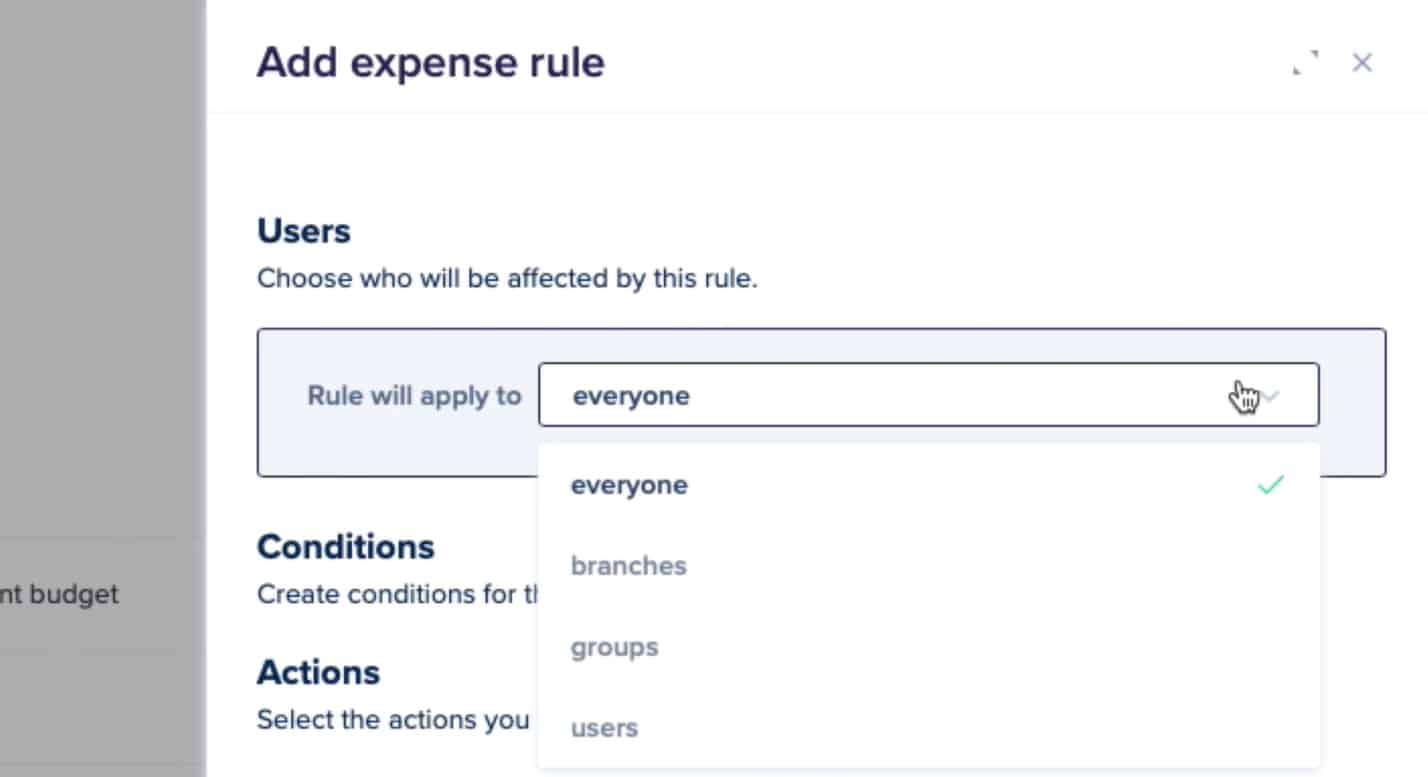 ---
You can limit rules to a specific group or set them to everyone. Setting the rule to "everyone" makes the expense rule applicable to all. For "branches," the rule applies only to a particular branch of your company. "Groups" pertain to organizational divisions within your company, such as the finishing department or human resources (HR). Lastly, "users" refers to a specific employee like company president, chief financial officer (CFO), or production manager:
"Conditions" defines the scope of the rule. You can set conditions by clicking "Add Condition" to place a rule for particular activities:
Categories: You can set a rule based on the expense category, such as parking or postage.
Amount: You can set a rule based on a threshold amount. It can be more than, equal to, or less than a particular dollar amount. You can set this rule based on the amount per individual or frequency, such as per night, day, week, or month. It also lets you limit the condition per country, which is ideal for overseas employees.
Receipt: Setting this condition checks if a receipt is attached or not.
Weekend or Workweek: This condition triggers based on the option you choose. For weekends, expense rules only apply if the expense was incurred on the weekend. The same applies to the workweek.
Date: Using the date condition prevents submitters from submitting expenses outside the allowable period.
Once you've set the conditions, you need to set up an action. "Actions" allows you to set a warning or a countermeasure when conditions are met. On Rydoo, you can select one of three action options:
Show warning in expense: If a submitter violates an expense rule, a warning will appear when the submitter submits the expense. In this way, users can immediately ratify the expenses and save the approver some time.
Auto approve or control: Auto approving and controlling expenses can help you expedite expenses. You can use this feature in fixed and recurring expenses like monthly telecommunication bills.
Create counter expense: Expenses that go beyond limits can be controlled through counter expenses. A counter expense can be set to the excess amount or a fixed amount. This feature is helpful for you if you want to reimburse employees on allowable amounts.
You set the name of the policy for easier identification
---
Rydoo User Reviews
Users praise Rydoo for its clean and sleek user interface. Some pointed out that Rydoo should fix minor problems like recognizing correct company users when using optical character recognition (OCR).
Frequently Asked Questions (FAQs)
Is Rydoo free?
You can try Rydoo for free for 14 days. There is no free plan in Rydoo.
Where is Rydoo based?
Rydoo has offices in Belgium, France, Poland, Brazil, the Philippines, Portugal, and the United States.
Bottom Line
Rydoo Expense Management is an app that can help your company report expenses properly because it has application control features that prevent employees from submitting expenses that violate expense rules. However, it lacks a reimbursement system, so you'll have to process the checks or automatic deposits elsewhere. Overall, it works best for expense management and control, especially if your business has an accounting software or ERP system.