Salary negotiation is tough on the employer and the candidate. Both want to maximize their profit without causing bad blood in the process. For employers, it's especially tough since you don't want to waste time recruiting and interviewing a candidate only to lose them during salary negotiations. So, you need a strategy from the get go.
In this article, we'll cover how to negotiate a salary that's agreeable and fair for both parties.
For Employers: How To Negotiate An Employee's Salary
According to research by Glassdoor, only 41 percent of employees attempt to negotiate their starting salary. So, while this isn't something you'll experience with every hire, it is something you should be prepared for.
To successfully negotiate salary, you need to strike the right balance between your business' bottom line and what a talented candidate will accept. Ideally, both sides should feel like they've walked away with a win. Here are 6 steps to make that happen:
Step 1. Research the Market Rate for the Job
The market rate for a job is the average salary paid for similar job titles by other companies. To get the right market rate, you need to filter for the closest fit to your role and have enough data points to make a valid market comparison.
Parameters you should keep in mind when obtaining comparison data include:
Role responsibilities
Regional variations in salaries
Experience levels
Company size
Company growth rate
Industry
The closer you can fit data to your specific job opening, without creating too small a dataset, the more credible the comparison.
Salary Comparison Sites
A good place to start for determining the market rate for a role is Indeed's salary tool. Indeed gathers salary data for thousands of job titles by surveying users and employers and tracking job postings. One caveat: since this is self-reported data, there may be flaws in the data, but it will give you a good big picture idea of the salary range you want to aim for.
You'll get the most common salary and a listing of popular companies and the salaries they are reporting for the position. You can narrow your search by company or location to make sure your comparison data accounts for regional differences in pay level.
Clicking on a company name will give you the average salary for that role at the company, a good way to get comparative data. You can read how former and current employees have reviewed that company as well to get a feel for how pay levels correspond to employee satisfaction.
Other sites you may want check out for comparable salary data include:
Ask Recruiters
In addition to salary comparison sites like Indeed, you should leverage recruiters if you are using them. They often have insight into salaries for different roles and nuances in comparing various candidate types.
Create a Range
You'll not only need to find the best salary benchmark, but you should also have a range in mind so you know when to walk away. A compa ratio is a good tool for this. A compa ratio is the range of market salaries for similar positions. It'll help you know where to start your salary offer and your walk away point. This is a significant bit of information for any negotiation.
Salary Market Rate Range Example
Let's suppose the data points for a market comparison of accounting salaries in New York, NY are those in the table below.
| | |
| --- | --- |
| Comparison Salary 1 | $80,500 |
| Comparison Salary 2 | $82,500 |
| Comparison Salary 3 | $85,400 |
| Comparison Salary 4 | $95,700 |
| Comparison Salary 5 | $120,300 |
You may want to exclude outliers at the low- or high-end of the market. In this case we may want to exclude Salary 5 because it's significantly higher than the other four salaries. So we end up with a range of $80,500 to $95,700, with a midpoint of $88,100. During negotiations, you may want to start by offering a salary at the midpoint and then if necessary, you can go as high as the highest comparison salary before walking away.
You can start off lower than the midpoint too, depending on the competitiveness of your overall compensation and benefits package. For instance, if you offer a great healthcare plan, flexible hours, and retirement benefits, you may want to target a salary at the lower end of the range. If you're in a very competitive environment for talent, you may want to start at the higher end of the range. The main point is the understand the "market rate" for a particular position in the context of your company, your brand, and your overall compensation package.
Use Precise Numbers
The main point of gathering market rates is to have a credible, objective number for reference. Turns out that specific numbers are more credible than round figures. According to research by Columbia University psychologists, precise numbers act as more potent initial anchors rather than round numbers. Precise numbers are considered more informed and therefore prompt smaller adjustments during negotiation. So, for example, you leave less room for the candidate to lob a counteroffer at you if your initial offer is $81,370 per year vs $80,000 per year. Funny how psychology works!
Step 2. Evaluate Candidate's History & Fit for the Role
There are good candidates, and there are great candidates. How a candidate compares to other candidates can impact how aggressive you want to get on salary. Are they an exact fit for the job description? What did you learn when you verified their work history? Do they have a ton of experience? Are they a once-in-a-blue-moon candidate? Have a point of view on just how awesome the candidate is relative to the rest of the candidate pool.
Things you should have a good handle on:
How good a fit is their experience for the particular role?
How senior are they, and what is their potential for future growth in the company?
How successful were they in their previous role (reference checks are helpful here)?
How much training will they need before they are 100% productive?
How smart, motivated, and enthusiastic are they?
You should have all of your data points written down so that you can reference them during your negotiations if need be. These points are what will justify you going up in salary or holding your ground during a negotiation.
Sample Salary Negotiation Framework for Retail Manager Role
| Preferred Qualifications From Job Description | Candidate A | Candidate B |
| --- | --- | --- |
| 5 years' management experience | 6 years | 4 years |
| Has hired at least a dozen people at previous jobs | Hired 12 people | Hired 10 people |
| Has used your CRM software | No but used similar software | Yes |
| Shows a track record of success | Was promoted to Retail Manager at previous employer | No promotions but successfully managed others at previous employer |
Using this framework, we can justify being open to negotiating a higher salary with Candidate A compared to Candidate B because Candidate A much more closely fits the profile of an ideal candidate.
Step 3. Understand The Employee's Motivation
Salaries are really just one piece of an employee's compensation. A lot of candidates value other employee benefits as much as, or more than, salary. Factors beyond salary that candidates value include the following:
Flexible schedules
Ability to work remotely
According to Glassdoor research, the top 3 things that correlate with employer satisfaction of benefits are health insurance, time off, and having a pension plan.
Before you enter into a negotiation, find out what the candidate's life is like outside of work. Of course, you'll need to avoid any discriminatory questions, such as how many kids they have or whether they are married.
Do they value a flexible schedule? Do they have hobbies or projects they like to work on? Do they like to travel? Focus on what they value most from an employer. The more you know about their personal motivations, the easier it will be to use their entire compensation package to negotiate salary. More on this next.
Step 4. Negotiate The Whole Package
When negotiating, don't negotiate one piece at a time. Armed with what motivates a candidate, you'll be more effective if you can pull different levers to negotiate.
You're only going to be able to move so much on salary in most cases. According to a NerdWallet, Looksharp study, 74% of employers will only negotiate between 5% and 10% of the initial offer.
If negotiations stall in one area, such as salary, move to negotiations around other pieces of the compensation package that you think will be valuable to the candidate. For example, if you are concerned that you are at the low end of a candidate's salary expectations you could add perks to the compensation such as:
6 weeks of vacation time instead of 4
Pay for external training
Subsidize health membership fees
Increase flexibility by allowing them to work from home certain days
Add profit sharing or offer stocks/company equity
There are probably a number of levers you can use to sweeten a compensation package. The main point is to think about the total employee value proposition, not just focusing on salary.
Step 5. Keep Things Positive & Professional
How you negotiate can be as important as what you negotiate. Keep in mind that you may need to work with this person so how you behave during negotiations can impact the attitude of your new hire coming in.
Don't Take It Personally
A salary negotiation is a just a way to figure out the fair value of someone's contribution. There's no reason to take any of it personally. It can get tough. You may find yourself negotiating with someone who is persistent. Take that as a positive sign that the person is going to be as persistent when they start working for you. Everything will go better if you keep a positive attitude during discussions.
Be Professional
You'll do yourself a favor if you keep everything professional. That means three things:
Organization – Have all of your benefits, ranges, and facts well organized before starting negotiations.
Clear Communication – When communicating, don't use vague terms like a "good amount" of vacation or stock options "in the future." Use specific amounts and timeframes, so there are no misunderstandings.
Clear Documentation – When extending the final job offer, put the details in writing in an offer letter. The more specific you can be about compensation, the better.
The more professional you are, the less likely it is that emotions will cloud the discussion on either side of the table. If you want to boost the chances of your offer being accepted, check out this article for some tips.
Step 6. Be Prepared to Walk Away
Know Your Deal Breakers
Knowing what a bad deal looks like will give you confidence when evaluating any counteroffer. William Ury, co-founder of Harvard's Program on Negotiation and co-author of Getting to Yes, advises the following:
Determine your acceptable range.
Estimate their acceptable range.
Define your absolute deal breakers, such as needing to work too many hours remotely, guaranteed future pay raises, no travel availability, etc.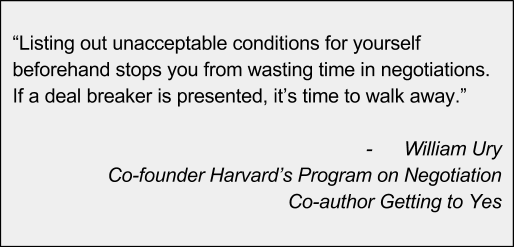 Have Alternatives
Line up alternative options if you do need to walk away. That includes having other good candidates in the pipeline in case you need to walk away from your top choice candidate. Having alternatives will make it much easier to abandon a compensation package that doesn't make sense for your small business.
Leverage Time & Scarcity
Also try to assess the candidate's other options. If you get the sense she doesn't have a lot of other employers at her door, you can use time as leverage. Often taking a breather can cause candidates to soften their position if they think there is a chance they might lose the offer. So you can take longer to get them through the hiring process and indicate to them that there are a number of candidates that need to be vetted.
For Candidates: How to Negotiate Salary With A Prospective Employer
A lot of the principles that apply for employers apply to job seekers as well, including:
1. Research Market Rates
Make sure you know what the market ranges and midpoints are for the role you're seeking. Use the salary sites mentioned above, such as Indeed, to get that data. Create as close a match as you can by taking into account location, seniority, employer reputation, etc.
2. Successful History
Have a clear listing of proof points that you have been successful in the past. For example increases in revenue, promotions, key projects that you ran, opening new markets, etc. The more specific you can be, the more open the employer will be to your salary request.
3. Understand An Employer's Motivation
You can gather a lot of information from what an employer emphasizes. Their website might point to the type of culture they are trying to create. The job description might emphasize key soft skills. Be prepared to talk to those motivations and how you will bring those to the table.
4. Negotiate the Entire Compensation Package
An employer might have a salary range in mind. But other perks such as time off, flexible schedule, or health benefits might enable you to increase your overall compensation outside of salary. Think about what is most important for you and your family.
5. Be Positive and Professional
Thank employers for their time. Be punctual. Communicate clearly and concisely. Never make ultimatums. These help employers understand how you'll behave as an employee and will make the negotiation process easier.
6. Know Your Walk-Away Point
You can negotiate better if you know what your deal breaker points are. Is there a minimum salary you need to pay the bills? Do you need a certain amount of time off for your general well being? This will help save everyone's time if know when to walk away from a job opportunity.
In addition to these common points, there are a few areas that are unique for job candidates.
7. Don't Be Afraid
According to the NerdWallet, Looksharp study of new graduates negotiating job offers, only 38% of those surveyed negotiated their salary after getting an offer. Offer recipients believe that negotiation isn't possible or would be frowned upon by the potential employer. The data actually shows that this is the wrong approach.
84% of employers said candidates would not be putting their offer at risk by negotiating salary. In fact, most employers said that they perceived negotiating salary to be a positive thing because it exhibits positive traits, such as preparedness and confidence:
And, you're likely to be successful if you do try. 80% of the candidates in the study were partially or completely successful.
So, get negotiating!
8. Know When to Start Negotiations
Get the timing right when negotiating a salary:
You should already have an offer in hand.
You can articulate your value proposition. Be prepared with data around past successes and market rates.
If there is a point where you think the salary might be too low you might as well get that conversation started right away.
You have a great offer. If you manage to get a better offer from another employer but still want the position, that's an extremely strong point to open up the discussion on salary. Most employers don't want to lose a great candidate to a competitor.
Keep in mind that you should keep negotiations professional. Never issue ultimatums, and always leave an opening for the employer to counter. You may want to pick up negotiations at some future date so don't burn any bridges.
Bottom Line: Salary Negotiation
The goal of a salary negotiation is to create a win-win result that can start employment on a positive and productive note. So keep things courteous and professional. Arm yourself with as much information as possible including market rates and past performance. Have a good strategy for walking away, so you can negotiate from a position of strength. If you can do all of that, you should be in good shape, whichever side of the table you're on.