Salespeople live on their phones, making it important to have the right mobile sales tools. From customer relationship management (CRM) software to sales apps that help you find leads, build presentations, or research what's happening with your customers, we put together a list of the best sales apps to help sales management professionals be more productive.
In no particular order, these are the 17 sales apps every salesperson should have:
What it costs: HubSpot CRM is free for unlimited users.
What it does: HubSpot is a free CRM that allows you to manage contacts and leads, organize incoming sales opportunities, and communicate with.
HubSpot CRM is one of the simplest ways to stay in touch with your leads and customers while on the go. In addition to providing a quick look at the important information you need to communicate with your customers and stay on top of sales opportunities, HubSpot's app also includes a mobile business card scanner that imports contacts directly into your database.
The app makes it easy to make calls and automatically log call activity, send emails, and move deals through your sales process. It also allows you to create tasks associated with both contacts or sales opportunities, which helps you stay on top of the sales activities that require your attention.
What it costs: Free – $49 per month, per user.
What it does: A fully-featured CRM for teams that need a flexible but powerful way to manage sales opportunities.
Freshworks CRM is a customer relationship manager (CRM) for teams that need more advanced features and additional customization. The mobile app gives you access to your leads, contacts, accounts, and deals, and also allows you to manage tasks and your calendar. Freshworks CRM has a free-forever plan, while paid plans range from $12 – $49 per month, per user.
For sales organizations that manage their customers by territory, Freshworks CRM allows you to automatically assign leads to the right salespeople, who can then access contact information from the easy-to-use mobile app. It also includes a built-in call dialer and allows your sales team to log call and other sales activity on the go, ensuring that the information is still fresh in their mind instead of having to wait until they get back to the office.
What it does: Makes it easy to take notes, scan documents, and capture and organize your thoughts.
What it costs: Free – $14.99 per user, per month.
Evernote is one of the most versatile mobile apps, especially when it comes to staying organized and on-task. In addition to being one of the best note-taking apps, which comes in handy for keeping track of client consultations, the mobile app also includes document scanning, a business card reader, contextual search recommendations, and even voice recording.
One of the highlights of Evernote, though, is the powerful built-in optical character recognition, which makes it easy to search documents, even PDFs and images. That makes it a useful tool for quickly taking photos of receipts, tagging them, and being able to organize and search for them when it comes time for filling out expense reports.
What it does: Makes sending and signing proposals and contracts simple from your mobile device.
What it costs: $10 – $40 per month, per user. A Free version allows for signing only.
DocuSign is one of the most popular electronic signature document management tools, and the mobile app is a must-have for sales professionals who want to stay on top of contracts on the go. The Personal plan allows you to send up to five documents a month, and your customers can easily use the free version to sign and store agreements they've signed.
The DocuSign app lets you add documents either by scanning them using your mobile device camera, or through popular services like DropBox, Evernote, Box, or Google Docs. You can even import them directly from your Salesforce document library, or save frequent documents in your DocuSign library for quick access.
What it does: Simple graphic design tool for your desktop or mobile device.
What it costs: Free, or $12.95 per user, per month, for Canva Pro.
Canva is a simple design app that makes it easy to create everything from social media posts to marketing materials to a sales presentation. With a vast library of pre-designed templates for almost any design project, Canva's intuitive drag and drop interface is optimized for your mobile device, which makes it a great way to quickly create and share your designs with customers or on social media. You can also share designs across the mobile and web-based versions.
Canva's free version gives you access to both the template library as well as a vast collection of royalty-free stock images to use in your projects. It also allows you to save and reuse your designs, making it a great way to create consistency among your branded materials. The paid version also allows you to share designs with your team and expands access to an even larger collection of stock media.
What it does: Integrated calling, messaging and video conferencing on your mobile device.
What it costs: $19.99 – $34.99
RingCentral is a Voice-over-Internet-Protocol (VoIP) service that allows you to purchase dedicated phone numbers and extensions for your business. The mobile app lets your team keep personal and work conversations separate, even when they use one mobile device to stay connected with their work. While there are other free services that offer similar functionality, like Google Voice, the advantage of RingCentral is that it focuses on small business communication needs.
The mobile app allows you to make business calls over Wi-Fi without using your cellular carrier's plan and includes messaging and meetings in addition to voice calls. RingCentral's file sharing is built-in, making it easy to connect and share information with your team.
What it does: LinkedIn's Sales Navigator is a prospecting tool that allows you to discover leads through the popular professional social network.
What it costs: $79 per month
Sales Navigator is a lead generation tool that allows you to find new customers and prospects by searching LinkedIn with a range of filters. For example, you can search by industry, role, keyword, or location. Sales Navigator also helps you turn leads into accounts to stay up to date on recent developments, allowing you to track the most recent updates on your homepage for $79.99 per month and provides you access to the entire LinkedIn network for lead generation.
It gives you in-depth information about both your leads and their companies. It includes recommended leads, which are prospects that LinkedIn identifies based on factors like their company, their connection to existing leads, and their roles. For sales professionals who are active on LinkedIn, and those who focus on account-based sales management, Sales Navigator enables sales by making it easy to search and find your target customer.
What it does: File storage, sharing, and sync across all of your devices.
What it costs: Free for up to 2GB of storage. Paid plans start at $9.99.
Dropbox is an app that syncs your files across all of your devices and makes it easy to share documents with others. You can use Dropbox on your mobile device and your desktop which makes it a great way to have access to all of your work files while you're on the go. You can save contracts, marketing materials, or other important documents that you create on your desktop computer, and they sync across every other device.
There are certainly other cloud-based file-sharing services available, but Dropbox is still the fastest at syncing your files with the cloud and on your other devices. The Pro and other paid versions also include advanced sharing and collaboration tools. The Dropbox app also allows you to scan documents, record voice memos, or upload photos directly to your account. I'm a big fan of the scanning option since it's easy to scan and share important documents with only a few taps.
What it does: Scan and organize receipts for expense reimbursement.
What it costs: Free for up to five scans each month.
Expensify lets you quickly take a photo of your receipt, organize it, and submit it for reimbursement. The app automatically detects the vendor, amount, and categorizes it for you based on the type of expenses. You can set up automatic submissions to group receipts and submit at a regular time each day or week.
For sales reps who spend a lot of time on the road or in the field, having a dedicated app that quickly photographs, scans, and organizes your expenses can save time and help make sure you don't forget. Since you can use Expensify without a subscription for up to five scans each month, it's also a great free tool for people who only need to submit a few receipts each month.
What it does: Real-time artificial intelligence (AI) powered voice transcription and recording.
What it costs: Free for up to 600 minutes per month.
Otter.ai is a real-time transcription app powered by artificial intelligence (AI) that can be used to record meets while creating a transcript on the fly. This is especially helpful for large team meetings where you want to be sure to capture everyone's thoughts without having to go back later and transcribe the audio. It also includes a "group" feature, which makes it effortless to share transcripts with other members of your team.
I've used Otter.ai enough to make it a regular part of my mobile toolkit, and I find it to be accurate and very fast. One of the best parts is that the free version provides up to 10 hours of recording and transcription, which is more than enough for most users. That makes Otter.ai an incredible free tool for keeping track of important conversations.
What it does: Get directions to your sales appointments, and so much more.
What it costs: Free.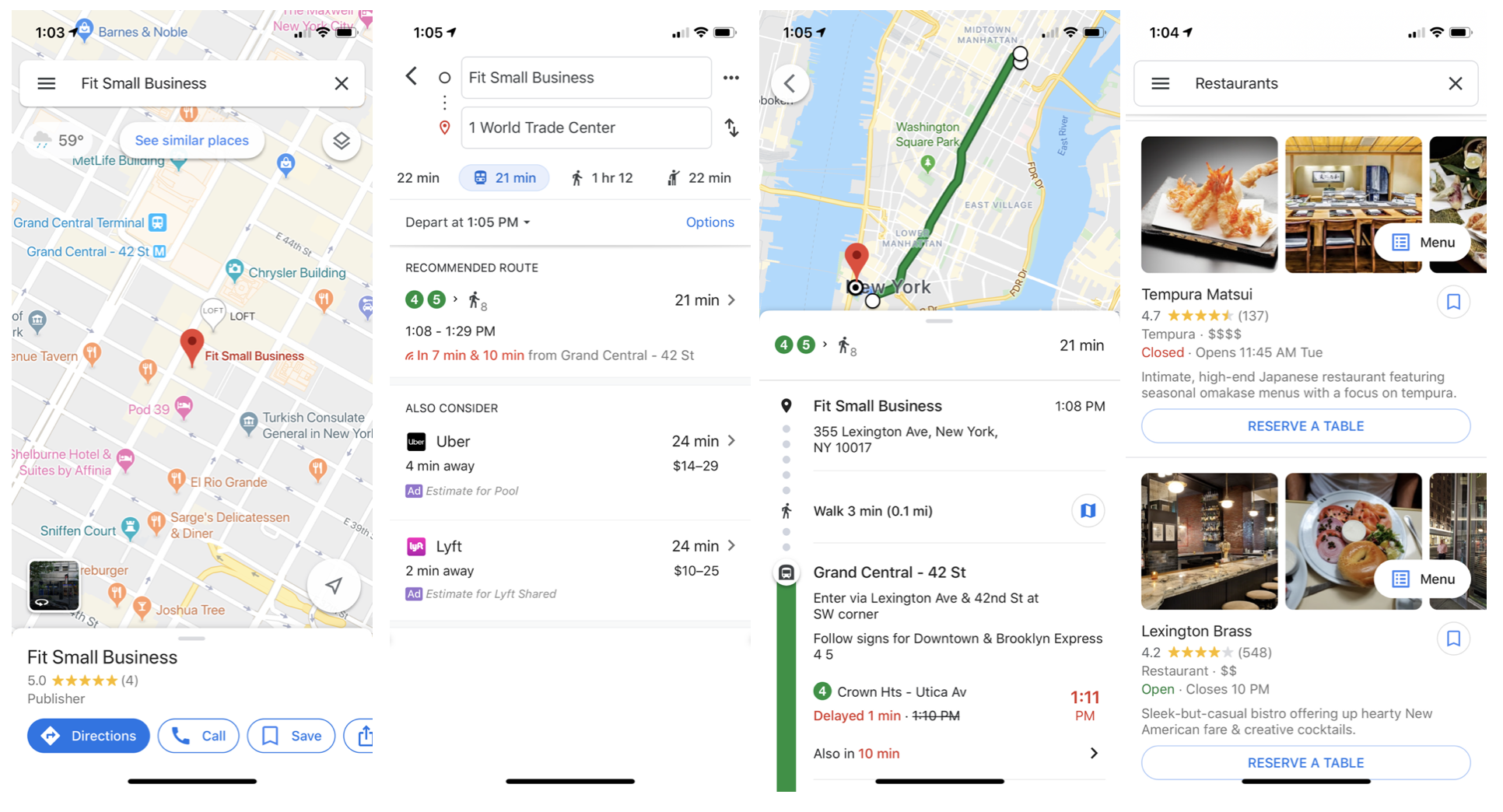 Google Maps is the de facto standard for turn-by-turn directions on both Android and iOS. Apple Maps has come a long way, but Google's version is still much more popular. Not only will it help you find directions to your next appointment, it'll give you public transportation directions and even help you call for an Uber or Lyft. Then, when the appointment is over, you reserve a table to celebrate that brand-new contract, directly from the app.
Google Maps also includes helpful features like allowing you to actually order lunch delivery for those times when your meeting runs longer than you expected. The real-time transit directions help you find the quickest route, while also letting you know exactly when the next bus or subway train is arriving. Every salesperson can relate to getting stuck in traffic, which is why Google Map's features that let you know about accidents and construction can be so helpful.
What it does: Keeps track of all of your travel plans.
What it costs: Free, or $49 per year for Tripit Pro
If you travel for your sales job, you know that it can be a challenge to keep everything organized. Tripit does that for you. You simply forward your travel email confirmations and the app automatically organizes everything for you. That includes flights, hotel, and rental car. The pro version will even monitor your travel plans and alert you if there's a delay or problem with a flight, and help you find alternative arrangements.
Tripit will also sync all of your travel arrangements to your calendar, which makes it easy to keep track of where you're headed next. For frequent travelers, Tripit Pro will also track your hotel and airline loyalty points and status, provide airport terminal maps, and even help you choose the best seat on your next flight.
What it does: Group chat and collaboration.
What it costs: Free version allows up to 10,000 messages of history.
Slack is one of the most popular tools for communicating with remote team members, especially on larger teams. It allows you to create channels to organize your conversation, direct messages for more private conversations, and even shared channels for interacting with customers. In addition to real-time chat, Slack includes both audio and video calling for those times when a direct conversation is better.
On the mobile app, Slack also makes it easy for your team to access the conversations and information they need. That includes managing notifications, along with sharing and accessing files. One of the things that make Slack such a popular tool is that the free version provides 10,000 messages of history, which is great for smaller teams.
What it does: Simple time tracking and invoicing.
What it costs: Free for up to two projects. $12 per month, per user, for unlimited.
Harvest is a great app for keeping track of your time, especially if you bill your clients for the time spent on the projects you work on. While Harvest is available both on mobile devices and in your desktop browser, the mobile app makes it easy to select the project you're working on, enter time spent, or even start a timer. You can also send invoices directly from the app, which features time reports and even team management features to help you keep track of your time.
Because Harvest allows you to track both time and expenses by client and project, it makes it easy to evaluate how you spend your time, as well as making sure you get paid for the work you're doing. The free version allows one user to track up to two projects, while the free version allows both unlimited customers and projects.
What it does: Dedicated to-do list with powerful task management features.
What it costs: $9.99 (iPhone), $19.99 (iPad), $49.99 (macOS).
Many CRMs that salespeople use every day include some task management features, but there are times when a dedicated to-do list can be really helpful. Things is one of the best there is, especially for mobile devices. Things allows you to create tasks and organize your day based on what's important today. Because it also integrates with your calendar, it gives you the ability to see how your tasks relate to the appointments and other activities on your agenda.
The only major drawback to Things is that while it has real-time sync across all of your mobile devices, and even your laptop, it requires a separate app purchase for each device. On the other hand, Things doesn't require an annual subscription, making it a more economical option in the long run.
What it does: Video conferencing tool with a free plan that can be used for simple online one-on-one or group meetings.
What it costs: Free for meetings up to 40 minutes. Paid plans start at $14.99/user per month.
Zoom is a video conferencing tool with a free plan that can be used for simple online one-on-one or group meetings. It allows both video and voice conversations, and includes a "safe driving mode" that mutes your mic, and pauses video. You can still hear the conversation, and "tap to speak" when you're ready to talk. Paid plans start at $14.99 and include longer meetings, advanced administrative controls, and 1GB of online cloud-based storage.
Zoom is especially helpful as a tool for presenting proposals, internal account review meetings, and external meetings with customers. In addition to letting you meet face to face online, Zoom's free plan allows you to host an unlimited number of one-to-one meetings, and group meetings of up to 100 people (though meetings are limited to 40 minutes). It also lets you share your screen, making it ideal for conducting product demos, customer training, or support.
What it does: Prezi is a simple presentation design tool.
What it costs: Free – $19 per month
Prezi is a design software tool that allows users to create professional-looking presentations and share them with clients online. The mobile app allows you to rehearse your presentations as well as connect via AirPlay to present directly from your mobile device. The free version allows you to review all of your presentations, and paid versions add features like offline access and advanced presenter controls.
You can also share presentations directly from your mobile device, which makes it an ideal tool during client presentations, especially if you want to quickly share or email your slide deck as a leave-behind resource for your client to review later. That makes it a great presentation and follow up tool for every salesperson.
Bottom Line
Each of these sales management tools are apps that are must-haves for sales professionals who want to stay productive on the go. From managing client relationships, creating and sharing presentations, to keeping track of important tasks, these apps will help you stay organized and focused while winning more sales opportunities. Which is your favorite mobile sales app?