Sales automation is a series of actions that eliminate the manual process of moving deals through a sales pipeline. It's used by salespeople to save time and focus efforts on activities that drive relationships like conversations and appointments. Sales automation software ranges from full-featured CRMs with email campaigns, to workflow tools that connect different software.
Salesforce Essentials is a CRM designed to help small businesses manage their sales process for $25/user per month, and includes contact and deal management, sales pipelines, and workflow automation. Salesforce integrates with hundreds of third-party apps to extend the power of your sales automation tools. Visit Salesforce today to start your 14-day free trial.
How Sales Automation Works
Sales automation uses software tools to eliminate manual steps in your sales process. The most common sales processes that you can automate surround your lead generating, lead nurturing, and general sales pipeline activities such as sending emails or moving a contact to the next deal stage. Combined, you can automate multiple actions or steps in your sales process, creating a less labor-intensive sales funnel.
Three primary areas that salespeople can automate their sales process include:
Lead Generation: If you're still manually adding leads from email inquiries, sales automation can save you considerable time by connecting your lead generation forms to your CRM and helping you qualify your leads.
Lead Nurturing: You can use sales automation to improve your lead nurturing through email campaigns, automatic lead qualification, and customer segmentation, all of which happen in your CRM without you having to do anything.
Sales Pipeline: There are a variety of activities that happen as you move deals through your sales pipeline, and sales automation can help by sending notifications, updating stages, and facilitating the approval of quotes and follow up with proposals.
For example, you might use a lead generation pop-up where a visitor enters their name and email address because they are interested in your product. That information is fed into your CRM as a new prospect, which automatically segments your contacts based on location or other criteria, and then sends a drip email campaign.
You could also set up automation that's triggered when a client digitally signs a proposal that automatically advances the deal to the next stage in the pipeline. The software might also send you a notification along with an automatic thank you email to your new customer, saving you from manually updating the deal's status or typing emails.
Each of these saves time and allows salespeople to focus their efforts on building relationships through in-person communication while making sure leads don't fall through the cracks. For example, instead of responding to dozens of incoming inquiries each day, sales automation can send an automatic reply email with a link to schedule a phone consultation, pre-qualify leads, and notify the sales rep when someone books an appointment.
Who Sales Automation Is Right For
Everyone needs more time. That means that sales automation is right for every sales team, even if it's a team of one. Depending on your role, sales automation can help reduce the time you spend on administrative tasks and allow you to spend more time winning new business.
A few of the specific roles that benefit from sales automation are:
Business Development: Team members who evaluate and qualify leads to send to sales reps can use sales automation to help filter and qualify leads, ensuring they're able to identify the best prospects
Account Managers: Reps who are responsible for large companies with multiple divisions and accounts can use sales automation to send regular email communications, as well as constantly evaluate the overall performance of each customer.
Sales Managers: Individuals who lead sales teams can use sales automation to reduce the amount of time they spend on tasks such as assigning leads or pulling reports since your software can be configured to do both of these things automatically.
Inside Sales Reps: Responding to incoming leads via a website can be tedious, and inside sales reps can use tools that automatically reply to emails and invite customers to self-schedule appointments and phone conversations.
Sales automation is an important time-saving tool for anyone involved in the sales process. Whether you're responsible for finding new sales leads, managing a sales team, or growing existing accounts, using sales process automation tools can help you and your team free up time to focus your efforts on the activities that matter most.
Sales Process Automation Costs
Most of the cost of sales process automation is related to finding the right tools that can handle the tasks you do on a daily basis. There are free tools available that offer simple automation like connecting third-party tools, though CRM software that includes sales automation features start at around $20/user per month. Additional costs include business insights tools that provide information about contacts and the cost of implementing your automation processes.
CRMs: CRMs with sales automation tools start around $20/user per month, and range as high as $99/user per month for advanced capabilities.
Automation Tools: Products like Zapier that connect and sync information between different software tools, can range from free to as much as $125 per month.
Business Intelligence: Tools that reduce the time you spend researching prospects by providing contextual information about your leads can range from $39 per month to as much as $2,500 per month for complex tools with artificial intelligence.
Implementation: Sales automation tools save time in the long run but require an upfront investment of resources to set up your processes. These costs range from the hourly rate you pay an employee, to $100 per hour or more for a specialty consultant.
While the primary cost of sales automation tools is in the software you select to manage your automated processes, the time you save in managing manual tasks and the increased productivity of your sales team more than makes up for the monetary expense. In addition, your improved sales process will result in higher quality sales opportunities and increased sales revenue.
Sales Automation Features
Many of the features you can use to automate your sales process are designed to work from within the sales software you already use. For example, CRMs often allow you to create step-by-step workflows that automatically handle tasks like email replies, scheduling appointments, deal pipeline stages, lead scoring, and notifications.
Here are a few of the most common sales automation features:
Email Sync and Tracking
CRMs can sync with your business email, keeping all of your communications in one place without having to duplicate efforts. In addition, many CRMs include the ability to track when a recipient opens an email or clicks on a link, notify the sales rep, and then implement a workflow based on that trigger.
Email Campaigns
One of the most common features of sales automation tools is the ability to create a series of prospecting emails that automatically send on a set schedule. These can be used to nurture a lead that signed up for more information on your website, or they can be used to stay connected to your existing customers. Some advanced automation tools will adjust the campaign based on the specific activities of your prospect, including whether they open an email or click on a link.
Scheduling
Allowing customers to automatically schedule in person, video, or phone appointments eliminates the back and forth of trying to find a time that works for everyone. These tools allow you to establish your availability and create specific appointment types that prospects or customers can select to schedule a meeting.
Workflows
Automated workflows are used to assign incoming leads, create new contacts or deals, keep information up-to-date, and even send notifications. Salesforce, for example, allows you to create detailed multistep process workflows that take different actions based on specific events including whether a prospect opens an email, visits a website, or meets certain criteria like industry or role.
Notifications
Notifications can be set up to automatically alert you when specific events occur. For example, you can set up a CRM to notify you when a deal reaches a certain stage, when a lead returns to the pricing page on your website, or when a specific amount of time has elapsed since your last communication with a contact. Notifications are often used as a part of a workflow, but can also be set up specifically based on an individual sales reps preferences.
Call Recording & Logging
These are tools that help manage phone conversations including automatically logging and recording calls, transcribing calls, and generating call scripts and playbooks. CRMs, for example, can automatically connect calls using VoIP technology, log the call activity, record the call, and prompt the sales rep to create contemporaneous notes about the call while it is still fresh in their mind.
For sales teams looking for a simple-to-use, flexible sales calling solution, Freshcaller offers affordable pricing plans that allows users to purchase local or toll-free phone numbers with low-cost minutes, automatically route calls, and call notifications. In addition to a free-forever plan, Freshcaller offers a 14-day free trial of paid plans. Visit Freshcaller to start your trial today.
Sales Automation Providers
There are a variety of different types of sales automation software tools. Customer relationship management software tools are probably the most common since the software already contain most of your sales process and contact information. However, other tools like workflow automation and business insights are also valuable in helping improve the efficiency of your sales process.
A few of the common tools used for sales automation include:
1. Salesforce Essentials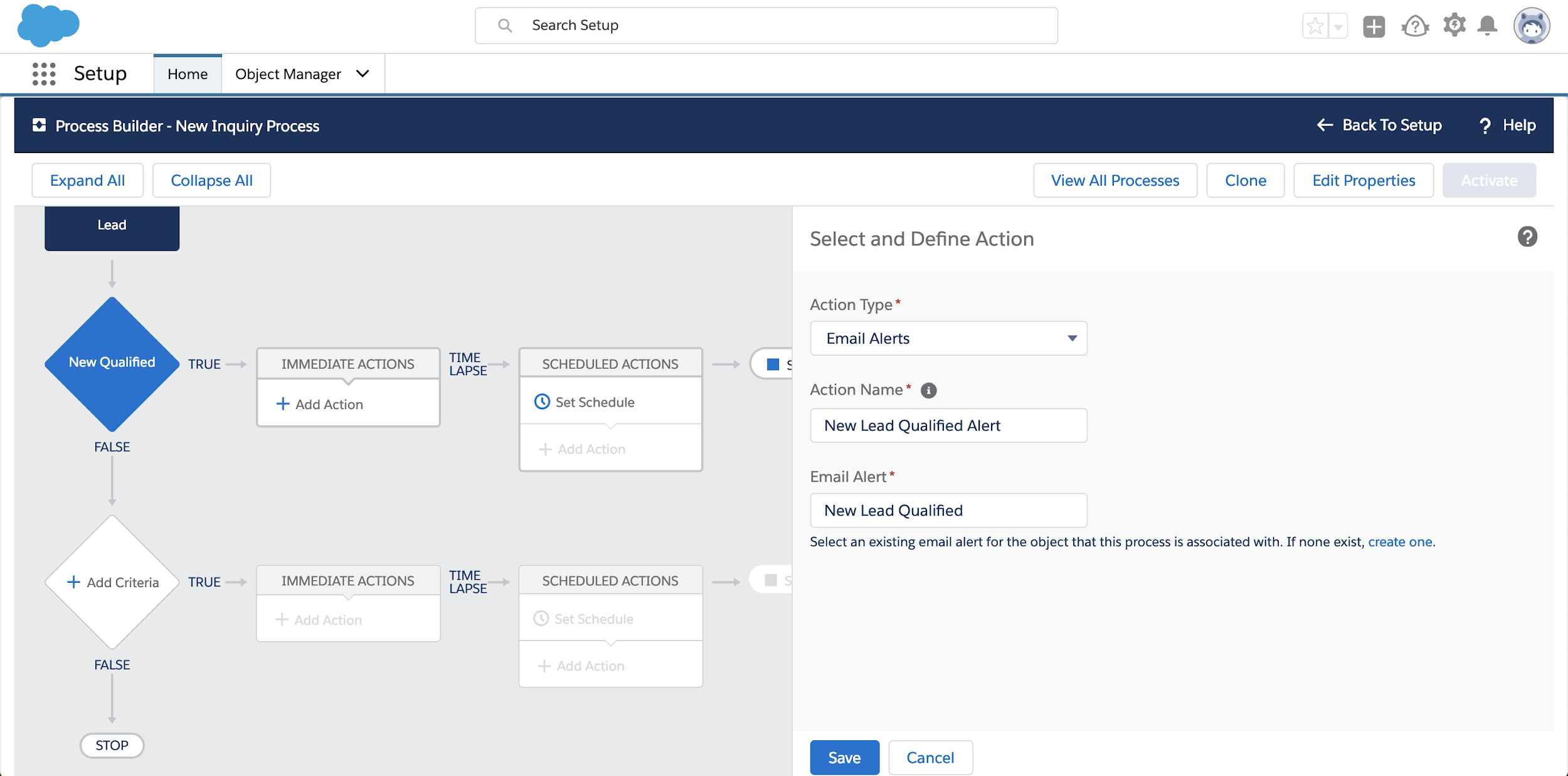 Salesforce Essentials is a powerful CRM built specifically for small businesses, and starts at $25/user per month, for up to 10 users. Essentials includes lead and contact management, sales pipelines, customer service tickets, forecasting, and workflow automation. Using Salesforce's Process Builder, users can create workflows to move leads and deals through a sales pipeline by automating actions like notifications, scoring, emails, and task assignment.
Because Essentials includes both sales and service tools, it can be used to automate processes for both prospects and existing customers, making it a great tool for managing the entire customer relationship. Salesforce also integrates directly with hundreds of third-party applications that add information and additional functionality, making it a robust CRM option for small businesses that provide products and services to other businesses.
2. HubSpot Sales Hub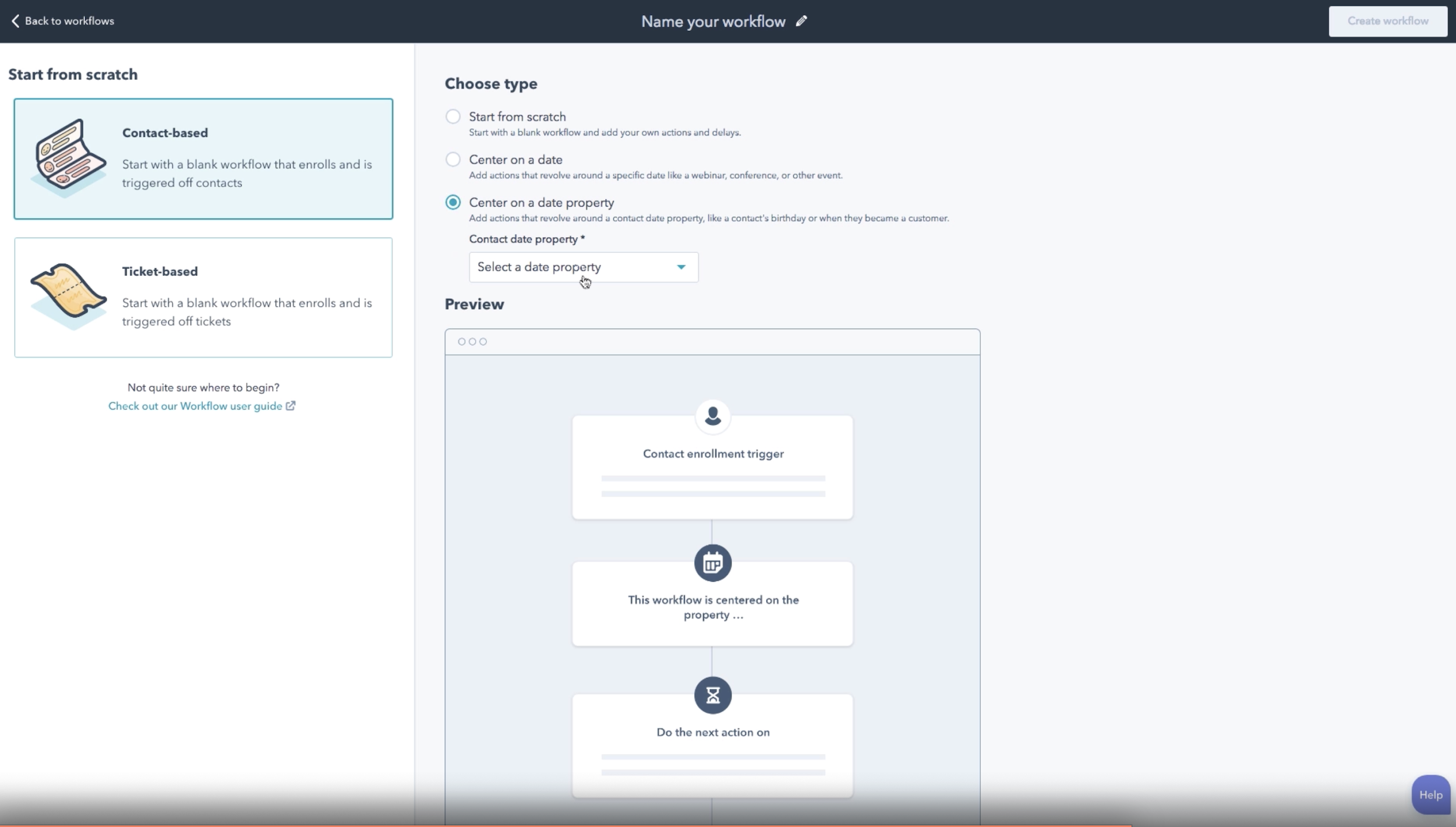 HubSpot's Sales Hub is an all-in-one sales application that connects with and expands HubSpot's free CRM by adding sales automation and other tools. Sales Hub ranges from $50 to $1,200 per month depending on the features you need, including email sequences, workflow automation, email tracking, and scheduling. The higher-tier also automatically records and transcribes sales calls, and includes predictive lead scoring.
HubSpot also includes task management and notifications to keep your sales team focused on what's important. Users can create up to 500 automated sales workflows to handle every aspect of your sales process. In addition Sales Hub not only works with HubSpot's CRM but also integrates directly with Salesforce. It also connects with HubSpot's CMS platform, making it best for sales teams that want a robust all-in-one marketing and sales automation solution.
3. Zapier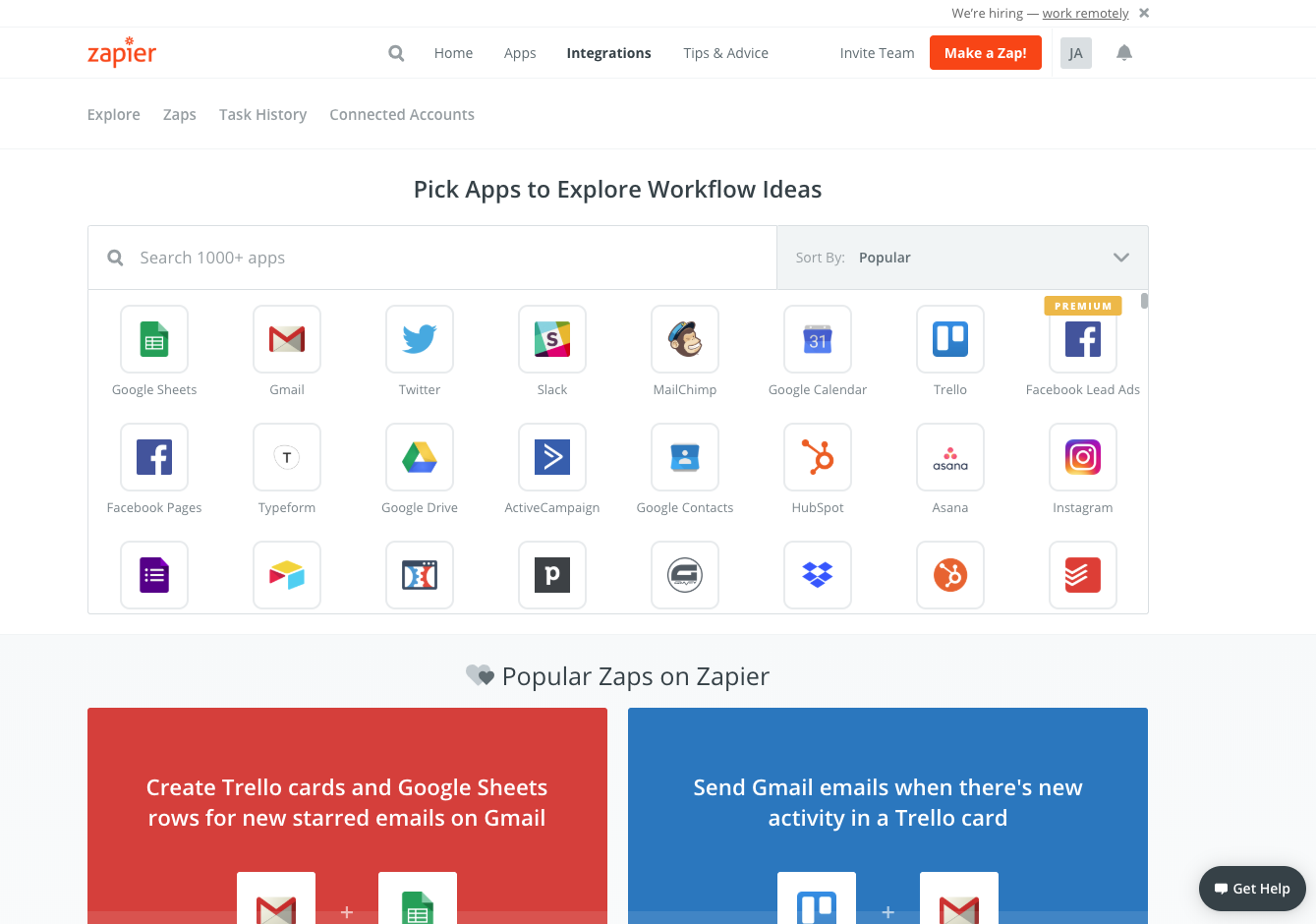 Zapier is a multipurpose automation tool that connects different software that may not have native integrations. Zapier offers a free plan that lets you create up to five "Zaps," or workflow automations. These Zaps allow you to sync information and trigger specific actions based on different events. For example, you could set up Zapier to automatically create a "lead" in your CRM when someone comments on an Instagram post or uses a specific hashtag.
Zapier also offers paid plans for $20 or $50 per month that increase the number of zaps you can build, as well as letting you create multistep automations. Zapier connects to over 1,000 applications, including the most popular CRM and productivity tools, making it a great tool for businesses that use CRM and sales software that don't already have native integrations.
Pros & Cons of Sales Process Automation
While the benefits of sales process automation almost always exceed the costs, it's important to consider both the positive and negative aspects of implementing any new process or tool into your business. By evaluating both the pros and cons, you can make an informed decision about what aspects of sales process automation are best for you and your sales team.
Pros of Sales Process Automation
A few of the specific benefits of sales process automation are that it:
Reduces time spent on manual tasks: The most straightforward benefit is that it eliminates many of the tedious and manual tasks that salespeople would otherwise do, such as data entry or creating tasks, freeing them to focus on more valuable activities.
Allows sales reps to handle a larger number of sales leads: Because aspects of the sales process are automated, an individual rep can handle far more leads than they could if they had to do all of the tasks manually.
Reduces the chances of sales opportunities getting stale: Your software tools can be set up to make sure that your deals are moving through your pipeline and automatically notify you when it's been a while since the last activity or communication.
Cons of Sales Process Automation
A few of the negative aspects of sales process automation include:
Larger upfront expense: Automating your sales process requires an upfront investment in time and resources, and it can take time to generate a specific return on investment in the form of time saved and deals won.
Requires a commitment to a specific sales process: Once you set up your software to automate processes, it can be inefficient and cumbersome to try to change them as your sales strategy evolves or grows.
Removes a human element: It can be tempting to want to automate processes that are best handled by a real person. Communicating with clients is an area where great care should be taken to make sure each touch is authentic and personalized.
Bottom Line
Sales process automation saves time and makes your team more effective by allowing them to focus on the most valuable activities to drive sales performance. Sales automation tools can handle many of the manual tasks that salespeople do on a day-to-day basis and free up time to connect with prospects and convert them to customers.
Salesforce Essentials is a small business CRM with powerful automation tools built in. With both sales and service features built into one software tool starting at $25/user per month, Essentials is the perfect option for managing the entire lifecycle of your customer relationships. Visit Salesforce today to start your 14-day free trial.