A sales call reporting template is used to track key details about one's customers and calling activity. When organized properly, call reports help you measure the productivity of your sales team, the health of your pipeline and allow salespeople to pick up on past conversations quickly by reviewing their notes.
In this article, we provide 2 free sales call report templates which you can print (as a PDF), or save and edit (as a DOCX). If you want to avoid busy work of writing and filing call reports, we'll also show you how to create these reports automatically with Pipedrive CRM.
Simple Sales Call Reporting Template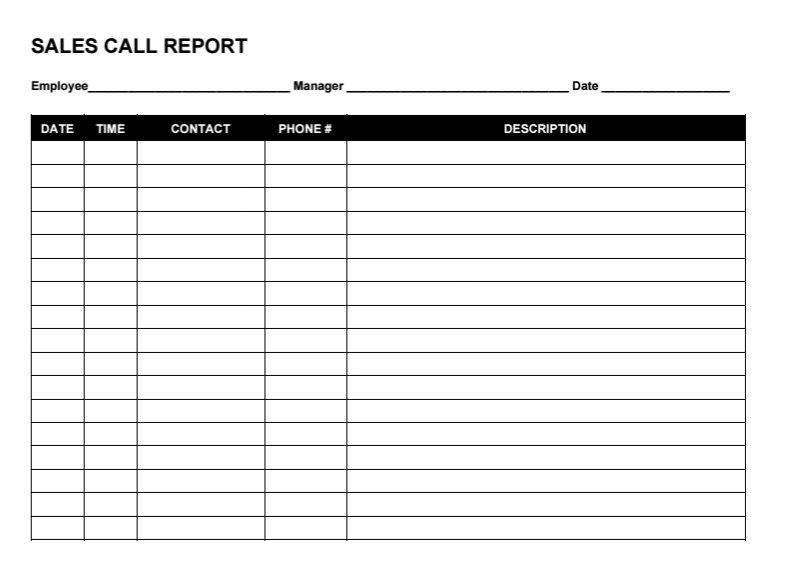 Use this template if you want to record key details for each call, including:
Date of call
Time of call
Contact name
Contact phone number
Call description
Click to print (.PDF)
Click to save and edit (.DOCX)
Detailed Sales Call Reporting Template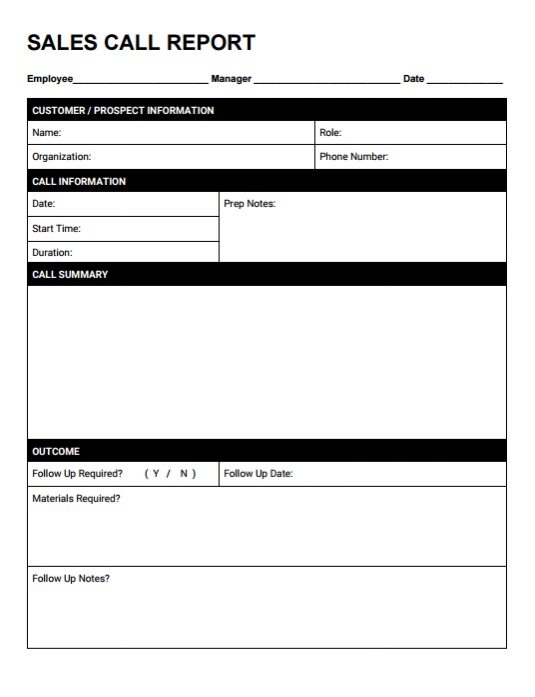 Use this template if you want to include more detailed information, including a call summary and follow-up notes. This template uses an entire page (one side) per call and includes the following fields:
Contact name, organization and role
Contact phone number
Prep notes
Call date, time and duration
Call summary
Follow-up date
Follow-up materials and notes
Click to print (.PDF)
Click to save and edit (.DOCX)

How to Log Sales Calls Using Pipedrive
It's really quite easy to log your sales activity using Pipedrive. Here is how to access the free trial of Pipedrive.
Create your own free account below, and follow these seven steps to log calls automatically using Pipedrive:
Step 1 – Sign Up for Your Free Trial
To get started, simply click for a free trial and provide Pipedrive with your email address and a password. Alternatively, you can sign up with Google if you wish.
Step 2 – Install the Mobile App
While the mobile app isn't required to use Pipedrive or to create call reports, it does allow you to log calls automatically. Follow the links to install Pipedrive on iOS or Android.
Step 3 – Add Contacts
There are several different ways you can add contacts, including a direct import from Gmail, from a previous CRM or from a spreadsheet.
For now, however, we'll just add one manually. Click the + sign in the upper-right corner and add your client's contact details.
Step 4 – Make a Phone Call
Simply click on the phone symbol to call your contact. Once the conversation is finished, Pipedrive will prompt you to save the phone call. Note: Personal calls made outside the app are not tracked by Pipedrive.
Add a description of the conversation.
If the client was interested in making a purchase, you can also create/link a new "deal" in the CRM as a way of tracking the progress of the sale.
Save the call. Afterward, Pipedrive will ask if you want to schedule a follow-up call or meeting.
If you a call from your landline or office phone, you can still log the call. On the contact or deal page, simply click "Add Activity" and choose "Call" as the type of activity to add. Now, you can enter the call details manually, including the time, date, length, contact and description.
Step 5 – View Call Reports
To view call reports in Pipedrive click "Statistics" on the top menu bar, and then "Reports." Choose "Activities" on the left menu.
Here, you can create a number of different reports. You can view a specific kind of activity like calls or see a breakdown of all activities, as pictured above. Set the time frame for the report, and choose if you want it to be for a specific employee or employees or an entire team.
Step 6 – View Customer Timeline
Another major advantage of using a CRM like Pipedrive is that you can view call logs for each customer, organization or deal. Simply click on the contact or deal and scroll down until you see the timeline.
The timeline gives you a chronological history of calls, emails and notes, including who spoke with whom and what the conversation was about. As a salesperson, this allows you to pick up where the relationship left off easily. As a manager, you get pinpoint-level detail on how each deal is progressing.
Step 7 – Explore More Pipedrive Features
The main benefit to Pipedrive, and CRM systems, in general, is that you can formalize your sales process and apply a simple tool to manage it. "Deals" allow you to visualize how all pending sales are progressing easily with automatic reminders when you need to follow up with somebody, draft a cost proposal or complete any other task.
Pipedrive is loaded with these convenient sales management features. I recommend checking out our full guide on creating a sales process with Pipedrive to learn how it can be best applied to a small business sales team.
The Bottom Line
Using a free sales reporting template is a great way to start measuring and managing your sales call activity, which will help you to improve your sales performance. However, if you want to reduce your sales administration burden and take sales call reporting to the next level, I strongly recommend you invest in a good small business CRM like Pipedrive, which includes automatic call reporting built in.