Thank you RingCentral for sponsoring this post. While this was a sponsored opportunity from RingCentral through CJ Affiliate's VIP Content Service, all content and opinions expressed here are those of Jeremy Marsan and Fit Small Business.

In this guide, we give you two free sales call report templates to print. We'll also show you how to create call reports automatically using a business VoIP phone system, such as RingCentral.
RingCentral's call activity reports can show you how many calls each employee has made in a given period of time. If you use call reports to save notes about clients, we'll also show you how to integrate RingCentral with a CRM. This can automatically show you past conversations & CRM notes every time a call comes in, or a call is made.
1. Weekly Sales Call Report Template
Using our free sales call report templates, your employees can log a list of phone conversations. Our weekly sales call report template has the following fields: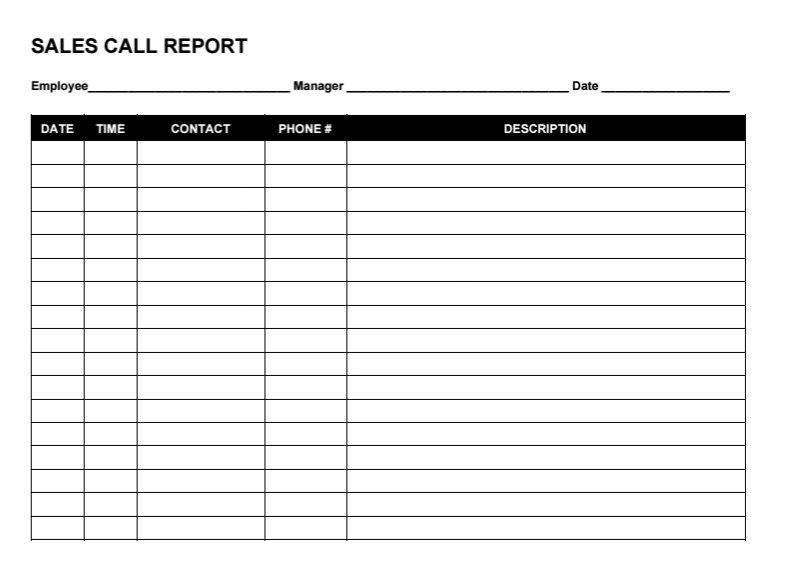 Date of Call

Time of Call

Contact Name (or

customer

name)

Contact Phone Number

Call Description
Click to save and edit (.DOCX)
Note: A paper sales call report is good for a quick fix. Before you print off 50 copies, however, be sure to read about digital sales call reports using Insightly below.
2. Detailed Sales Call Report Template
Use our free detailed sales call report template if you want your employees to include additional information, like the call length and follow up meetings. This 1-sheet template has the following fields: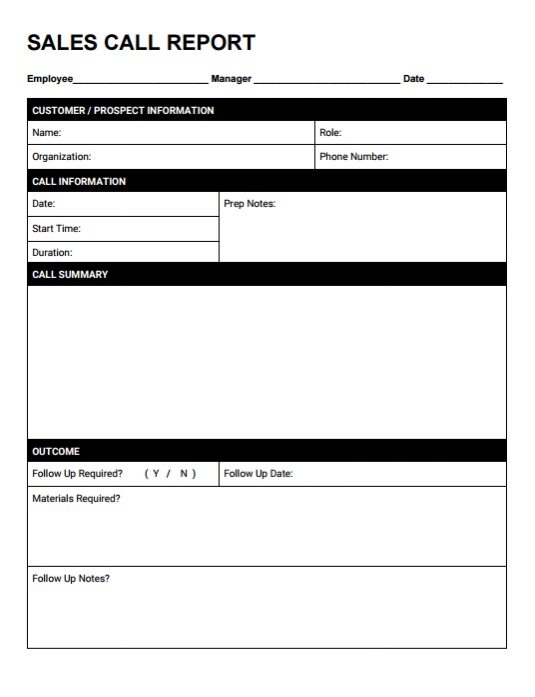 Contact Name, Organization & Role

Contact Phone Number

Prep Notes

Call Date, Time & Duration

Call Summary

Follow-Up Date

Follow-Up Materials & Notes
Click to save and edit (.DOCX)
Digital Sales Call Reports
For those who are still writing and filing sales call reports by hand, we highly recommend moving to a digital solution instead of manual sales call report templates. By using a VoIP phone system, for example, you can automatically log all your phone calls.
This saves your employees a tremendous amount of time compared to manually writing and filing each conversation – and that's time that can be allotted towards making more phone calls!
Using Sales Call Reports in RingCentral
If you just need call reports to track employee progress, a VoIP system like RingCentral has the perfect solution. RingCentral provides internet-based phone service, and one of their many perks is to log all inbound and outbound calls.
By going to your online dashboard and clicking "Reports," you can view a variety stats on your call activity: For example, how many phone calls did each employee make over the past week, or the past month?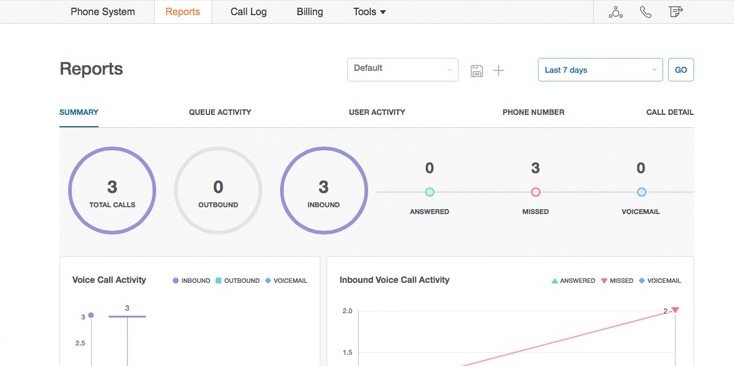 RingCentral will also tell you each employee's average call duration, and number of missed calls vs. answered calls, in addition to other metrics. This is data you either couldn't get, or would be very time-consuming to calculate using paper call reports.
If your business gets a lot of inbound calls, you can even view a report on which days – and which hours – are the busiest. This can help you optimize your employee schedules. Click here to learn more about RingCentral call reporting.
Call Reports that Save Every Detail
Another reason businesses use call reports is to save notes about their clients – such as past purchases, products they're interested in and details about their business. Saving this information allows salespeople to quickly get up to speed when they have an upcoming phone call.
On paper, this process requires a lot of manual sorting and searching. Your salespeople have have to sort through a filing cabinet, then sift through a mound of paper. Digital logs, on the other hand, are light-years faster. A CRM, for example, can pull up conveniently sorted notes about a client in mere seconds.
Saving Call Reports in a CRM
To show you how to use digital call reports, we'll use two of our recommended CRMs as examples: Insightly and Zoho. You can read more about these tools on our CRM Buyer's Guide.
How to Log Sales Call Reports with Insightly
To log a call with Insightly, start by clicking "Contacts" on the left-hand menu bar, then find the contact you want to call. Click on their name to bring up the contact profile.
Near the top of the screen you'll see a menu of options, including the button "Notes." Clicking this will bring up all the notes you've saved for a contact (pictured below). Click "Add Note" and you can write a new call report to save in the system.
How to Log Sales Call Reports with Zoho
Unlike Insightly, Zoho has a special tool for tracking calls. Although it's available on both the desktop version and mobile app, I was most impressed by how it functions on the mobile app:
First, you can click on a contact and call them directly from the mobile app (Insightly let's you do this too). Once the conversation is over, you'll be asked if you want to log the call. Clicking "yes" brings you to a call report page where you can enter remaining details. Zoho will automatically fill in the start time and call duration.
For more info, click here to read up on RingCentral's software integrations.
Using RingCentral with a CRM
An even more convenient option is to directly integrate your phone system with your CRM. With RingCentral, you can actually make calls directly from Zoho, Salesforce and other CRMs using a built-in dialer.
As you ring the customer, any relevant data (like past call notes, ongoing sales opportunities, customer service complaints, etc.) will automatically appear on the screen. Once the call is complete, you can log the conversation with notes.
Even better is how RingCentral handles incoming calls: When a customer or lead contacts you, the CRM will automatically bring up any records associated with them before you answer the call. You'd be hard pressed to do the same with a filing cabinet and stack of papers…
The Bottom Line
A paper sales call report works if you need a quick solution. If you're going to be using them frequently, however, a digital call logging tool like RingCentral is far more practical. By using a CRM, you get the added perk of staying organized: All of your contacts, deals and call reports are found in one place. Whether you're looking for call reporting features or trying to easily integrate a phone service into your existing CRM, RingCentral is a great choice.