Sales call reports provide information on engagements with prospects and customers and clarity around lead or deal status. They can also highlight trends and identify areas for improvement. We've provided two free sales call report templates that can be printed as PDFs or saved and edited as Word documents to help you create your own.
Simple Sales Call Report Template
Use this straightforward template to record key details for calls, including: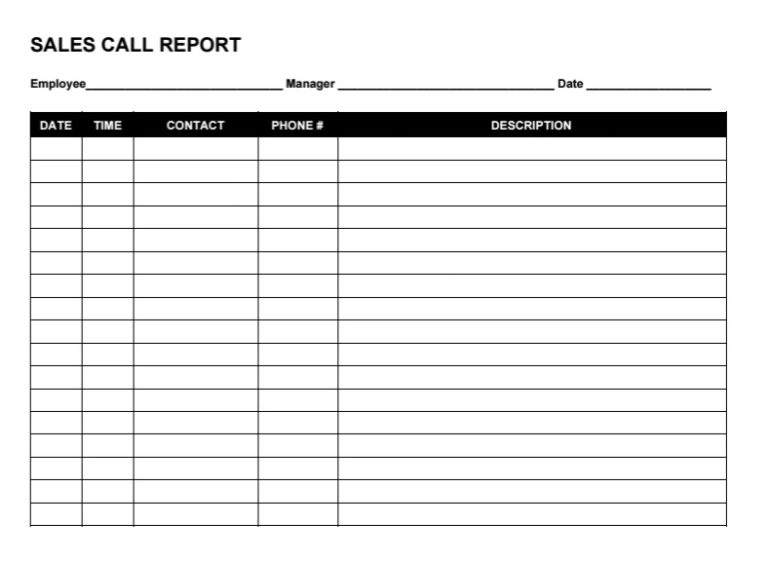 Date of call
Time of call
Contact name
Contact phone number
Call description
This template can be accessed for printing or saving here:
Click to print (.PDF)
Click to save and edit (.DOCX)
Detailed Sales Call Report Template
Use this template to capture more detailed call information, including a call summary and follow-up notes. This template uses an entire page (one side) per call, and includes the following fields: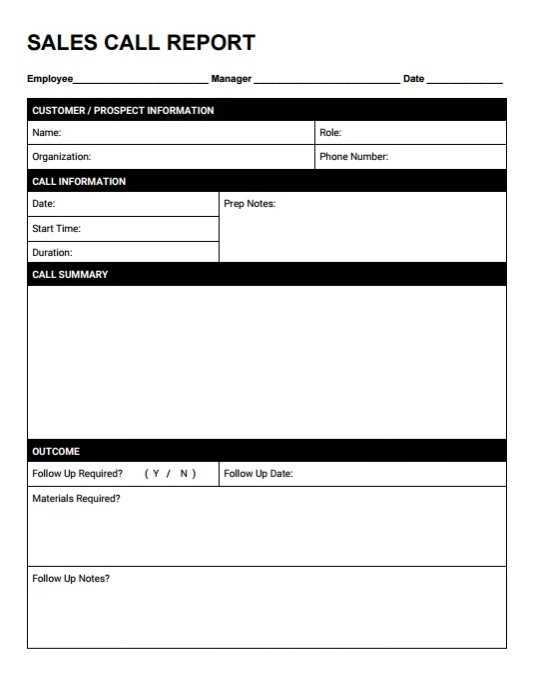 Contact name, organization & role
Contact phone number
Prep Notes
Call date, time & duration
Call summary
Follow-up Date
Follow-up materials & notes
Print or save this template by viewing the following links:
Click to print (.PDF)
Click to save and edit (.DOCX)

How Sales Call Report Templates Work
Sales call report template, like these, are used to track key details about calling activity. When organized properly, call reports enable leadership to measure the productivity of sales reps and the health of your pipeline. These reports include information that can also aid salespeople in picking up on past conversations quickly.
However, if you want to avoid the busy work of writing and filing call reports, you can also create these reports using a customer relationship management (CRM) tool designed for telesales automatically. Freshsales is a flexible CRM with an integrated caller and advanced reporting capabilities. It also offers a free-forever plan with unlimited users and paid plans ranging from $15 to $69 per user, per month.
How to Log Sales Calls Using Freshsales
We recommend using a CRM tool to record and store call data. With the Freshsales and Freshdesk Contact Center, a voice-over-internet-protocol (VoIP) calling service integration, individual users can make calls directly from a web browser and log them in the CRM software. This saves the team from needing to use separate forms for their sales call reports and makes it easy for teams to access conversation notes from a central location.
Follow these nine steps to make and log calls with Freshsales and Freshdesk Contact Center integration.
1. Sign Up for Your Free Trial
To get started, sign up for a free trial, providing Freshsales your name, company, email address, phone number, and a password. New users are greeted with an optional getting started wizard and asked to verify their accounts via email. Once these tasks are complete, you are ready to use Freshsales.
2. Add New Contacts
There are several ways to create new contact records, including the import of comma-separated values (CSV) files. However, when just getting started, we think the simplest way is to click the quick-add icon (+) in the upper left corner of your Freshsales dashboard.
3. Install the Required Mobile Apps
Freshsales supports integrated calling with Freshdesk Contact Center, the web-based voice platform meant to work seamlessly with other products in the Freshsales ecosystem. Before enabling this feature, download mobile apps for both Freshsales and Freshdesk Contact Center onto your device from either the App Store or Google Store.
4. Complete the Freshsales Integration With Freshdesk Contact Center
To enable the Freshsales and its Freshdesk Contact Center integration, visit the Administrative settings and select Apps. Search for Freshdesk Contact Center. Then, enable users or user groups, and select Save. Note that you may be required to create a separate account for Freshdesk Contact Center access.
5. Click to Open a Contact
From your mobile device, sign into the Freshsales mobile app and select the Contacts tab located at the bottom of the screen. Then, search for and select the name of the contact record you wish to call.
6. Select the Phone Number & Calling Method
From the contact record, select the connection icon indicated by the orange telephone and wireless signal. This presents a choice between dialing the contact's work number or mobile number.
After selecting the appropriate number, users are presented a choice between using the native dialer on their device or making the call with Freshdesk Contact Center. Select the Freshdesk Contact Center app as the default caller, but that remember this setting can be reversed and that it does not capture personal calls.
7. Click to Call
Clicking Freshdesk Contact Center opens the mobile app screen. To connect, click to dial by selecting the phone symbol at the bottom of the screen. To end the call, click End as indicated by the inverted telephone symbol.
8. Save the Call
After ending each call, users are presented with a call log screen for where they can enter a description of the conversation and applicable next steps. By clicking Save, the call is recorded as an entry under the activity timeline. Not only can individual salespeople log new calls quickly, but they can pick up where conversations and relationships previously left off easily. Additionally, managers can view details on how each deal is progressing.
The ability to view complete activity histories associated with contacts and deals is another major advantage of using a CRM like Freshsales. Reporting, however, is not included with the free plan from Freshsales, so businesses who want sales activity reports in addition to the featured free templates should consider upgrading to another package or another CRM.
9. Explore More from Freshsales
In addition to its click-to-call feature, Freshsales' free plan offers account, contact, lead, and deal management as well as web-to-lead capture, lead scoring, and many third-party integrations. As one of the few CRMs to offer chat, email, and phone support 24 hours a day, five days a week, even to free plan users, Freshsales is our choice for small businesses who want a powerful but affordable tool with flexible customer service.

Sales Call Report Best Practices
Set Expectations
For purposes of transparency and consistency, help sales reps understand what is expected of them. Lead a whole-group discussion that reviews daily call and connection metrics as well as how to add information to the call report.
Consider Paper-based Reports
Call data can be stored automatically in CRMs like Freshsales. However, report templates printed on paper can serve as interactive worksheets, be shared with non-CRM users, and ensure that individual sales reps never run out of copies.
Designate Time for Calls
Many sales teams rely on outbound cold-calling to generate new leads. These teams can also benefit from organized call sprints. Each sprint can consist of 60-minute or 90-minute sessions during which representatives make as many dials as possible, after which reps and managers can discuss the results as well as what worked and what did not work.
Provide Feedback
It is important to use the call reports as coaching opportunities rather than for micromanaging teams. Managers should share detailed feedback with individual reps in one-on-one meetings and use the data to drive newly identified deals and as coaching opportunities for future engagements.
Bottom Line―Sales Call Report Templates
Using a free sales call report template is a great way to start measuring and managing sales call activities, which can help teams improve sales training programs and performance. We recommend for businesses who want to reduce the administrative burdens on reps to invest in a small business-friendly CRM like Freshsales, which includes integrated calling functionality, making it easy for them to manage day-to-day activities with one central tool.
In addition to its free-forever plan, Freshsales offers paid plans with additional features ranging in price from $15 to $69 per month, per user. To learn more about Freshsales or to create a free account, visit its website today.