Should I call my prospect now, or wait a few more days?
If you're like most salespeople, you've probably asked this type of question before. You want to move the sale along, but don't want to be pushy or ill-prepared. You wish there was a cheat sheet that told you the optimal thing to do at each step of the way.
Well, the good news is this cheat sheet does exist, and it's called (…drumroll) the sales cycle.
In this article, we're going to dig deep into the sales cycle. We'll show you how to use the sales cycle to make your own "cheat sheet" with a simple template. We'll also show you how to manage the sales cycle automatically using SAP Digital CRM.
If you want to skip ahead to any section, here's what we'll be covering:
What Is The Sales Cycle?
The sales cycle is the step-by-step process of closing a deal. From retail to complex B2B sales, all sales people undergo certain common steps, like demoing their product and addressing customer concerns. After completing the sale, the final step is to ask for referrals and repeat the process for new leads – that's why we call it the sales "cycle"
If you want to know more about the entire sales process, I recommend reading B2B Sales – the Ultimate Guide.
Sales Cycle Stages: A Common Example
While the exact stages will vary from business to business, here's a common sales cycle that can be applied to many different businesses:
Initial Contact – Your first email, call, meeting, or other contact with a lead.
Qualification – When you've determined a lead is serious and capable of making the purchase.
Presentation – When you've scheduled a full sales presentation, be it a demo or written proposal.
Evaluation – The point where you address customer concerns.
Closing – When the purchase is made or contract signed.
Ask for Referrals – Asking your new satisfied customer for referrals.
Whether you sell shoes or real estate, these same 6 stages nearly always apply. Some can happen in an instant – like addressing a customer's concern about the shoe color by declaring "Oh, we have that in red too." Other times, it can take weeks (or even months) just to qualify a lead, as with many real estate or complex B2B sales.
Why You Need A Sales Cycle
Think for a moment about every lead in your pipeline. Chances are there are big differences from one to another. Not just in the type of client they are, or in the product they're interested in — but often more importantly, in their closeness to a sale.
A cold email lead is hardly in the same category as someone who watched a presentation and requested a proposal. As such, you would approach each client very differently – from the language you use, the frequency of communication, and even the method of contact.
The Right Message At The Right Time
A sales cycle gives you a template for what language you should be using, and actions you should be pursuing, at each point in the sale. By categorizing leads based on where they are in the sales cycle, you can make sure you're putting the right message in front of the right lead, at the right time.
For instance, you aren't going to set up a face-to-face meeting with an unqualified lead. Nor are you going to send an impersonal email to somebody reviewing your proposal. Depending on their stage in the sales cycle, each lead requires a unique set of rules.
You Can't Improve What You Don't Measure
The sales cycle helps you pinpoint what's working and what's not. Using a CRM like SAP Digital CRM, you can view simple visual reports on how your sales are progressing, and how (and why) sales were lost.
If you notice any particular trends – like most sales are getting lost in the evaluation stage, or one of your employees is qualifying leads too easily – you can address them strategically. Similarly, if one of your employees is doing a great job, you can determine why and then roll those same tactics out to your entire team.
Over time, your sales cycle is likely to be revised and rewritten as you continue to test new strategies. The key is that by measuring what's happening at each step of the sales cycle using a CRM, you can use the information to constantly update and improve your sales process over time.
Sales Cycle Template: What To Do At Each Stage
Your sales cycle tells you what you should be doing at each point in the sale. It can answer questions like should I send an email now, or wait 3 days and make a phone call? Should I suggest we schedule a meeting, or will that come off too strong?
Of course, to get to this point, you'll need to write-out what exactly happens during each stage. This will likely take some trial & error to perfect, but you can at least start with a strong template.
Here's an example of what your timeline and focus might be for each stage of the sales cycle:
| Stage | Timeline | Focus |
| --- | --- | --- |
| Initial Contact | Less than 1 day | Get your lead to respond. Make sure you have a tight email template or call script. |
| Qualification | Within 3 days of hearing a response | Determine if the lead is serious and capable of making a purchase. Also, gather information about their business for the next step. |
| Presentation | Within 1 week of qualification | Make a personalized sales presentation. Can be a physical meeting, online meeting, or simply submitting a written proposal. |
| Evaluation | Immediately after presentation, up to 2 weeks | Address your client's concerns. Be as attentive as possible. |
| Closing | Immediately after evaluation, up to 1 week | Start to move the conversation towards closing. Requires a careful balance of encouragement and patience. |
| Referrals | Immediately after closing, up to 1 year | Follow up with customers to see if they're satisfied with their purchase / will recommend you to another client. |
If you want to explore any of these steps in more detail, check out our Sales Cycle Template PDF.
Adding/Removing Stages
If our example above doesn't quite work for you, it's OK to add or remove a stage. For example, some businesses add a "preparation" stage between steps 2 and 3. In this stage, the focus would be gathering the information needed from a client in order to prepare the presentation.
Other businesses might remove "qualification" if it's not a big strain on their resources to present to every lead. For example, my cable company automatically sends a quote after I submit a request form. For them, it's easier to jump to step 3, rather than filter leads in step 2.
Why You Should Measure and Manage the Sales Cycle with a CRM
So at this point, you have an idea of what your sales cycle is and what it involves during each step. It may be fairly complicated, with different steps for each product and/or different plans-of-action depending on how a lead responds.
You might be wondering how to sort all of this out, let alone get employees to start following it. Well, the answer to both is a Customer Relationship Management (CRM) system.
A CRM is software that helps manage your interactions with leads and customers – it gives your employees a template to follow throughout the sales cycle. In addition, a CRM provides business owners a high level of oversight. You can easily monitor how salespeople are performing, which stages are losing the most customers, how different lead sources are converting, and more.
In greater detail, here's the main benefits to using a CRM:
Evaluate your Sales Cycle – A CRM tells you and your employees what to do at each step of the sales cycle and tracks each of your deals as they progress through the sales cycle. This allows you to identify any trends – such as, if deals tend to falter during a particular stage – and take steps towards solving it.
Measure Sales Performance – Additionally, you can find out how each salesperson has been performing, including their overall revenue and win/loss ratio. You can identify any specific areas for improvement – say, if a salesperson tends to lose deals during "evaluation."
Forecast Your Earnings – By tracking where each deal is along the sales cycle, you can estimate your chances of success and thus predict your earnings. You can do this for your entire company or for specific employees.
Next we'll show you how to setup SAP Digital CRM, so you can start reaping these benefits for your own business.
How To Set Up SAP Digital CRM
To get started with SAP Digital CRM, you can follow this link to sign up for a free 30-day trial. After SAP processes your account, you'll receive login information via email.
When you login for the first time, SAP will give you a quick visual tour of the CRM. You can also refer to the image below if you need help finding any particular menu or link during our step-by-step setup guide: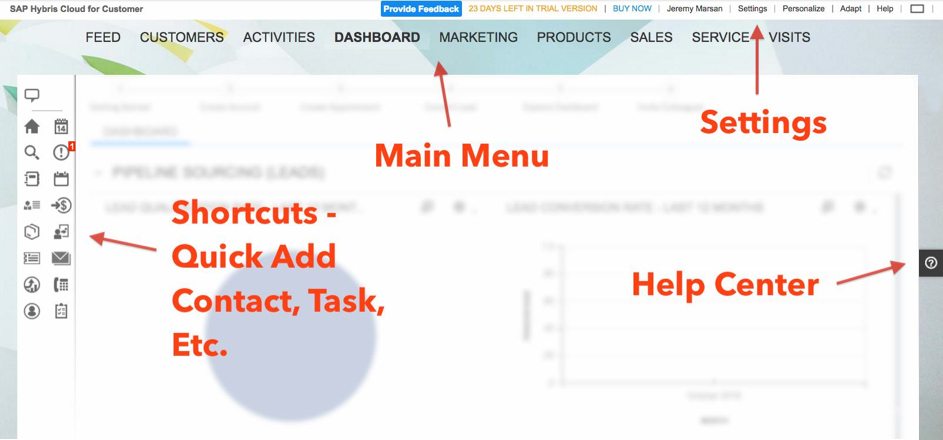 Step 1: Get Your Data Into SAP
SAP makes it easy to add your existing sales contacts, leads, and sales data. From the main Settings menu, you can upload a .CSV spreadsheet to import data.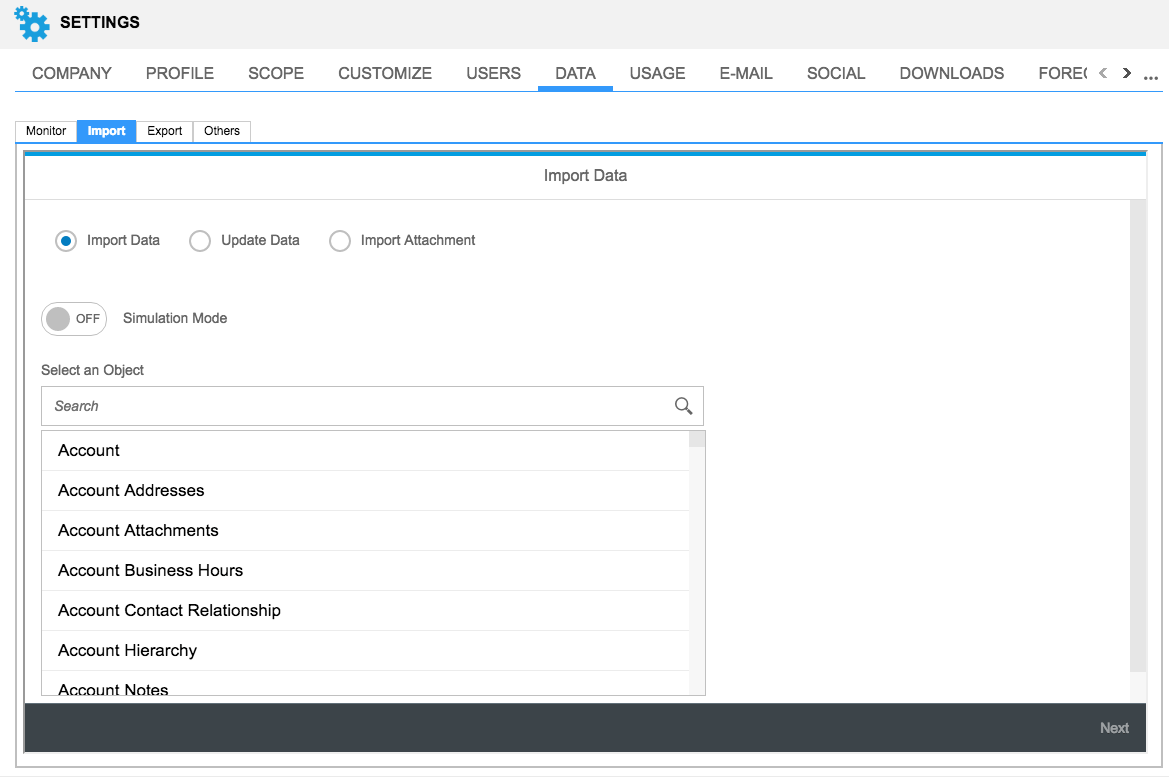 Head to "Settings" at the top
Click "Data"
Select the "Import" tab on the top-left
Select the type of record you're uploading (i.e. Account, Contact, etc.)
Click "Template CSV" if you want to download a pre-formatted spreadsheet to paste data into. Otherwise you can upload a custom CSV – you'll just have to specify which columns correspond to which data fields in the next step.
Click "Next."
From here, upload your CSV file. If you're using a template CSV, this will be a very simple process. The system will automatically recognize which columns correspond to which data fields.
If you're uploading a custom CSV, you'll have to map your columns in the CSV with the codes that are used within the system. Make sure the headers of the columns do not contain any spaces. Also, be aware that each object has its own fields that are available and/or mandatory for import. For more information, refer to this guide on the SAP help center.
Step 2: Add Your Sales Stages
Next head over to "Customize" (also on the Settings menu). Here is where you can input your specific sales stages.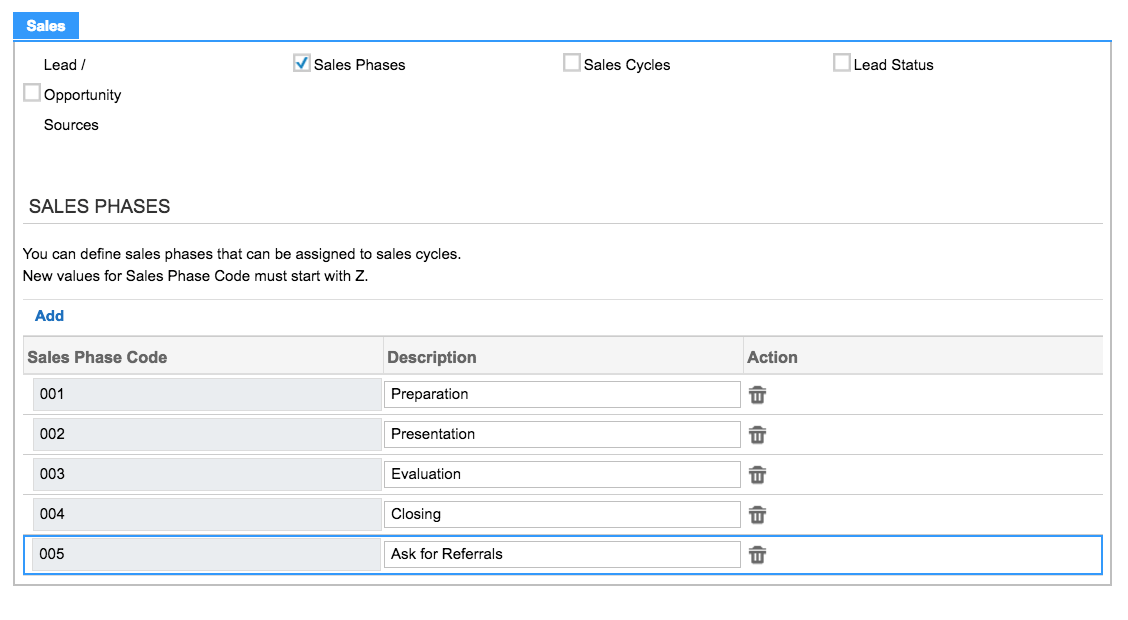 At the top, you'll notice four different boxes: "Lead / Opportunity Sources," "Sales Phases," "Sales Cycles," and "Lead Status."
Why are "Sales Phases" and Sales Cycles" separated? This is because some businesses have different sales cycles for different products. Under "Sales Phases" you'll enter all of your sales stages, regardless of their cycle or order. Then, under "Cycles" you arrange these into your specific sales cycles.
It's also important to note that, in SAP, the sales cycle begins after a lead is converted to an opportunity. Leads are saved on a separate list with their own set of stages. To enter these, click the box on the far right called "Lead Status."
Step 3: Set Up Email Campaigns
Another powerful feature of SAP Digital CRM is the ability to create email campaigns. This is an area where SAP really shines compared to other CRMs. In addition to sending mass emails to selected groups, you can define "trigger" actions based on their response – such as a task getting assigned. Please note this feature is not enabled in the trial version of the product. Once you purchase a subscription, you will be able to activate and use the marketing features.
Email campaigns are important for the sales cycle since you can use it to automate follow up messages. For example, you can create a campaigns to send promotional messages to dormant leads, or ask for referrals from past customers.
If you had to email each contact one-by-one, it might not seem worth it. With SAP Digital CRM, however, it's easy to keep nurturing these contacts. With "trigger" actions, you can automatically create a new lead, or assign a task when a contact responds to an email (or simply clicks a link inside the email). So once again, there's even less effort required on your end.
1. Add Your Domain
To set up email campaigns, you first need to enable the email account you'll be sending messages from.
This is only a one-time process, although you will have to repeat these steps for each domain or sub-domain you'll be using to send emails:
Add the DKIM to the DNS of your email domain in the email server.
Open a ticket and request SAP support team to activate the mass send in your account.
Now go to Settings > Email. Under "Allowed Domain" enter the domain of the email address you plan to display as the "From" address.
2. Create Target Groups
Now head back, and find the "Marketing" button on the top menu. This brings you to the main menu where you can set up and manage your email campaigns.
Before you do anything else, you'll need to create your Target Groups. These are the different groups of contacts you'll be emailing for different purposes.
Click "New" and give your target group a name. You can select "Member Determination" if you wish the system to automatically add members to the target group based on some rules which you set up. For example, you can automatically add contacts who live in a certain city, state or zip code. If you wish to look up the members manually, don't select "Member Determination" and simply save and open the new target group.
3. Create Email Templates
Once you have a target group created, click on the next tab over called "Content." Here you can create and write the actual emails you'll be using for your campaigns. Click "New" in the upper right corner and give your template a name.
To design your email, you'll first need to upload a template in either .TXT, .HTML or encoded UTF-8 format. Next to "Languages" click "Add." Give your email a Subject title, then upload your template. One additional requirement is that the email template will need a placeholder to allow the customers to unsubscribe from the marketing emails. You can find more information here.
Your email templates can be personalized with placeholders for the first name, or company name of the contact, as well as other fields. To do this, you'll need to add an editable class attribute to one or more div in the email template.
4. Design Campaigns
Now on the "Campaigns" tab, you can start designing your actual email campaigns. Specify your target group, and the initial email you'll send. From there, you can choose a series of "triggers" and "actions."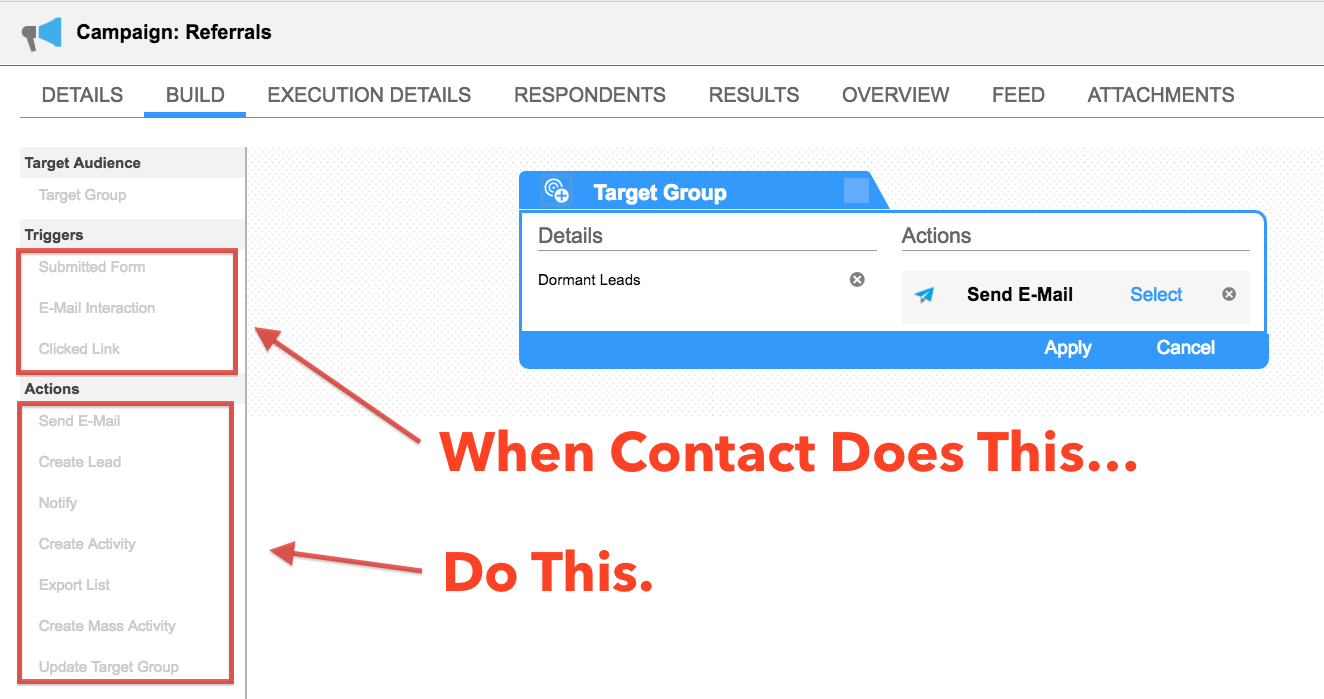 For example, if a lead opens one email, you can automatically send the next one shortly after. If they click a link inside the email, you can trigger an alert. If they respond to a certain email at any point, you can have them automatically added as a new lead in the system.
These are just a few examples – there's countless ways you can define your email campaigns.
Step 4: Add Leads
Now head to the "Sales" tab on the top menu.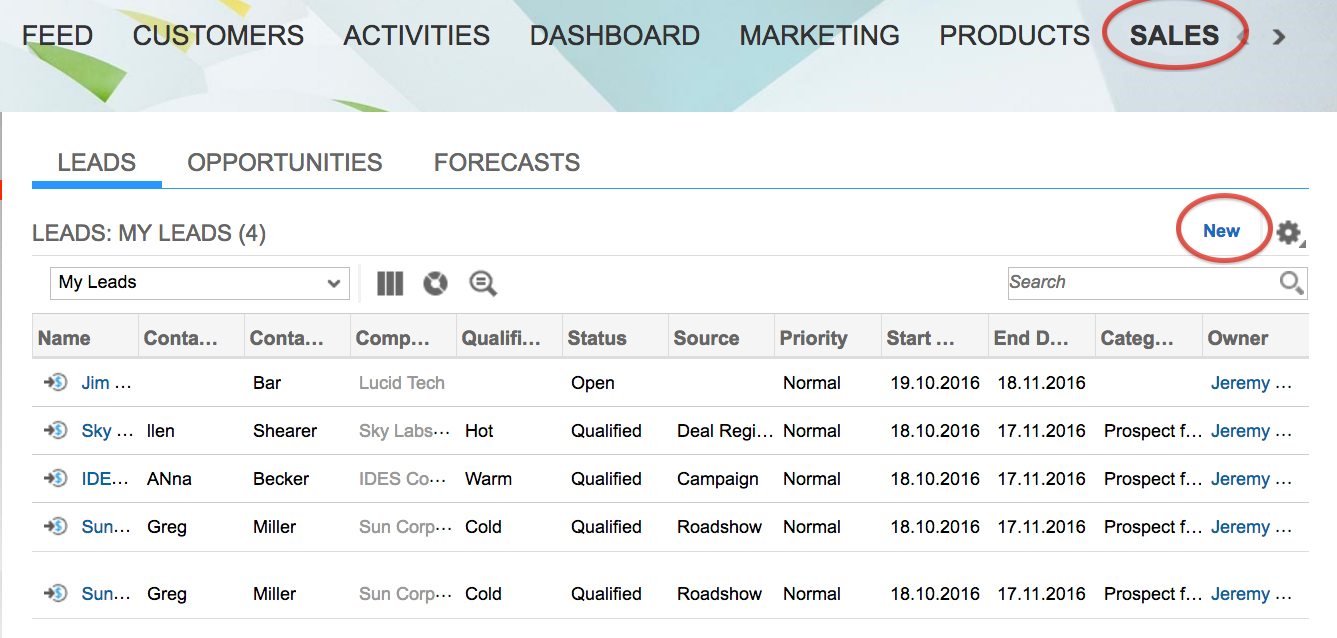 Here is where you'll manage all of your sales, including leads and qualified opportunities.
To add a new lead, simply click "New" in the upper upper right corner. It's also possible to add leads automatically from your email campaigns, as we showed you in the previous step.
When a lead has become qualified, and has expressed interest in one of your products, you simply click "Actions," then "Convert to Opportunity." You'll specify your sales cycle, and which stage you're starting with. You can also add a new opportunity directly by clicking "New" on the Opportunity tab.
Step 5: Evaluate Your Sales Cycle
Now click "Dashboard" on the top menu.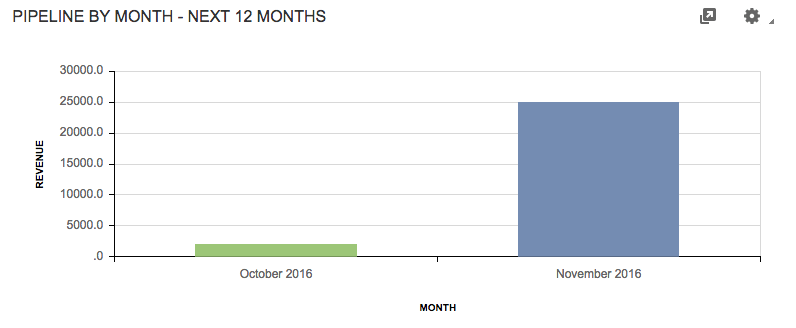 As you and your team begin to use the CRM to manage your leads and opportunities, you'll find a growing number of reports available on this tab:
Pipeline shows you a breakdown of all your sales opportunities, including your projected revenue.
Sales Performance shows how each salesperson is performing, in terms of their revenue, number of deals, win ratio (conversion rate) and more.
Win/Loss compares the number of deals won to those lost, including their revenue and reasons for winning/losing.
Service Overview shows you how customer service agents are performing. We didn't show you how set up ticket management in this article, but will be covering it soon.
Pipeline Sourcing (leads) shows you how many leads are coming from each source, and what the conversion rate is of each. Based on this data, you can adjust your sales probabilities to better forecast your earnings.
The Bottom Line
Every business with a sales team uses a sales cycle, whether they're aware of it or not. Getting to understand the stages of the cycle can help you close a lot more deals and manage your team a lot more efficiently.
For one, you'll be able to pinpoint exactly what's working and what's not. Rather than trusting your gut on which email templates or call scripts are working best, you can open your CRM and find the exact results.
Secondly, it helps everyone do their job more smoothly, whether it's sales people who get clear guidance each step of the way, or managers who get 1-click reports on how sales are progressing or alerts on hot leads.
To start managing your sales cycle with SAP Digital CRM, follow this link and sign up for a 30-day free trial.
Suggested Articles From Our Sponsor SAP:
A Simple Sales Process For Small Business
Why You Need A Sales Process And What It Should Look Like
The Truth About Sales Prospecting