A sales cycle represents the repeatable process of turning a prospect into a customer. For B2B sales, most salespeople follow a common set of steps, such as "prospecting" or "lead qualifying." Understanding this sales cycle can help your business improve performance, lower customer acquisition cost (CAC), and provide revenue predictability, among other benefits.
Free Sales Cycle Optimization Tip Sheet
Companies will differ depending on their sales cycle stages. Companies selling big-ticket solutions tend to have longer, more complex processes while smaller, commoditized product sales will be more compressed. However, there are stages that all companies sales team will undergo, even if several stages are combined. For actionable, detailed advice on what to do in each stage, to improve your sales cycle check out our free sales cycle tip sheet.
How Sales Cycles Work
While the steps in a sales process will vary from company to company, the most common stages are prospect, connect, qualify, present, close. Each stage is a different event that advances the sales process, and you must be proficient in each to move from one to the next. The process should be standardized across your business because it will provide structure, accountability, and some level of predictability.
Here are the stages with a brief description of each:
Prospect: Researching and identifying leads that appear to be good fits for your products or services.
Connect: Making contact with the prospects you've identified and sharing the value of your offer to see if there's enough interest to continue the conversation.
Qualify: Discovering more about the prospect to see if your solution meets their needs.
Present: Presenting the solution (usually in visual format such as PowerPoint) that solves the prospect's business challenges.
Close: Asking for the sale may come during the present stage or later after specific questions and objections that have come up during the presentation have been answered.
How to Analyze Sales Cycle Stages
If you're not sure of the exact steps it takes to close a customer, review your most recent sales as a starting point. Bring together your sales and marketing teams to discuss it. Then start asking questions related to each customer. If you're a new business, you may not have gone through an entire sales cycle because either you're too new or your business has been by referral.
Ask the Right Questions
If you're a relatively small business (less than 20 employees), include your entire team in the analysis and discussion about the process. Everyone in your organization should understand what it takes to bring in a new customer, and you'll be surprised at the questions and answers you get from the non-sales personnel. Then review your sales. Ask questions about how each one went from prospect to customer.
Here are some questions to get you started:
Questions to Ask for Each Stage
Stages
Sales Questions
Prospect



How was the prospect/lead originally acquired (e.g., trade show, sales prospecting, website, social media, email, referral, etc.)?



Connect



What happened on this first contact? What was discussed? What questions were asked by both parties? What initial objections came up, if any? What resulted?



Qualify



What was the follow-up process after the first contact? What methods (email, phone) were used? How long did it take to connect a second time? What resulted?


What was discussed? What questions were asked by both parties? What resulted? What was the follow-up process after this contact?


At what point did you qualify the prospect? What questions were asked? What objections were raised?



Present



What resources did you provide the prospect to show you could solve their challenges (e.g., case studies, testimonials)?


When was a solution presented? How was it presented (video, call, in-person, slide deck)? Who represented the company and prospect (e.g., stakeholders)? What were the reactions to the presentation? What were the objections? What, if anything, was missing? What was discussed as next steps?


What happened at closing? How was it closed (in-person, electronically)? What was discussed as next steps (e.g., onboarding, payment)?



Close



What was the primary channel of contact throughout the process (email, phone, video)?


How long did it take from initial contact to close?


How have these turned out as customers? Focus on those you consider "not good customers" to see if there were major holes in their sales process compared to your "good customers."


Develop Sales Process Commonalities
As you start the question and answer process with your team, more questions will be introduced that you may not have answers to. That's OK. You should, however, begin to see a pattern develop related to the steps it took to convert a prospect to a customer. Not every customer will follow the same pattern, but there should be enough commonality to suggest the general steps required to produce a good customer.
Write these steps down, detailing what happened with each interaction that advanced the sale. For example: Initial call with Bill Lumbergh CIO at Initech. He liked what I said about how our software helps similar companies. Agreed to another call same time next week for a deeper dive into his challenges.
Then document what happened in the next meeting, and so on.
Do this from start to finish for each of your customers or at least a sizeable sample. What emerges should be the steps common to the closing of a sale. Then get a consensus from the sales reps that these are the minimum steps required. The next step will be to define these steps.
Define the Sales Cycle Stages
With the research from the previous step, you're ready to define only the steps in the process required to advance the sale. The more complex the sale, the longer your sales cycle will be and the more steps you'll likely undergo to close the sale. That said, try to keep it manageable for you and your reps. You can always add stages later. To better understand the journey a customer takes in the buyer's journey, check out our sales funnels ultimate guide.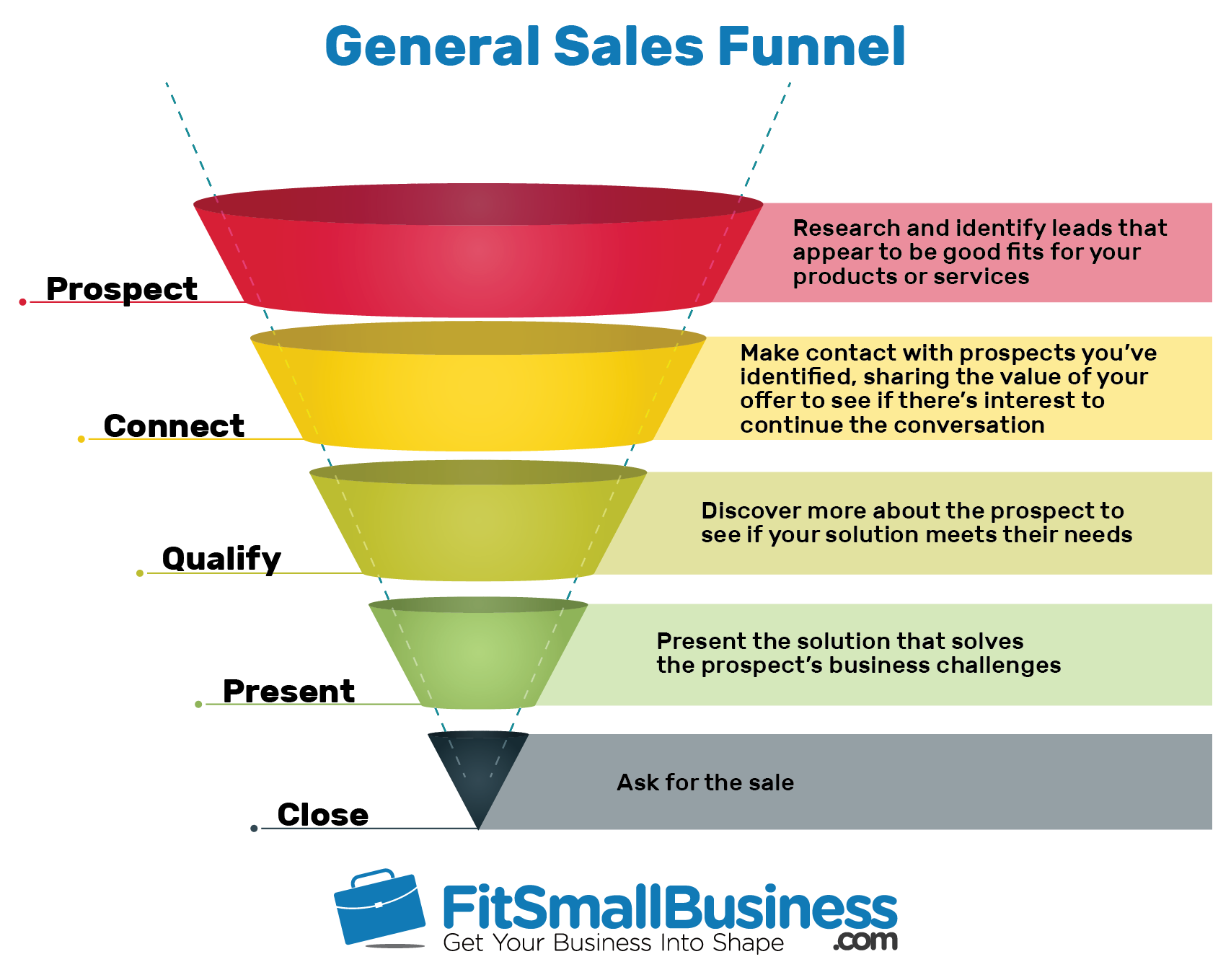 Benefits of Optimized Sales Cycles
An effective sales cycle provides a process for salespeople to follow to turn a prospect into a customer, ideally in the shortest amount of time. The steps in the cycle are repeatable and will provide consistency and some level of predictability for forecasting revenue. It will also help shorten the time to acquire a customer, reduce customer acquisition costs, and improve customer retention.
Shortened Time for Customer Acquisition
Customer acquisition is the process of getting new customers for your business. It includes all of the tactics your company employs, such as content marketing, trade shows, sales calls and meetings, product demos, advertising, search engine optimization (SEO), social media, and pay-per-click (PPC). An implemented sales cycle gives the people behind these tactics (primarily sales and marketing) a roadmap of how and when to connect with prospects, shortening the acquisition time.
Minimized Customer Acquisition Cost
Customer acquisition cost (CAC) is the dollar amount of what it takes financially from all your company's sales and marketing efforts to bring in one customer. The basic formula looks like this:
CAC = Marketing + Sales Expenses / Customers Acquired
In general, the more expensive the products or services being sold, the higher the customer acquisition cost. The CAC for a Mercedes dealer will be higher than that of a McDonald's franchise.
A sales cycle with repeatable steps reduces the time a salesperson has to spend trying to close each prospect into a customer, and so reduces the sales and marketing expenses required to bring a new client in. For example, if as part of your discovery stage, you've developed a series of questions that quickly help determine if a prospect is qualified, you're saving time and reducing an expense.
Improved Sales Rep Performance
With codified sales cycle stages in place, sales reps easily track each deal, especially if the stages are designed in conjunction with your customer relationship management (CRM) software. Each stage of the cycle should be represented in your CRM's sales pipeline, which we'll discuss in greater detail later. The process gives your sales reps a structure to follow, to replicate, and to automate when possible.
For example, reps can create personalized "first contact" email templates that are automatically sent to new leads in their CRM queue. Some CRMs will also allow additional emails (e.g., schedule a first meeting) to be sent depending on the recipient's response. Part of sales is the "numbers game," so automating part of the defined process can be a force multiplier for reps.
Increased Revenue Predictability
The ability to accurately forecast sales—estimating future sales—is a chief characteristic of a successful company. It allows companies to better estimate cash flow, make hiring decisions, see changes in the market, attract investors, and manage their sales team, among others. Estimating your weekly, monthly, quarterly, and yearly revenue allows business owners to make informed decisions. See our sales forecasting article for more insight.
The processes associated with a sales cycle will provide a more accurate estimate of future sales. This is because these steps have been tested, with each stage having a certain probability of eventually turning into a sale. For example, after your company qualifies a prospect, past data suggests there is a 65% chance they will become a customer.
How to Improve Customer Retention & Reduce Churn
At some point, a customer will leave you, opting to no longer buy your products or services. The percentage of those who depart is called customer churn, or turnover. Sometimes there's nothing that can be done to prevent it. However, it may be the result of what happened during the sales cycle, and could have been avoided.
In addition, new customer acquisition costs tend to be far greater than the cost to retain an existing customer. This is why it is so important to take steps to fully understand your sales process.
Here are some reasons customers may churn and how to prevent them:
Prevent Sales Cycle Issues
| Sales Cycle Issue | How to Prevent |
| --- | --- |
| The steps weren't followed by the salesperson, leading to an unqualified customer | The stages are defined for a reason. When followed, they usually produce a happy customer. The owner or sales manager should review what went wrong and discuss with the sales rep. |
| The customer says they were overpromised results that didn't happen | This is not uncommon in a services contract. A lot can be said during the sales process, but as a rep, if you've documented your conversations with call recap emails and other supporting materials (e.g., proposals, case studies), you can avoid most of this. |
| The customer was too eager to "just start" and didn't want to be qualified or go through the entire process | The sales rep should control the process and not the other way around. It's up to the rep to guide the process, letting the prospect know why each stage is occurring and what should be accomplished.    |
Identify What's Not Working
The sales cycle helps you pinpoint what's working and what's not. If you notice particular trends—like most sales are getting lost in the evaluation stage, or one of your employees is qualifying leads too easily—you can address them. Similarly, if one of your employees is doing a great job, you can determine why and then roll those same tactics out to your entire team.
Over time, your sales cycle is likely to be revised and rewritten as you continue to test new strategies. By using a CRM to measure what's happening at each step of the sales cycle, you can get the data you need to help you continuously update and improve your sales process.
Modify & Measure Your Sales Cycle
There is no one right sales cycle model—the steps we've included are based on our experience and research. Use it as a guide and change it as you discover from experience what's working and what's not. The best way to know what's working is by using customer relationship management (CRM) software that will help you record, track, manage, and measure the sales process.
How to Manage the Sales Cycle With a CRM
If you have an idea of what your sales cycle looks like, you can set up your pipeline with these stages and then record and manage your interactions with prospects. This gives your sales reps a consistent process to follow and document throughout the sales cycle. In addition, a CRM provides business owners a high level of oversight. You can monitor how reps are performing, which stages are losing the most customers, and how different lead sources are converting.
Here are the main benefits of using a CRM:
Evaluate your sales cycle: A CRM tells you and your employees what to do at each step of the sales cycle and tracks each of your deals, allowing you to identify any trends such as if deals tend to falter during a particular stage.
Measure sales performance: Additionally, as you can find out how each salesperson has been performing, you can identify any specific areas for improvement, like a salesperson tends to lose deals during "evaluation."
Forecast your earnings: By tracking where each deal is along the sales cycle, you can estimate your chances of success and thus predict your earnings. You can do this for your entire company or for specific employees.
Integration with other tools: Most CRMs integrate well with other software, giving you access to workflow automation you can use to more easily bring deals through the sales cycle.
Managing a sales cycle with a CRM is as simple as setting up contacts, customizing the interface to match your process, and then using built-in tools to analyze what's working as well as where there may be areas for future improvement. We'll step you through the process, using Pipedrive CRM as an example.
The steps for managing your sales cycle with a CRM include:
1. Set Up Your CRM
Initial CRM setup involves importing your contacts, creating your sales stages, building the pipeline(s), and then creating dashboards and reports to measure, monitor, and evaluate performance. It is usually straightforward, but if you find yourself struggling, refer to the vendor's help articles or video tutorials. One of the advantages of using Pipedrive CRM, for example, is that setup doesn't take long, making it easy to put your sales cycle into action.
2. Add Your Contact Data to Your CRM
Adding contacts to a CRM can be done individually by typing the information into a contact record and saving or by using the vendor's data import tool (we've yet to run across one that didn't have this feature) to import a spreadsheet of your contacts that you've created.
Pipedrive makes it easy to add your existing contacts, leads, and their data. Before importing a large file, Pipedrive includes a link to download a file of sample data. Click on Contacts (People) at the top, click import data, then click on From a Spreadsheet, where you'll find the option to download a sample file on the right. Click one of these options and drag the file to the center screen. You'll then be walked through the data mapping with the sample.
Once you're comfortable with this import test, you can add your data using the following steps:
Click on the "Contacts" button on the top navigation bar to expand the sub-navigation.
Click on "People" to add individual contacts or "Organizations" to add businesses or other organizations.
Click on "import data" under "no people added." If you've already added at least one contact, click on the three dots in the top right corner and select "data import."
From the Import data screen, click on either "from another software" or "from a spreadsheet."
For the purposes of this guide, we'll assume you're importing from a file.
Next, make sure that Pipedrive correctly mapped the fields from your file. Mapping fields means that the columns in your file correspond correctly with the information in Pipedrive. It attempts to do this automatically by detecting the types of data in each column, which we'll review and confirm or correct.
The two columns on the left side of the screen show Pipedrive's fields and your file's, respectively. Check to make sure that they match correctly—if not, you can drag your file's fields to reorder them until they are. Once you're done, click the Next button on the bottom-right.
On the next page, select "Merge data" so that you're not creating any duplicate entries. Pipedrive will also load the first three rows in your file so that you can preview it before finalizing the import. Assuming the information is correct, click the "Start import" button on the bottom-right. Once the import is complete, your data will be available in Pipedrive.
3. Add Your Sales Cycle Stages
Adding your sales stages can be quick and easy depending on the CRM you use, as long as your CRM offers at least one customizable pipeline. However, some CRM systems are more rigid in what you can and cannot add. Although Pipedrive comes with some default stages preloaded, it does allow you to tailor the sales pipeline in the system to fit your business' needs.
To add your sales stages to Pipedrive, simply do the following:
Click on the "$ Deals" button in the top navigation to bring you to your "Deals" page.
Click on the "Pipeline settings" button in the top-right to bring you to the "Customize Sales Stages" page.
Click on each stage in the default pipeline to bring up the "Edit" stage modal window.
Edit the name of the stage to match the corresponding stage in your business' sales cycle. For this guide, we'll use the stages we suggested above.
Click the "Save" button and move to the next stage in the pipeline.
If the number of stages in Pipedrive doesn't match the number of stages your business uses, you can either click the "Add stage" button to add more or click the "Delete this stage" link in the modal window to delete any extras. A finished pipeline looks like this:
4. Manage Deals in the Pipeline
Back on the Deals page, you can see each stage of the sales cycle. If the data you imported included deals in various stages, you'll see them in lists according to their stage. You can then drag and drop each deal between stages as they progress.
5. Evaluate Your Sales Cycle
To monitor and measure the performance of your team, you can use tools such as a dashboard and reports. A dashboard is an at-a-glance summary of both team and individual performance you can use to identify areas where assistance is needed. Reports for metrics such as pipeline and sales performance and activities (e.g., phone calls) can be created for a period of time and shared with the team. Forecasting is also usually included in reports.
Click on "Progress" in the top navigation to reveal the sub-navigation, then click on "Dashboard" to bring you to your dashboard. As you and your team begin to use the CRM to manage your leads and opportunities, you can use your dashboard to view the team's performance at a glance.
To filter the view, you can change the date range using the first of the three drop-downs in the top-right, the pipeline (if you're using more than one) using the second drop-down, and the salesperson using the third. Some of the data shown in this view includes:
New deals shows you how many new deals have been added during the time period by the salesperson specified and their total value.
Lost deals shows you how many potential deals were lost during the time period by the salesperson specified and their total value.
Won deals shows you how many deals were won during the time period by the salesperson specified and their total value.
Activities added lists the types of activities added during the time period and how many of each were added, e.g., sales calls or lunch meetings.
Activities completed lists the types of activities completed during the time period and how many of each were completed.
You can then use this data to identify trends in your sales team's performance. For example, what is your best performing salesperson doing differently than your worst? Are they making more phone calls, booking more in-person meetings, or spending more time focusing on fewer, but higher, potential leads?
Bottom Line
Every business with a sales team uses a sales cycle, whether they're aware of it or not. Getting to understand the stages of the cycle can help you close more deals, manage your team more efficiently, and estimate future revenues to help you make strategic business decisions.