Do you need to motivate yourself or your sales team?
Sometimes it can be difficult to regain motivation during a dry period. Even when opportunities are all around, sometimes we all need a push in the right direction.
Below, we're passing along some of the top sales motivation tips shared with us from business professionals like you. A big thank you to everyone who participated. See if you can find daily inspiration to make that sale from these pro tips.
Before we dive into the details on this topic, we also suggest you check out Insightly, our recommended small business CRM. Visit Insightly to learn more.
---

1. A sense of achievement speaks louder than numbers!
Sayantan Das, Co-founder of ZingoHub
Mastery, Belonging, and Meaning": Intrinsic Motivation has yielded great results with my sales team; especially with the company being a startup. Having a set of realistic micro and macro goals not only give the team a sense of achievement but also induce them to work harder!
---

2. The least effective attempt is the one you don't make.
Scott M. Bloom, Bloom Real Estate Group LLC
You miss 100% of the shots you don't take. Step out and take a risk. Every risk, every attempt made, is valuable. It could be the thing that makes or breaks your business.
---
3. If you want to be interesting, then be interested.
Bob Bailey, Truth Collective, LLC
This quote is fantastic because it reminds you that the seller is not the most important, the buyer is. Seeking to understand your buyer with a few open ended questions helps to establish rapport, mutual empathy, and clarify their potential needs that you/your company may fill. No one wants to sit across from a sales rep and be power pointed on a product or service – no one. If you focus on their agenda instead of yours, you'll both be much further ahead.
---
4. Don't undervalue your service
Ivan Widjaya, Noobpreneur
My biggest 'enemy' is my self-limiting beliefs: I sometimes think my services are not worth their value (read: price tag), and assume that clients think the same way. In my experience however it usually turns out to be the other way around: Generally clients value my services much more than I do.
---
5. Sales isn't about selling…nobody likes to be sold to.
Michael Mehlberg, Modern da Vinci
Sales is about helping people – understanding their deepest problems, fears, and desires and helping them find solutions to help them overcome. Without sales, people are left on their own, wasting time solving problems they are not equipped to solve. With sales, we can find our customers, listen to their concerns, build relationships, and create/provide solutions that makes their lives, careers, and companies better.
---
6. Nothing is more impactful and motivational than incentive.
Sagar Kogekar, Billbooks.com
When you provide an incentive, it's a token of appreciation for an employee's performance and definitely works as an encouraging factor. We at Billbooks don't just commend big achievements, our employees also earn kudos for their small efforts. We organize 'employee appreciation day' at the end of each month where employees are recognized.
Incentives can be either in the form of monetary or non-monetary rewards. We motivate our employees with a simple thank you note, greeting card that compliments their efforts, small mementos, cash reward, food coupons, or gift cards. Sometimes heart-felt verbal praise also works wonders.
---
7. Don't sell out of your own pocket.
Katie McCann, Maeve's Method
Don't count other people's money for them. You may not be able to afford it, but that doesn't mean that someone else can't. They may really want or need your product or service and will find a way to make it work with their budget.
---
8. Understand informed customers.
Kevin Cundiff, Fortegra
Learn how to talk to informed customers. They've done a lot of research; give them some credit. In some ways, this ties back to educating your sales team, as informed customers will totally know if they're bluffing. If your team knows the product back and front, they'll likely be able to give the customers something they *don't* know, making their time with you more worthwhile.
---
9. Set them up from the beginning.
Alessandra Ceresa,  Marketing Specialist at GreenRope
Instead of micromanaging your sales team (which does the opposite of motivate) why not set them up from the beginning with the right tools like mobile CRM, email templates, accessible content, and easy to read dashboards that let them view all their activities as well as their colleagues. When their lives are easier, they are happier, and more productive!
---
10. Let numbers do the talking.
Rahul Alim, Custom Creatives
I like to show my team how close or far we are from weekly, monthly, and quarterly goals. If we are behind, we do a big push. If we are ahead, we want to crush it and get way far ahead. The motivation lies in the outcome of what we do. We all want the sense of accomplishment and acknowledgement from others. Motivate with facts and show compassion. It helps everyone. No one likes people with aggressive tactics or scare tactics.
---
11. Don't limit your future by celebrating yesterday's profits.
Paul Potratz, Potratz
While it's good to be happy with your accomplishments, use that as fuel to motivate you forward.
---
12. For Successful Sales People It Is Not About Money
Tibor Shanto, The Pipeline
Like great athletes, great salespeople are motivated by achieving personal bests while also being key contributors to the team's success.  Keeping your team focused on that goal motivates them to act differently than the unsuccessful, and better than what got them to where they are.  
---
13. Sell a product or service that you believe in.
Dimitri Zakharov, Impact Enterprises
This is the only real, lasting motivation. If you're not confident in what you're selling, then there's no way your customers will be. Selling doesn't have to feel like selling if you truly believe there is a value in what you're offering.
---

14. Follow this threefold formula.
Shobha Ponnappa, Digital Entrepreneurs Network (DEN)™
First, you have to trust that the impression of authority and authenticity you make at first contact will work on the prospect. You have to work hard on this one. Second, you cannot afford to believe that if you let go, the customer will run away. You cannot sell anything with that kind of paranoia. Third, you need patience to wait for the prospect to come back of his or her own accord to you. You have to give people that space and freedom to come back or go away.
When clients return to me on their own, I know they have seen others and evaluated them all, and they have come back after research ready to do what it takes from their side to get to the next steps. That is the moment you can sell anything to them, without actually needing to sell yourself to them.
---
15. Make accountability fun!
Joe Curtis, Unishippers
Create an environment that encourages fun and friendly competition from your team on a daily basis. When implemented correctly, a sales rep will strive to make every day their best performance day. Accountability doesn't have to be complicated or intimidating. For example, at Launch Logistics, a bell is run every time a rep meets one of the key three steps in the sales process: once for an appointment, twice for set-up, and three times for customer activation. This way, everyone is aware of another rep's accomplishments and will strive for the same recognition in front of their peers.
---
16. Cultivate a sense of purpose.
Christopher J. Croner, SalesDrive LLC
Team-building activities and service projects help salespeople feel more connected to their career, sales team, and community. This increased engagement results in a greater sense of pride and purpose which, in turn, helps sales reps to continue to perform at their best.
---
17. Try to revive lost deals.
Sean Burke, KiteDesk
Go back through old lost deals and try to revive them. They were interested at one point – maybe the timing is better now. Try changing up what you did previously. If you were making calls, move to social. If you were sending emails, make calls. You just need to shake things up and 1) do different things, and 2) do things differently. 
---
18. Success starts when your actions become greater than your excuses.
Mike Rodriguez, Motivational Speaker, Sales Expert, Best Selling Author
My favorite tip is sharing this mental strategy, which I call the ASK 3 Sales Strategy, with my team:
What are you going to CLOSE today?
What are you going to make PROGRESS on today?
What are you going to FIND today?
Then, encourage your team to take actions towards each of these three steps everyday. Success starts when your actions become greater than your excuses.
---
19. Treat your customers like your business depends on it (because it does!).
Roberta Perry, Scrubz Body Scrub
Your customers are the reason for your business, not an afterthought. Your entire motivation should be about making them happy and satisfied.
---
20. Emphasize patience.
AJ Saleem, Suprex Private Tutoring
Understand that selling does not have a constant result, and don't be too demanding. Sometimes, a call you make now or an email you send now will have results weeks or months later. The key is to keep track of all leads in your sales pipeline, so you can keep nurturing leads and don't lose them.
---
21. Start the week on a positive note!
Meny Hoffman, Ptex Group
Internally in our company we send a special newsletter to our sales people every Monday, a good motivational video, quote, and a reminder how many days they have left to reach their monthly goals. It works like miracles, because it helps to get some gas to start the week positive.
---
22. Today's sale is a different one.
Jared Weitz, United Capital Source
Clients are more likely to engage with a consultative approach vs. hard selling. Today's sale is one that is packed with facts, tips and useful information that will help the buyer. The days of hard selling and pushy sales tactics are long gone.
---
23. Host internal competitions. 
Molly Champion, TeliApp
My favorite way to motivate my team is to teach them methods to achieve success by having internal competitions that we call The Hunger Games. One competitive game that I use as part of this educational process is chess. Understanding others is key to the process of making a sale. Teaching sales staff how to understand the mind of their chess opponents makes it easier for them to understand other people.
This skillset is extremely valuable, as most strong business development relationships come from a mutual desire to benefit positively from a relationship. The goal here is to give my team the ability to understand what others need, and how to put themselves in someone else's shoes. As they excel in these internal competitive games, their success ratios in establishing mutually beneficial relationships increases. The desire to succeed always must come from within.
---
24. Invest in the right tools. 
Mike Scher, FRONTLINE Selling
Companies need to invest in tools that accelerate the process of combing through leads, creating more sales opportunities to close more deals. Even the most seasoned sales reps need help with new tools so keep their fires stoked by providing the proper training and support. One of the best ways to motivate and retain top sales reps is by making them feel valued, and showing your commitment to their success through purposeful investments will do just that.
---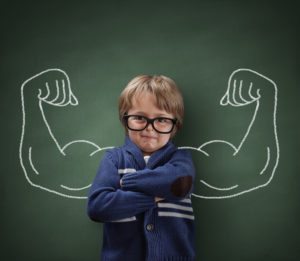 25. Believe in yourself! 
Confidence is an integral part of the selling process and it can inspire trust in your employees and customers. When employees see that you're confident, they will try to emulate you. When customers see that you're confident, they will believe more in the value of what you are selling. So get out there!
---
We are in a unique position because we have limited capacity as a service-based business. So I tell our salespeople to walk into a meeting with the intention to 'interview' the prospect. It changes their view of their own roles.
---
Bonus Tip: Force Yourself to Be Enthusiastic
Megan Arevalo, Websitebuilder
However much enthusiasm you have for what you are selling, it's always a good idea to force it even more. The best way to gain extra enthusiasm is to simply act enthusiastic. Show your clients how excited you are about what you're selling and they will reciprocate by being more excited about it as well. This will guarantee to increase your sales and also your fulfillment.
---
Over to You
Share your favorite sales motivation tip in the comments below!
Want to manage 1000's of leads, save time, and get organized? Click Here to get our FREE CRM guide and find out how.