A sales pipeline is a visual tool that allows you to understand your customer's journey from realizing a product need to making a purchase. It's called a sales pipeline because prospects flow like water through your pipeline, with some leaking out and only a few reaching the end to make a purchase.
The way you set up and manage your pipeline can be the difference between the success or failure of your sales department. In this article, we'll show you how to manage pipelines with Pipedrive, a sales-focused CRM that uses a visual sales pipeline to show you where you need to focus each step of the way. Click here for a free trial.
How to Setup & Manage Your Pipeline in 5 Steps
A well-managed sales pipeline allows you to:
Reflect your customer journey and provide the right sales support at each stage.
Focus teamwork across sales, marketing and account management disciplines to improve performance.
Forecast, measure and manage future sales revenue with greater accuracy.
The first step to sales pipeline management is to make sure you have a proper sales pipeline defined for your business. Then, you use simple sales metrics to scrutinize the health of your pipeline at weekly team meetings. This ensures you're providing salespeople a flow of high quality leads and that they're converting customers at a healthy and predictable rate.
Below we'll outline the 5 steps to sales pipeline management in more detail:
1. Formalize Your Sales Pipeline Process
For your sales pipeline to function correctly, you must have clearly defined customer journey stages mapped from the customer's point of view. Each stage is intended to reflect one of the key decision-making steps in a customer's journey toward making a purchase.
For instance, a typical customer journey has 5 key stages:
Awareness: The customer has become aware of a problem that your product or service could solve.
Discovery: Your customer prospects are interested in exploring your product or service more deeply as a potential solution to their problem.
Evaluation:  Your customer prospects narrow the range of potential solutions to their problem as a result of their buying criteria.
Intent: Customer prospects may start reaching out to sales to ask more detailed questions as they consider your product or service as the best solution to their problem.
Purchase: At this stage your customer prospects have decided to purchase from you and start to negotiate price.
2. Setup Sales Pipeline & Sales Forecast Meetings
The next step is to ensure you're analyzing and discussing the sales pipeline regularly. Ideally, you should do this with 2 different kinds of sales meetings:
Sales pipeline meetings focus on the quantity of new leads, and overall health of your the pipeline. These are typically held every 2 weeks and include sales, marketing and account executives.
Sales forecast meetings focus on deals that are about to close. These are held more frequently (usually once a week) and include all salespeople.
How to Manage a Sales Pipeline Meeting
Sales pipeline meetings are purely focused on the overall health of the pipeline. A core focus within this is making sure the quality and quantity of leads entering the sales funnel over the next sales cycle is sufficient to meet the sales team's needs. The sales cycle is the average time it takes for a new lead to enter and complete the sales funnel.
If your sales cycle is three months then you need to be thinking at least three months ahead. If the sales cycle is six months then at least six months ahead. If this were not the case, there is a danger that the sales team could fall short of leads without there being sufficient time to address this before it starts to affect your bottom line.
The sort of questions the sales manager will raise in a sales pipeline meeting include:
Are we adding enough new leads to the sales pipeline?
Is the quality of leads being added reaching the required standard?
Does the sales team have enough leads for the three months of sales activity?
In other words, the meeting is all about the beginning of the pipeline and not about which deals are going to close this month. Sales, marketing and account management executives all attend and the meeting, which usually takes an hour, is scheduled once every two weeks. If there is not much change in this time period, then a monthly meeting may suffice.
Using a tool like Pipedrive is a great way to allow each member of the sales pipeline team to report on their progress. Each team member can view a pipeline of their own deals and the sales manager can see what the team has achieved as a whole. You can also run a wide range of reports like the one above reporting on the reasons deals were lost over time. This may provide an insight into the quality of the leads and other factors that have room for improvement, like pricing and pre-sales activity.
How to Manage a Sales Forecast Meeting
Sales forecast meetings are purely focused on deals closing over the next period. The frequency will be determined by the nature of your sales operation. However, most sales teams have a regular weekly sales meeting either face-to-face, or via video conference if necessary for sales folks working at distance in the field.
The discipline around this meeting is important. Only sales team members attend and all sales people attend unless they are sick or on vacation. This is because it creates transparency and a positive competitive spirit for each sales person to see how the next is achieving their targets, and the volume of support work that they do to underpin their performance, like cold calling for example.
The meeting always takes place at the same time each week. This tends for either be on Friday afternoon to wrap-up the week that was. Or, first thing Monday morning to set up the week that will be.
The sort of questions the sales manager will raise to each salesperson in a sales pipeline meeting include:
Which deals have moved from qualified to demo, demo to negotiation, or negotiation to closed over the last week?
Which deals will move from qualified to demo, demo to negotiation, or negotiation to closed over the week ahead?
Has all of the agreed activity (for example cold calling, meetings, proposal writing) been completed to help maintain the flow of deals progressing through the pipeline at a good pace?
The meeting does not normally take more than 30 minutes, as it's purely a reporting meeting. This is achieved by the sales manager taking a strong lead and noting when additional one-to-one discussions are required (which can take place after the meeting is complete.)
Using a tool like Pipedrive can really help to underpin the structure and discipline that needs to go hand in hand with managing sales forecast meetings. Each salesperson can use it to report on their individual sales activity, noting which deals have progressed and are near closing. You can also make the team view of Pipedrive (shown above) a focus of the weekly meeting.
3. Use Sales Pipeline Health Metrics
We've already shared a few reports you'll want to use in your weekly meetings. Next we'll cover three more metrics that further help you analyze the health and integrity of your sales pipeline. As a result, these are three metrics that the sales manager will want to keep top of mind and review every week.
Opportunity Size ($) vs. Average Deal Size Won ($)
The question that you need to ask yourself is: "How big is each individual sales opportunity?" If the opportunity is twice the size (or half the size) of your average closed/won deal, then you have to question whether this opportunity is likely to be won at all. If this were not the case, why are you not consistently selling the same product or service for twice as much (or half as much)?
In the example above, the NetSuite deal is over 4x the value of the usual deal sweet-spot. This is the sort of pipeline health issue that a sales manager would raise in a sales pipeline meeting, because it does not sound like a deal is likely to close and it's inflating the pipeline value by around 50%.
The reason this occurs can be because your salesperson has oversold (or undersold) the value of the product or service. This is a common issue because it's very natural for a salesperson to want to believe that a wildcard deal is going to land, especially if they are behind target or hoping for a supercharged deal commission. Or, the customer has simply misunderstood the product capabilities. Whatever the case, it's worth resolving this when it occurs rather than believing in a "pipe dream" that will overinflate the value of your sales pipeline.
Opportunity Age vs. Average Win Cycle
Like opportunity value, the age of an opportunity strongly indicates how likely you are to convert it. Deals that linger in your pipeline for too long at any given stage are much less likely to convert than deals that maintain momentum at each stage.
An easy way to understand this is to find the average length of time it takes between your first contact with a lead, and the moment they close (the average win cycle.) If an opportunity has exceeded this timescale, it needs to be flagged, reviewed and potentially removed from the pipeline to avoid wasting valuable sales time on the wrong opportunities.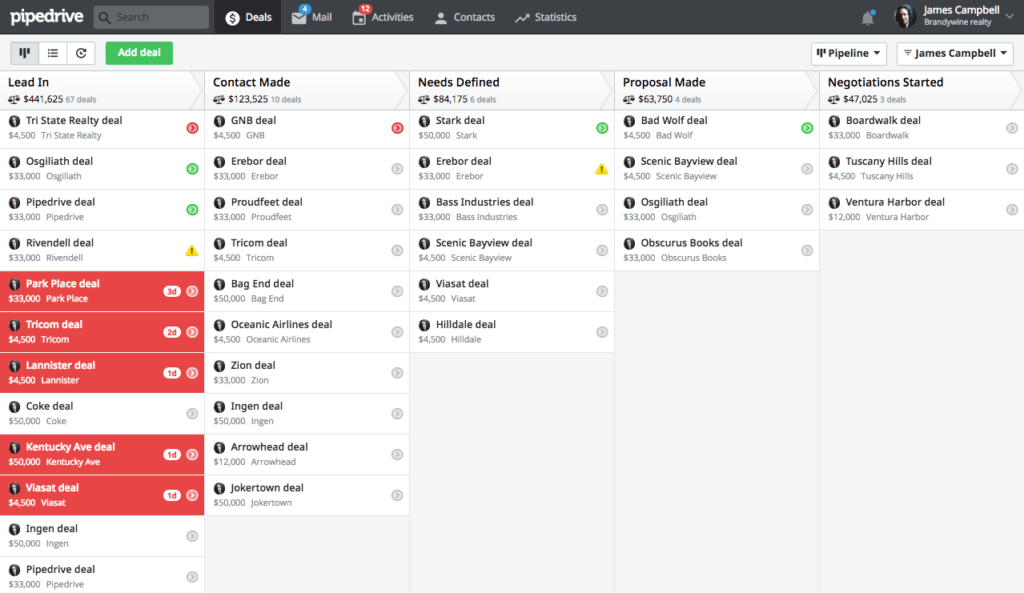 Tools like Pipedrive allow you to set the number of days a deal can sit in each stage before raising a flag to let you know that they are starting to rot. In the example above, five deals in Pipedrive have turned red because they have stalled in a stage for too long. This will prompt rotting deals to be discussed by the sales manager and the sales rep at the next pipeline health meeting.
Win Rate
The win rate is the number of opportunities it takes your business to generate a won deal. Or, to put it another way, it represents how likely an average lead is to convert into a sale.
It's important to understand how many opportunities convert into sales because improving the conversion rate has a massive positive impact on your bottom line profits.
In the example above, I would focus on improving the conversion rate of Proposals Presented and In Negotiation, as these will have the biggest impact. Pipedrive will also let you look at the conversion rate by each salesperson. Again, using the above example, we can see which salespeople are performing best in the Proposal and Negotiation phases, then ask them to share their approach with the rest of the sales team.
A basic activity for the sales manager is to analyze the opportunities that were won and how the sales process differed from those that were lost. In this way, a pattern may emerge. For example, lost opportunities may have been poorly qualified, or perhaps they're consistently coming from the same salesperson. Perhaps a specific type of customer is better served by a competitor because of their price point. Spotting these patterns allows you to address your weaknesses.
Equally important is analyzing the patterns behind the deals that you won so you can focus more sales time on similar types of opportunities, or the sales behaviors that improved the likelihood of closing these deals successfully. For example, calling sales leads within an hour of them registering interest may improve the conversion early in the cycle.
To learn about even more useful metrics, you can check out our full article on sales pipeline metrics.
4. Run Forecast Reports by Sales Pipeline Stage
Once you've established sales pipeline meetings and mastered the use of pipeline health metrics, it's time to consider revenue forecasting. This allows you to predict the future flow of cash in your business, which is essential to the health of any small business.
Early on in this article, we explained the importance of defining each stage of your sales process to match your customer's decision making process. Once you have done this, you can go on to define the sales criteria that dictate which stage a lead of sales opportunity sits in within your sales pipeline. This in turn allows you to understand your conversion rate for each stage of your sales pipeline.
Once you understand your conversion rates for each stage of your pipeline and you know the value of each opportunity in the sales pipeline, you will be able to forecast your sales revenue accurately.
In the Pipedrive sales forecast (above), the total revenue you're projected to earn is the first number shown for each month— for example, $101,030.45 in March. The next number in green is the total that has already closed successfully, and these deals are shown in green below (i.e. "Rebranding" in March). The final number is the remaining sales forecast for the month that has been weighted to account for how likely each is to close successfully.
If you would like to learn more about how this works, we recommend reading How to Build Your Own Sales Funnel, which explains sales forecasting in more detail.
5. Invest Sufficient Time in Sales Pipeline Management
Companies that spend at least three hours a month managing their sales pipeline achieved 11% higher revenue growth than those spending less time, according to a survey of B2B businesses from the Sales Management Association.
While many small businesses believe they spend a lot of time managing their sales pipeline, often they focus too much on forecasting sales and not on managing the health of their sales pipeline.
If you spend your time monitoring the quality of leads, and working out how to improve conversion rates, then you are investing your time wisely. The main focus of a sales pipeline meeting should be to move deals forward to the next stage efficiently and effectively.
If you aren't using a CRM already, this should be one of your first steps to improve focus on pipeline management. Tools like Pipedrive help instill good habits across your team by providing a standard process for salespeople to follow, and sharing access to reports.
Taking Sales Pipeline Management to the Next Level
Once you have built your sales pipeline and put in place some basic sales pipeline management protocols, you will be ready to consider how you can raise your sales pipeline performance. Let's discuss four areas that will help you to make a real difference to your bottom line performance.
1. Recognize Your Historical Sales Performance
Understanding your sales pipeline history is a great way to create a useful and relevant context of your current sales pipeline, which will help you to better manage your sales team's performance.
If your sales target for the new financial year has increased by 15%, have you increased the generation of leads to feed the top end of your pipeline by 15%? Can your existing sales team manage more leads or do you need to hire more sales reps?
Most businesses experience a degree of seasonality in relation to their sales performance. For instance, August can experience a dip in sales due to summer vacations. This is why most businesses compare Year-on-Year sales performance. For instance, you would compare Jan 2016 with Jan 2017 rather than Jan 2017 with Feb 2017 to account for seasonal differences. Though month- to-month improvement is also a good gauge of growth, especially for an early stage startup.
Again, a tool like Pipedrive makes it easy to you to run reports over time so that you can track how performance improves across a range of indicators like deal conversion rates, overall pipeline value, average deal won value and much more.
2. Assess Your Opportunities for a Narrow Sales Pipeline
A common mistake in sales management is to assume that lots of opportunities at a late stage indicates a healthier sales pipeline. This is only true if the dead opportunities have been removed from your sales pipeline.
A smaller sales pipeline filled with high-quality opportunities is better than one with low- probability ones. If you fail to purge your pipeline, it will skew your won/lost analysis, waste your sales team's valuable time and impair your sales forecasting abilities.
For this reason, a good sales manager is constantly looking for ways to narrow the sales pipeline and eliminate weaker sales opportunities. For instance, sales that have stalled at a stage and become unresponsive to sales contact, or where the customer contact does not have proper authority to make the decision to purchase. A tool like Pipedrive will help you to do this by flagging deals that have been sitting in one stage for too long.
Conversely, if you have pruned out the weak opportunities and your sales pipeline is brimming with great deals then it may be time to hire an additional sales rep!
3. Find Your Sweet-Spot
As you start eliminate weaker opportunities from your sales pipeline, you will start to get a gut feeling for what stronger opportunities look like. Often sales reps refer to this as their sweet-spot or strike zone.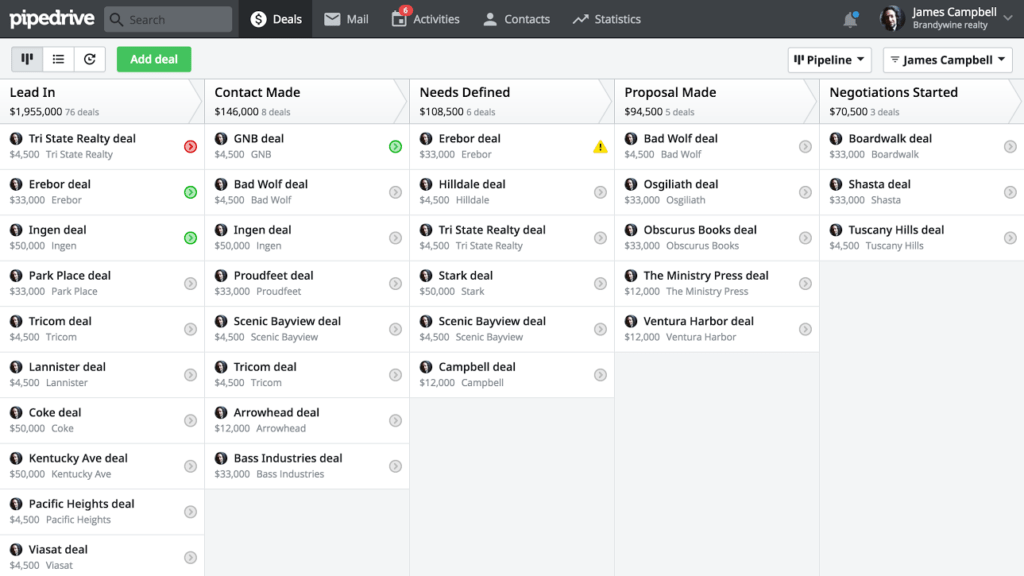 Every sales team needs to be on a continual quest to learn which kind of opportunities are most likely to convert into customers, aka their sweet-spot. For example, sales opportunities that are significantly older or higher valued than the opportunities you usually win are probably outside your sweet-spot and less likely to convert.
Pipedrive allows you to generate reports in two clicks, which will allow you to determine average deal size and the average time that deals spend at each stage in your pipeline.
4. Understand Your Natural Sales Pipeline Flow
If you do not add at least as many sales leads to your sales pipeline as you either win or lose, your sales pipeline will shrink. Most businesses are looking to grow over time and if you have a growth plan in place, you need to be increasing the volume of sales leads you add each month in order to be able to achieve your forecast growth objective. As a result, it's important to carefully track your pipeline flow over time.
Avoid Sales Pipeline Killers
Finally, let's look at sales pipeline management from another perspective and discuss five sales pipeline attributes you want to look out for and address as they will impair your sales pipeline performance.
1. Age in Stage
Stalled opportunities convert at much lower rates than quickly progressing deals. A good rule of thumb is to remove sales opportunities from your pipeline that have stayed at the same stage for as long as your average lost deal. Or at least to flag them as at-risk and in need of sales rep action that either gets them moving or identifies that they have been lost.
2. Haphazard Sales Pipeline Stage Leaps
One of the great things about a sales pipeline is that it matches the customer's decision-making journey. As a result, if a sales opportunity goes through your sales pipeline logically, it will assure the customer reaches a natural, timely decision.
On the other hand, if you jump too far ahead, you'll experience a disconnect with your customer, and the opportunity will be far less likely to convert. Be weary of haphazard sales pipeline leaps: It's especially common when sales people are "fooled" because the customer is saying what they want to hear, rather than what they really think.
3. Size is Not Everything
An opportunity's size dictates a lot about how likely it is to progress within your pipeline and how likely your sales team are to convert it into a closed/won sales deal. We recommend flagging any opportunities in your sales pipeline that are more than 3x your average deal size.
Have your sales rep explain how confident they are about landing each of these deals. We also recommend discounting the value of these deals based on historic performance of all larger than usual sales opportunities that fall outside of your strike zone.
4. Changes in Opportunity Value
Another indicator of a deal that's unlikely to succeed is one that keeps changing in deal value. This is because it tends to suggest that the customer is either not fully engaged and/or not really clear about exactly what product or service they need to solve their problem.
Under these circumstances, if a sales opportunity has changed in value 3 or more times, it should be flagged in your sales pipeline process. Many sales managers would also discount the value of the deal and seek more information to understand whether it should be eliminated or not.
5. Deals That Slip Back in Time
In a similar way to opportunities that change in value a lot, deals that keep having their close date moved back are also much less likely to close at all. This is because the customer may be finding it difficult to tell the salesperson that they have changed their mind and instead they keep kicking the stone down the road.
A good sales manager will flag the opportunity and ask the salesperson to speak to the customer. This will give them the opportunity to say they have changed their mind so that the deal can be removed from the pipeline. If it's a healthy deal, this will have the reverse effect and help the customer to recognize the need to help pick the pace up, or at least explain the cause of the delays.
The Bottom Line
Building a sales pipeline and putting a sales team in place is not enough to guarantee sales pipeline success. Another key ingredient is sales pipeline management. The good news is that there are no hidden secrets to effective sales pipeline management, it all comes down to:
Recognizing the need for a formalized sales pipeline process
Holding regular sales pipeline meetings
Proactive sales pipeline management based on metrics & reports
Proactive sales pipeline management is what ensures that you weed-out the weak sales opportunities and focus more of your sales team time on the opportunities that fall into your strike zone. This will improve your sales performance, keep your sales pipeline healthy and help you to more accurately calculate gauge your future sales revenue and the flow of cash within your business.
As you can see, there are many steps needed to manage and maintain a healthy and effective pipeline. Pipedrive can help you measure and manage each stage of your sales process so that you can learn how to improve your performance and close more deals. Click here for a free trial.