There is certain sales terminology you must know to crush your sales strategy. These sales terms include things like lead nurturing, which refers to relationship building with prospects. They're important because they'll help you understand and focus on key factors that are important in sales.
We've compiled a list of 37 sales terms you should know with their definitions.
1. Key Performance Indicators
Key performance indicators (KPIs) are a unit of measure that illustrates how parts of your company, such as sales, are doing. KPIs help business owners focus on the most critical performance measures like the number of leads, number of lead magnet downloads, conversions, and so on.
2. Sales Forecasting
A financial exercise where you predict the number and dollar value of sales over a specified period of time. With sales forecasting, your predictions can be based on a number of factors including past performance, upcoming marketing initiatives, or industry research.
3. Sales Pipeline
A representation of sales opportunities that helps you track and manage how close you are to converting them into closed deals. Sales pipelines have stages that salespeople move prospects through, which reflects the nature of the relationship and the prospect's readiness to buy.
4. Customer Relationship Management
Customer relationship management (CRM) is the process of managing multiple relationships, sales opportunities, and activities with prospects and customers throughout the sales cycle. These relationships and activities are mainly managed with software, and the software is commonly referred to as a CRM.
5. CRM Software
CRM software is a tool used to manage customer and prospect relationships and activities. This type of software allows you to track activities like number of calls and product demos made. Some CRMs also allow you to perform certain activities like sending emails, connecting with prospects and customers on social media, and making phone calls.
6. Sales Funnel
A sales funnel is a visual representation of a customer's journey, from the awareness stage to purchase and continued loyalty. The top of the sales funnel represents the customer as an unqualified lead while the bottom indicates they're ready to buy.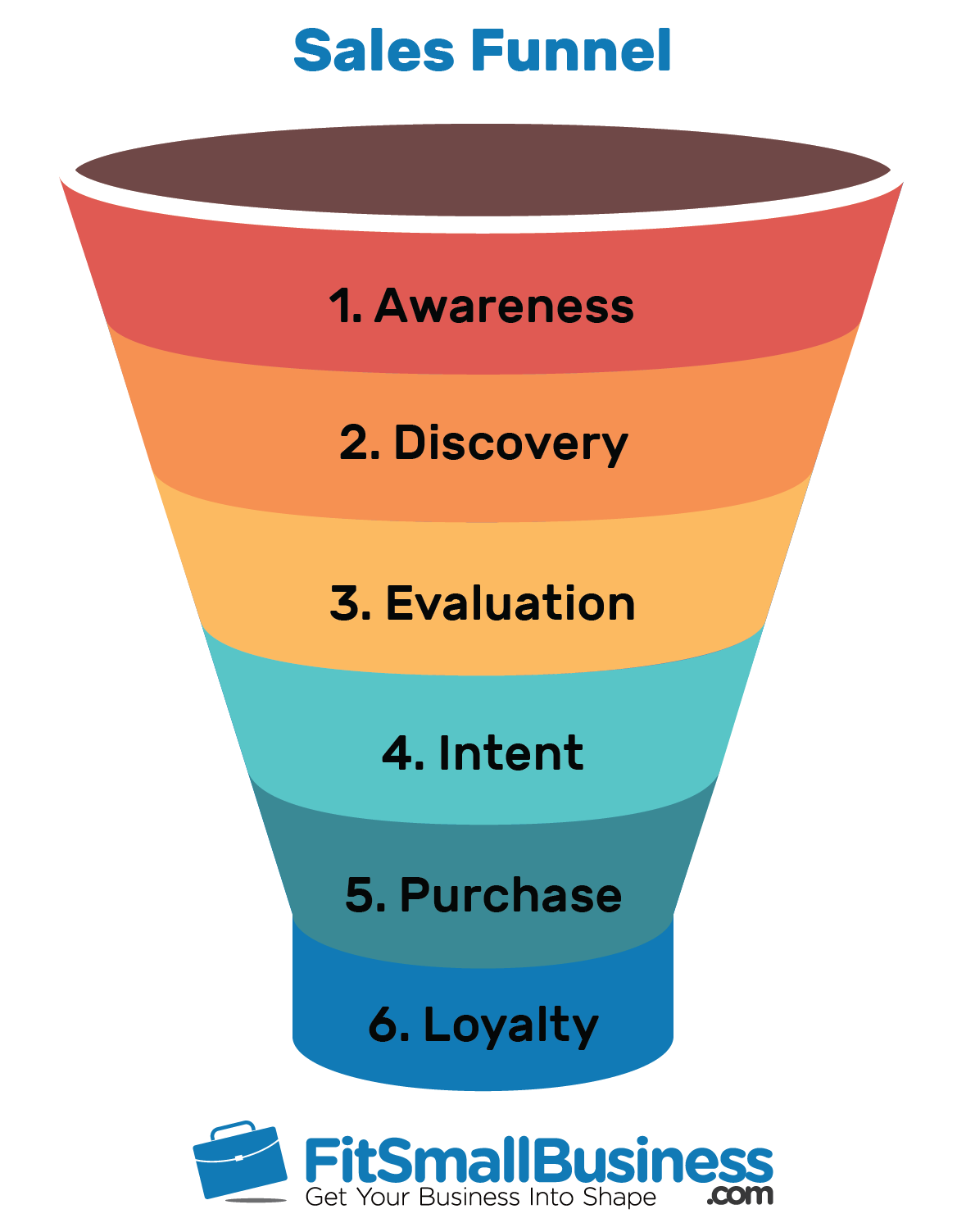 7. Sales Process
A sales process is the coordinated set of stages needed to attract customers and close deals. You create a sales process by documenting each stage, which is commonly referred to as pipeline stages. You'd customize each stage for your business and map out the entire process. The sales process is critical to success because it serves as a roadmap for sales teams to close deals consistently.
8. Lead Nurturing
Lead nurturing is a set of activities focused on building relationships within a series of sales funnel stages. It's designed to convert cold prospects into loyal customers. Examples of lead nurturing activities include meetings, conversations, email exchanges, and social listening.
9. Return on Investment
From a sales perspective, return on investment (ROI) is a financial value of the benefit a customer receives after having invested in your product or service. ROI is calculated by using the following formula:
Net profit/Cost of investment) x 100
"ROI is the single most important word in sales. When customers want to get sign off to fund what you're selling, they need to illustrate what the return on their investment will be. Everything you focus on in your initial meeting, and further discussions should be understanding their challenges and demonstrating the tangible impact or their return on investment."
―Ben Mercer, Co-founder, Personify XP
10. CRM Analytics
CRM analytics are statistics or metrics that offer insights into areas like sales performance or customer service that reflect how a business is performing from a sales perspective and customer relationship perspective. These insights help companies make decisions to serve customers better, improve relationships, and increase sales.
11. Win-loss Ratio
Win-loss ratio is a performance metric that tells you the percentage of how many deals you win compared to the number you lose. Knowing this metric and the reason you lose and win deals can help you adjust your sales tactics so that you can win more deals. It's calculated by taking the number of deals won divided by the number of deals lost:
Number of deals won/Number of deals lost = Win-loss ratio
12. Sales Reports
Sales reports are summaries of sales data displayed in a way that shows business owners how their sales teams and campaigns are performing. Common types of sales reports include sales activity, revenue, and leaderboards, which can help businesses target and measure the right goals and are created using spreadsheets or CRM software.
13. Sales Dashboard
A sales dashboard is a visual display of data reflecting the performance of your sales. It's a collection of reports that displays key indicators like revenue, sales activity metrics, opportunity to close ratios, and more. Sales professionals that use sales dashboards to help them with decision making include sales managers, business owners, and salespeople.
14. Prospecting
Prospecting is an activity whereby salespeople find potential customers for their companies' products and services. You perform prospecting by going where your target audience spends time. Popular places to prospect include conferences, coworking spaces, networking events, and even sporting events. It's easier and more efficient when you use tools like business card scanners to help you capture and manage contact details.
15. Cold Calling
Cold calling is a sales tactic where you call prospects you don't know and make them an offer. It's an essential sales activity that generates new customer revenue, which can help your business grow. This sales tactic can be used to sell products over the phone or to set an appointment for an initial meeting.
16. Inside Sales
Inside sales is a group of sales activities done virtually instead of in-person. A lot of the work done by inside salespeople is done over the phone, through email, and using video conferencing. This tactic focuses on getting large amounts of sales or leads and can be used to make direct sales or qualify leads for an outside sales team.
17. Outside Sales
Outside sales is a group of sales activities done face-to-face. It works by having sales professionals go into different geographies and business areas seeking opportunities, attempting to close deals or generating leads. It also includes participating in live events and conferences to meet potential clients.
18. Business Proposal
A business proposal is a document that outlines the terms of a sale for prospects. It's used a lot by business-to-business (B2B) companies that need detailed explanations of their product offering. They can be custom but normally follow a standard format, which is why having a template is important for efficiency.
19. Lead Magnet
A lead magnet is a resource that generates leads by getting members of your target market to request or consume information from you and enter your sales funnel. Marketing usually creates lead magnets and promotes them while salespeople capture and qualify leads. Salespeople also distribute lead magnets to generate leads.
20. Sales Plan
A sales plan is a document used to outline sales objectives and the strategies used to achieve them. It includes your goals and key customer attributes as well as the strategies, tools, metrics, and estimated expenses you'll need to achieve your goals.
21. Territory Management
Territory management is when you manage sales activity and maximize sales in a geographic area. Sales activities you'd manage include prospecting, generating local referrals, and closing deals. It's right for companies selling products in various geographic areas.
22. Territory Plan
A territory plan is a document used to set the foundation for how you're going to maximize sales in your territory. It outlines goals, objectives, and strategies to make sales in your geographic area. Your territory plan also identifies specific accounts, assigned sales representatives, and any tools necessary to implement your plan.
23. Sales Pipeline Stages
Sales pipeline stages are the steps within the sales cycle that represent what you need to do to move a potential client from initial contact to buying your product. The number of stages in your sales pipeline varies, but our recommendation is that you have eight core stages. These eight stages include:
Prospecting
Lead qualification
Initial meeting
Defining customer needs
Making an offer
Negotiation
Closing the deal
Product delivery
24. Sales Pipeline Management
Sales pipeline management is the process of moving clients and potential clients through your sales pipeline. You can manage your sales pipeline so that it's more efficient by taking important steps to make sure you have defined your pipeline stages clearly and have tasks within each stage and a plan for measuring and monitoring progress.
25. Conversion Rate
A conversion rate is the percentage of leads you convert into customers. For instance, if you have 500 leads and 300 of them become customers, your conversion rate is 60%. The formula is the number of converted customers/number of leads or prospects. This formula can also be applied to deals in your pipeline by dividing the number of deals won by the total number of deals. Conversion rates are more accurate when you have a clearly defined timeframe.
26. Email Templates
Email templates are prewritten emails you use for different stages of your sales lifecycle. They save time from having to recreate emails from scratch at every pipeline stage. For example, if you always send a thank you email after every client presentation, and it contains information or takeaways that apply to most of your customers, having this email written ahead of time will make you more efficient because you don't have to start from a blank page.
27. Email Tracking
Email tracking is the ability to track the effectiveness of emails you send to prospects and customers. If there is a type of email you send consistently, it's helpful to know metrics like open rates and click-through rates (CTRs) to see if your emails are being read or ignored so that you can edit them as needed.
28. Email Click-through Rates
Email click-through rates are the rates at which your prospects or customers are clicking on links you've sent them via email. They are calculated by taking the number of links clicked divided by the number of emails opened. This is helpful so that you can plan ways to increase clicks or engagement from your emails.
29. Email Open Rates
Email open rates are the rates at which your email recipients open the emails you send. It's calculated by taking the total number of that are opened and dividing this number by the total number of emails you send. This is helpful so that you can make changes to emails so that your recipients open them at a higher rate.
30. Sales Contest
A sales contest uses the spirit of competition and rewards to get salespeople to sell more while also promoting behaviors you want them to adopt. For instance, a sales contest can get your sales team to make a certain number of cold calls or close a certain percentage of their deals.
31. Sales Enablement
Sales enablement is a set of coordinated activities business owners engage in to enable their sales teams to optimize their amount of revenues and levels of profitability. It's done by providing sales tools and training to sales professionals in your company.
32. Cross-selling
Cross-selling is when you sell new or similar products to existing customers. It's an effective sales strategy that lowers your cost of sales and increases your conversion rates as related to the product you're selling because you're selling to existing customers who are happy with you and open to buying a product from you that suits them.
33. Upselling
Upselling is when you are in the process of or have closed a sale, and you sell additional products or upgrades. An example of upselling is when you sell a laptop and then sell an extended warranty or accessories like additional batteries, memory, or chargers in the same transaction or very shortly thereafter.
34. Consultative Sales
Consultative sales occur when you act as a trusted advisor rather than a salesperson pushing a product or service. In consultative sales, you make it easy for your prospects to make buying decisions by providing options to choose from and using what you know about their industry, their business, and similar firms you've worked with to recommend a solution they should buy.
35. Education-based Sales
Education-based sales use education to build prospect knowledge and facilitate them making a decision to buy your product or service. If you have a product or service that is complex, your prospects will want to know as much as they can about the product, how it works, and what it can do for them. Education through webinars, whitepapers, events, and more can get them closer to buying your product.
36. Customer Lifetime Value
Customer lifetime value (CLV) is the total value of a customer over the life of your relationship. This term is important because a happy customer can lead to additional sales and can also be a source of referrals. If you cultivate your customer relationships, they can be worth a lot more than the value of one sale.
37. Customer Acquisition Cost
Customer acquisition cost (CAC) is the cost to acquire a new customer. Examples of these costs include the amount of money you pay for leads or lead generation tactics like advertising or event sponsorships. This is important because you'll want to find ways to minimize your costs while maximizing conversion, retention rates, and profitability of your customers.
"The customer acquisition cost can exemplify and define the entire sales concept to a layperson. The time and money invested in gaining new customers for a specific period of time convey other attributes like buyer persona, marketing qualified leads, leads, customer journey, sales pipeline, and conversion rate. CAC is calculated by dividing money and time invested by the number of new customers. What channels were leveraged, what marketing collaterals worked, which features are most attractive to get new customers on board, the kinds of ads that work with the target audience is all encompassed in the definition of CAC."
―Shakun Bansal, Head of Marketing Mercer-Mettl
Bottom Line
Whether you're a sales rep or a sales manager, knowing and using the sales terms presented here can help you crush your strategy by keeping you focused on the most important elements of sales. Some terms will remind you of what metrics to focus on, and others will spark ideas on the types of sales tactics you should use or try. Get familiar with these terms and see how they can apply to your business or sales career.
Using a CRM is a great way to implement some of these sales terms. For instance, the sales term lead nurturing can be done effectively if you have a CRM like Pipedrive that allows you to create a highly visual and customized sales pipeline along with great tools like email tracking to make sure your sales team is performing at their best. Sign up for a free trial with Pipedrive to bring these sales terms to life.