If you're looking for new or used salon equipment online, there are plenty of different places to shop. We took a look at the top five stores and compared their selection, pricing and shipping. See our list below along with our recommendations and a detailed pricing comparison:
Best Place to Buy Salon Equipment: SallyBeauty
Used Items? Yes, some factory refurbished items
Financing/Leasing Available? Yes
Free Shipping? Yes, free ground shipping on orders over $50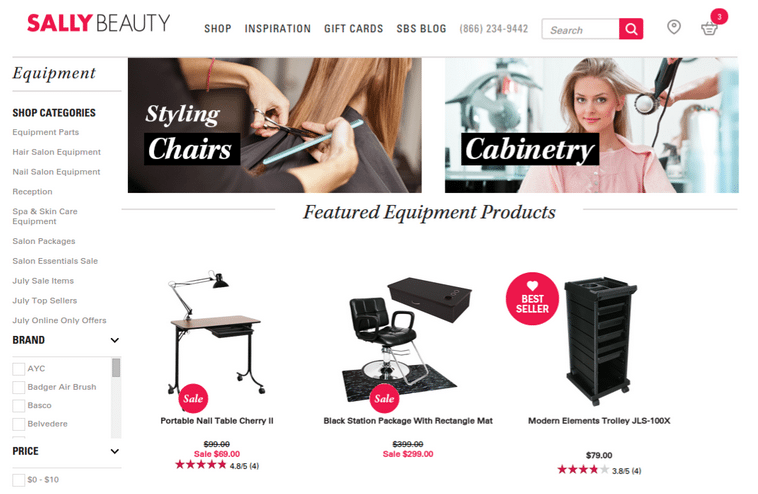 We recommend SallyBeauty as the best place to buy salon equipment because they have the best prices, free shipping, and helpful user reviews on most products. You have heard of SallyBeauty for their hair, makeup and other beauty products, although they also have a large section dedicated to salon equipment, including tables, chairs, dryers, desks, lighting, mirrors, vacuums, storage units and much more.
Selection was very similar across all the different websites (the exception being Minerva, which had more unique products). Instead, I looked more closely at pricing, shipping and user experience.
As you can see on the pricing chart below, SallyBeauty has some of the lowest prices. Though about the same as Cosmo Prof, some of the factory refurbished options (dryers in particular) can make SallyBeauty cheaper. Their free shipping on orders above $50 also drives down their overall costs. SalonEquipment.com is the only other service to have free shipping, but they seem to charge inflated prices as a result.
Their user ratings and reviews are also unique, and a big help for filtering out the dud products. Finally, I thought their Salon Packages section was a feature, as they pair together common items (such as a styling chair + rug + vanity) at discounted prices.
Best Place To Buy Upscale Equipment: Minerva Beauty
Used Items? No
Financing/Leasing Available? Yes
Free Shipping? No

If you're looking for equipment that's a bit more unique, then Minerva Beauty is the way to go. Their selection of chairs includes a variety of decor style, from modernist to vintage/retro, rustic and shabby chic. Just look at their whole section of reclaimed wood vanities, mirror pieces and retail displays – this shows their dedication to style.
While the pricing can certainly get high, there's still many options on the lower end. Many of their unique chairs are in the $200 to $300 range. They also have a section dedicated to salon packages, which, unlike SallyBeauty, are larger packages with 4 to 5 workstations. So you could potentially furnish your entire store with a sizable discount.
Some of the downsides to Minerva are the lack of user reviews on products and the fact that you have to pay for shipping. My sample order of 1 chair, 1 dryer, and 1 trolley came out to $173.92 for ground shipping.
Salon Equipment Stores Price Comparison
To get an idea of pricing between the 5 stores, we compared the cost of 3 items: a low-end styling chair, a mid-range dryer and a low-end storage trolley. Unfortunately, the stores do not all carry the same brands and models, but we were able to find comparable pieces.
Budget Styling Chair

$199.00

Megan Black

Styling Chair

$199.00

Megan Black

Styling Chair

$219.00

Vantage

Styling Chair

$241.53

Kaemark

004-C5-B

$189.95

Ycc H-1801

Mid-Range
Dryer

$119.00

Highland Tourmaline

FastDry (refurbished)

$199.00

Highland Tourmaline

FastDry

$229.00

Highland Hooded

Conditioning Dryer

$356.40

Hot Spot

Dryer

$219.00

Karemark

1990-G

Budget Trolley

$79.00

Modern Elements

JLS-100X

$79.00

Modern Elements

JLS-100X

$69.00

Minerva

Rollabout

$246.75

2005 Go

Go Kart

$85.00

Kayline

KD2

Shipping

Free>

Undisclosed

$173.92

Free

$125
Other Salon Equipment Websites
Used Items? Yes (only 1 refurbished item at the time I browsed)
Financing/Leasing Available? Yes
Free Shipping? No
A separate retailer owned by SallyBeauty, Cosmo Prof is also a salon product distributor with a special website for salon equipment. Their selection and pricing is very similar to SallyBeauty, including chairs, dryers, trolleys, carts, cabinetry, barber chairs, decorations and more. The key difference, however, is their lack of free shipping or user reviews (there are some on Cosmo Prof, but not as many).
When I went to check out my sample order on Cosmo Prof, the shipping amount was "To Be Determined." Even up until the final step when I was about to confirm the order, the shipping rate was still not displayed. Instead, it was explained that the shipping rates would be determined after the order was processed and shipped.
After a couple of calls with support, I wasn't able to get any answers about why rates aren't shown, or even a rough approximation of what to expect. This makes me uneasy about recommending them – especially considering SallyBeauty's free shipping options. If anyone has experience with Cosmo Prof, however, and can share some insight on this, please leave a comment at the bottom of the article.
Used Items? No
Financing/Leasing Available? Yes
Free Shipping? Yes
SalonEquipment.com prides itself in being the longest running salon equipment distributor online. They have one of the largest selections of products, so it can be worth searching here if you're not happy with the selection on the other websites. Products are conveniently sorted into "high end," "moderate," and "affordable" categories, although I found even the the affordable options were a lot more expensive than the competitors. On the one hand they do offer free shipping. But even with that taken into the equation, they still appear to be more expensive.
Used Items? Yes
Financing/Leasing Available? Yes
Free Shipping? No
WholesaleSalonEquipment.com also has a very large selection. For styling chairs alone, there are over 120 options. They also boast a sizable used equipment section, including chairs, lighting, decorations, sinks basins, tables and storage units. Some of it is pickup only (they're headquartered in Minnetonka, MN) although most of it can be shipped.
WholesaleSalonEquipment.com does not offer free shipping. On my sample order of one chair, one dryer, and one trolley, shipping was quoted at $125.
Other places to buy used equipment:
Overall, most of the salon equipment retailers did not dabble in used or refurbished equipment. WholesaleSalonEquipment.com is the exception, but even in their case, the selection was fairly small and some items were available for local pickup only.
If you want to look more into used gear, you can try eBay or Amazon – both of which have special sections for used salon equipment. Another option is to try shopping locally. I found a few retailers with physical shops. They list products online, but only allow customers to pick up from their store. Some examples are American Beauty Equipment in Illinois and Salon Equipment Warehouse in Texas, although a local Google search should yield more results.