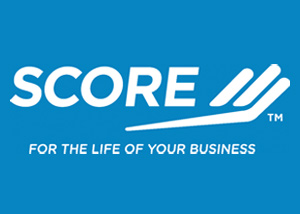 Fit Small Business recently had a chance to interview Ken Yancey, the CEO of SCORE.  SCORE is primarily known as a non-profit organization that provides free business mentoring, to entrepreneurs, small business owners, and those interested in starting a small business.  Mentoring is always provided by an experienced business person who volunteers their time to help others achieve the dream of starting and running a successful business.
The following questions and answers are based on my notes, and do not represent Ken's exact words. However, I tried to capture the spirit of the conversation.
Click Here to get our FREE Google advertising guide and discover the 6 steps you can use to show up #1 in Google search
What is the relationship between SCORE and the SBA?
SCORE receives a non-competitive grant from the SBA of around $7 million per year. In addition to receiving money from the SBA, The SCORE Foundation raises money from private donors, and local chapters raise money for their activities. The annual budget for SCORE is about $13.5 million.
How does SCORE differ from other organizations supported by the SBA, such as Small Business Development Centers and Women's Business Centers?
There is a close cooperation between SCORE, SBDCs, and Women's Business Centers. Depending on the needs of the person requesting assistance, and the resources of the local SCORE chapter, SCORE may refer the client to an SBDC or Women's Business Center. Conversely, we receive referrals from them as well.
What separates SCORE from those organizations is who is delivering the mentoring and advice. With SCORE, we connect the small business owner with a mentor that has business experience. The small business owner will receive mentoring, coaching and education from a business person with experience in a field relevant to the business owner's needs. Also, I should mention that SCORE is very open to working with start-ups or those exploring becoming an entrepreneur.
Who typically uses the services of SCORE?
We serve over 300,000 people per year. Generally, our clients fall into three categories of equal size. About ⅓ of our clients are people who want to start a business, and are looking for guidance and direction. We can help them analyze their experience and strengths and suggest potential avenues that they might pursue. The next group is very early stage companies that have been in business less than a year. The last group are business owners that have less than half a million dollars in revenues, and typically have been in business less than 5 years.
How do you match the business owner with a mentor?
The matching process is driven by what the client wants, their industry, and the particular issues they are facing, etc..  If the business owner is a restaurant owner that wants to increase sales, we might match that person with a food industry professional that has marketing and sales experience. We want to find a match that works for the business owner. If the original match doesn't work, we will try to find a better one. If it's a good match, but the mentor doesn't have the right experience to help the small business owner, the mentor's job is to connect the business owner with a SCORE mentor that does. With the help of technology, we're able to draw on the expertise of not only the mentors available at a particular chapter location but also our network of email mentors across the country. And business owners are welcome to (and often do) work with multiple mentors, at the same time or over time as their business needs evolve.
Does the business owner always know the true nature of the obstacles he or she is facing?
Often business owners come in for counseling and talk about the symptoms of the problem versus the underlying cause. For example, a business owner might come in complaining about not having enough working capital, and attribute the problem to not enough sales. While that might be the cause, other causes could be that the business has too much tied up in unproductive inventory, or a poor accounts receivable collection process. The mentor helps the business owner figure out the underlying issues.
What type of confidentiality do the business owners who work with SCORE enjoy?
The information provided by business owners will not be shared outside of the confines of the SCORE organization.
What process does a person have to go through to be become a mentor?
We have over 11,000 mentors located across the US. The recruitment of mentors is done by each local chapter. Once the head of recruitment for a chapter and the potential mentor decide he or she is a good fit to provide mentoring based on experience and personality, there is a training process in SCORE's methodology of counseling and certification. SCORE's training methodology is captured by the acronym "SLATE", which stands for:
S – Stop and Suspend Judgment
L  – Learn and Listen
A – Assess and Analyze
T – Test Ideas and Teach
E – Expectation Setting & Encourage the Dream
We train our mentors in how to counsel and coach. We expect them to draw upon their business background to problem solve.
As many mentors are retired business people, are they able to provide advice that is relevant to today's environment?
SCORE's mentors tend to be lifelong learners and tend to be very aware of changes in technology that are shaping the workplace. Additionally, we provide them with educational webinars and materials to help them stay on top of important developments.
What is the ideal mentor / business owner relationship?
We encourage the mentor and business owner to spend at least 5 hours per year together. Ideally, the relationship should continue over the years, enabling the mentor and business owner to build trust, and for the mentor to develop a good understanding of the owner's business. We have had relationships that have lasted over 20 years. Since mentoring is completely free, there really is no downside to having an impartial expert who knows your business and your goals, working on your side.
For more information or to connect with a SCORE mentor visit  www.SCORE.org.
W. Kenneth Yancey, Jr., CEO
W. Kenneth Yancey, Jr. currently serves as CEO of the SCORE Association, a position he has held since 1993. During his tenure with SCORE, Mr. Yancey has been responsible for developing SCORE into a one of the most efficient, effective job creation and business formation engines in the nation. SCORE has served more than 10 million existing and aspiring small business owners since inception and helps to create more than 58,000 new businesses and over 71,000 new jobs annually.  Mr. Yancey empowers and inspires 320 chapters SCORE Chapters and 11,000 volunteer mentors across the nation.  Prior to joining SCORE, Yancey served as Executive Director for the National Business Association.
Recognized as one of the nation's leading advocates for small business, Mr. Yancey represents SCORE nationally before the media, industry leaders and in Congressional testimony.  He serves on the Small Business Advisory Council of the U.S. Chamber of Commerce and, alongside President Obama, First Lady Michele Obama and Dr. Jill Biden; he was involved in the launch of the national Joining Forces Initiative in the summer of 2011.
Mr. Yancey speaks across the country on the topics of entrepreneurship, nonprofit management, small business trends and volunteer mentoring, appearing on ABC, NBC, CBS, MSNBC, CNN, CNBC, Fox News and PBS.  He is also a frequent guest on several radio shows including Small Business Advocate, Build Your Business, Small Business Trends and Biz Talk.  He serves as a member of the HuffPost Small Business Board of Directors and has been honored with numerous awards including 2011 Small Business Influencer Champion, the USA Freedom Corp Award of Excellence, the American Society of Association Executives Summit Award and the Lifetime Achievement Award from the Future of Entrepreneurship Education Summit.
A Texas native, Mr. Yancey received a bachelor's degree in business administration and finance from Texas A&M University.  He now resides in Northern Virginia with his wife of 18 years and two sons and is an active outdoorsman, leader in the Boy Scouts of America, and little league football coach.
Click Here to get our FREE Google advertising guide and discover the 6 steps you can use to show up #1 in Google search