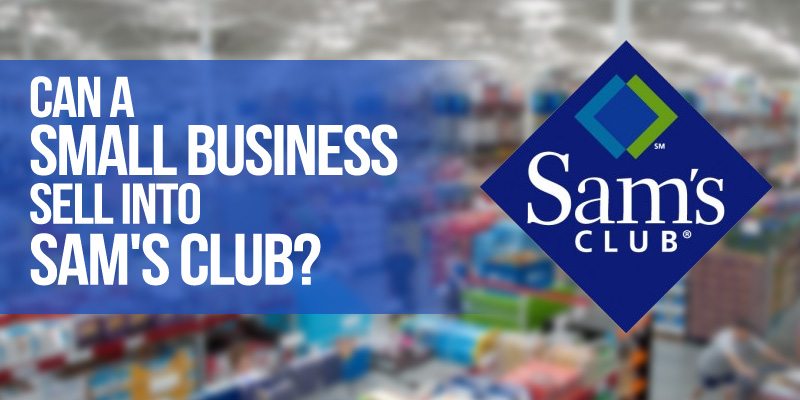 Small businesses are both a major customer segment and supplier segment for Sam's Club. In this article, we will explore how to sell to Sam's Club (with advice that is applicable to selling into other retailers) and how being a woman owned small business can be a major advantage in closing a deal with Sam's Club or Walmart.
Before we dive into the details on this topic, we also suggest you check out Insightly, our recommended small business CRM. Visit Insightly to learn more.
How To Sell Into Sam's Club
Sam's Club, part of the Walmart organization, provides members which pay an annual fee with very big savings on bulk purchases. Unless you are a member, you cannot shop. Sam's Club encourages small businesses to sign-up for membership by offering "business members" perks like extended store hours. While Sam's Club doesn't release the exact number of business memberships, they do say that the majority of business members are companies with less than five employees, and that this group is a major component of their overall customer base. Some businesses do a great job of selling to small businesses, but they don't do as well of a job buying from and supporting small businesses. How does Sam's Club do it?
To answer these questions, I interviewed Sam's Club VP, Mikaela Wardlaw Lemmon.  She discussed three different ways in which Sam's Club and Walmart help small businesses sell more merchandise through their stores: a commitment to buying from small businesses, initiatives to market products from small businesses,  and education to make small businesses more effective in their approach to sell the store.  Sourcing – Walmart and Sam's Club just completed a five year initiative to source $20 billion of merchandise from small businesses. Marketing – Walmart has a special program which highlights products made by women owned small businesses. Education – Sam's Club and Walmart  provide educational materials on how to make better (more successful) presentations to buyers.
Mikaela pointed me to the following video which features the Chief Merchandising Officer of Sam's Club, Charles Redfield,  talking about how to sell to Sam's Club and Walmart. The video has some very helpful advice for your buyer presentation. Here is a summary of some of the key points.
Lead with your product – One common mistake made by presenters is they use to much of their presentation (which is typically limited to between 30 minutes and 1 hour) on their company history or manufacturing capabilities.  The first priority is convincing buyers that you have a great product that will be a hit with their customers. To do this, it's very important to provide samples of your product for the buyers to see during the presentation.
Do the market research – Sam's Club customers come into stores with certain expectations, which are different than a Walmart customer. A Sam's Club customer is going to expect to be able to buy a large quantity / size of a product at an amazing price. If you're trying to sell into Sam's Club, you are going to need to have a product offering which fits the expectations of those buyers.  Before you have your meeting with the buyer, you should visit stores to see what already exists in your product category and what is the retail price point. In the meeting with the buyer, be ready to explain how your offering is better or different than what they are currently selling.
Know your cost structure – Sam's Club and Walmart move a tremendous amount of merchandise.  A single order might be more product than your company typically sells in many months. By producing in larger quantities, your business should be able to substantially lower your production costs. Buyers will expect you to know how larger production runs will impact your costs and be able to price your product accordingly.
(Business owner Tabitha Birdsong of Memphis, TN, participated in Walmart's 2014 "Open Call" for U.S. Suppliers. Her confections are featured in Sam's Club Showcase Events and Memphis-area Walmart stores. View this video to get advice from Tabitha on growing a business)
It's not only about costs – It's About Sales
Does knowing that a product was produced by a Women Owned Business make a difference in a customer's decision to buy it?  Walmart and Sam's Club believe it does. In a survey of Walmart customers, 90% of customers said knowing that product was made by a women owned business would influence their decision to buy it.
With this in mind, the company has invested in creating a "badge" which can be displayed on products which are from woman owned business.  Only companies which go through a certification process with either the WBENC (US companies) or WeConnect International (non-US companies) can use the badge on their products. To be certified, a business needs to show that the company is 51% owned by women entrepreneurs.
If you are a woman owned business and want to sell into Walmart or Sam's Club, having this certification can be a major differentiator between you and your competitors.
Conclusion
Sam's Club and Walmart want to help small businesses and buy billions of dollars per year from small businesses. However, the small businesses have to be able to provide them products their customers want at great price points.
Want to manage 1000's of leads, save time, and get organized? Click here to get our FREE CRM checklist and find out how.