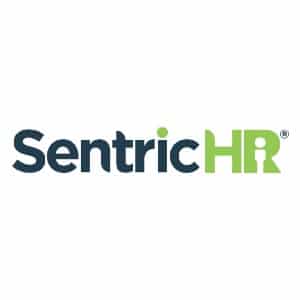 What We Recommend SentricHR for
Since SentricHR provides every HR feature businesses require in one integrated solution, it's great for small companies looking for their first complete solution. It also works well for medium-sized businesses aiming to move from another all-in-one solution. SentricHR includes numerous HR tools, such as payroll, onboarding, tax filing, compliance support, and time tracking.
In short, we recommend SentricHR for:
Small companies wanting to transition from payroll software to an all-in-one, integrated HR payroll solution: It provides nearly every tool that small and growing businesses require for everything from recruiting to offboarding, including HRIS, time tracking, payroll processing, benefits support, tax filing, and compliance features.
Small operations with hourly workers: This HR software provides advanced integrated time tracking tools that can track hourly employees' time worked, create schedules, and manage approvals, PTO, and sick and vacation time. For added accuracy and security, biometric, and geofencing features are available.
Businesses in high-risk industries (like construction) needing comprehensive compliance support: SentricHR helps HR teams manage compliance issues, including state and federal employment laws. It also informs managers of new legal employment requirements as they emerge.
*Please note, SentricHR was formally known as Sentric Workforce. It doesn't rank in any of our buyer's guides—so it's not the best—but many small business owners would rate it as good for what they need.
When SentricHR Would Not Be a Good Fit
Large businesses that run payroll weekly: SentricHR charges per check. So, if a company has 1,000 employees who are paid weekly, the cost just for running payroll would be $130,000 per year plus another $12,000 for essential HR services. Some payroll services do not charge per check or charge a lower rate. Check out our guide to the best HRIS—some of them serve both small and large companies.
Mom-and-pop shops that just need payroll: Businesses with a handful of employees are typically budget-conscious, and SentricHR's pricing structure doesn't make it the cheapest. It also comes with more robust tools than a small business with a few employees and basic operations would need. For more suitable options, check out our guide on free payroll software.
Businesses that need a lot of outside software integrations: SentricHR is intended to be a complete solution, which is helpful to small businesses. However, if you're already utilizing numerous business systems that need to integrate with SentricHR, you may need to request custom integrations, which can be expensive and sometimes unreliable. For options that may be more suitable, check out our buyer's guide on HR software.
Just looking for payroll services? Read our guide to the best payroll services for small businesses to find a solution that's right for you.
SentricHR Overview
PROS

CONS

Integrated HR tools
Per-check fees
Top-notch customer service
Complex implementation and set up
Onboarding and employee training
Reporting issues
Compliance and tax support
No dedicated account manager
SentricHR Pricing and Features
SentricHR pricing is simple, as it does not offer multiple plans. Pricing starts at $2 per employee, per month and $2.50 per payroll check. For example, if you have 50 employees paid twice per month, the service would start at $250 per month. Additional training or advanced features may add to your monthly cost. To confirm your final price, you need to contact SentricHR for a customized quote.
| Features | How it Works |
| --- | --- |
| Pricing | $2 per employee, per month; $2.50 per check |
| Customer Service | Setup, training, implementation, email, one-on-one, online help |
Other Features
Overall, Sentric HR offers the basic HR features employers need to help manage employee data, time off requests, benefits administration, and even hiring. More specifically, it offers:
HR information system (HRIS)
Employee-manager self-service
Employee profiles and org charts
PTO management
Scheduling
Time tracking
Payroll and payroll tax filing
Onboarding
Compliance
Benefits
Recruiting and applicant tracking
Online storage
With SentricHR, you can automate HR, payroll and taxes, onboarding, security, benefits, time tracking, and reporting to greatly improve your HR and accounting teams' productivity. Additionally, managers' day-to-day tasks—such as tracking time and PTO—are automated, so leaders can spend time on actual project work rather than HR tasks.
Let's dive a little deeper into some of SentricHr's standout features.
HRIS
SentricHR is a complete HRIS solution. It is intended to help companies satisfy a long list of HR needs rather than just one part of HR, such as performance management. It does it all, from onboarding to offboarding. It manages employee profiles, directories, calendars, hiring and recruiting, document tracking, company and individual goals, and benefits.
Maintaining compliance is a huge challenge for HR teams. SentricHR provides numerous tools to help companies comply with local and federal employment requirements. It helps HR teams with state sick time requirements, FMLA, ACA, OSHA requirements, EEO, state and federal taxes, and more. It will also notify appropriate contacts about the latest compliance changes.
Recruiting and Onboarding
Automating recruiting and onboarding saves everyone time and effort. Most HR leaders will say they would rather not spend their time in routine recruiting processes, such as posting to job boards, creating and approving job requisitions, designing applications, and tracking offers.
SentricHR helps with these recruiting tasks:
Posting to job boards
Reviewing and evaluating applications
Tracking job offers and new hires
Managing requisitions
Building job applications
Onboarding support available includes:
Platform training
Job and role training
Document management (employment agreements, tax forms, legal agreements, benefits enrollment)
It supports compliant e-signatures and can even provide background checks. To help save time, it offers automatic IT notifications, onboarding templates, and workflow templates.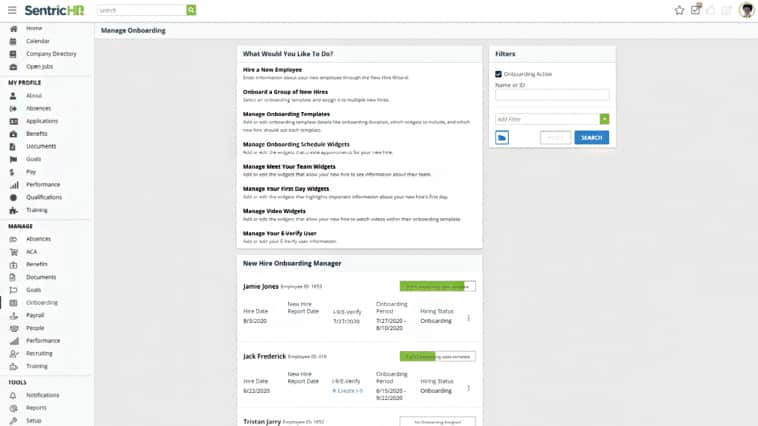 Time Tracking and PTO
SentricHR provides advanced time-tracking features to ensure payroll figures are accurate and compliance expectations satisfied. Employees can punch in and request time off using any device, and SentricHR supports automated approvals. Managers can stay informed by reviewing missed punches, late and early clock-ins, no-shows, and overtime. They can even compare scheduled vs actual hours worked in a side-by-side view report. Biometric and geofencing time clock technologies are available if needed.
Tracking PTO is a tedious task that is well suited to be automated. Using time clock features, absence policies, and scheduling tools, SentricHR can help track employee's PTO, sick time, and vacation time. It also includes tools for automated or manual time-off approvals.
Payroll and Tax Filing
SentricHR's payroll features take the stress out of processing payroll. It can manage all payroll processes, including making payroll payments, filing taxes, and processing W-2s. It also easily manages changes that may affect payroll, such as tracking and updating W-4s, life changes, vacations, benefits enrollment, and direct deposit changes. While most businesses pay employees by direct deposit, this service can also print and distribute paychecks or pay using prepaid cards. Payroll payments are $2.50 per payroll payment. You can print checks yourself, if you purchase Sentric check stock.
Unlike other HR services, SentricHR does not outsource its payment processing services. Certified tax experts manage payroll taxes and required tax forms. A dedicated implementation lead can help you connect your SentricHR data to your accounting software. You can request custom integrations if needed.
Data Analytics and Reporting
SentricHR provides ad hoc reporting tools, though many users report that it doesn't work efficiently all the time if your needs are highly customized reporting. You may run into some challenges adding fields that aren't currently existing. But on the plus side, it offers hundreds of preconfigured reporting options, which include those that analyze employee absences (such as PTO, vacation time, and sick leave). SentricHR can report benefit enrollment changes, turnover and retention trends, employee performance, payroll, and tax reports. All reports can be shared, with permissions, via the software or as a CSV or Excel file.
Security
Employee data has to be carefully controlled and monitored. SentricHR provides comprehensive security features to keep human resources and company information private. Data is stored using secure data centers, and it employs a 24/7 year-round cybersecurity team.
All data, which is encrypted at rest and during transit, is backed up every 30 minutes. Data is also protected using intrusion prevention and detection systems, firewall, event management, malware detection, penetration testing, and patch management. For additional protection, IP restrictions and advanced password features are available.
SentricHR Ease of Use
Professional implementation and training services available
Simple to use employee portal
One-on-one connect sessions available
Payroll specialist available for implementation and support
Automated onboarding and document management features
While SentricHR is simple to use and navigate, you'll benefit from opting to take advantage of its implementation and setup services to help customize the HR system to suit your specific requirements. It can be time-consuming and require a bit of extra manpower to implement correctly, but you would have fewer problems later. If you need to change your service or add additional implementations later, SentricHR will help you make those changes as needed.
To help HR administrators and employees adopt the software, SentricHR provides customized training online, one-on-one, and live training. Data security and privacy training are also provided to help companies keep their private employee information secure. New employees are provided with hands-free onboarding and online document management.
SentricHR provides numerous shortcuts to help HR admins, such as:
Workflow templates
Automated enrollment support
Performance review templates
Onboarding templates
Templates and automated features free up admin, managers, and employees to concentrate on their work rather than fighting a subpar HR system.
In terms of integrations, every part of SentricHR integrates with itself. For example, time clock and payroll tools integrate with its HR tools. SentricHR does not provide a list of third-party integrations, but support services will help you with custom integrations if needed.
Top SentricHR Alternatives
| | | |
| --- | --- | --- |
| Best for: Small businesses | Best for: Businesses needing integrations | Best for: New startups |
| Monthly fees from: $99 | Monthly fees from: Custom pricing | Monthly fees from: Free |
If you're not sure SentricHR is right for your business, see how it compares with our top HR software for small businesses.
What Users Think About SentricHR
Small to medium business HR administrators appreciate that SentricHR is an all-in-one HR solution that meets many of their HR, time tracking, and payroll requirements. They report that implementation and setup support was critical for them to set up and customize the software to suit their unique needs. The most-reported complaint concerned reports. Some users found the reporting tools to be clunky, and others found ad hoc or customized reports challenging to configure.
At the time of publication, SentricHR reviews earned the following scores on popular user review sites:
When reading through user reviews, we noticed these trends:
| Users Like | Users Don't Like |
| --- | --- |
| HRIS fully-integrated platform | Difficult to set up without support |
| New hire and onboarding features | Challenging to run reports |
| Employee self-service tools | No dedicated support beyond implementation |
| Quality customer service | Complex customization process |
Bottom Line
SentricHR is a comprehensive HR software that small- or medium-sized businesses will appreciate if they have been working with dispersed systems that do not communicate well with each other. This all-in-one HR solution fully integrates all of its HR functions, including HRIS, payroll processing, time tracking, and compliance. Small operations can start using the HR and payroll services for a low monthly rate and easily add employees as needed.
Sign up for a free demo.