Search Engine Optimization (SEO) for bloggers is all about making sure your site is visible in search engines. Simply put, the higher you rank on Google, the more traffic you can generate for your blog. Blog SEO involves several things, but the fundamentals you need to focus on—the areas that will have the most impact on your success—are keyword research, on-page SEO, and off-page SEO.
What Is SEO?
Your blog's success relies heavily on people actually finding your blog posts. The goal of SEO is to make sure your posts appear on search engines like Google.
When someone types a word or phrase in the Google search bar, Google's goal is to deliver content that is the most relevant and credible for that user. The more Google feels your blog content is what the user is looking for, the better your chances for being ranked higher on Google's Search Engine Results Pages (SERPs).
Every blogger who is serious about making money blogging needs to have a firm grasp on the essentials of SEO.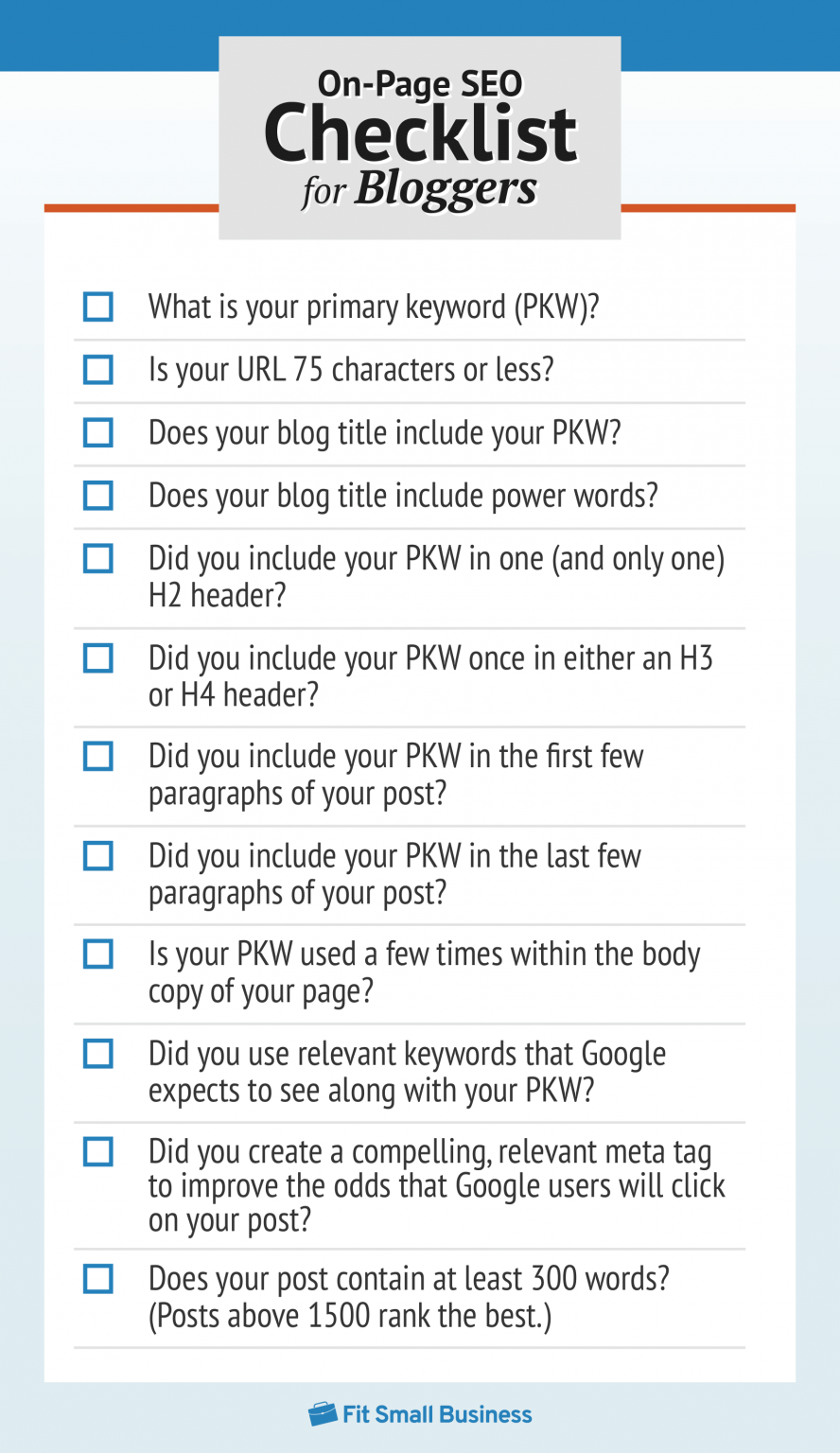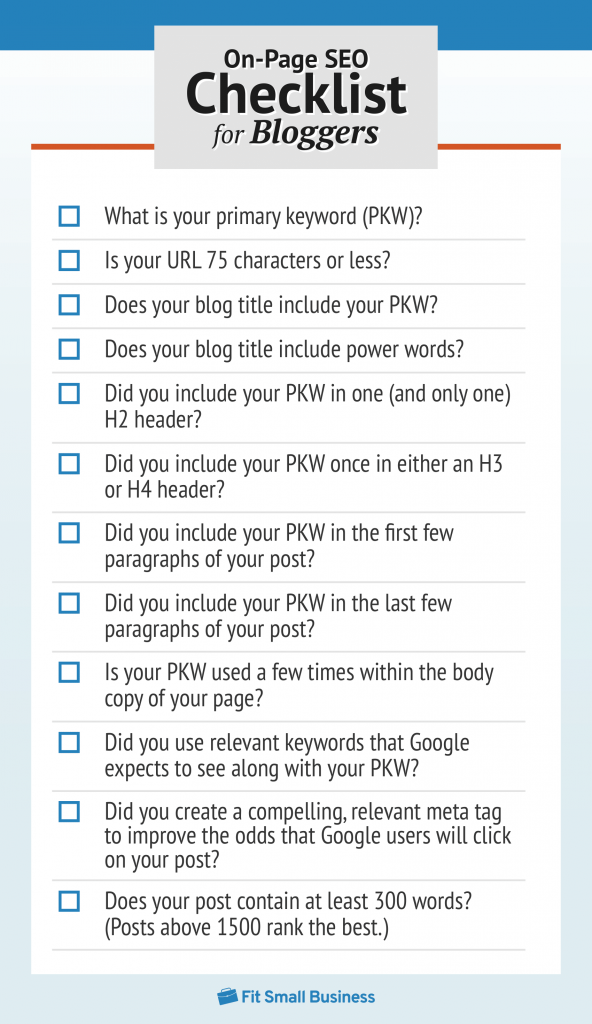 Download Your Free On-Page SEO Checklist Now
High Rankings Translates to More Blog Traffic
The point of SEO is to help you rank higher on Google. But, do higher rankings really matter that much? Yes, they do.
I've been working as a marketing and business growth consultant with bloggers for nearly a decade now, and I can assure you that if you raise your rankings on Google, your blog traffic can skyrocket. It happened for my blog and I've seen it happen time and time again for others. But, I don't want you to just take my word for it—let's review the hard facts.
The search result in Google that lands the No. 1 ranking gets a 31.73% click-through rate (CTR) on average, the second gets a 24.71% CTR, and the third gets a 18.66%. So, the top three positions get an average of 75.1% of all clicks. All other positions combined share the remaining 25%.
By the way, with a commanding share of 88.3% of total search engine traffic in the U.S., Google is the king of search engines. That's why you want to optimize your blog for Google search. When Google loves your blog and ranks your pages higher, your blog traffic can soar.
How Search Engines Work (In Layman's Terms)
Search engines crawl billions and billions of webpages every day using web crawlers, also called spiders or search engine bots, or in Google's case, Googlebots. The crawlers analyze the data it finds and then indexes the content, which means it can appear in Google's search results. Sites are crawled regularly so that any updates are indexed and can appear in search too.
To guarantee your blog's pages are indexable, make sure to create a sitemap for your blog. If you ever experience sudden drops in traffic, double-check that your sitemap is still properly installed and that all posts are indexable.
How Web Crawlers Work
Search engine algorithms come into play when a searcher enters a keyword in a search bar. The algorithm combs through all the available data to find the best answer to the search request.
Google keeps its exact algorithms a secret, though it offers a good amount of advice for how its search algorithms work and what you need to do on your site to improve your site's visibility in search. Relevance, content quality, site credibility, context—such as searcher's location or past search history—and website usability are all key factors Google considers when assigning ranking values.
It's important to note that Google's algorithms are constantly changing and these changes can impact your blog's rankings. In addition, from time to time, Google will announce major algorithm updates that could radically alter your site's rankings. You'll want to pay close attention to such update announcements.
Quality, Targeted Content Is Key to Strong SEO
You simply can't effectively optimize a site that's packed with bad content. To rank high in search engines, you must develop content that addresses reader intent—in other words, give visitors what they came to your site hoping to see.
For example:
Are your blog visitors looking for answers to a question? Then provide the best possible answer to that question.
Are visitors hoping to solve a problem? Then offer the best possible solution to that problem.
Are visitors trying to buy something? Make sure you have what they want to buy and make it easy for them to buy it.
One of the factors that Google looks at when deciding how to rank your blog is whether your blog visitors are satisfied with their visit, or whether they quickly move on to another site looking for a better answer to their search query. When searchers quickly move on to another site, that's called pogo sticking, and it's a sure sign you are not delivering what your blog visitors want.
"The best thing you can do when it comes to SEO is to provide value for your website visitors through your content … Make sure that whatever content you are writing actually answers the visitor's questions—and any questions that may stem off their original question … If you provide true value and fully answer your readers' questions on a topic, you'll benefit when it comes to ranking in the SERPs.

—Chelsea Fullerton, Marketing Director, Law Office of Kenneth Berger
Google Rewards Expert, Authoritative & Trustworthy Content
One of the key factors that Google looks at to gauge your site quality—and hence decide how high your blog posts rank—is what Google calls EAT, which is short for expertise, authoritativeness, and trustworthiness.
Here are a few specific steps you can take to boost EAT on your blog:
Include author bios: Make sure every post contains author information that establishes his or her expertise and authority.
Increase backlinks: Increase the number of high domain authority (DA) sites linking to your blog (these are called backlinks). When quality sites link to you, it builds your credibility in Google's eyes.
Monitor comments: Review user-generated content such as comments and eliminate any links to questionable sites or people.
Create an authoritative About Me page: Establish your blog's credibility by adding testimonials, reviews, certifications, and other authority-building content to your About Me page.
Cut weak posts: Cut low-quality content on your blog—most blogs have some of this.
Invest in personal branding: When you build a personal brand, you enhance your online reputation on multiple sites, not just your own blog.
Write for Humans, Not Search Engines: When writing for SEO, you need to write for humans—not for search engines. Google can tell the difference and will not rank your posts if you're using keywords in ways that sound unnatural.
Google wants to see evidence of EAT at the blog author level, within the content on a page, and throughout your blog. Building your site's EAT is a strategic SEO move that will yield big returns over time.
SEO & Keyword Research: What You Really Need to Know
Not that long ago, if you added enough of the right keywords within individual blog posts, then your odds of getting high rankings in Google were good. At one point, you could even engage in keyword stuffing—the act of oversaturating your post with keywords—to rank higher. You can't do that today.
If Google finds that you're using keywords inappropriately hoping to "game" the system, you'll be penalized with much lower search rankings. You still need to use keywords in your blog content, you just need to make sure that your primary focus is on creating quality content that meets your readers' needs.
"Don't overstuff your content with keywords! As a beginner, this is so easy to do. You are automatically prone to think that the more you can get your keyword into the content, the better it will perform. In fact, keyword stuffing has the opposite effect. Search engines punish keyword stuffing and downgrade pages that do it. Also, SEO writing doesn't have to be bad writing. Make sure your work is readable to a human, not just a computer."

—Keri Lindenmuth, Marketing Manager, The Kyle David Group, LLC
How Keyword Research Helps You Rank Higher on Google
Keyword research is a key step in optimizing your blog for search. The point of conducting keyword research is to find search terms your ideal audience is using when they perform searches on Google. This knowledge helps you decide what types of content would be most useful to your blog visitors. When you write authoritative, quality blog posts that are better than other content available on the web, you increase your odds of boosting your Google rankings.
How to Find On-Target Keywords for Your Blog
There are several tools that can help you find on-target keywords for your audience. You may want to begin your keyword search using Google's free Keyword Planner Tool. You'll have to open a free Google Ads account to access the tool.
To start your keyword research, simply type in a keyword or phrase that you already know your ideal audience would be interested in. For example, if you're a food blogger that focuses on healthy eating, you might type in the phrase "healthy recipes" to generate related keyword suggestions.
Once you submit your search request, Google gives you search traffic and competition statistics for related keywords (see example below). You can broaden your search to include additional terms Google suggests. You can also expand or contract your search parameters by adjusting the geographic scope of the search.
Google's Keyword Planner Tool is just one of many research tools that can help you identify appropriate content to feature on your blog. I've been blogging for close to a decade now—as well as working as an online business growth consultant—and I prefer using ahrefs as my primary keyword research tool. In my opinion, the level of detail that ahrefs provides blows Google's Keyword Planner Tool out of the water.
The example above shows results on ahrefs for the keyword "healthy recipes." The U.S. search volume for that term is 54,000 every month—which is a substantial amount of traffic. Unfortunately, the term has a keyword difficulty rating of 60—which signifies a blogger would have a hard time ranking for that term on Google.
When I click on keywords "having the same terms," I'm presented with a detailed chart that offers related keywords (see below). I can now peruse this list to find ideal keywords for my blog.
An ideal keyword is one that is relevant to your audience and has relatively low competition and high search volumes. In my alternative keyword list for "healthy recipes," you can see that "healthy ground beef recipes" and "healthy shrimp recipes" have relatively low keyword difficulty (KD) ratings yet still have considerable search traffic. That makes these two keywords prime targets for new content on your healthy eating blog.
Long-Tail Keywords vs Short Keywords
In the example above, you saw that the two-word term "healthy eating" had a lot of competition, yet the four-word term "healthy ground beef recipes" had less. A keyword that has three or more words in it is considered a long-tail keyword.
There are two reasons to focus your keyword research and blog content on long-tail keywords. The first is that you'll find there is less competition on Google for longer search strings. The second is that the reader has a clearer expectation of what they'll see on your blog.
Continuing with our example, a person that typed in "healthy recipes" isn't all that choosy about what they'll find in the search results. But, a person who types in "healthy ground beef recipes" is a lot clearer about what they want, so you have a much better chance of satisfying their needs with your blog content.
"Long-tail keywords are essential for any site conversion, and especially so for bloggers. These keywords consist of several words and they narrow the search, but they give your blog more chances to be found on SERPs. My favorite tool for finding long-tail keywords is AnswerThePublic.com, which generates keywords in the form of questions, helping you to identify the long-tail keywords which you can use in your blog text.

The important thing to keep in mind is that you should fit the keywords seamlessly into your blog post without making it sound artificial or boring."

—Jovan Milenkovic, Co-Founder, KommandoTech
On-Page vs Off-Page SEO
Writing great content to create an amazing user experience is the main key to ranking higher on Google. Learning how to identify and use relevant keywords that have high volume and low competition is another important aspect of SEO. Now it's time to look at the specific SEO tactics that will help your blog posts rank even higher on Google.
How to Conduct On-Page SEO for Your Blog
On-page SEO refers to all the steps you take on each individual page and post on your blog to ensure it is optimized for search engines. This is your chance to make sure Google knows what the content is all about and convince Google you're offering the best solutions possible. It's where you prove your content is worthy of ranking high in the SERPS.
Add an SEO Plug-In to Your Site
Every time you create a new page or post on your blog, you should optimize it for search. If you have a WordPress blog, you can install an SEO plug-in like Yoast SEO or RankMath to guide you through essentials steps of on-page SEO.
If you decide to use an SEO plug-in, it's important to understand that the application on its own does nothing to improve your SEO or boost your blog's Google rankings. Plug-ins are simply useful tools you use that guide you through important SEO steps.
To optimize your blog for search, you also have to choose appropriate keywords as well as execute a myriad off-site SEO tactics (which we'll discuss shortly). Many bloggers mistakenly believe that when Yoast gives them green lights—Yoast's signal that blog content is optimized—they're finished with SEO. That's simply not true.
For example, if you're a new blog with relatively low domain authority (DA), and you've entered "blog" as the keyword you're targeting, you may very well get all green lights from Yoast. While theoretically you may have optimized your post for the keyword "blog," you're unlikely to rank high for that highly competitive, generic term. That's why doing keyword research upfront is so important; when you check the keyword "blog" on ahrefs, you quickly see that "blog" has a keyword difficulty rating of 89, i.e., super hard.
Article Length & Its Impact on Your Google Rankings
In terms of blog length, there is no one-size-fits-all solution; as long as your post is 300 words or more, you could rank on Google. The odds just aren't in your favor with shorter posts.
Google favors content that offers the best answers to its customers search queries. More times than not that means that longer content is likely to rank higher on Google than short content. There are exceptions though. Google will not reward you for offering a 5,000 word answer to a question that can be answered in far fewer words. Regardless of length, your content must always be relevant to rank high in the SERPs.
Specific Steps to Build Your On-Page SEO
There are certain steps you want to take with every page and post you create. These steps help you optimize your site for Google search.
Here are specific actions you can take to build your on-page SEO:
Always include your primary keyword (PKW) in your URL.
Keep URL length to 75 characters or less.
Include your PKW in your title—preferably at the front of the title.
Make sure your title includes power words.
Include your PKW in one H2 header and, if appropriate, again in an H3 or H4 header.
Use a creative description of images that includes your PKW in the image alt-tag.
Include your PKW in the first or second paragraph, if it fits naturally.
Add keywords to your post that are related to your PKW.
Create a compelling, relevant meta tag for your post that includes your PKW.
Include links to other pages on your blog—these are called internal links.
Add external links to authoritative sites in your post. Tip: Linking to .gov and .edu domains can boost your post's credibility.
Before you publish your page, review your page for EAT.
Use categories on your site and assign each page to a primary relevant category.
How to Conduct Off-Page SEO for Your Blog
Off-page SEO includes all the activities you perform off-page to increase your website visibility in search engines. While many bloggers do a stellar job with on-page SEO, not nearly as many take advantage of the traffic-building benefits of off-page SEO. This gives you an advantage, especially if your off-page SEO game is strong.
Make Certain Your Blog Is Both Secure & Mobile-Friendly
Your site needs a valid Secure Sockets Layer (SSL Certificate). This provides proof to Google that your website is secure. Non-secure sites have an extremely difficult time ranking on Google. In fact, Google adds a "Not Secure" warning to any site that doesn't have an active SSL certificate.
Your blog also needs to be built with a responsive design so that it's friendly on all types of devices, including mobile. If you've built your blog in the last few years, you've probably already met this off-page SEO requirement. If you're not sure, it's best to double-check by using Google's free mobile-friendly checker tool.
Increase Your Blog Traffic By Getting More High-Quality Backlinks
When another website links to content on your site, that link is called a backlink. Backlinks from highly credible sites with high DAs can increase your blog's credibility. As your overall site's credibility rises, so does your ability to rank higher in Google search results, which in turn drives more traffic to your blog.
Not all backlinks are quality backlinks. Toxic backlinks come from questionable sources of dubious character. You can use a tool like ahrefs to identify the quality of backlinks coming to your site.
Perform Blog Outreach to Build High-Quality Backlinks
Mastering the art of blog outreach is one of the best ways to increase the number of quality backlinks you gain for your website. Basically, outreach is when you reach out to influencers in your niche and other experts and ask them to link back to your site. The process requires finesse and persistence.
There are several tools that can help make your blog outreach efforts a little easier and a lot more effective. The two I recommend are NinjaOutreach and BuzzStream. These tools help you find media contacts and social media influencers that you can contact directly to help you get more visibility for your blog. Both offer free trials, so the best way to see which works best for you is to take them for a spin yourself.
Another way to get more backlinks for your blog is to actively promote your blog. As more people see your content in social channels, or see you on others' blogs or podcasts, you'll experience more blog traffic. When more people come to your site, more people will love and share your posts—and you'll score the backlinks you need.
By the way, have you seen advertisements or emails offering to sell you backlinks? Under most circumstances, buying backlinks is seen as a big no-no. If Google finds out you did that, your rankings will be negatively impacted.
Google also doesn't allow quid-pro-quo arrangements for backlinks either. If someone offers to give you a backlink if you'll give them one, walk away. It won't help and it could do a lot of damage to your reputation with Google.
How Referring Domains Impact SEO
The number of backlinks is not the only factor that impacts SEO success. The total number of referring domains can also impact how you rank on Google. It's better to have 100 high quality domains linking to you once than one domain linking to you 100 times.
Does Social Media Impact SEO?
The link between social media and SEO isn't crystal-clear. In fact, the subject is a favorite among SEO experts who enjoy speculating about social media's impact on SEO.
According to Google, social media is not a direct factor it uses to determine its rankings. While this may be true, SEO experts have tested a correlation between social media, and SEO and the findings have been intriguing.
Social media management giant Hootsuite ran an experiment to see if social media usage and search visibility were connected in any way. Hootsuite found that more active social engagement was correlated with higher Google rankings over time.
Speculation continues to run rampant, but one thing is certain: if more people see your content, then more people are likely to share your content. More total shares leads to more backlinks, and more quality backlinks positively impact your SEO. Hence, indirectly at least, there seems to be a relationship between active social media usage and SEO—even if the lines remain a little blurry.
Organize Blog Content for SEO & an Optimal User Experience
When Google crawls your site, it's looking for a logical site content organization. Haphazardly constructed sites that don't demonstrate hierarchy among pages makes Google wonder what your site is all about. This harms your blog's EAT, as Google can't tell where your expertise and authority lies.
If the SEO benefits of a well-organized site isn't a compelling enough reason to think through how you organize your blog content, think about your site visitors. Poor site organization also makes for a lousy experience for blog readers.
The best way to organize site content is to create a hierarchy, like that pictured in the image below. Decide on your main categories for your site, then organize content in varying degrees of depth below each of those categories.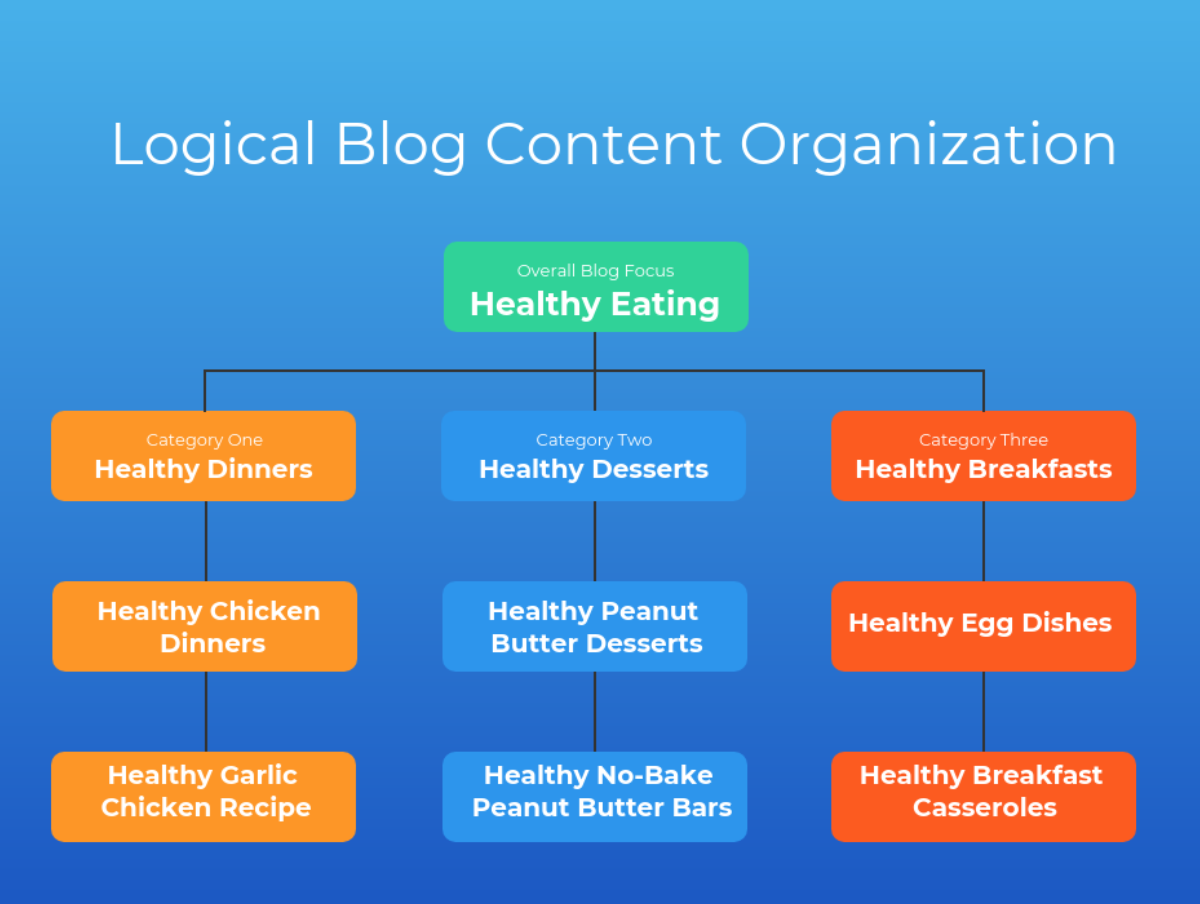 Eliminate Error Pages & Broken Links on Your Bog
Your site visitors get frustrated when they run into error pages and broken links on your site. Google doesn't like to see those types of errors on either.
You can use the Screaming Frog SEO Spider tool to locate broken links, errors, redirects, and duplicate pages on your site. Free plans are available through Screaming Frog and are sufficient for most bloggers' needs. A premium plan is available for around $184 per year (or £149) that includes unlimited crawls and more technical features.
Eliminate Duplicate Site Content
Duplicate content on your site can hurt your Google rankings. What I mean by duplicate content is any blog page or post that addresses the exact same reader intent and vies to rank for identical keywords. Before you add a new post to your blog, make sure it is truly unique content. If it is not, then think twice about adding it.
The problem with having multiple posts that are too close in content— which is called keyword cannibalization—is that instead of expanding your credibility in Google's eyes, you're more or less telling Google that your depth of expertise is shallow.
The other problem with duplicate content is that when you have two posts that are too similar, Google might rank both, but it won't rank either very high. When you have one highly authoritative post, you're far more likely to rank higher on Google and get that traffic boost you want.
Make Sure Your Blog Pages Load Fast
Google does not like pointing its customers to slow-loading websites. That means if your site loads slowly, you'll have a hard time ranking high on the SERPs.
There are several free tools you can use to evaluate your website's speed, including, Google PageSpeed Insights, Pingdom Website Speed Test, and GTmetrix. Each of these tools will give you a speed rating as well as suggestions for improving site speed. Be sure to check your blog's speed on desktop devices and mobile devices, as the load times can be considerably different.
"The best piece of advice I have regarding SEO is to make sure to keep your website's page load speed in check. Even the best content in the world won't help you out if your page takes 10 seconds to load. Google considers users' interface as a major ranking factor and if a visitor leaves your page without reading it fully, this is a clear sign that they didn't find what they were searching for on this page. Of course, that means you have no chance of ranking for a certain keyword. Hire a skilled developer to make sure that your website is spotless when it comes to its technical aspects."

—Malte Scholz, CEO & Co-founder, Airfocus
How to Measure SEO Results
There are a number of ways to measure how SEO impacts your blog, though, to be upfront it's not always an exact science. To measure SEO results, make sure you've installed Google Analytics on your blog. If you want to gain even more in-depth information about the value of your traffic, subscribe to a keyword analytics tool like ahrefs or Moz Pro.
Track Relevant Organic Performance Stats on Your Blog
Use Google Analytics to track common search metrics such as total users, new vs returning user, page views, and bounce rates. Google Analytics allows you to break out those metrics by source —such as organic traffic vs social traffic—as well as compare results from different points of time.
You can use this analytics data to see how your SEO efforts are impacting your overall blog traffic. If you set up conversion metrics on your blog's analytics, you can also track the impact of organic traffic on-site conversions.
Another thing that you can do in Google Analytics is to compare details—such as number of users, number of new users, total sessions, and bounce rates—of your blog's organic traffic over time. This helps you better understand how effective your SEO efforts are at a more granular level.
Calculate Traffic Value aka Earned Media Value
The term Traffic Value, also called Earned Media Value (EMV) refers to the estimated value of what your organic traffic would be worth if you had acquired that traffic through paid search advertising. For example, we used ahrefs to estimate the value of organic traffic for the food blog, Pinch of Yum. As you can see from the results below, ahrefs estimated that total organic traffic for the period reviewed was 1.6 million, which it says is the equivalent value of $1.2 million.
Success Tips for Optimizing Your Blog
We've already addressed all the top issues you need to consider when conducting SEO for your blog. Here are a few additional things you can do now to get a jump-start on optimizing your blog:
Fix older content: Review old content that isn't optimized. Use the On-Page SEO Checklist provided above to improve SEO on each blog post.
Check your site speed regularly: When you add and delete new plugins and other content to your site, it can impact your site speed—probably even more than you realize.
Be proactive about getting more backlinks: Backlinks are critical to your blog's credibility, and hence, your Google rankings.
Address Frequently Asked Questions (FAQS): Try incorporating FAQs sections in your blog posts, where appropriate. Google often uses content from FAQs to appear in popular questions asked by its customers.
As you begin expanding your SEO efforts, remember that content quality matters most. Google looks for content that best meets its customers' needs. There's not an SEO tactic in the world that makes up for weak content.
How Long Will It Take for My SEO Efforts Take Effect?
The SEO process is a lot like planting a tree. You put a seedling in the ground and nurture it, but it will still take a while before you can rest under its shade. Just like different types of trees grow at different rates, SEO efforts take effect at different rates too.
Intensity of keyword competition has a big impact on when or whether a blog post will ever achieve a top ranking on Google. In addition, the quality of the post—as perceived by Google's secret algorithms—also factors into whether a post can ever achieve a top position on Google SERPs.
Most SEO experts used to say that it took about 90 to 180 days for a well-optimized blog post from an authoritative website to rank on Google. Some posts hit front-page SERPs more quickly, others take longer or never manage to break the top 10 rankings.
Recently, search giant ahrefs conducted a study of 2 million keywords—chosen at random—and poured through the data to determine the average number of days it took pages to break into a top 10 spot on Google. The results of the study were eye-opening.
The ahrefs study found that for the 2 million keywords studied, pages that are a year old or younger held only 22% of Google's top 10 rankings. That means 78% of Google's top 10 rankings are held by pages published more than a year ago—and oftentimes, by pages published even farther back than that, as you can see from the chart above.
Frequently Asked Questions (FAQs) About SEO For Bloggers
I've covered the most essential SEO issues for bloggers above; however, there are a few additional questions I get asked frequently. You'll find my answers to those FAQs below.
Which blog platform is best for SEO?
Today's best blogging platforms all have some SEO capabilities. However, a self-hosted WordPress blog is my pick for best for SEO. That's because there are several SEO-enhancing plugins available for WordPress, so you can optimize your blog using tools that you feel work best for you.
How do I find SEO keywords?
You find keywords that are appropriate for your blog by studying what others are writing about in your niche. The best way to find SEO keywords is by conducting keyword research using tools like Google Keyword Planner, UberSuggest, ahrefs, and Moz Pro.
What are the two types of SEO?
The two types of SEO are on-page SEO and off-page SEO. On-page SEO is everything you do on a web post or page that enhances its visibility in search engines. Off-page SEO includes everything else you do to enhance your website's credibility and search visibility.
What's the optimal blog post length to rank on Google?
According to a study by Backlinko, the average length of posts that claim the top organic ranking on Google is 1,890. However, that's just the average. Posts with word counts between 300 and 10,000+ can all rank well on Google. Longer posts—2,000+—tend to be shared more frequently.
Bottom Line
SEO is a long game, not a short game. If you need to get more blog visitors immediately, SEO is not your best strategy. To get results fast, try paid advertising instead.
If you want to boost your organic traffic over the long-run—and potentially experience massive increases in blog traffic without paying a dime for advertising—SEO is the way to go. When optimizing your blog, be sure to pay attention to both on-page SEO and off-page SEO. And, always write for your reader. When you develop content that's better than anyone else's, you always give your blog a better chance to rank high on Google.