Seth Godin is an entrepreneur and best-selling author. He has written almost 50 books and he has started companies including Yoyodyne (bought by Yahoo!), Squidoo, and altMBA. His writing and advice covers marketing, leadership, entrepreneurship, product development, education, and how to behave as a human being. In addition he is a prolific blogger.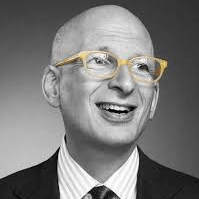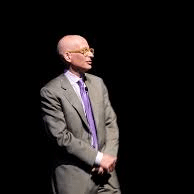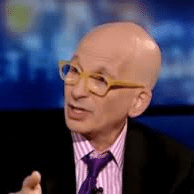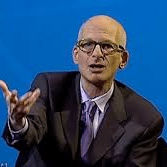 Advice & Quotes
Seth has produced a lot of content. And there is a ton great advice to choose from. Here are a few goodies in areas he tends to focus: marketing, leadership, entrepreneurship, and education.
Marketing
"Stories (not ideas, not features, not benefits) are what spread from person to person."

— Seth Godin, All Marketers Are Liars: The Power of Telling Authentic Stories in a Low-Trust World
"Trying to appeal to everyone is almost sure to fail, for the simple reason that everyone wants something different!"

— Seth Godin, Unleashing the Ideavirus: Stop Marketing AT People! Turn Your Ideas into Epidemics by Helping Your Customers Do the Marketing Thing for You.
"The old rule was this: CREATE SAFE, ORDINARY PRODUCTS AND COMBINE THEM WITH GREAT MARKETING. The new rule is: CREATE REMARKABLE PRODUCTS THAT THE RIGHT PEOPLE SEEK OUT."

— Seth Godin, Purple Cow: Transform Your Business by Being Remarkable
"Permission Marketing Is Anticipated, Personal, Relevant"

— Seth Godin, Permission Marketing: Turning Strangers into Friends and Friends into Customers
Leadership
"Leadership is a choice. This is apparently controversial, but more than any other element I can track, leadership occurs when someone decides it's important that they lead."

— Seth Godin, Seth's Blog
"The secret of leadership is simple: Do what you believe in. Paint a picture of the future. Go there. People will follow."

— Seth Godin, Tribes: We Need You to Lead Us
"Leadership is the art of giving people a platform for spreading ideas that work."

— Seth Godin, Tribes: We Need You to Lead Us
Managers want authority. Leaders take responsibility.

— Seth Godin, Seth's Blog
Entrepreneurship
"Who's need am I satisfying today, and can I assemble assets where I satisfy in a defensible way so I don't have to be the cheapest?"

— Seth Godin, Interview with Tim Ferriss
"And what do people do when they're acting like entrepreneurs?

They make decisions.
They invest in activities and assets that aren't a sure thing.
They persuade others to support a mission with a non-guaranteed outcome.
This one is the most amorphous, the most difficult to pin down and thus the juiciest: They embrace (instead of run from) the work of doing things that might not work.

As far as I can tell, that's it. Everything else you can hire."

— Seth Godin, Seth's Blog
Education
"I think we need to teach kids two things: one, how to lead, and two, how to solve interesting problems."

— Seth's Blog
"Group projects are the exception in school, but they should be the norm."

— Seth Godin, Stop Stealing Dreams
"Effective education is rarely done TO people. It's done with them."

— Seth Godin, Seth's Blog
Seth Godin's Books
Seth has written a ton of books. Many of them like LinchPin and Tribes have been bestsellers. He's most well known for his more recent marketing and leadership books but Seth has also written a number of how-to books ranging from personal finance to software programs.
| | Title | Year | Synapsis | Amazon Rating (# of Reviews) |
| --- | --- | --- | --- | --- |
| | Leap First: Creating Work That Matters | 2015 | Audiobook of 49 essential principles, practices, and life lessons to overcome fear | 4.6 (11) |
| | What to Do When it's Your Turn (and it's Always Your Turn) | 2014 | Magazine-style book of embracing imperfection and tension to create art | 4.6 (122) |
| | The Icarus Deception: How High Will Fly? | 2012 | Look at the end of the industrial economy and what happens next | 4.5 (305) |
| | Whatcha Gonna Do With That Duck?: And Other Provocations, 2006-2012 | 2012 | Sequel to Small is the New Big. More than 600 pages of Seth's blog posts | 4.6 (45) |
| | V is for Vulnerable: Life Outside the Comfort Zone | 2012 | 26 principles treating work as a form of art | 4.3 (80) |
| | We Are All Weird: The Myth of Mass and the End of Compliance | 2011 | End of mass and how you can succeed by delighting a niche | 3.9 (152) |
| | Poke the Box | 2011 | Dares you to do something you're afraid of | 4.2 (399) |
| | Graceful | 2010 | Short eBook with 30 ideas on making a difference in the world | 4.4 (72) |
| | Linchpin: Are You Indispensable | 2010 | Make significant personal impact within an organization | 4.3 (722) |
| | Tribes | 2008 | Leading, connecting, and creating movements | 4.3 (599) |
| | The Dip | 2007 | Short book about quitting and being the best in the world | 4.2 (546) |
| | Meatball Sundae | 2007 | 14 trends marketers should follow instead of just adding more marketing | 4.5 (72) |
| | Small Is the New Big | 2006 | Popular columns from Fast Company and Seth's blog | 4.2 (59) |
| | All Marketers Are Liars | 2005 | Marketing by telling authentic stories | 4.4 (276) |
| | The Big Moo: Stop Trying to Be Perfect and Start Being Remarkable | 2005 | How to create a purple cow, with 32 thinkers including Malcolm Gladwell, Tom Peters, Guy Kawaski, Mark Cuban, etc. | 4.1 (71) |
| | Free Prize Inside: The Next Big Marketing Idea | 2004 | Practical sequel to Purple Cow | 4.1 (59) |
| | Purple Cow: Transform Your Business by Being Remarkable | 2003 | Marketing by creating something truly unique | 4.2 (494) |
| | Survival Is Not Enough: Zooming, Evolution, and the Future of Your Company | 2002 | How change works | 4.1 (11) |
| | The Big Red Fez: How To Make Any Web Site Better | 2001 | How to build a good marketing web site and an examination of a few real-world sites | 4.0 (68) |
| | If You're Clueless About the Stock Market and Want to Know More | 2001 | Assessing risk, finding a broker, history of the stock market, and how it operates | 3.8 (28) |
| | Making Money on the Web | 2001 | Audio cassette on how to bootstrap an internet company | NA |
| | Unleashing the Ideavirus | 2000 | How to create ideas that spread | 4.2 (126) |
| | Permission Marketing: Turning Strangers into Friends and Friends into Customers | 1999 | Marketing is about building trust and adding value not interrupting their lives | 4.3 (250) |
| | The Bootstrapper's Bible: How to Start and Build a Business With a Great Idea and (Almost) No Money | 1998 | 9 magic rules and ten commandments on bootstrapping a new business | 3.8 (18) |
| | If You're Clueless About Selling and Want to Know More | 1998 | Selling, targeting, first impressions, effective presentations, and closing | NA |
| | If You're Clueless About Accounting and Finance and Want to Know More | 1998 | Small business financials explained | 4.0 (9) |
| | If You're Clueless About Getting a Great Job and Want to Know More | 1998 | Resume tips, positioning statement, using the internet, recruiters, and interviewing | 4.5 (3) |
| | If You're Clueless about Financial Planning | 1998 | Money management, college, retirement, health insurance, estate planning | NA |
| | The Totally-Terrific $10,000 Trivia Challenge | 1998 | Trivia book based on the Yoyodyne game | NA |
| | If You're Clueless about Starting Your Own Business | 1997 | Are you meant to be an entrepreneur, what to do to succeed, how to get started, etc. | 3.8 (7) |
| | If You're Clueless About Saving Money and Want to Know More | 1997 | Explains ways to save money including savings accounts, CDs, mutual funds, etc. | NA |
| | If You're Clueless About Retirement Planning and Want to Know More | 1997 | Basic primer on retirement planning strategies | NA |
| | If You're Clueless about Mutual Funds | 1997 | Basic primer on mutual funds | 4.5 (2) |
| | If You're Clueless about Insurance and Want to Know More | 1997 | When is it necessary, how much to purchase, and discusses health, income, homeowner's, auto, life, etc. | NA |
| | Official Rules of Life | 1996 | Humorous guide to life using 50 rules | 2.7 (3) |
| | Point & Click Business Builder | 1996 | How to find ideas on the internet about building your business | NA |
| | Point & Click Jobfinder | 1996 | How to do an online job search | 4.0 (1) |
| | Point & Click Investor | 1995 | How to use online investment sites | 4.0 (1) |
| | Presenting Digital Cash | 1995 | Case studies of Fortune 1000 companies using digital cash | 3.0 (1) |
| | Wisdom, Inc.: 26 Business Virtues That Turn Ordinary People into Extraordinary Leaders | 1995 | Interviews of 1,500 executives on leadership | 4.1 (3) |
| | Emarketing | 1995 | Marketing guide for small businesses including computer bulletin boards, infomercials, 800 numbers, etc. | 5.0 (1) |
| | The Smiley Dictionary: Cool Things to Do With Your Keyboard | 1993 | 100 examples of smiley characters from keyboard characters | 3.0 (1) |
| | Foolproof DOS | 1993 | | NA |
| | Foolproof Windows | 1993 | | NA |
| | Foolproof Lotus 123 | 1993 | | NA |
| | Foolproof Wordperfect | 1993 | | NA |
| | Business Rules of Thumb | 1987 | Wisdom from America's Business Leaders | 5.0 (1) |
You can find Seth all over the internet but here are some of his links:
Seth's website
Seth Godin on Amazon
Seth's blog
altMBA
Seth on TED