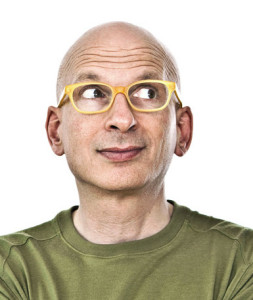 I surveyed fans of Seth Godin for their favorite Seth Godin books, blog posts, and quotes. In addition to asking fans to identify their favorites, I asked them to share how Seth Godin changed their life. What I got back were some amazing stories like this one:
Shortly after starting our digital creative agency (in 1998) I read a fast company cover story about Seth and permission marketing. At the time FC posted everyone's email, and I saw an opportunity for his company (Yoyodyne) to hire my small agency.
I used what I learned in that very article to craft an email to Seth that won me his business, and opened the door for us to ultimately become Yahoo!s first outsource agency after they bought Yoyodyne, allowing our company to grow and thrive.
James Sposto, Founder Sposto Interactive & CEO Xtrant
Seth has an ability to inspire people to have faith in themselves and their visions. In comments provided by his fans below, you will see this theme repeated frequently.
When starting a business, one of your first steps should be launching your website. This gives potential customers an easy way to find you online and discover more about your business. Click here to check out our free guide that will help get your site up and running in less than an hour.
Seth Godin is a prolific author.  There were over 10 books mentioned by fans as favorites. Below are the four most frequently mentioned books.  I was pleasantly surprised that the choice put forward by the largest number of people was not a recent book, but one that was originally published in 2003.
(I did get in touch with Seth Godin and I confirm that he does answer his own emails!  At the end of this article,  I will reveal what Seth said is his most entertaining video!)
4 Seth Godin Books:
Purple Cow: Transform Your Business By Being Remarkable
As the owner of an Independent Real Estate Brokerage and two other administrative companies, I am constantly thinking about Godin's book, Purple Cow. With so much competition in the real estate world, as real estate professionals, we constantly need to consider how we can be like the purple cow–how we can differentiate our services–in order to increase our market share. We've discussed how Nordstrom differentiates itself by having their employees personally hand you the shopping bag as opposed to passing your purchase over a counter, and how this simple and elegant personal touch really sets them apart. With large syndication companies all over the Internet that can share much of the property information that we have, we need to consider alternatives in order to gain business. Much of Godin's work is inspirational for real estate professionals looking to rethink their business, but I think that the Purple Cow proves to be the best example.
Melisa Zavala, Broadpoint Properties
 The Icarus Deception: How High Will You Fly
My favorite book is The Icarus Deception. My biggest take-away from it was that I could jump on the opportunity of these times. The book helped me shift my point of view about the global deep change we are currently in. I literally felt I was on a moving camera dolly where I could see my life and world from a completely changed angle and was thrilled by what I saw rather than fearful or intimidated. It's a book about creativity and business yet it reads as a manual on authentic personal and spiritual growth. Godin has named what we can feel — that the two are indisputably conjoined.
Judy Herzl, Connecting The Dots: a relational approach to marketing + organizational systems
Tribes: We Need You To Lead Us
Overall Tribe helped me look at my own business offerings in a different way. Its not about pleasing the masses; its about reaching out and defining exactly who you want your customer to be. Still to this day I always define my clientele over and over again, picking out the things I like and don't like, and reforming my marketing to reach out and find only those people that can ultimately be raving fans.
Lori Osterberg, Vision Business Concepts
 

Linchpin: Are You Indispensible?
Linchpin: Are you Indispensable? made a huge impact on my life. It was like I had been living with an unidentified disease and then a professional diagnosed me and suddenly I was no longer an outcast. I had always been someone who pushed boundaries ( and sometimes "buttons"). I rocked the boat, thought way outside of the box and could consistently accomplish things that other people couldn't even dream were possible.
After reading Linchpin, finally, I was part of the "Tribe" of thrivers who were courageous enough to "own" their strengths and stand proud in being a part of the solution, growth, and excellence.
Jennifer Martin, Zest Business Consulting
 3 Seth Godin Blog Posts
Unlike Seth's books, where there were clearly shared favorites, no single blog post received more than one mention. Also, I found it interesting that several fans decided that they wanted to share the entire blog post with me, versus just a link. They wanted to pass along wisdom versus an "impersonal" link. Unfortunately, without violating copyright laws, I cannot do that on a public site, but I can allow you to read the short blog posts yourself.
This blog post taught me that it is better to create a remarkable product than it is to create a lousy product and promote it on social media. Lousy products do not get sales, no matter how many followers someone has on their social networks. Polishing Junk is a short blog post with a crystal clear message.
Marc Guberti, Marc Guberti
Bluntly, Seth reminds us to create important work and to NOT fall into the easy traps of selfishness and convenience. Creating anything of importance means staying focused on the client and shunning the problems that may prevent us from following through on an idea.
Roger Clodfelter, High Point University
When I was deciding whether to take a strategic planning position (as chair) at my church, I read this post and moved forward. I served as chair for 3 years and we completed the plan in 2 years.
Julie Rains
2 Seth Godin Quotes
 "It's a lot easier for an organization to adopt new words than it is to actually change anything. Real change is uncomfortable. If it's not feeling that way, you probably just adopted new words."
Quote Suggested By Kyle Sexton
"I will do it, I will start my business again, I will take the risks, I will dare to dream."
Quote Suggested by Marcel Haan
Seth Godin's Selection For His Most Entertaining Video 
What is your favorite Seth Godin Book, Blog Post, Quote, or Video?  Let us know in the comments section below.
Click Here to get our FREE Google advertising guide and discover the 6 steps you can use to show up #1 in Google search
View This Article As A slideshare