Remember the days when sealed porn magazines were sold in-store, only to be later hidden under mattresses? Or when doctors made house visits and families gathered for meals?
Ah, those were the good ol' days—when companies were around for years and industries took decades to change.
That may sound more reminiscent of the age when your grandpa walked five miles in the snow to school, but it wasn't all that long ago. Within the last 20 years, the onslaught of technological advances and shifting value systems have quickly pushed some industries to their death. In their wake, alternatives have blossomed.
Which got us thinking: Which industries are dying? Perhaps more importantly, which industries are taking their place?
In a rapidly changing society like our own—one your grandpa wouldn't even recognize—change occurs for many economic and social reasons. We're not just talking about watching the slow death of "tradition"; we're talking about analyzing a mix of hard and soft metrics that determine what thrives and what dies. Sure, market growth, profits, and increasing workforces are some of the metrics we used to uncover industry shifts, but we also homed in on changes in the convenience culture, socio-economic behaviors, and consumer values.
Central to this is technology. A lot has risen out of Y2K, including a culture that has adapted to the opportunities of tech-forward tools like smartphones and the Internet of Things. Everything has become quicker, easier, and more accessible. Technology has changed the way people live their everyday lives, from sourcing meals and taking transportation to using healthcare services and finding lasting relationships. Predictably, the birth of this new culture has led to the death of businesses that fail to meet modern needs.
While iconic industries, like print pornography, still have some allure, we are seeing them supplanted by more attractive, tech-friendly alternatives. Sure, we might not be living in the good ol' days anymore, but we are living in innovative, dynamic times that force the big businesses of yesteryear to change or die.
Enough heady analysis; let's get to our list of industries changing shape in 2018—and beyond.
Top Shapeshifting Industries to Watch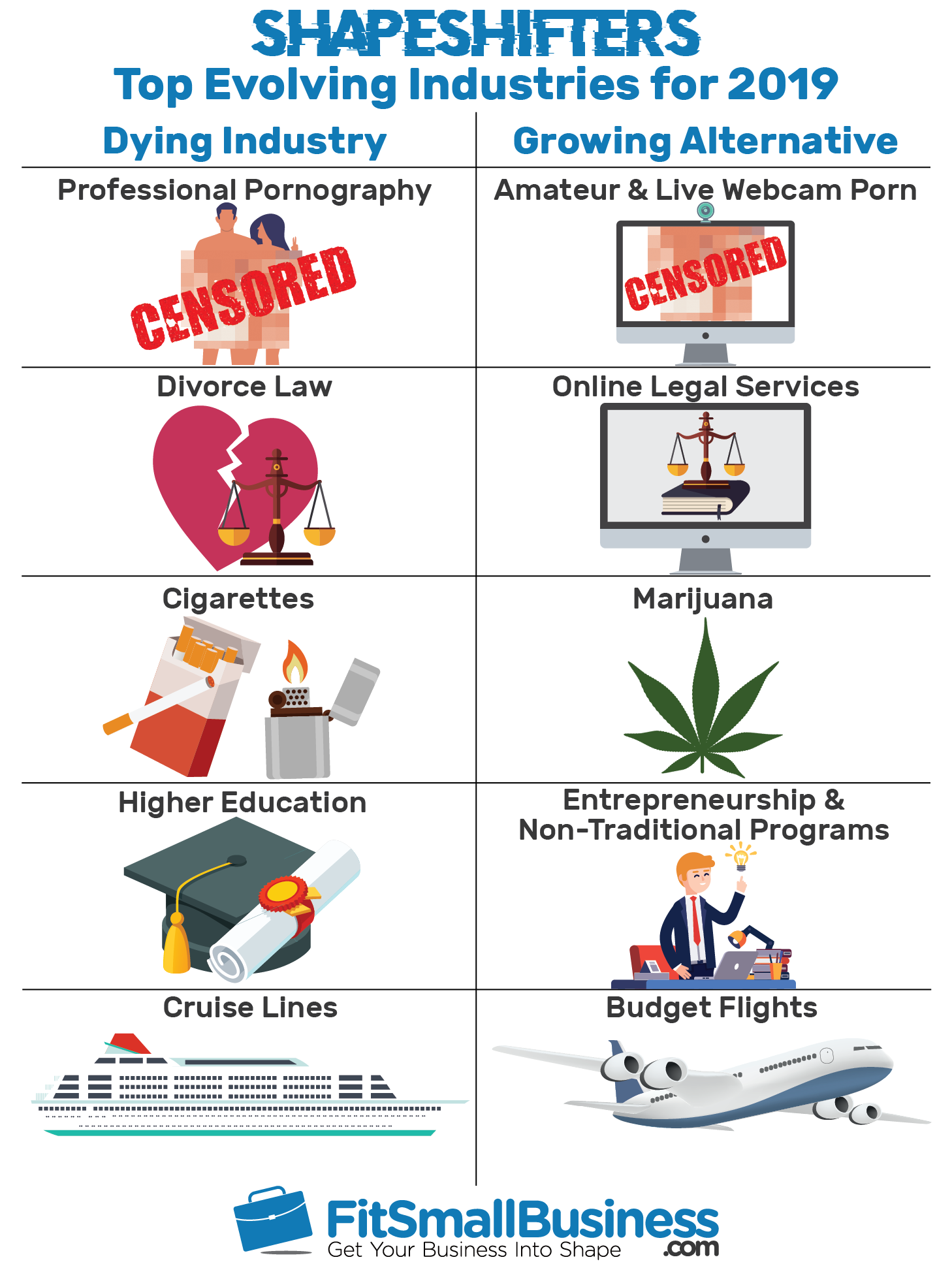 1. Pornography: Positions Shift from Professional to Amateur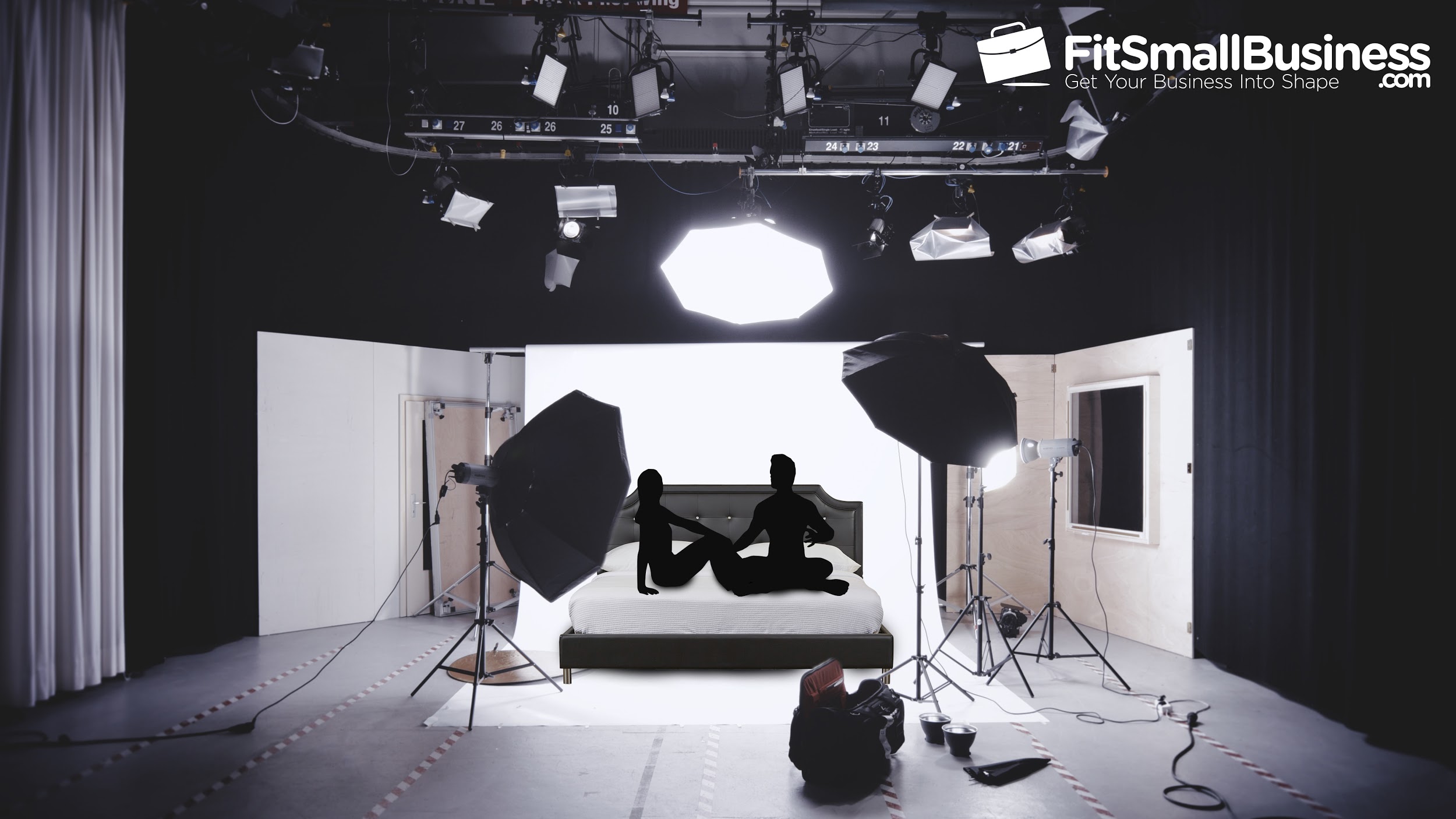 You don't have to live in Los Angeles anymore to find the girl next door or that dashing pool boy engaged in pornography. As Photoshopped social media photos, Snapchat filters, and widespread plastic surgery give us the chance to burnish our image, the porn industry puts the scripted scenes and production to rest for something more real. Now, the industry is swapping out the calculated production for amateur and webcam porn.
As the stigma of pornography disappears and accessibility of free porn surges, big studio porn profits slump. Penthouse (PHSL), a major publicly traded adult content company, has flatlined since 2005 with stock prices dropping from 0.1763 at their peak to 0.0001 in January 2018. A 60-percent decrease year over year leaves them with little room for further decline in an industry where porn-for-profit is often pirated and re-distributed.
The internet has helped to normalize porn with free distribution of content via pornography video sharing sites like Pornhub. These sites make money from advertisements and premium subscriptions that remove ads while eliminating the need to hide magazines or movies. Porn now represents approximately 30-percent of total Internet content, with Pornhub seeing over 81 million visitors per day perusing some 4 million videos, equaling nearly 600,000 hours of porn. Much of that is either pirated or self-produced.
To put this in perspective, porn-sharing platforms like Pornhub get more monthly visitors than Amazon, Netflix, and Twitter combined. And with that convenience and accessibility, who wants to pay for studio flicks? With professional porn no longer being purchased and revenue being earned primarily by ads over content sharing sites, it's safe to say that porn isn't what it used to be. We're in the golden age of amateur porn, where homemade and live content is far more enticing than a trip to the local porn store.
2. Divorce Law: Go From "I Do" to "I Don't" Entirely Online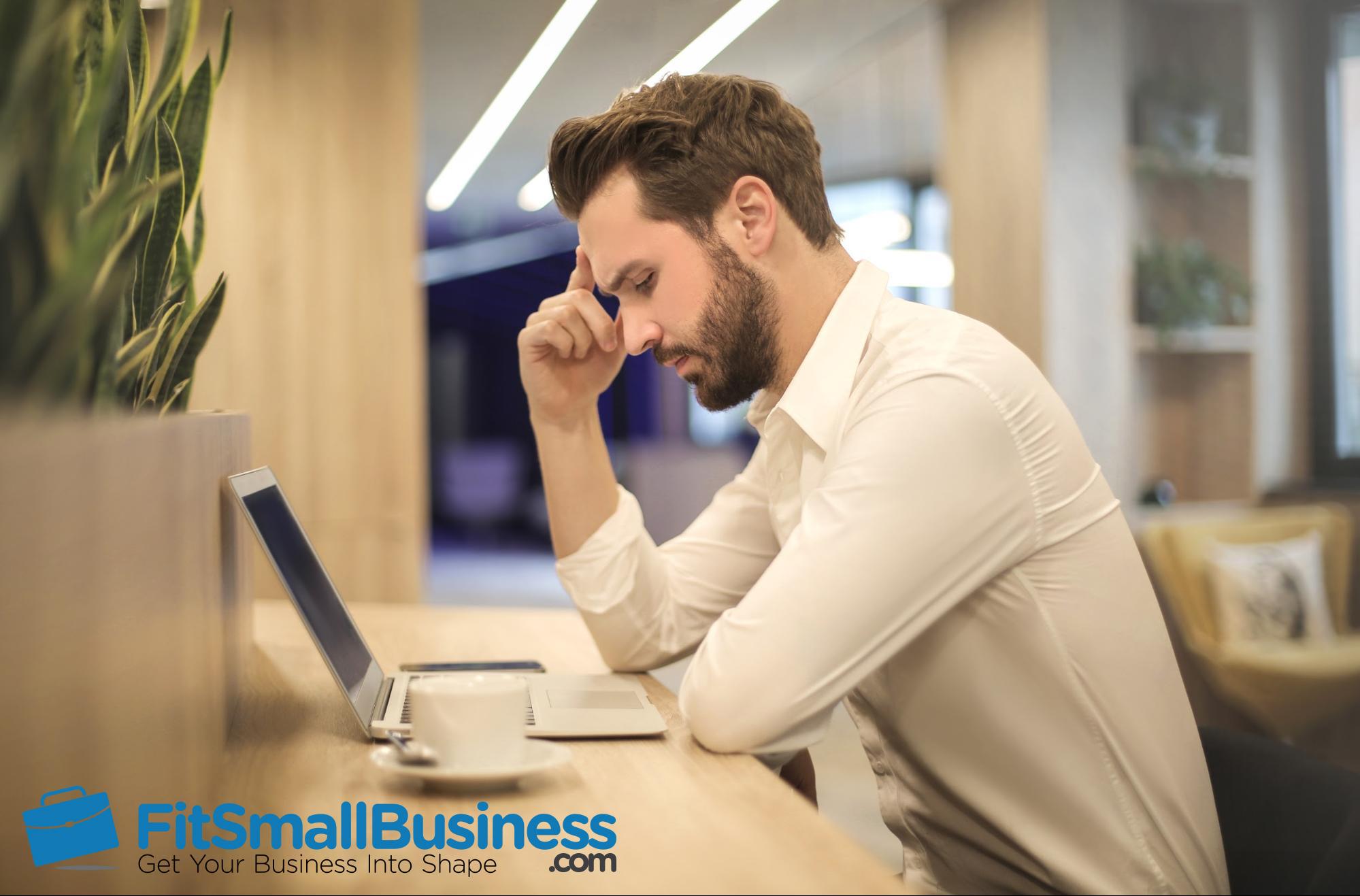 Messy divorce battles became a hot topic in the late 1990s and into the early 2000s. With celebrity divorces plastered across the news, they snowballed into mass entertainment. America was turned on by the sensation and drama of failing and tumultuous relationships. Morning talk shows, such as The Maury Show, stopped covering family-friendly and inspirational stories of children living with rare medical diseases and turned to scandalous marital affairs and paternity tests.
As divorce consumed the U.S., it began feeling like a normal stage of marriage: date, marry, argue, separate, divorce. However, it also had some side effects no one would have guessed. Not only did America become a bit hardened to the concept of marriage, leading to later and fewer marriages, but a stigma grew around divorce as it became linked with destroyed families, ruined childhoods, and even death.
Because of this, divorce rates have been on a steady decline over the last decade, with an 18-percent decrease over the past eight years. But even those on track to be divorced are taking a new tack—a peaceful one.
As you may already know, Gwyneth Paltrow helped coin the now famous term "conscious uncoupling," making the concept of a peaceful divorce popular. As amicable divorces have become more commonplace, divorce law is also becoming less complicated and more states are adopting no-fault divorces that are less litigious than traditional divorce battles—battles often hard fought with expensive lawyers in court.
Without the need for court litigations, online legal services have surged; over the last five years alone, the industry has grown by 9.4-percent. Thanks to a mix of technology and simplified divorces, couples are no longer limited to divorce attorneys who could charge upwards of $30,000 in legal fees. Instead, the opportunity to engage in cordial divorces is contributing to less time spent in court and less money spent on divorce law. How much less? Online legal divorce services as low as $200 give couples everything they need to amicably file for divorce, leaving more money for wishlist indulgences.
3. Tobacco: Low Times for Nicotine and the High of Marijuana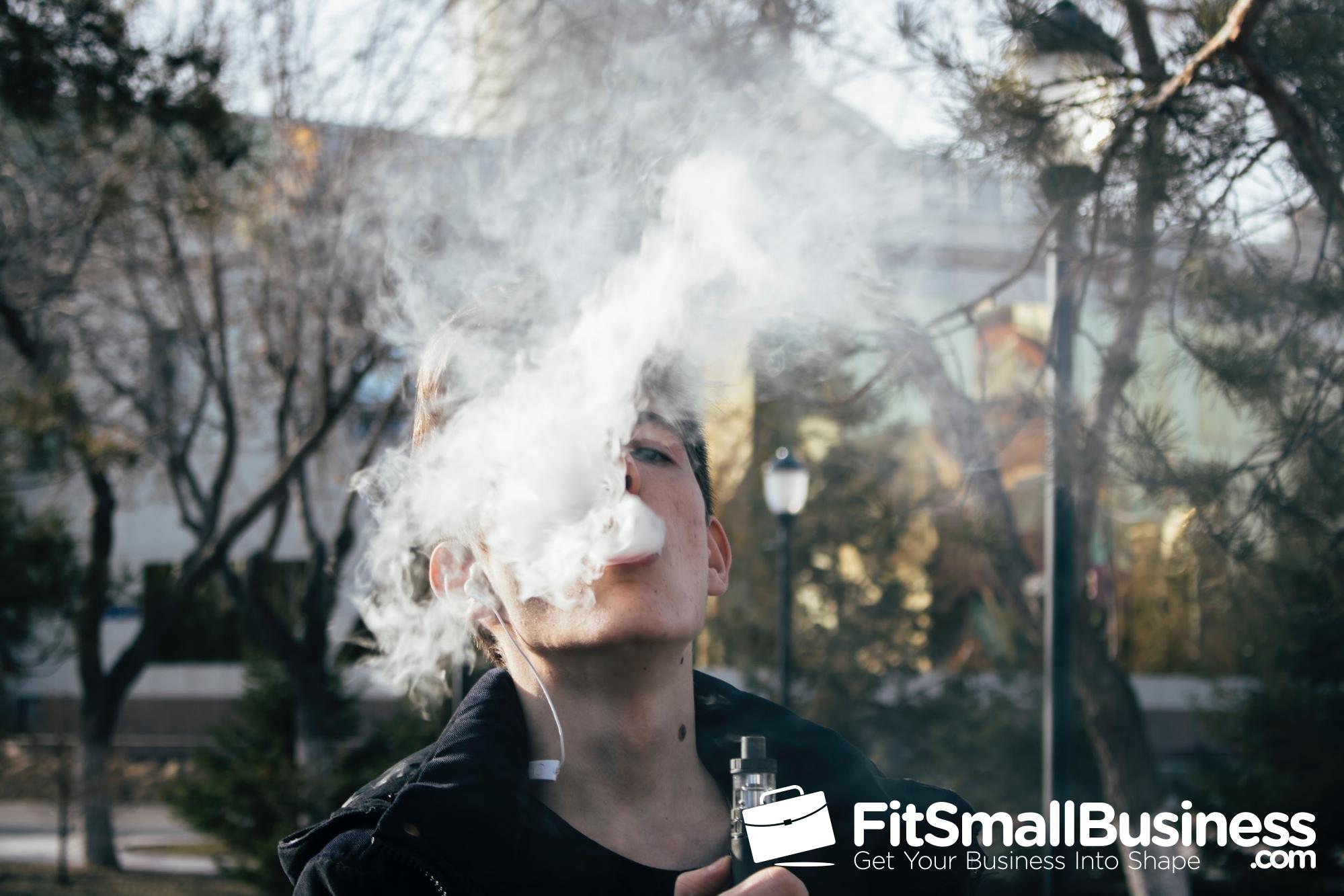 Let's face it: The cigarette industry has been burned by the legalization of medical and recreational marijuana. The prevalence of smoking-related cancer deaths doesn't help, but the availability of legal weed is at the heart of MJ's massive growth. Now, instead of buzzing on nicotine, we buzz on THC.
Smoking cigarettes was once seen as cool. Picture the studly Marlboro Man—the type of man that men wanted to be and women wanted to be with. The image that once exemplified modern masculinity, however, has been left in the dust. Not only have major cigarette producers Phillip Morris, Vector Group, and Altria all endured declines in stock value in the previous year of 20.91-percent, 28.91-percent, and 2.05-percent, respectively, but the clear medical connection between cigarette smoke and cancer has destroyed the smoking tough guy image.
Don't be fooled by cigarette revenues appearing to increase, either; the number of smokers is actually decreasing. Bloated revenue numbers actually represent an increase in retail price, or the squeezing of money out of already addicted smokers. With weed available for much less, cigarette producers will struggle to maintain their profits. Top that with the lack of health complications that weed seems to offer, and it's little wonder that people are chasing a ganja high.
But let's look at the numbers. Cannabis has seen a 33-percent growth from 2016 to 2017 alone, and it is estimated that sales will increase to over $11 billion in 2018, doubling again over the next three years. Unlike cigarette sales, the introduction of legal medical marijuana in over 30 U.S. states and recreational marijuana in 10 is coming with some great side effects, too: a 10-percent decrease in theft in Colorado in one year, saving billions in prosecution, and $25 billion in tax income from Nevada cannabis sales alone. All signs point to a new kind of high.
4. Higher Education: Swapping Textbooks and Classrooms for iPads and Forums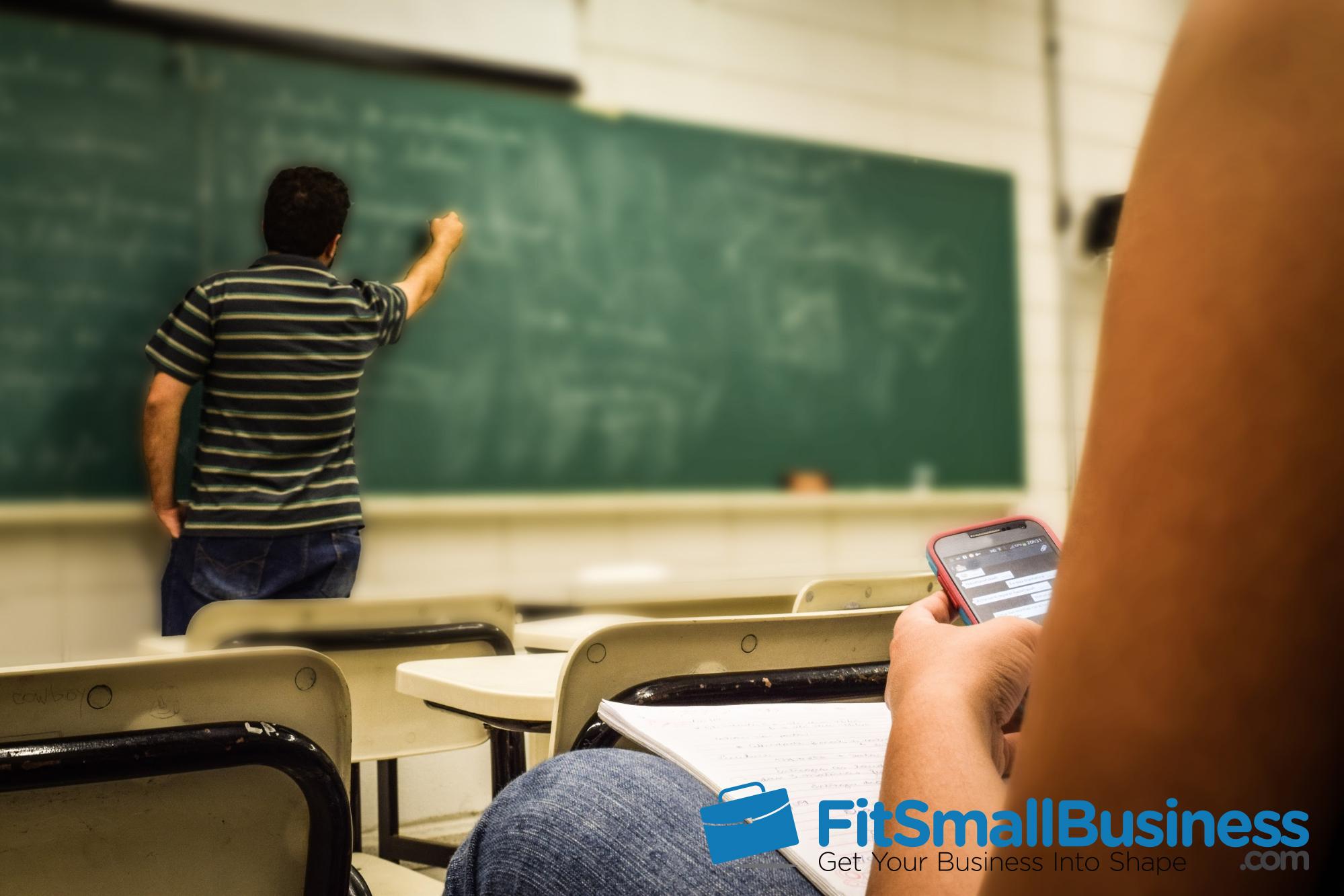 People are getting tired of paying $25,000 a year on tuition. And with so many resources online now that are much more affordable, why shell out the price of a nice Audi just for a traditional BA/BS? Once a ticket to professional success, brick-and-mortar university degrees have met their match in degrees granted by online institutions—that cut fees by $10,000s.
In the last five years, there has been a 7-percent decrease in student enrollment in higher education. Universities are compensating for the loss in revenue by not hiring new university professors, choosing instead to reduce student-to-teacher ratios. While enrollment numbers and teaching positions have fallen, the price of tuition has increased 129-percent from the late 1980s to today, pushing would-be students to seek alternative routes to career success.
New and more attractive alternatives, such as Open University which partners with Harvard and Stanford to offer skill-focused coursework, is soaring in the higher ed market. According to U.S. News, online program growth has been remarkable over the last decade, with year-over-year enrollment increases of anywhere from 4-percent to 7-percent on average. And while tuition and fees for online programs vary widely, they are almost all less expensive than traditional on-campus programs offered by universities, as there is no overhead required for facility maintenance.
But online degree programs are not swapping out for Harvard curricula—not exactly. Many high school grads are skipping higher ed altogether, preferring instead to dive right into a career. Evidence of this shift is the popularity and success of entrepreneurs and business moguls who have gained celebrity status in the 21st century—many of whom do not have college degrees and openly speak out against the need for higher education. Elon Musk, one such example, isn't the only billionaire who admits that there is no need to have a college degree; Mark Zuckerberg, Seth Godin, Warren Buffett, and many others have also shared similar views on the pitfalls and ruinous expense of traditional higher education. In fact, CNBC conducted a poll in 2017 that showed only a quarter of the U.S. small business population has a college degree. So much for the must-experience Greek culture of decades past.
5. Travel: Cruise Lines Sink as Budget Airlines Soar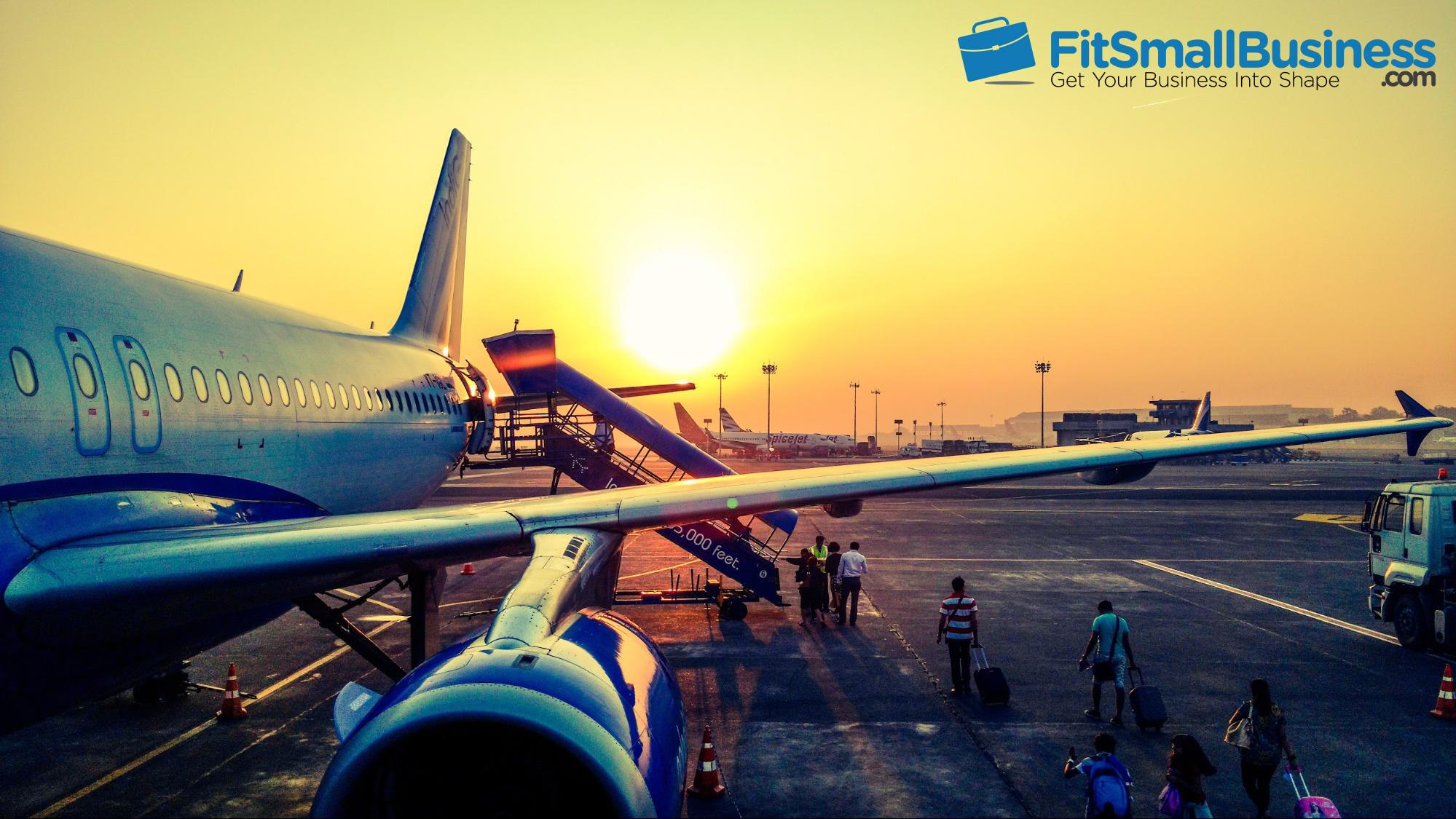 With the highly publicized and relatively frequent cruise-related mishaps of late—remember the infamous "poop cruise" with free-flowing feces faucets?—people are becoming wary of cruises. It was once justifiable to spend half of your vacation at sea feeling like a canned sardine given the low price tag, but the cost (and potential hazard) is getting too high. At the same time, budget airlines are popping up all over, providing affordable flights that seem like a favorable alternative to bobbing sea travel.
Yes, cruises were one of the fastest growing sectors of the travel industry in the '80s and '90s. And yes, major cruise lines still pour money into ships and programs, but stocks have dropped. Major cruise companies saw a dip of 5-percent in 2018, with profit margins rapidly disappearing. In 2015, revenue per passenger averaged $1,779. However, profit margins were a skimpy $226 per passenger. As the cost of wages and fuel increases, profit margins are disappearing at an alarming rate. In fact, revenue in 2017 was just $1,500 per passenger; after subtracting overhead, the profit margin was almost completely eliminated.
Cruise lines try to combat this with more attractive cruises to warrant a higher price tag, though the diminished allure of low prices means they can't compete with budget travel. Taking a cruise once eliminated the need to fly, but now the majority of cruise passengers have to fly to meet their ship at port. It's little wonder that globetrotters are choosing budget airlines to take them to their final destination and skip the cruise altogether. To boot, low-cost carriers are rapidly expanding their reach, with domestic and international carriers such as Frontier, Spirit, Norwegian, and WOW boasting international travel for a fraction of the ticket costs we knew in the early 2000s. For example, before 2015, the cost of a one-way flight between Detroit and Philadelphia never dipped below $300. Then, Spirit Airlines appeared on the scene with no-frills flying—no baggage allotment included in the ticket price, tight seating, and few in-flight perks—and dropped the ticket price down to less than $150.
The quickly growing competition within the budget space drops the prices even more. And with the sharing economy giving us cheaper access to ground transportation (Lyft and Uber) and housing (Airbnb), trips on a tight budget are becoming eminently possible. So as cruise lines continue having health and safety issues while increasing prices, travelers will continue to seek better ways to spend their precious vacation time and money.
6. Medicine: Large Healthcare Pulls the Plug on Local Practitioners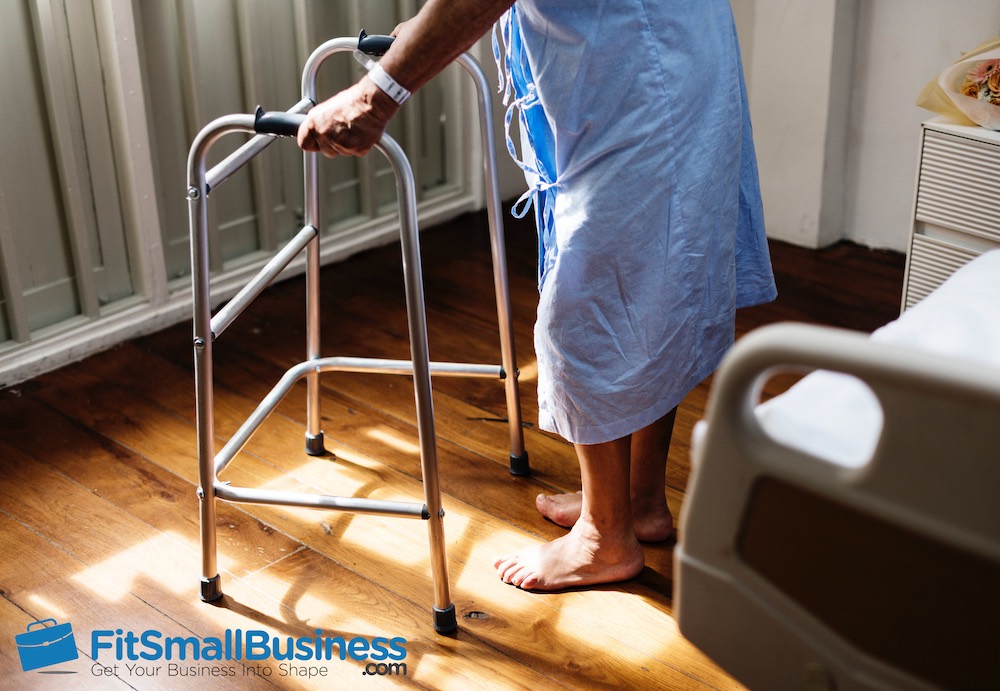 A study by the Physicians Foundation found that in 2008, over 60-percent of physicians were independent, and in just six years, that number dropped to a staggering 35-percent. In the last five years, HCA Holdings, a large publicly traded medical care provider, has had stock prices skyrocketing with a nearly 200-percent increase—a stock market anomaly.
Working alongside insurance companies that favor big practices with more resources and wider reach, healthcare behemoths are reaping higher revenues while driving liability premiums so high that solo practitioners and small providers struggle to survive on their own. Many of these large companies see massive year-over-year growth, in part because of the expansion of their offerings—folding in pharmaceutical manufacturing and supply, specialized treatments, and concierge services—while making it impossible for small practices to compete.
But big business medical may yield more challenges to the U.S. than anticipated. Red tape makes adoption of new technologies slow and difficult, while an eye on profits means care is sometimes compromised and "personal" treatment is an afterthought.
Put another way, the soft side of medical treatment is in danger of vanishing as large facility management has refocused on profit over people. Case in point: Many large facilities charge patients to park onsite, only occasionally offering discounts or passes.
While it can be said that large healthcare facilities provide the benefit of more services and efficiency, the jury is still out on the quality of care.
7. Restaurant Chains: Delivery over Dine-in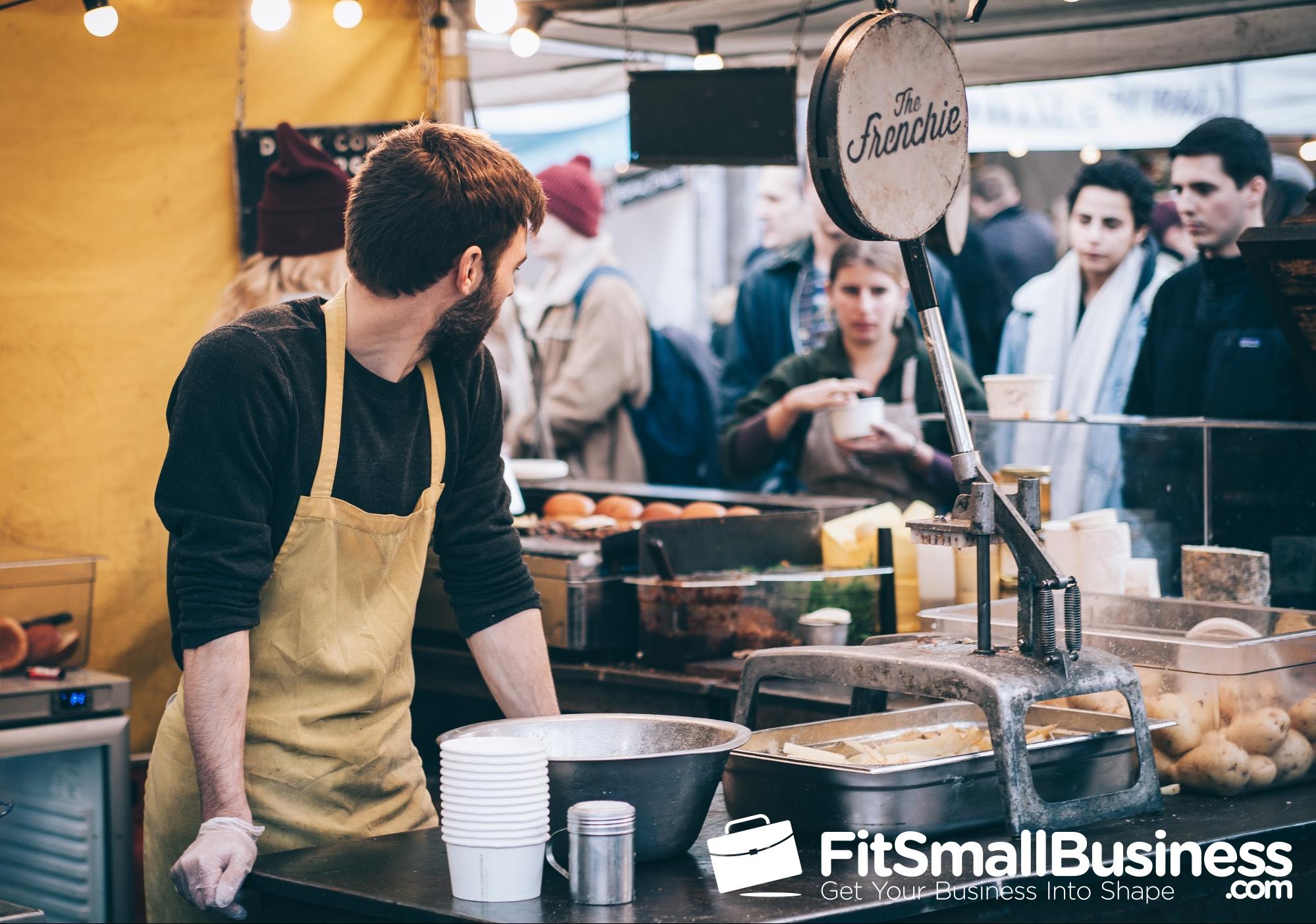 Meals were once a time for families to tell each other about their day, connect with one another, and share a home-cooked meal. But now, one in three Americans can't quite make it through their spaghetti without checking their phones. That means conversation is out the window. Couple that with the pressures of work, driving people to take their lunches and dinners to-go so they can eat at the office, and you have a culture that seems to have lost its appetite for dining and socializing together.
This has been a remarkable, and fairly recent, shift in our culture. Since the introduction of email in the 1990s, verbal communication has fallen to the wayside. With text messaging, communications are being further reduced. Social media is the new way for families and friends to keep in touch—without actually having to be in touch. Meals were once a time for family, friends, and loved ones to convene, but the social side of dining is vanishing.
On top of meals becoming less social, no one needs to choose a restaurant chain anymore to know what they're getting. Review sites like Yelp, GrubHub, and Google leave nothing to the imagination, giving diners a good idea of whether not they'll like what they'll order. In other words, dining out isn't much of an experience anymore. And so, restaurant chains like Applebee's, Ruby Tuesdays, Hooters, IHOP, and Subway are collectively closing over 1,000 locations, and many are likely to follow suit. Another victim of the phone-o-philia culture is Chili's, whose stock dropped 40-percent in 2017.
So how are we eating instead? The food industry is shifting toward fast-casual options that are delivery-based. In 2017, app-based delivery service GrubHub reported a revenue of over $683 million. Sales were additionally boosted some 50-percent in the early quarters of 2018, while think tanks and food organizations stood aghast on the sidelines counting the number of Americans logging on to get their food delivered. Some of the latest numbers show that 86-percent of us are using services like GrubHub once a month at least—and a third of online users were using these services more than a year ago.
The verdict is in: We are a Netflix-and-chill-and-order-and-eat-without-talking culture.
Bottom Line: Dying Industries
Dying industries and those replacing them are undoubtedly about more than economics; they are reflective of societal and technological shifts. Humans won't stop wanting things like porn and a high—or even a divorce. We just want them in a faster, cheaper, and in a more authentic way now. And while the markets scramble to figure out how people are driving emerging business trends, the tired industries of former decades will become happy memories—to some, the good ol' days.