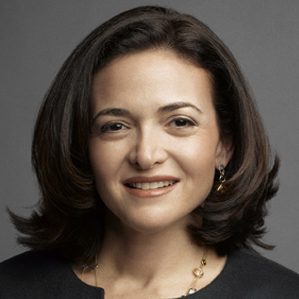 Sheryl Sandberg is the chief operating officer of social media network Facebook, an author, gender-equality advocate, and the founder of Leanin.org. She has a current net worth of $1.8 billion. Sheryl Sandberg quotes are a great source of motivation for those who want to achieve success in both business and leadership.
Here are the top 20 quotes by Sheryl Sandberg on business, success, and leadership:
Quotes by Sheryl Sandberg on Business
1. "Trying to do it all and expecting that it all can be done exactly right is a recipe for disappointment. Perfection is the enemy."
—Lean In: Women, Work, and the Will to Lead
2. "It's not enough to have a good idea, we have to know when to stop a bad one."
—Commencement Speech, Massachusetts Institute of Technology
3. "If you want to know what a company cares about, you look at where it's spending its money."
—Facebook Munich privacy speech
4. "I strongly believe in ruthless prioritization. Sometimes people think of prioritization as only doing things that will have a positive impact on your business. But ruthless prioritization means only focusing on the very best ideas. It means figuring out the 10 things on your list and, if you can't do all 10, doing the top two really well. Ruthlessly prioritizing can get hard because you're always trying to do more, but it's one of the best and most important ways to stay focused."
—Email conversation with journalist Jeanne Sahadi
Sheryl Sandberg Quotes on Success
5. "If you think big, if you own your own success, if you lead, it won't just have external costs, but it may cause you some personal sacrifice."
—Commencement Speech, Barnard College
6. "I think it really was about getting on a rocket ship, being willing to take risks and do something that I hadn't done before like work in technology, and finding the ways to start believing in myself."
—Conversation with journalist Alyson Shontell
7. "What I think people don't see is, if you do it the first way—just do everything asked of you—you're not actually giving it a chance to really work. If you do it based on what you really need, then you can. And I'm not saying I don't make sacrifices. I am not saying it's easy. I work long hours. I am saying that I was able to mold those hours around the needs of my family, and that matters."
—Conversation with journalist Joanna Barsh
8. "We cannot change what we are unaware of, and once we are aware, we cannot help but change."
—Lean In: Women, Work, and the Will to Lead
9. "There is no straight path from your seat today to where you are going. Don't try to draw that line. You will not just get it wrong, you'll miss big opportunities."
—Commencement speech, Harvard University
10. "No one gets the promotion if they don't think they deserve their success or they don't even understand their own success."
—Conversation with journalist Guy Raz
11. "Don't let your fears overwhelm your desire. Let the barriers you face—and there will be barriers—be external, not internal. Fortune does favor the bold, and I promise that you will never know what you're capable of unless you try."
—Commencement speech, Barnard College
12. "Careers are not ladders but jungle gyms. You don't have to have it all figured out. But I do think you can have two goals at once: a long-term dream and a short-term plan. Set personal goals for what you want to do in the future and what you want to learn in the next year-and-a-half. Ask yourself how you can improve and what you're afraid to do—that's usually the thing you should try."
—Email conversation with journalist Jeanne Sahadi
13. "I think, you know, my success, if I want to honestly attribute it, it's attributed to a lot of things, some of which really are luck, working hard, and help from others. And my core skills."
—Conversation with journalist Norah O'Donnell
14. "Motivation comes from working on things we care about but it also comes from working with people we care about."
—Commencement speech, Harvard Business School
15. "But the upside of painful knowledge is so much greater than the downside of blissful ignorance."
—Lean In for Graduates
16. "It is the hard days—the times that challenge you to your very core—that will determine who you are. You will be defined not just by what you achieve, but by how you survive."
—Commencement speech, University of California – Berkeley
17. "The most important thing I learned is that we are not born with a certain amount of resilience. It is a muscle, and that means we can build it. We build resilience into ourselves."
—Commencement Speech, Virginia Tech
Sheryl Sandberg Quotes on Leadership
18. "Leadership belongs to those who take it. Leadership starts with you."
—Commencement speech, Barnard College
19. "Taking initiative pays off. It is hard to visualize someone as a leader if she is always waiting to be told what to do."
—Lean In: Women, Work, and the Will to Lead
20. "Leadership is about making others better as a result of your presence and making sure that impact lasts in your absence."
—Speech at Harvard Business School's W50 Summit
Bottom Line
Sheryl Sandberg is the first woman to serve on Facebook's board of directors. She is one of the most successful female leaders in the world and aims to help women achieve their career and goals through her book, "Lean In." Use the quotes by Sheryl Sandberg to inspire and motivate yourself to be successful in business and leadership.