ShipHero is a third-party logistics (3PL) and SaaS provider geared toward small to midsize businesses. It delivers third-party order fulfillment services in addition to cloud-based warehouse management software (WMS) for ecommerce retailers and 3PL providers.
In our review of the best order fulfillment companies for small businesses, ShipHero came in third place with a score of 4.58 out of 5 based on our evaluation of 23 data points. Our research into the company's performance included visiting a ShipHero warehouse. We found that it offers a unique array of solutions for in-house and hybrid fulfillment along with functional and affordable third-party services.

What We Like
Affordable two-day shipping to lower 48 states
Options for standalone WMS software to support in-house or hybrid fulfillment
Flat-rate shipping costs: Closely control margins with ultra-predictable pricing
What's Missing
Restrictive minimum order volume requirements
Zone-free shipping fee structure can make value inconsistent
Limited warehouse network
When to Use ShipHero
Ecommerce retailers: ShipHero is one of our top solutions for small business ecommerce fulfillment
3PLs; hybrid and in-house fulfillment: Robust warehouse management software (WMS) can streamline your operation
Direct-to-consumer (DTC) brands: ShipHero has the infrastructure to affordably optimize transit times
Amazon sellers: ShipHero is Seller-fulfilled Prime (SFP)-eligible for Amazon success
When to Use an Alternative
High-value, heavy, fragile, or oversized products: Red Stag Fulfillment is more economical for special-handling needs
Health products, food and beverage, cosmetics, and medical goods: ShipBob has FDA-certified handling and storage for sensitive goods
Global distribution: We recommend ShipBob for its wide international warehouse network
ShipHero's third-party order fulfillment services are designed to help DTC and B2B ecommerce businesses meet consumer demand at scale. Its unique shipping fee structure provides high levels of predictability, making it a good fit for transitioning from in-house to outsourced fulfillment or running a budgeted startup.
Our ShipHero review finds that the company also offers money-saving perks for importers and tools to support international expansion—plus batch-fulfillment programs for crowdfunding campaigns and Amazon Prime compatibility.
ShipHero's separate warehouse management solution simplifies in-house order fulfillment for merchants and 3PL providers. It can also support hybrid fulfillment or transitioning between your own operation and ShipHero's outsourced services.
However, its zone-free shipping fees can make ShipHero's value inconsistent for some businesses, especially if the majority of your orders come from nearby zones. The company's international warehouse network is limited, and it's not economical for high-value, heavy, fragile, or oversized products.
ShipHero Deciding Factors
Supported Business Types

Small to midsize businesses, startups, 3PLs, ecommerce stores, retail stores, DTC sellers, B2B sellers, crowdfunding ventures, subscription-box services

Standout Features

Affordable 2-day shipping to the lower 48 states
Two locations in Canada with features to support North American expansion
Free, cloud-based fulfillment software with inventory management, order management, billing, and reporting/analytics features (for fulfillment clients)
Shipping, inventory, and warehouse management software solutions for in-house fulfillment
99.9% accuracy rate
Batch fulfillment programs
Flat-rate, zone-free shipping prices at three service levels
Amazon Seller-Fulfilled Prime (SFP) eligibility

Minimum Order Requirements

500 orders/month

Setup and Onboarding Fees

Fulfillment services: None
WMS for merchants: None
WMS for 3PLs: $1,000

Fulfillment Pricing

Packing, shipping, and mailing supplies: Flat-rate fee calculated per-package based on weight, size, and service level
Storage: 65 cents per cubic foot
Pick and Pack: $0 for the first 3 picks, 25 cents per additional item
Shipping: Zone-free shipping prices at 3 service levels

Contract Length

None

US Warehouse Locations

5

International Warehouse Locations

2

Shipping Partner Options

UPS, USPS, FedEx, DHL, GLS, and open-ended regional carriers

Customer Support

Via email 9 a.m.–9 p.m. Eastern time, Monday–Friday
ShipHero Alternatives
| | | | |
| --- | --- | --- | --- |
| | | | |
| Best for: DTC and B2B ecommerce fulfillment; FDA-certified storage and handling | Best for: On-demand services, labor, and space for scaling in-house fulfillment | Best for: Oversized, heavy, high-value, or fragile items | Best for: Amazon sellers |
| Monthly minimum: None | Monthly minimum: None | Monthly minimum: ≈200 orders | Monthly minimum: None |
| | | | |
Since many fulfillment companies offer pricing on a custom-quoted basis, we couldn't fairly compare the specific costs of each provider. So, our evaluation of the top fulfillment companies considered pricing transparency, billing transparency, and billing predictability.
ShipHero earned a perfect score in this category thanks to its transparent fulfillment fees, easy-to-use billing portal, and uniquely predictable fulfillment pricing structure.
The company offers flat-rate pricing that includes packing, shipping, mailing supplies, and postage. Unlike most fulfillment providers, ShipHero doesn't use shipping zones to calculate shipping charges; instead, they're determined by each parcel's size and weight, along with the service level you select (standard, two-day, or overnight). The only exceptions to this fee schedule are Zone 9 (Freely Associated States) and international shipments.
This structure can help accurately calculate and anticipate your fulfillment spend. Shipping costs typically account for the largest portion of a business's fulfillment outlay, so ShipHero's excellent billing predictability can benefit small businesses and startups—especially as they transition from in-house to outsourced fulfillment.
By aggregating shipping charges to give clients a flat-rate fee, ShipHero offers pricing that can be helpful for some businesses—but for others, it may provide an inconsistent value. If the majority of your orders come from nearby zones, a provider like ShipBob would likely provide better value.
Storage is charged on top of ShipHero's flat-rate fulfillment fees, as is pick-and-pack labor for multi-item orders containing four products or more. Overall, the service is very competitively priced.
ShipHero's warehouse management software is offered and billed as a separate product. See pricing for both services below.
ShipHero Fulfillment Fees
Service

Cost

What It Covers

Onboarding

$0

Onboarding and account setup are free

Receiving

$0

Inbound stock receipt, unpack, and check-in

Inventory Storage

65 cents per cubic foot

Storage, security, and inventory management

Fulfillment Fee

Calculated per-package based on weight, size, and service level

Pick and pack, packaging materials, and shipping

Pick and Pack

$0 for the first 3 picks, 25 cents per additional item

Picking items from inventory and packing them for shipment

Packaging Materials

$0

(included in fulfillment fee)

Free standard boxes, polymailers, bubble mailers, bookfolds, and dunnage

Shipping

$0

(included in fulfillment fee)

Flat-rate charge based on package weight, size, and service level
ShipHero WMS Pricing
Two versions of ShipHero's warehouse management software are available to support the different needs of merchants or brands performing their own in-house fulfillment and 3PLs providing fulfillment services for other clients. An additional plan with flexible features is offered to enterprise-level brands at a customized price.
All plans include standard features such as inventory management, returns, automation rules, and reporting, as well as highly rated customer support and optional consulting services.
The WMS for 3PLs comes with tools for managing clientele such as a customer portal, billing management, and finder listings. Meanwhile, the standard software for brands doesn't include third-party functionality but comes with more store connections and is offered at a lower price.
For a detailed list of features and add-on options, visit ShipHero.
WMS for Brands

WMS for 3PLs

Enterprise WMS for brands

Starting Price

$1,995/month

$2,145/month

Custom-quoted

Onboarding

Included

$1,000

Custom-quoted

User Seats

(additional seats $150/month each)

5

5

5

Store connections

(additional connections $30/month each)

10

0

10

Number of SKUs

Unlimited

Unlimited

Unlimited

Number of Orders

Unlimited

Unlimited

Unlimited

Customer Portals

✕

Unlimited

✕

3PL features

✕

✓

✕
ShipHero performed well in this category—its services are efficient and scalable while maintaining 99.9% accuracy. It also provides a sizable list of integrations and shipping partner options.
We awarded the company points for its reasonable number of fulfillment locations, but companies with large warehouse networks (such as ShipBob and Deliverr) scored higher.
Click below to expand on the features contributing to ShipHero's Quality & Functionality score.
ShipHero provides businesses with free cloud-based order fulfillment and shipping software accessible on both desktop and mobile, covering order management, returns, inventory, and billing. The platform offers real-time updates on inventory and orders, as well as insights into stock levels across warehouses with customizable reorder settings.
Multichannel sellers benefit from a unified dashboard with channel-specific views and one-click integration with major ecommerce platforms. The software also features customizable automation for smart warehouse routing, shipping method mapping, and address validation.
We found that its analytics capabilities aren't very robust, but ShipHero's fulfillment software can generate reports in the following categories:
Inventory reporting
Operational reporting
Shipments reporting
Efficiency reporting
Sales reporting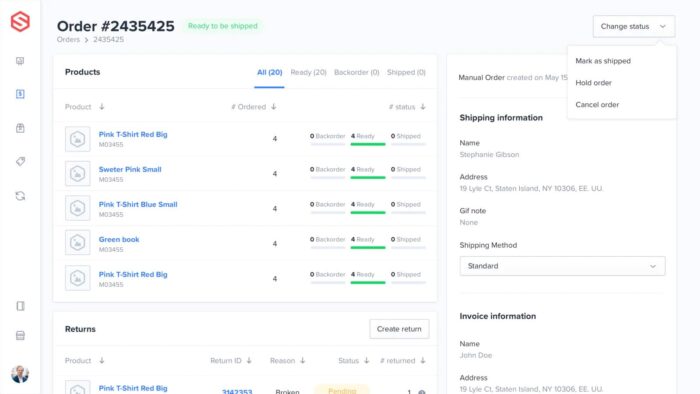 ---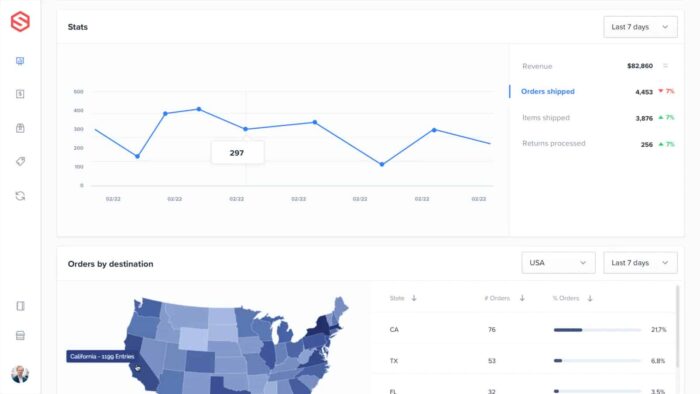 ---
---
ShipHero has fulfillment centers in six US locations plus two in Canada, providing 1.1 million+ square feet of warehouse space.
Unlike some fulfillment companies (such as Deliverr), all of ShipHero's North American locations are owned and operated by the provider. This structure minimizes room for error and streamlines control.
ShipHero's load balancing program lets businesses send inventory to one warehouse, where it's then distributed to other locations near customer bases to optimize shipping speed and stock levels. However, only pre-approved users are eligible for load balancing, and approval requirements are unclear.
The company works with a wide scope of shipping providers—plus an open-ended roster of smaller regional carriers—to achieve affordable two-day shipping options to the lower 48 US states.
---
As mentioned above, ShipHero's flat-rate fee structure doesn't use shipping zones to calculate shipping costs. This means that all orders of the same size, weight, and service level are charged at the same rate, regardless of the distance they need to travel to get to the customer (with the exception of Freely Associated States in zone 9 and international orders).
According to ShipHero, this approach allows it to provide more competitive pricing. How that translates to value depends on where your customer orders from in any given month and on the location of your inventory.
Although its exact value may be inconsistent, ShipHero's no-zone shipping fee structure allows for unbeatable levels of billing predictability. This can enable precise forecasting and budgeting, which is especially helpful for startups and businesses transitioning to outsourced fulfillment.
---
ShipHero's list of one-click native integrations include a decent array of shipping solutions and leading ecommerce platforms and marketplaces. It also integrates seamlessly with Etsy, which many competing fulfillment providers don't.
Clients can use one of its three integration partner apps to connect with platforms that the ShipHero doesn't offer direct integrations for, such as Loop Returns and Brightpearl. Alternatively, ShipHero's open API can be used to create custom connections.
Here's a current list of ShipHero's available direct integrations:
Ecommerce platforms and shopping carts: BigCommerce, WooCommerce, Magento 2, MyStoreNo, Shopify
Online marketplaces: Amazon, Walmart, eBay, Etsy, Google Shopping
Shipping and freight solutions: APC, Asendia, Australia Post, Bring, Canada Post, Canpar, Couriers Please, Deutsche Post, DHL Ecommerce, DHL Express, DPD, Endicia, ePost Global, eShip, Estafeta, FedEx, FedEx Cross Border, Firstmile, Global-e, Globegistics, Globegistics 2.0, GLS US, Hermes, Interlink Express, Joeyco, NZ Post, OnTrac, Passport, Purolator, Royal Mail, Segmail, Sendcloud, Sendle, Shippo, Startrack, UPS, USPS, Webshipr, Xdelivery
Other integrations: Channel Advisor, Oracle NetSuite, SPS Commerce, 6 River Systems
---
ShipHero's impressive specialty services earned it a high score in this category. It offers all of the standard features we look for in a fulfillment provider—including assembly/kitting, reporting, and customizable packaging options—plus uncommon offerings that add value.
Furthermore, ShipHero is eligible to send Seller-fulfilled Prime (SFP) orders, which is a significant advantage for Amazon sellers.
Unlike competitors such as ShipBob, the company doesn't offer climate control, and it lacks an international warehouse network beyond North America. That being said, ShipHero is partnered with facilities in Europe and Australia, so it can help facilitate local fulfillment in foreign markets in addition to sending cross-border shipments domestically.
ShipHero's two fulfillment centers in Canada are positioned close to the US border, which enables the company to offer a duty-free importing program through Section 321.
Section 321 is a type of shipment used to clear the US Customs and Border Patrol (CBP). Under Section 321, shipments can bypass the tariffs and duties typically associated with international packages. One of the most commonly-used ways to qualify for Section 321 is to send shipments valued below $800.
Importers can have their wholesale shipments delivered to one of ShipHero's Canadian locations. From there, the stock is incrementally moved into the US, divided into multiple $800 portions. This allows the imported goods to qualify for Section 321, which eliminates import duties with only a few days of downtime.
ShipBob and ShipMonk also facilitate duty-free import through Section 321 from their warehouse locations in Canada and Mexico.
---
ShipHero's proprietary warehouse management software is available to brands and 3PLs to power their in-house fulfillment operation. It's a complete, cloud-based solution that streamlines order fulfillment processes by providing businesses with tools to manage picking, packing, inventory, orders, and shipping directly on their mobile or desktop devices.
The platform works for ecommerce brands and merchants by connecting multiple stores with a centralized system that synchronizes and updates inventory. Similarly, it can be used by 3PLs to offer an end-to-end order fulfillment solution for clients with a customer portal, billing platforms, and listing tools.
It also delivers automation capabilities and reporting/analytics to support operational efficiency and accuracy. Plus, 3PL users get access to shipping rate comparison tools, customizable user account permissions, purchase order management, and a sandbox account.
ShipHero WMS clients can use the company's third-party fulfillment services to supplement their own on an ad hoc basis. This option is helpful in supporting seasonal sales spikes, growth, and regional expansion. It can also ease the transition between in-house and outsourced fulfillment (or vice versa) and eliminate potential downtime.
Since ShipHero's own fulfillment services rely on the same WMS platform, hybrid fulfillment options are seamlessly integrated.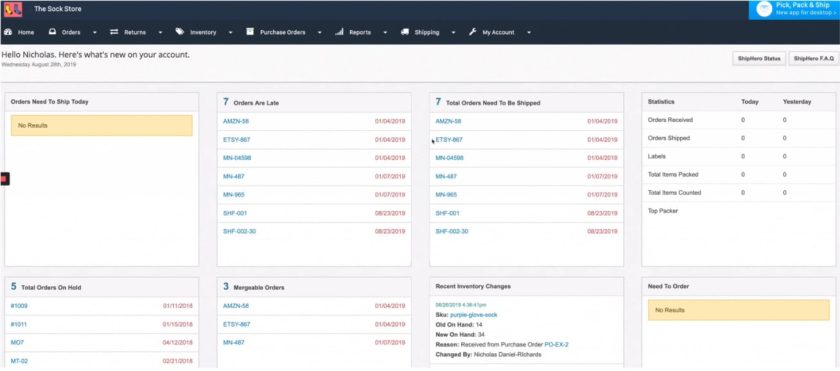 ---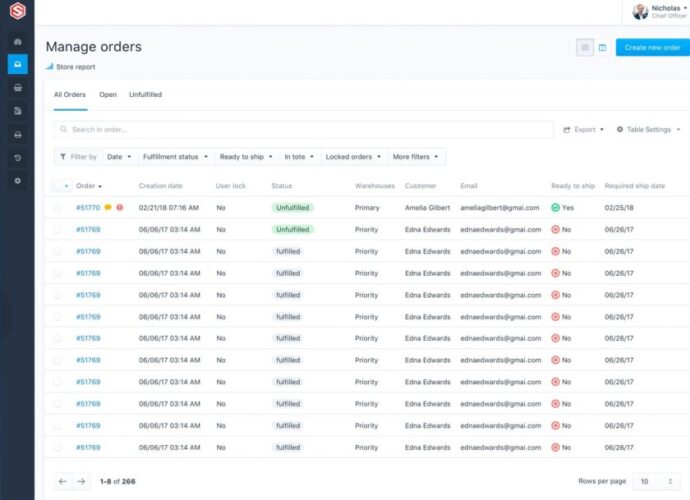 ---
---
PostHero—a suite of proprietary shipping tools—is available to all ShipHero WMS and third-party fulfillment clients.
PostHero expands your ability to track outgoing orders from shipment to delivery by centralizing tracking and shipping info, generating relevant reports, and providing customizable insights with robust data visualization.
According to the provider, these tools help businesses identify growth opportunities, recognize and address fulfillment gaps, and simplify tracking across carriers.

---

---
---
We gave ShipHero high marks in this category thanks to its intuitive software, excellent operational transparency, and functional scalability.
The company also received points for its extended customer service hours, although providers with 24/7 support and multiple support channels scored higher. We deducted points for ShipHero's moderate minimum order requirement, but companies with higher thresholds saw greater penalties.
Here's an overview of the factors we considered when evaluating ShipHero's ease of use:
Operational accuracy: ShipHero's mobile pick-and-pack systems and automation technology eliminate 99.9% of errors.

Error policies: ShipHero's policies are far less customer-friendly than competitors such as Red Stag Fulfillment. The provider is not responsible for any damage in storing, picking, packing, and shipping inventory, so it's important to insure your goods. In the case of wrong shipments, non-shipments, and swapped shipments, reimbursement is limited to the shipping fee and/or return fee at ShipHero's discretion. Inventory that is lost in the provider's warehouse will be reimbursed as a ShipHero credit for future shipping and storage costs.
Customer service: Email support is available 9 a.m.–9 p.m. Eastern time Monday through Friday, (excluding US national holidays). Specific response time is not guaranteed in ShipHero's SLAs, although staff attempt to respond to support questions within one business day.
Transparency: ShipHero's software provides visibility into each order's status in real time, including photos of every packed box. Billing transparency is also provided through detailed, itemized invoices.
Scalability: ShipHero's minimum order requirements (500/month) are fairly accessible to microbusinesses and startups, and its 1.1 million square feet of total warehouse space provides ample room to grow.
Overall, we gave ShipHero a strong score for its ability to serve small businesses with its wide range of flexible offerings. It delivers unique special services, excellent ease of use, and high popularity among all varieties of users.
When we toured ShipHero's Las Vegas fulfillment center, we found that the operation is functional and organized. Staff members were highly knowledgeable about processes, clients, and their products. The facility was well maintained and equipped with innovative technology and organizational techniques that clearly boosted efficiency.
Its combination of SaaS and third-party fulfillment services helps ShipHero stand out against the competition. It also enables the company to deliver adaptable solutions that support pivoting and growth in ways that other providers can't.
Amazon Seller-fulfilled Prime eligibility was another feature that helped bolster ShipHero's score here. Not all fulfillment partners can offer that compatibility (including the No. 1 pick in our evaluation), and it's a must-have for multichannel sellers interested in Amazon.
We detracted a small number of points in the value criteria of this category due to ShipHero's zone-free shipping rates. Since the structure aggregates shipping costs to all zones, it may provide an inconsistent value depending on your customers' locations.
What Users Say in ShipHero Reviews
ShipHero appears to have a shining reputation among users of both its fulfillment services and warehouse management software. Online feedback is plentiful, and the company's rating is very high across many trusted review sites.
Fulfillment users frequently commend the support staff for being communicative and helpful, especially with onboarding. Another theme in ShipHero's reviews is its robust software, with many users praising its user-friendly interface.
Different reviewers describe using ShipHero for in-house, outsourced, and hybrid fulfillment, which speaks to its impressive flexibility. A number of reviews also mention using it to transition from outsourced fulfillment back to an in-house operation and vice versa.
Positive and moderate reviews alike mention ShipHero's lackluster reporting and analytics features, as well as its unsophisticated backend functionality. Negative reviews report hidden charges, lapsed SLAs, sluggish receiving, and delayed responses from customer support.
There are very few 1-, 2-, and 3-star ratings of the company, but It's worth noting that an alarming number of ShipHero's negative reviews were left within the past year. The majority of these reports mention that the company "used to be great" and now "isn't what it used to be"—which could indicate growing pains that need to be addressed.
Users Like

Users Don't Like

Good onboarding process
Ineffective and slow customer support
User-friendly software interface
Decline in service
Lots of powerful features
Frequent hidden fees
Helped business grow
High shipping costs
Methodology: How We Evaluated ShipHero
To evaluate ShipHero and all 3PLs, we considered the factors that matter most to small retail and ecommerce businesses. We started by researching the provider through third-party reviews, user ratings, relevant articles, and the company's own content.
For information we can't find online, we reached out to the company as potential customers rather than reporters. We also visited a ShipHero fulfillment center and found that the provider was highly transparent with its pricing, features, and operational processes.
Our ShipHero fulfillment review evaluated the provider on a 23-point scale shaped by industry experience, reader surveys, and competing providers' attributes. The criteria weighs functionality, scalability, and transparency throughout a range of processes.
30%
Quality/Functionality
30% of Overall Score
Here we assessed each company on factors like order speed, shipping options, network size, and accuracy, as well as integration with ecommerce platforms and tools. ShipHero scored well for its efficiency, wide range of shipping partners, useful integrations, and high accuracy. However, its limited warehouse network lowered its category score to 4.55 out of 5.
20% of Overall Score
Since many fulfillment companies offer pricing on a custom-quoted basis, it's difficult to fairly compare the specific costs of each provider. So, our evaluation considers pricing transparency, billing transparency, and billing predictability.
ShipHero has an ultra-predictable pricing structure and offers good billing transparency. However, it doesn't openly publish any of its fulfillment pricing online and requires businesses to call for a custom quote. This brought down its score to 3.38 out of 5.
15% of Overall Score
We evaluated companies on customer service accessibility, software usability, operational transparency, order minimums, and scalability. High scores were given for dedicated service reps, functional software that tracks order status, and growth-friendly services ideal for small businesses.
ShipHero scored well for its user-friendly software and excellent scalability. However, its 500-order/month minimum and customer service limited to email and ticketing reduced its final category score to 4.23 out of 5.
15% of Overall Score
We awarded points for the availability of special services like climate control, international shipping, custom packaging elements, and different types of assembly. Being crucial to ecommerce operations, return handling and reporting/analytics were prioritized. Lastly, we assessed whether each company was eligible to fulfill Amazon Prime or SFP (Seller-Fulfilled Prime) orders.
ShipHero was docked for its lack of climate-controlled storage facilities. but earned points for its impressive range of other specialty services—ultimately scoring 4.3 out of 5 here.
20% of Overall Score
This score combined our retail and ecommerce experts' final evaluation of value, ease of use, and standout features with scores from real-world users on trusted third-party review sites
ShipHero's flat-rate shipping fee structure may provide inconsistent value, which cost the provider points in this category. We gave it high marks for its popularity, ease of use, and impressive specialty services for a final score of 4.69 out of 5.
*Percentages of overall score
ShipHero Frequently Asked Questions (FAQs)
ShipHero has two main offerings. Its third-party fulfillment services can support DTC and B2B ecommerce businesses that sell physical products. They may be a good fit for you if your store processes more orders than you can—or want to—fulfill on your own. The company also offers batch-fulfillment programs for crowdfunding ventures and Seller-fulfilled Prime Eligibility for Amazon sellers.
ShipHero's SaaS warehouse management software (WMS) is designed to simplify fulfillment operations for retailers performing their own in-house fulfillment as well as 3PLs that provide fulfillment services for other businesses. If you want streamlined tools to help manage inventory, orders, pick and pack, shipping, and returns in your own facility, ShipHero's WMS is a strong choice.
---
Businesses dealing in health products, food and beverage, cosmetics, or medical goods may want to partner with an FDA-certified fulfillment provider, such as ShipBob.
Local international fulfillment has a number of advantages over cross-border shipping. ShipHero doesn't operate any facilities outside North America, so sellers targeting foreign customer bases may find better success with a broader global 3PL. We recommend ShipBob.
Sellers dealing in products that require special handling should also seek an alternative fulfillment solution. ShipHero doesn't offer liability insurance, and its error/damage policies are unaccommodating. It also lacks services for goods like ammunition. We recommend Red Stag Fulfillment for heavy, oversized, fragile, or high-value items.
---
Bottom Line
Competitive pricing, excellent ease of use, and highly efficient services make ShipHero a strong choice for third-party fulfillment and/or warehouse management software. This dual offering gives ShipHero's clients the unique ability to blend in-house and outsourced fulfillment, which can support growth or aid in the transition between fulfillment strategies.
That being said, ShipHero's pricing structure may not provide consistent value for some businesses, and its limited warehouse network isn't ideal for expansion. We recommend evaluating multiple options to ensure a good match between you and your fulfillment provider.
Broker sites, such as WarehousingAndFulfillment.com, compare your specific needs to 500+ pre-screened companies to find the best fit for your business. Plus, the service is completely free to use.
Visit WarehousingAndFulfillment.com
You May Also Like…