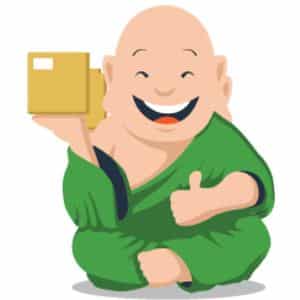 When to Use ShipMonk
There's no minimum order requirement to use ShipMonk's services—making it possible for startups and new small businesses to outsource their fulfillment operations. There is, however, a monthly minimum in pick and pack fees starting at $250.
ShipMonk's innovative warehouses feature flexible storage options and robotic picking assistance to create highly efficient operations for small, lightweight, and manageable goods. If you're a seller dealing in heavy, oversized, or fragile products, ShipMonk's processes could potentially harm your inventory and your bottom line.
In particular, we recommend ShipMonk For:
Small ecommerce businesses looking to scale: With ShipMonk, your services and volume discounts scale in tandem with your business, making it an economical choice for startups, young operations, and seasonal fluctuations.
International expansion: Stores looking to expand internationally by shipping infrequent orders outside of the US will benefit from ShipMonk's effort toward easy and accessible global shipping. The dashboard has helpful fields to calculate applicable duties and/or taxes and expedite the customs process. Plus, its shipping network features a variety of international methods.
Crowdfunding ventures: ShipMonk offers specially-priced batch programs for limited goods like product launches and crowdfunding campaigns.
Groupon, Etsy, and subscription box sellers: Many of the leading fulfilment providers are incompatible with nontraditional marketplaces like Groupon or Etsy. ShipMonk is happy to fulfill orders from these platforms and even has special options for subscription box programs.
B2B sellers: ShipMonk's software and services have robust compatibility with wholesale and B2B (business-to-business) orders, and it offers specialized retail fulfillment pricing.
Amazon sellers: ShipMonk is eligible for Amazon Seller-Fulfilled Prime (SFP) orders, which allows you to display the sales-driving Prime badge on your Amazon listings without having to deal with FBA (Fulfillment by Amazon). We recommend FBA for Amazon sellers—but if you need an alternative, ShipMonk fits the bill. It can also do FBA prep for you to take advantage of both providers.
When to Use an Alternative
Heavy, fragile, or oversized products: ShipMonk's facilities—from carton-focused storage to robotic picking automation—are highly incompatible with bulky, oversized, or delicate goods. We recommend Red Stag for any sort of special-handling needs.
High-value products: ShipMonk doesn't offer storage insurance. Your options are to add their warehouse(s) to your own policy and eat the expense or risk financial loss. Red Stag is fully insured, protected, and guaranteed to cause zero shrinkage or error, making it the best choice for luxury or otherwise high-value goods.
Health products, food and beverage, cosmetics, and medical goods: Products like these fall into an FDA-regulated category, so in most cases they require FDA-certified handling in order to comply with state and local regulations. Without climate control and certified handling, ShipMonk isn't a qualified choice for these goods. We recommend ShipBob for proper supply chain FDA-compliance.
Global distribution: ShipMonk can ship internationally, but all of its warehouses are located in the US. Retailers with a sizable international customer base are better off using ShipBob or FedEx, whose warehouse networks allow clients to store portions of their inventory in locations throughout the globe. This approach saves on international shipping costs and delivery time.
ShipMonk Overview
PROS

CONS

Best-in-class support from a dedicated service representative
Restrictive fulfillment network of 3 US warehouses
Advanced accuracy measures and warehouse automation
$250+ minimum charge in pick and pack costs
Versatile programs for nontraditional business models and sales channels
No climate control for temperature-sensitive goods like health products or grocery items
Amazon SFP (Seller-Fulfilled Prime) eligibility
Hidden costs in fine-print pricing details
ShipMonk revamps a familiar business model by providing fulfillment services with modern enhancements. Top-notch customer service and maximized efficiency are the keystones of the company's platform and serve to distinguish it from its competitors.
The company is based out of Fort Lauderdale, Florida, and has two additional warehouses, as shown on the map below. Though its warehouse numbers are limited, ShipMonk's shipping network is well-developed and provides low-cost, two to five day shipping to most of the country.
Although ShipMonk's services have no minimum order requirement, there is a minimum pick and pack fee starting at $250—If your usage doesn't meet that quota in any given month, your account will be charged the difference. At the bare-minimum pick-quantity and packaging options, $250 would fulfill 85 orders on ShipMonk's base pricing structure, so consider that the minimum order volume required to use the company's services (without incurring extra cost).
In our evaluation of the best order fulfillment services, ShipMonk scored 3.91 out of 5 on our multicriteria assessment, making it one of our top recommendations. We awarded points for the company's service quality, functionality, and popularity. Conversely, ShipMonk was docked in the pricing category for its uncompetitive storage and pick and pack fees, plus a lack of billing transparency.
ShipMonk offers the following services:
Warehousing: Three warehouses positioned near the Eastern, Western, and Southern US coasts allow sellers to strategically store and ship inventory. Free receiving and flexible storage options make ShipMonk a cost-effective choice for goods that aren't high-value or oversized.
Ecommerce fulfillment: High-tech automation and robotic assistance enables ShipMonk to achieve 99.99% picking accuracy. Dimensional scanning is used to equip each order with the best packaging possible for its size and weight.
Retail Fulfillment: ShipMonk can help with retail distribution and wholesale orders by offering fulfillment programs priced on number of SKUs and handling units.
Subscription box fulfillment: The company will assemble (or 'kit') batches of boxes to your specifications on a specialized pricing model.
FBA Prep: Fulfill Amazon orders through FBA without the headache by having a portion of your inventory packaged and shipped according to FBA's strict requirements by ShipMonk.
Shipping: ShipMonk works with six shipping carriers—USPS, FedEx, DHL, DHL Express, Passport, UPS1—all offering discounted rates.
Customer service: Each client is assigned a dedicated customer service representative, which the company calls your personal "Happiness Engineer." Support is available by phone or online through a ticket-based system. Customer service hours are 9 a.m. to 8 p.m. in the time zone of each warehouse.
Software: ShipMonk's dashboard primarily manages orders and inventory.
Customization: The company offers versatile "Special Projects" capabilities to extend assistance wherever it's needed.
Integrations: ShipMonk integrates with the top ecommerce shopping carts, seller marketplaces, tools, and solutions.
Special Services: ShipMonk offers kitting, bundling, reverse logistics, international shipping, and more. The company doesn't create branded or custom packaging, but sellers can provide their own packaging elements for additional item-pick fee.
How ShipMonk Compares to Other Fulfillment & 3PL Companies
| | | | | | |
| --- | --- | --- | --- | --- | --- |
| Monthly Minimum Requirement | $250 in pick and pack fees | None | ≈200 orders | 400 orders | 1000 orders |
| U.S. Fulfillment Locations | 3 | 3 | | 130 | 3 |
| International Fulfillment Locations | None | 3 | None | 1 | None |
| Partner Shipping Companies | USPS, FedEx, DHL, DHL Express, Passport, UPS1 | UPS, USPS, FedEx, DHL | UPS, USPS, FedEx, Amazon, OnTrac | FedEx | UPS, USPS, FedEx, DHL |
| Return Handling | ✔ | ✔ | ✔ | ✔ | ✔ |
| Kitting / Assembly Services | ✔ | ✔ | ✔ | ✔ | ✔ |
| FBA Prep | ✔ | ✔ | ✕ | ✕ | ✔ |
| Amazon SFP Eligibility | ✔ | ✕ | ✔ | ✕ | ✔ |
| Temperature Regulation / Climate Control | ✕ | ✔ | ✕ | ✔ | ✕ |
ShipMonk Pricing
ShipMonk offers a variety of fulfillment services for different needs, like ecommerce fulfillment, retail fulfillment, and subscription box fulfillment. Each service model is priced differently, and the company's site features an easy-to-use five-step calculator to preview how much your specific needs will cost.
Volume discounts apply at an order volume of 500 per month and scale upward from there. Custom pricing is available for clients fulfilling 10,000+ orders per month.
The billing portal on ShipMonk's software features a detailed breakdown of your monthly fulfillment costs.
Some users report running into unexpected costs from fuel surcharges and contract complications. ShipMonk's services may entail hidden 'fine print' costs and obligations, so be sure to understand your fulfillment agreement thoroughly.
Here's a look at the company's standard ecommerce fulfillment pricing:
Service

Cost

What It Covers

Setup

$0

Onboarding and account setup is free

Inbound Shipping

Discounts available

Discounted rates available with ShipMonk's common carriers

Receiving

$0 when guidelines are met

Inbound stock receipt, unpack, and check-in.
Free "good faith" receiving does not include counting/auditing stock, which can be done upon request at a "special project" rate.

Inventory Storage

$20 per pallet/month, or $1-$4 per bin/month

Storage, security, and inventory management

Pick & Pack

$1.50-$2.50 for the first pick, 30¢-50¢ additional items per order
$0.15-$2.00 packing materials

Picking items from inventory and packing them for shipment
$250 minimum monthly cost

Shipping

Discounted rates available with six carrier partners

Shipping costs vary depending on the size, weight, and destination of your goods.

Click here to view

an overview

of ShipMonk's available shipping methods and costs.

Returns

$3/order

Return processing, quality check, and restocking
ShipMonk Key Features
ShipMonk is frequently compared to ShipBob due to its similar service platforms and accessibility to small and/or nontraditional businesses. Here are the features that set ShipMonk apart from ShipBob and other competitors:
Best-in-class customer service was the feature that ShipMonk was founded on and continues to be a primary focus to this day. Simple but powerful enhancements like dedicated service reps, extended customer service hours, multiple service facilities, and ticket-based resolution systems lend to ShipMonk's reputation as offering top-notch support to its clients.
My experiences speaking with members of the ShipMonk staff were less than ideal. The sales representative I met with was dismissive, rushed, and even condescending; I received no helpful info or support. All other attempts to reach out to members of the company were unsuccessful.
Most user reviews and first-hand accounts of working with ShipMonk stand by their promise of exceptional service, but it's worth noting that their employees' commission-driven motivations impact how they handle customer and public relations alike.
ShipMonk creates an edge for itself by implementing high-tech enhancements throughout the fulfillment process. These warehouse upgrades increase productivity, optimize space utilization, improve ergonomics, boost throughput, enhance product security, and increase overall efficiency.
The company's operational accuracy rates are very high—99.99%—so the robotic approach seems to be working. According to ShipMonk, the increase in efficiency also results in lower fulfilment costs for its clients. The machines allow ShipMonk to pick 4x faster than the industry average and boast a 400% increase in storage efficiency.
Storage and retrieval machines (SRMs) perform automated picking tasks in ShipMonk's warehouses.
ShipMonk uses warehouse management systems (WMS) with RFID technology to tag and track storage locations, allowing its system to identify when product bins are being replenished, picked, or moved. This doesn't contribute to security (as RFID tags are usually used), but creates more reliable, real-time inventory management capabilities.
Additionally, a dimensional scanning device is used to identify the best and most protective packaging for each unique item. Similar devices are used by Red Stag, ShipBob, and other competitors.
ShipMonk is highly accommodating when it comes to packing, aiming to give the client full control over how their orders are boxed. Each packing station is even equipped with a camera to let the client view how their goods are being handled and packaged.
The company is flexible with its kitting projects, inviting sellers to include customized add-ins like thank you notes, coupons, branded packing elements, samples, and more. Plus, ShipMonk has well-developed programs for subscription boxes and other non-traditional sales.
One of the biggest reasons that some sellers choose ShipMonk over ShipBob is its compatibility with certain sales channels—namely Etsy and Groupon. ShipBob can't fulfill orders from those marketplaces, which would cost certain retailers a large portion of their sales.
ShipMonk's services are versatile and can accommodate many different alternative marketplaces and business models, including Amazon Prime sales, crowdfunding ventures, product launches, subscription boxes, and more.
When I spoke with a representative from ShipMonk, he described its proprietary software as "just an inventory management system" that is "basic and pretty straightforward." The dashboard comes free with every account—unlike pricier services such as Whitebox—but it's severely lacking in features and functionality.
It allows you to manage orders, inventory, and shipping options without a hitch, but is missing reporting/analytics capabilities. Visibility into key performance metrics and forecasted demand can significantly impact a business' trajectory, so we prefer ShipBob's advanced proprietary software.
ShipMonk Integrations
ShipMonk offers extensive turnkey integrations with a variety of ecommerce solutions and tools, including all of the leading shopping carts and marketplaces. These direct integrations are free and fast—and many are two-way compatible.
The company doesn't readily develop new integrations on-demand as a paid service (like ShipBob does), which means you're out of luck if any of your mission-critical solution providers aren't shown below. ShipMonk has a form on its site, described as a "voting" system, to request that new integrations be added. There is no information available on how efficient or reliable this process is.
Here's a complete list of ShipMonk's current direct integrations:
Ecommerce platforms and shopping carts: 3dcart, AmeriCommerce, Big Cartel, BigCommerce, Cratejoy, CoreCommerce, CS-Cart, Ecwid, FoxyCart, Magento, MijoShop, Miva, OpenCart, PrestaShop, RevolutionParts, Shopify, Shopify Plus, Soldsie, Squarespace, UltraCart, Volusion, Weebly, WooCommerce, X Cart, Zen Cart, Zoey
Marketplaces: Bonanza, Bandcamp, Cratejoy, eBay, eBay.ca, eBay.co.uk, eBay.com.au, Etsy, Groupon Goods, houzz, Jane, Jet, Newegg Marketplace, OpenSky, Reverb, Sears, Storenvy, Tophatter, Walmart.com, Wish, Yahoo, Best Buy Marketplace, Marshalls, T.J. Maxx, QVC, Target, Walmart
Multichannel management: Brightpearl, Channel Advisor, ChannelSale, Commerce Cloud, Linnworks, Sellbrite, SellerActive, Stitch Labs, SureDone, QuickBooks Commerce
Freight and shipping solutions: ShipStation, Rakuten Super Logistics
Operations, inventory and order management: Acumatica, Cin 7, DEARsystems, Freestyle Solutions, Skubana, Returnly, GeekSeller, Optoro, Spark Shipping
Payments, accounting, tax and financing: BlueVin, Brex, KickPay, Stripe Relay, PayPal
Marketing and CRM: Fullscreen Direct (StageBloc), Salesforce (Demandware), LaunchBoom
ShipMonk Ease of Use
Policies: In the event of a fulfillment or shipping error, ShipMonk will pay either the return postage or replacement value of incorrect items shipped (whichever is lesser), ship the replacement order, and waive its associated fees. This is a helpful policy only for non-valuable goods.
ShipMonk allows for up to a 2% breakage rate due to improper packaging. Claims can only be submitted if your inventory is damaged beyond that threshold, so we prefer Red Stag's 100% guarantee for fulfilling fragile goods.
The company's free inbound-shipment receiving is an enticing feature, but it comes with some stipulations. Your inventory will not be counted or audited, but rather inputted on a "good faith" basis—meaning that your reported quantity is what ShipMonk will record. If you ship orders from a third-party manufacturer straight to your fulfillment partner, this policy can create accuracy problems and inventory deficits.
ShipMonk's free receiving also has strict packaging and quantity requirements. They shouldn't be hard for most sellers to follow, but in the case that your shipment deviates from its requirements, ShipMonk reserves the right to delay or altogether reject the shipment with no liability. Qualifying inbound shipments are received and put-away within three business days.
Accuracy: ShipMonk has a 99.99% accuracy rate in fulfilling and shipping orders.
Customer Service: During onboarding, each account is assigned a dedicated client support representative (called your "Happiness Engineer") who is the main point of contact throughout the business relationship. Support can be reached by phone or email, or through ShipMonk's ticket-based resolution platform. Additional customer service facilities are located at each fulfillment center; their hours are 9 a.m. to 8 p.m. Monday through Friday.
Transparency: ShipMonk's dashboard provides some level of insight into where your orders are within the fulfillment process, but the functionality isn't nearly as developed or in-depth as that of Red Stag.
Billing transparency is available from the dashboard in the Billing tab, where invoices are itemized and updated on a monthly basis.
ShipMonk Alternatives
| | | |
| --- | --- | --- |
| Best for: Special handling needs | Best for: Standard small business and crowdfunding fulfillment needs | Best for: Full-service marketplace management |
| Monthly minimum: ≈200 orders | Monthly minimum: None | Monthly minimum: 1,000 orders |
What ShipMonk Users Think
ShipMonk appears to have a shining reputation with its users. Nearly all of its online reviews are positive, and many express utmost satisfaction with the company.
Many reviewers cite the professionalism and attentiveness of their dedicated "Happiness Engineers," even going as far as to describe them as feeling like part of their own staff. Impressive client support is a common theme in ShipMonk's reviews. Users also mention efficient services, fast order turnaround time, and contentment with the simplicity of the software.
Across the board, ShipMonk has minimal negative reviews—although the few existing 1-star ratings are highly descriptive and opinionated. One user commented that the company made numerous, frequent errors over the course of his contract and ultimately offered him a $250 payment to sign a non-disparagement agreement. If true, this would raise questions about the functionality and ethics of the company.
Other negative reviews mention general difficulty terminating the business relationship and disappointment in residential delivery fees and fuel surcharges hidden in the fine print.
Trustpilot: 4.4-star rating from 173 reviews
Capterra: 4.4-star rating from 96 reviews
G2: 4.6-star rating from 14 reviews
PROS

CONS

Responsive support from "Happiness Engineers"
Hidden fees and surcharges
Warehouse efficiency
Receiving discrepancies
Software ease-of-use and clarity
Higher shipping costs
Flexible services
Difficult, lengthy termination of services and migration process
Bottom Line
ShipMonk is a great choice for small business owners looking to outsource their fulfillment operation—as long as they're dealing in small, lightweight, shelf-stable, and generally manageable products.
Overall, its cutting-edge approach to warehouse automation and robotic assistance creates efficiency made clear by the company's impressive accuracy stats. Additionally, ShipMonk's client support appears to be the best in the industry.
Conversely, ShipMonk's policies and billing strategy aren't particularly user-friendly, especially for retailers selling high-value items. The limited warehouse network can pose another problem. We recommend evaluating multiple options to ensure a good match between you and your fulfillment provider.
Broker sites, such as FulfillmentCompanies.net, compare your specific needs to 500+ pre-screened companies to find the best fit for your business. Plus, the service is completely free to use.
Visit FulfillmentCompanies.net
You May Also Like …