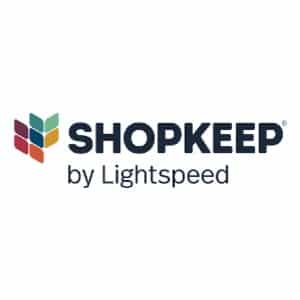 ShopKeep by Lightspeed is a cloud-based iPad point-of-sale (POS) system for retail and restaurant businesses. Small footprint restaurants and food trucks will also find a lot to like in this well-designed POS. This cost-effective, small footprint system gets high marks for ease of use. Its inventory management and reporting features are robust for most retail operations. Pricing starts at $49 per month for software for a single iPad.
What We Recommend ShopKeep by Lightspeed For
We love ShopKeep by Lightspeed for specialty stores, boutiques, and retail outlets. This system easily supports high transaction volumes in a retail setting, integrates online ordering, and provides detailed inventory and sales reports. Micro-operation food and beverage businesses that struggle to find the right-sized POS will love its streamlined interface.
In particular, we recommend ShopKeep for:
When ShopKeep by Lightspeed Would Not Be a Good Fit
High-volume bars: ShopKeep by Lightspeed is not one of our favorite bar POS systems because it does not support credit card pre-authorized bar tabs.
Pizzerias: The modifier functions are just not robust enough to make this a viable pizza POS.
Restaurants that want robust inventory: ShopKeep's inventory functions are great for retail operations, but we don't recommend it as restaurant inventory management software. It's simply not as robust as other systems built specifically for restaurants.
Shops that need to process payments offline: ShopKeep by Lightspeed cannot process offline payments on the iPad POS. Only users that opt for an industry-specific Clover Station or use an iPad on a cellular network have this function.
Looking for something different? See our guide to the best POS systems for small businesses to find the best software for you.
ShopKeep by Lightspeed POS Overview
PROS

CONS

Strong item-based inventory management for retail and hybrid businesses
Ingredient-level inventory is not robust for busy restaurants
Touch-screen interface is very user-friendly
Offline mode requires a workaround to process payments
Multiple options for payment processing
Some features are only available at higher price subscription tiers
ShopKeep by Lightspeed Pricing
ShopKeep by Lightspeed has two separate pricing structures for its retail versus restaurant customers. The retail POS pricing is clearly listed on the ShopKeep by Lightspeed website and starts at $49 per month. All retail subscriptions include the ShopKeep by Lightspeed Register, BackOffice, Pocket mobile app, and a free credit card reader. Meanwhile, restaurant customers receive a custom quote based on their estimated sales, number of locations, and number of registers their configuration requires.
Basic

Essential

Advanced

Monthly Software Fee
(billed annually)

$49 (includes one register)

$79 per register

$179; unlimited registers

Unlimited Employees

✔

✔

✔

Basic Reporting

✔

✔

✔

Advanced Reporting

N/A

✔

✔

Mobile App

N/A

✔

✔

Ecommerce Webstore, Online Ordering, and Invoicing

N/A

✔

✔

Email Marketing

N/A

✔

✔

Gift Cards

N/A

✔

✔

Advanced Marketing Features

N/A

N/A

✔

24/7 Customer Support

✔

✔

✔
ShopKeep by Lightspeed also offers a free account to businesses with less than $5,000 in sales per month. The free account gives you access to ShopKeep by Lightspeed Register functions from a single terminal, with a single login. It also includes unlimited inventory items and detailed reporting. When you start receiving more than $5,000 in sales per month or need to add employees, you can upgrade your account directly in the app without losing any time.
ShopKeep by Lightspeed Payments
Contactless options
Accepts Apple Pay and Google Pay
Promise to match or beat competitors' rates
EMV-compliant, end-to-end encryption
Option to bring your preferred processor
Contactless options
Accepts Apple Pay and Google Pay
Promise to match or beat competitors' rates
EMV-compliant, end-to-end encryption
Option to bring your preferred processor
ShopKeep by Lightspeed users can bring their own payment processor or use the built-in ShopKeep Payments. Flat-rate processing rates are listed transparently on the ShopKeep by Lightspeed website, but you can request a custom quote based on your sales volume and card types. ShopKeep Payments claims to match or beat competitors' rates, so it behooves you to shop around.
ShopKeep by Lightspeed Hardware
ShopKeep by Lightspeed Retail POS operates on iPads and Android tablets; the restaurant POS requires an iPad. You can bring your own compatible tablets or purchase them through ShopKeep by Lightspeed. Hardware kits with printers, card readers, and cash drawers are available through ShopKeep by Lightspeed, with prices ranging from around $800 to $1,500, depending on your preferences. All ShopKeep by Lightspeed subscriptions come with one free card reader to help you get started taking payments.
The system also runs on Clover Station, Clover Mini, and Clover Flex devices. You can purchase these through a Clover reseller or via ShopKeep by Lightspeed at custom-quoted prices. The Clover hardware is somewhat sturdier in a high-volume environment and is the only ShopKeep configuration that supports offline payment processing.
ShopKeep by Lightspeed also sells individual hardware components:
Integrated cash drawers
Tablet stands
Ethernet and Bluetooth receipt printers
Kitchen printers
Label printers
Bar code scanners
Integrated scales
Some POS systems—especially restaurant POS—require you to use their proprietary hardware. We like that ShopKeep by Lightspeed allows small businesses the flexibility to bring their own tablets or opt-in to industry-grade hardware. Micro operations, like neighborhood coffee shops or specialty boutiques, can likely run with a single ShopKeep license on an iPad they already own. You don't need any detailed installation or central hubs full of ethernet cords, which can help small operations find their footing faster.
Because of this lightweight set up, ShopKeep by Lightspeed is one of our top choices for:
ShopKeep by Lightspeed POS Features
ShopKeep by Lightspeed's POS app runs locally from your iPad or Clover device and syncs data to the cloud when there is an internet connection. If you lose internet access, all the POS features still function, but you need a workaround to accept offline payments. For users that operate with a Clover device, offline payments work automatically. If you have another type of device, you'll need to run the POS app on a tablet with a cellular data plan to receive online payments. Keep in mind this is riskier than processing payments on a secure internet connection.
ShopKeep by Lightspeed has an insightful solution for seasonal small businesses. It offers a "dormant mode" for shops that are closed several months per year. Turning on the dormant mode will pause the monthly subscription fees and your payments contract without deleting your data. So, if you own a summertime ice cream shop on the Jersey shore or ski-season winter gear shop in a mountain town, you won't pay for services in your offseason.
In addition to the reporting, inventory, marketing, and ecommerce features we'll explore below, ShopKeep by Lightspeed also offers:
Workforce management: The POS has a timeclock to record employee hours. You can track overtime and double time as required by your local labor laws. If an employee fails to clock in, you can add or edit shifts in ShopKeep BackOffice. It also allows you to customize employee permissions to give access to register and back-office functions.
Customer management: You can add customers directly from your ShopKeep register or in the BackOffice, then log their contact details and purchase history. Tag customers to see detailed reports of your top customers and purchase trends. In the BackOffice, you can export customer contact information to analyze in a spreadsheet or generate mailing lists for promotional marketing.
Mobile access: You can access the ShopKeep BackOffice portal online from any web browser. The system also offers a Pocket Reporting app for iOS or Android smartphones so that you can access your shop's sales and monitor employee clock-ins even when you are not in the shop.
Multi-location management: Multi-location shop owners can view sales and performance metrics from any location in their Pocket Reporting app.
Accounting integration: ShopKeep by Lightspeed integrates directly with QuickBooks, saving small shops time with bookkeeping and check printing.
ShopKeep by Lightspeed Restaurant Functions
Menu modifiers
Check management
Customizable table layout
Seats and coursing options
Track guest count and check averages
Raw ingredient tracking
Tip tracking
Open checks on one terminal and close them on another
ShopKeep by Lightspeed has every function that a restaurant POS needs, though some of them are clunky or have odd limitations. This is why we recommend ShopKeep by Lightspeed for small restaurant operations with highly streamlined menus (like burger joints, cafes, and coffee shops). Restaurants with detailed, highly modified menus will simply find more robust tools elsewhere, like with Toast. But when every other restaurant POS on the market is designed for the big guys, ShopKeep by Lightspeed is a welcome tool for the truly small restaurant.
Your ShopKeep Register tracks individual guest sales and behavior to support more detailed sales reporting than the standard ShopKeep retail settings. Restaurant users get industry-specific shift and sales reporting too. Your customers can tip on paper receipts or, for QSRs, directly on the POS screen. You can also print suggested gratuities on paper receipts if you like. Full-service restaurants can create custom floor plans on an easy-to-use, drag-and-drop grid system.
Recently, ShopKeep by Lightspeed added open check syncing, which enables your team to open a check on one iPad and close it on another. The system supports various menu modifiers to select simple adjustments like meat done-ness or add and subtract multiple toppings. Raw ingredient tracking allows you to attach bulk ingredients and non-food items like to-go containers to menu items so you can more closely track your costs. Though, if you want end-to-end ingredient level inventory tracking, you're better off with Upserve or Toast.
ShopKeep by Lightspeed Retail Functions
Integrated bar code label printing
Integrated online store
Sell items by weight
Self-checkout kiosk option
Easy returns
Monthly pricing available
Force age restriction for tobacco and alcohol sales
ShopKeep by Lightspeed is a feature-rich, streamlined retail POS. The user interface is intuitive and easy to navigate. You and your employees can ring in a sale, and process payments with minimal button pushes. The system lets you choose to print paper receipts or email receipts to customers. You can then use collected emails for future marketing campaigns.
The system can process sales by POS button presses, bar    code scan, or by weight. These options make it an excellent fit for small shops that sell a wide range of items, like a small-town general store. The accessible price makes ShopKeep a fit for any small, specialized shop, whether it sells wine, home goods, books, or boots. If you sell age-restricted items like tobacco or alcohol, you can program the POS to prompt for an ID scan before processing the sale.
Custom gift cards are an add-on feature, available with the high membership tiers or for a custom-quoted rate. The system isn't innately set up to process layaway transactions, but you can create a workaround by using the deposit features to accept a partial payment to apply later.
ShopKeep by Lightspeed Reporting
Real-time metrics
Dozens of templatized, built-in reports
Pocket Reporting app for smartphone access
Visualize data with graphs or scan text-only reports
Labor reports track time and overtime
Tip reports support restaurants
Automated end of day sales email
ShopKeep by Lightspeed's BackOffice provides templatized user-friendly reports. You can view your top-selling items and top-performing employees, alongside total sales, top-spending customers, and stock levels. The ShopKeep by Lightspeed mobile reporting app—the Pocket App—gives you access to real-time data on employee records and sales performance. Reports are available in the BackOffice, the ShopKeep Pocket app, or at each register.
ShopKeep's templatized reports are incredibly easy to read. View your sales by hour, day, category, or employee and consider sales totals or average sales. Choose to view your sales in graph form or a text-only report. The Pocket Reporting app lets you see virtually any report on your smartphone when you are away from your shop. You can also opt to have a sales recap automatically emailed to you at the end of the day.
Toggling on the Restaurant Register setting unlocks industry-specific reports like individual server shift reports. It also adds restaurant-specific metrics to the mid-shift "X report" and the end of shift "Z report." You'll also gain the ability to track non-cash tips for payroll reporting.
ShopKeep by Lightspeed Inventory and Invoices
Bulk item upload via CSV file
Unlimited SKUs
Allows open-priced and unit priced items
Low stock alerts
Robust cost analysis and inventory value reports
Integrated invoice management
ShopKeep by Lightspeed includes a built-in invoice processing module that allows shops to send invoices to customers. You can email invoices to your customers or print them out to be mailed or to accompany a delivery. Customers can pay an invoice online, by check, or in person. This is a great feature for cake shops, tailors, or other service-based small businesses. The invoicing tools are accessible via the BackOffice and are included at higher membership tiers. ShopKeep users who rely on lower-priced subscriptions can add invoicing by contacting ShopKeep by Lightspeed's sales department. ShopKeep by Lightspeed's built-in inventory module is excellent for tracking individual items, as you can enter an unlimited number of SKUs to cover all of your items. The system allows you to price items by unit or leave some items with open pricing. Raw ingredient features let you attach bulk ingredients to your inventory items, which is useful for restaurants. But if your restaurant needs full-scale ingredient-level inventory tracking, ShopKeep by Lightspeed is not one of our top recommendations for restaurant inventory management.
The inventory module's Reorder Report suggests what items you need to reorder to get your supplies back to par levels. The report is organized by vendor, and you can export it as a spreadsheet to filter and create vendor orders. The system stops just short of generating purchase orders (POs) for you, and if your inventory changes a lot seasonally, this report will be less useful. But in a small shop with inventory that doesn't often change, the reorder functions will save a lot of time.
ShopKeep by Lightspeed Marketing and Loyalty
Prompt loyalty enrollment at check out
Manage up to five simultaneous reward promotions
Identify high-value customers
Create custom email campaigns with Mailchimp integration
Monitor loyalty by cellphone number
Track online store behavior
The built-in Loyalty module is available in Advanced tier memberships or for an additional quoted price. This module supports traditional, points-based loyalty and enables you to run up to five simultaneous reward promotions for dollar or percent discounts or individual item rewards. The system tracks customers by their phone numbers, so you don't separate loyalty cards.
In addition to storing customer contact information and points totals, the Loyalty module allows you to add your own notes to customer profiles. You can create email campaigns and manage them via the system's Mailchimp integration. If you use ShopKeep's ecommerce tools, you can track what items customers add and remove from their virtual carts in your online store.
ShopKeep by Lightspeed Online ordering and Ecommerce
Powered by Ecwid
Fully integrated with the POS
Host your own online store
Multiple online channels for retailers: Amazon, Facebook, Instagram, and more
Takeout and delivery options for restaurants
Print delivery address on receipts
Curbside and in-store pickup options
ShopKeep's ecommerce tools are powered by Ecwid, which supports a ton of ecommerce tools, from hosting your own online store to selling platforms, like Amazon and Instagram. Once you set up your ShopKeep ecommerce integration, the system allows you to organize products into categories, control where you ship, and offer discount coupons. The module includes built-in templates for various sites so you can quickly start selling on multiple platforms. You can also include options for shipping or in-store and curbside pickup.
Food and beverage businesses that want to accept online orders for made-to-order (MTO) items can create an integrated online menu. You can choose to accept online orders for pick up only or offer customers the option for delivery. Currently, ShopKeep by Lightspeed does not integrate directly with third-party delivery platforms, so you'll need your own team of delivery drivers. The ShopKeep by Lightspeed POS will print delivery addresses on receipts but currently does not have integrated mapping tools. If you need more robust delivery management with your online ordering, you'll be better served by one of our top-rated delivery POS systems.
ShopKeep by Lightspeed Ease of Use
Highly intuitive interface
Accessible-anywhere reports
Train new staff in a single shift
Guided installation in the BackOffice
Searchable online database
24/7 live chat, email, and online customer support
ShopKeep by Lightspeed is one of the easiest POS systems to use. The touch-screen interface is responsive and easy to navigate. While the BackOffice and Reporting app are also well organized, they will take you longer to learn. There is a lot packed into a small package, but once you learn where to find reports (and what they are called), you'll breeze through your managerial functions.
All ShopKeep by Lightspeed subscriptions come with 24/7 live support. You can start a support conversation via chat directly in the BackOffice, send them an email, or create a support ticket by completing a form on the support website. This is an excellent tool on its own; it hosts a searchable database to learn about and troubleshoot your ShopKeep by Lightspeed system. The company is also active on Facebook, LinkedIn, Instagram, YouTube, and Twitter, so if you need to escalate a conversation, getting a higher-up's attention can be just an "@" away.
ShopKeep Restaurant Software Alternatives
| Square | Toast | Shopify |
| --- | --- | --- |
| Best for: New shops and restaurants that want free POS software | Best for: Full-service restaurants that need robust inventory and online ordering | Best for: Multichannel retailers |
| Software from: $0 | Software from: $79 | Software from: $29 monthly |
| Hardware from: $49 | Hardware: Custom-quoted | Hardware from: $49 |
| | | |
If you're still wondering if ShopKeep by Lightspeed is the best option for your business, see how it compares with other popular retail POS systems and restaurant POS systems. Also, review how it fares against the following alternatives:
ShopKeep vs Clover: Both systems offer solutions for retail and restaurant businesses, but Clover has a large app market for expanding the POS functionality.
ShopKeep vs Vend: Both systems are easy to use, but Vend has handy mobile scanning apps for receiving and counting inventory.
ShopKeep vs Square: Square's free price-point gives it an edge, but ShopKeep offers more sophisticated inventory tracking.
What Users Think of ShopKeep by Lightspeed POS
The overwhelming majority of ShopKeep by Lightspeed online reviews are positive. Users especially like how easy the system is to use and how quickly new staff members can learn to use it. The affordable price and friendly customer support were also mentioned.
Trustpilot: It earns a rating of 3.3 out of 5 based on 816 reviews
FinancesOnline: Based on nine reviews, it earns 4.4 out of 5, with a 93% user satisfaction rating
Capterra: The system earns 4.2 out of 5 based on 684 reviews
There are, of course, some users who have had a negative experience. Recent negative reviews mention having received inaccurate information from ShopKeep customer service representatives. But keep in mind, Lightspeed purchased ShopKeep in the last quarter of 2020, so it's possible that this lack of clarity was caused by changes behind the scenes and not a lack of care. Some users are also frustrated that the restaurant pricing structure is not transparent and note limitations with the inventory and online ordering functions.
| Users Like | Users Don't Like |
| --- | --- |
| Reasonable pricing | Inventory module cannot create POs |
| Works on iPads, Android tablets, or Clover Stations | Restaurant pricing is not transparent |
| Employees learn the software quickly | Some customer service reps are not fluent with the software |
Bottom Line
The incredibly user-friendly ShopKeep by Lightspeed POS is one of our all-time favorite iPad POS systems. Its light tech footprint makes it a perfect fit for small retailers, cafes, and food trucks. With month-to-month subscription options and a dormant mode that saves your business performance information, this system is also excellent for seasonal businesses. The BackOffice portal allows you to access your sales and performance data from anywhere, and the robust ecommerce tools enable even the smallest shops to expand into online ordering.
There may be some growing pains as ShopKeep by Lightspeed is folded into the greater Lightspeed POS family. But historically, its users have felt supported by this friendly system and love its streamlined features. To get a deeper look and see if it is a fit for your business, contact ShopKeep by Lightspeed directly to schedule a free demo.