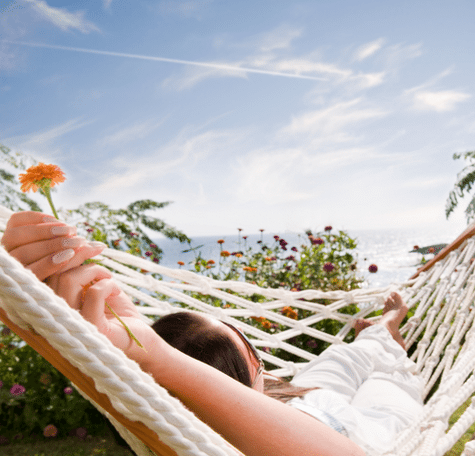 According to Office Depot's small business owner survey, less than ⅔ (61%) of small business owners plan on taking a vacation this summer. But let's be real, you need a vacation. So, keep reading and you'll find all the justification you need for that caribbean cruise this summer.
Taking a Vacation is a Good Idea: Science Says So
Always feel like you need an excuse to take a vacation? You don't! In fact, taking a vacation is one of the best things you can do for your small business. Here's why.
Click Here to get our FREE Google advertising guide and discover the 6 steps you can use to show up #1 in Google search
No Vacation = Less Satisfaction and an unbalanced work/personal life
Nobody can  perpetually maintain an optimum level of productivity and efficiency when they are always stressed out. You'll burn out and your business will crash. But, a vacation can help you de-stress, refocus, and get you back in the game in top shape.
According to a recent Gallup Poll, if you haven't taken a vacation in the last several years, you are nearly twice as likely to struggle with your work life/personal life balance and overall sense of satisfaction in life than your vacationing peers. In other words, take a break, and you'll feel less frustrated with life, which will make things easier both for you and your employees that have to deal with you and your moods everyday.
Want to be Happier and Healthier: Take a Vacation?
According to decades of research, a happy, healthier, and more positive outlook on life can increase productivity by as much as 31% and sales by 37%. Happiness AND increased business success? I'll take that any day. This is why taking a vacation is important, because it can go a long way to helping you maintain a happy outlook on life. Recent studies in the Journal of Applied Psychology and Psychology Today, found that taking a vacation was connected with longer,more satisfied, and happier lives.
Looking for a healthier you? Take a vacation. The same study by Psychology Today found that american males who skipped vacation for several years were 30% more likely to have heart attacks than those that took at least one week of vacation off per year. I can guarantee you your business will struggle if you're dead. So, when someone asks if you can afford to take a vacation, just tell them, "It's what my heart is telling me to do"
Take a Vacation So Your Employees Feel That They Can Too
Employees that take vacations are generally much more motivated and productive than those that don't. Well, if you take a vacation, it tells your employees they can too, which they might not do otherwise. A study by the audit firm Earnst and Young, found that annual performance review scores for employees increased 8 points for every 10 hours of vacation time they took. In a poll of senior business leaders conducted by the U.S. Travel Association, 91% agreed that employees who use their Paid Time Off return more focused, productive, and ready to work. Lead by example, take a vacation and encourage your employees to do so as well. The result, will be a happier, more focused, and more productive team. Plus, it's just more fun that way.
But Won't My Business Fall Apart? Not if you take these steps.
Do you have nightmares about your business going up in smoke while you are gone? If so, you are either an excessive worrier or you may not be doing a great job of mentoring your key employees. Here are the steps you need to take to make sure that your business runs smoothly while you are away.
Find Yourself a Padawan Months in Advance and Teach Him/Her Your Job
When small business owners in the Office Depot Survey were asked what the key elements were that enabled them to take a vacation, responsible and key employees was the number one answer (35%).   There are going to be times when you simply cannot run your business and someone else will have to step up, probably because of the stress heart attack you'll get from never taking any time off. That's why it is so important to be mentoring one or two key employees to be ready to fill your role when the necessary time comes. Have them shadow you on a regular business day. Teach them your tips and tricks. When the time comes for them to take responsibility, they will feel empowered to do so and you will not be worried because they don't know what they are doing. You can head off to vacation with a heartfelt, "May the Force Be With You."
Draw-up a worst-case scenario/disaster plan protocol
Afraid you will lose a big client while you are gone due to some unforeseen issue? Worried that a big deal will fall through because you were not there to oversee it? You need a worst-case scenario protocol. This is a document that spells out what step-by-step what needs to be done in a specific high-pressure situations. It needs to be in-writing and in a place accessible for employees to access, like on a bulletin board. If you have these documents in place, your employees will know exactly what to do in case of an emergency (as well as getting in-touch with you of course).
Be clear with your employees about what you should be contacted about and when you will be available
It's not healthy for you or your business if you are getting called for every little issue while on vacation. You need to be free to enjoy your time away and your employees need to learn how to make decisions on their own.
That's why you need to be clear with whoever will be in-charge while you are gone. Tell them when to contact you and when not to. Give them an hour time frame (ie. I'll be available from 2-3 every afternoon) each day when they can contact you about less important issues. Put a calling schedule up in the office that explains when you are available and when you are not. One handy trick, is to tell them that you won't have your phone and to call your spouse's cell if there is an emergency. In most cases, they will be much more hesitant to call a spouse's cell for smaller issues and will only use that option if there is truly a serious problem.
"I Need to Take a Vacation from My Vacation" : How to Avoid Exhausting and Stressful Vacations
Let's be honest, all vacations are not created equal. Most people have had that vacation where they get back feeling more stressed and tired then they did when they left. That is not productive at all. So, here are the steps you need to take to make sure your time off is truly relaxing and refreshing.
Figure Out Key Things like Travel, Housing, etc Months in Advance
There is no reason to start stressing out about your vacation months in advance. But, starting the planning process without the pressure of last-minute decision making is crucial to a successful vacation. Concentrate on the biggies, like destination, flights (bus routes, travel routes, etc), housing, etc. A lot of the smaller details can be worked out closer to your actual departure date. But, if you get the crucial elements worked out, then you will be a lot less stressed out when you realize you have a week left before you leave.
Go Somewhere That is at Least 2 Hours Away from Your Home City
Some people cannot afford to just hop on a plane and fly off to some exotic vacation destination. I get that. But, it is important to put some distance between you and your home city/place of work. If you are too close, the temptation to check-in will be much stronger and that feeling of truly being away and separated from all that business and stress will be much harder to cultivate. Put at least 2 hours between you and regular life, you'll be glad you did.
Leave Room In Your Schedule For Margin/Down-Time
"I'm so tired, but I have to see . . ." Most of us have said these words at one time or another. This is the kind of mentality that leads to tiring and stressful vacations. Seeing important monuments/places is awesome, but make sure you plan some down-time in-between. My in-law's vacations are always awesome, partially because one day is always set aside as a beach day, to just hang around, read, build sand castles,get in the water, chill, etc. Have at least 2-3 hours of unplanned time each day, to just relax and do things spontaneously.
Set aside a Specific Time To Work on Business Stuff and Tell Your Spouse, Family, etc
"I can't, I have to check a couple things for work" No phrase is more of a downer for your spouse/kids on your vacation. To avoid frustration, make it clear to everyone what time you will be doing business stuff, say from 2-3 every afternoon. Then, they know when you will be busy, can plan around it, and will not get frustrated when you can't take a bike ride or throw frisbee. This will keep them from getting stressed, making you less stressed as a result.
Will Doing all These Things Really Mean I have a Good Vacation?
When all is said and done, there is never any absolute guarantee that you will get back from your vacation refreshed and refocused. However, out of 400 travelers polled by the Institute for Applied Positive Research, 94% who took the steps outlined above reported that their vacation increased their happiness and overall energy. So, I'd say your odds are pretty good. Stop stalling, plan ahead, and take a vacation. You will be glad you did.
Click Here to get our FREE Google advertising guide and discover the 6 steps you can use to show up #1 in Google search