10 Signs of a Bad Contractor & Tips on Finding a Great One
Choosing an unprofessional contractor can cost you headaches, unnecessary time, and wasted money. Avoid these inconveniences by recognizing signs of a bad contractor, including overpromising, asking for cash or full payment, unfamiliarity with permits and requirements, or simply being unresponsive. Find a trustworthy and reliable contractor who completes projects to your standards by asking the right questions and doing your due diligence before starting any work or making payments.
Hiring the right contractor is vital for any homeowner or investor, whether you are developing a brand-new home or making minor tweaks to a rental property. Here are 10 signs you hired a bad contractor, how to avoid getting ripped off in these situations, and tips for finding a great contractor:
1. Making Extreme Promises
Contractors who don't perform their own due diligence and make extreme promises to get a job is a red flag. Since a contractor is meant to oversee the entire project, they should also want to know the minor details like budget, specifications, and timelines to get the right resources involved.
Although most contractors wear multiple hats, part of their role is to outsource some of the work to subcontractors, source partners for materials, and make sure they have the right equipment for the job. If they don't touch on any of this during your conversations and continuously promise you they're the best, it's better to move on to the next contractor.
How to Avoid
Make sure the contract includes the scope of work that is agreed upon, like a timeline for completion. Ask to have the contract include a clause that if they're not complying with the timeline or within the budget, then you receive compensation or a refund of the deposit made.
Make sure to ask the prospective contractor detailed questions. If they are unable to answer or address your concerns to your liking, then you'll need to get additional estimates on the project. Plus, it's a best practice to contact two or more contractors for any job.
When you find a contractor you like and can trust, platforms like Buildium are a project management solution that can help you track your construction projects. It even allows you to enter and prefer vendors like your contractor for any new and upcoming work. It also provides portals for easy communication between you and your tenants and contractors.
2. They're Unfamiliar With Required Permits
Many municipalities require permits for renovations involving plumbing, electrical, and demolition. These permits are required for personal and public safety reasons. If a contractor lies about permit requirements, is unwilling to obtain a permit, or is unfamiliar with the requirements, these may cause bigger issues down the road.
Circumventing permit protocols could result in a large fine from your city. It could stop the renovation project altogether, void your homeowner's insurance, and can have issues selling the property at a later date. If your contractor didn't pull a permit, you are the one required to pay the bill.
How to Avoid
You can ask your contractor to include the costs of the permits in their bids. This way, you'll know if they have the knowledge of which ones they'll need, along with pricing. Check your state's Department of Building yourself to see which permits you will need to fulfill your project. If this doesn't match the information on the bids you receive, those are signs of a bad contractor.
3. Asking for Payments in Cash
Payment in cash is not illegal. However, homeowners and investors should be wary when a contractor asks for payment in cash, especially for a large bill. This is especially true if they ask for payment upfront before doing any of the job. One of the reasons a contractor may want a cash payment is to avoid taxes or they may be an unlicensed contractor. Some contractors may even offer discounts for cash payment, only for you to find out after final payment that they covered up a botched renovation project.
How to Avoid
Decide if you want to work with a contractor who has an off-the-books reputation. If you still want to proceed with payment in cash, ensure the payment amount and payment terms are clearly outlined in a contract containing valid contact information. Add a stipulation that you can get in touch with them after project completion for any reason. Before paying any final amount, make sure you do an extensive walk-through of the project and get a paid-in-full receipt from the contractor.
4. They're Not Responsive When You Contact Them
Contractors who are typically unresponsive will be unresponsive from the start. If you're in the request for proposal stage and they take a while to get back to you regarding scheduling a walk-through or taking a long time to get you the actual quote, then that is a sign of an unresponsive contractor. Their responsiveness will not change after you sign a contract.
An unresponsive contractor is especially frustrating after you've signed the contract, paid a deposit, and yet they're still unresponsive to providing status updates or don't show up for periods of time to complete the work. Sometimes they'll show back up when they need additional funds. Unfortunately, there is no way of forcing a contractor to return, even with a binding contract.
How to Avoid
Take some time to do your research on the contractor. Ask for referrals and check to see if there are any complaints on the Better Business Bureau website. Additionally, ask your contractor for the information on their suppliers to use as reference checks and to see if they pay their bills on time. Contractors who don't pay their suppliers on time are usually bad news.
If you run into an unresponsive contractor, keep detailed notes on when you tried to contact them and how in case you need it for future litigation. Lastly, avoid agreeing to make any progress payments. Progress payments are an agreement to pay contractors for their work completed throughout the project. Sometimes bad contractors will show up after short periods of unresponsiveness to complete a portion of the work, collect money for what is completed, and then continue this cycle until the next time they need to get paid.
5. They Don't Want to Provide a Written Contract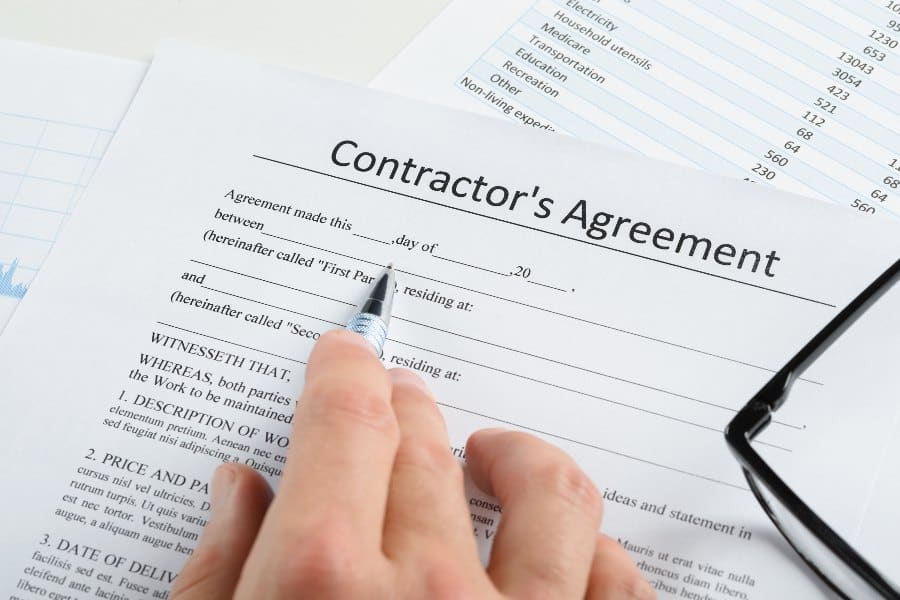 A formal contract speaks to the contractor's professionalism and knowledge of the industry, and protects both the contractor and the homeowner. They outline in detail the terms of the job, like costs, time frame, job specification, contact information, and license information. Whether the job is big or small, you should expect a contract from any contractor. In some states like New York, it is legally required that licensed contractors provide a contract.
How to Avoid
Do not pay your contractor any money without a signed contract in place. Make sure you have a copy of the signed agreement by both parties, as contracts are not binding without signatures. You'll need a contract in place if the contractor fails to complete the project, fails to complete it according to the terms of the contract, takes payment without completing the work, or charges you more than what was expected on the contract.
6. Constantly Changing Their Pricing
A good contractor will generally provide an estimate of anticipated costs before finalizing a quote. This should be the best of the contractor's professional assessment of costs, which may include subcontractors, materials, and labor for project completion. Once costs are provided and agreed upon in a contract, there shouldn't be much room for change.
If there are some opportunities for price changes, however, they should be accompanied by proper communication and approval with your contractor, so you're not surprised at the final invoice. This is especially true for any project changes, extra work, or discoveries during the course of the job. If you cannot come to a conclusion or feel the contractor is being dishonest, enlist an attorney's help to negotiate the contract and final payment.
How to Avoid
Certain steps you can take to make sure you are not being scammed with price inflation is to get an itemized invoice and ask the contractor to explain the charges. The invoice should contain the cost of not only labor, but also subcontractors, materials purchased, and suppliers. This shouldn't be difficult to procure if it's for a smaller project. Do not remit money to the contractor until you get this information from them.
Examine the invoice closely and determine which areas cause the higher invoice. Try to work things out with the contractor and come to a conclusion, especially if the contractor is being honest about expenses and the cost of materials were higher than expected. If you are unable to come to a conclusion or you feel the contractor is being dishonest, enlist an attorney to help negotiate the contract and final payment.
7. Showing Up to the Job Late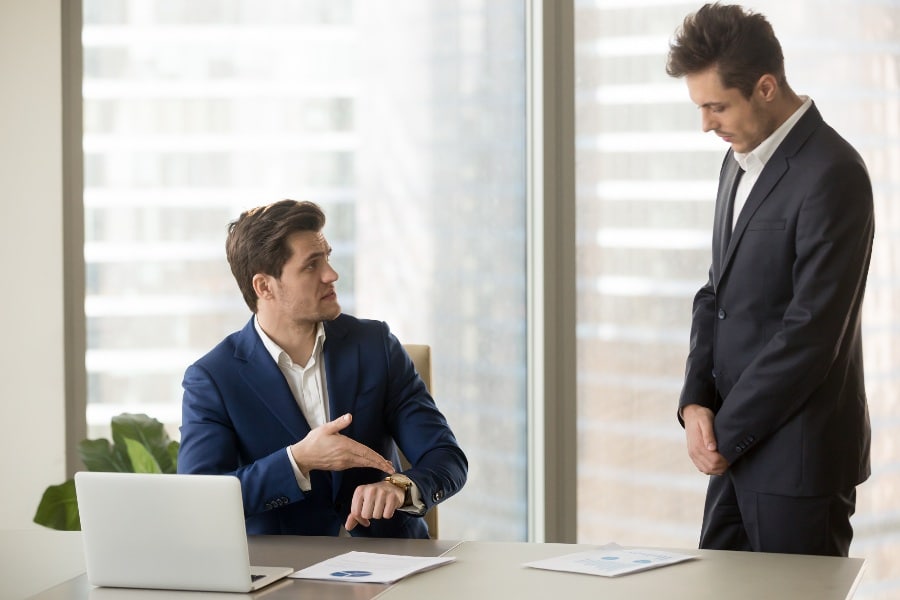 Many contractors balance a lot of projects at any given time. A professional should understand their workload and won't take on more projects without the capacity. When they're over the available bandwidth, you'll notice a bad contractor will start showing up late to the job.
When a contractor consistently shows up late, you can assume your final project will also be delayed, which may cost you money in the long run. For example, you may have a longer vacancy period if you were expecting to have renters move in on a certain date.
How to Avoid
Before you embark on a project, it's safe to say delays are somewhat inevitable. One way to screen for bad contractors is to call their current list of clients to ask if they show up on time and if their projects are seeing any substantial delays. While you have their clients on the phone, ask about their communication style and quality of work. The right contractor for the job will respect your schedule and keep their commitments to you.
8. Asking for Payment in Full Upfront
Other signs of a bad contractor include someone who is asking for payment upfront without a contract or any work completed. This is a huge red flag and you should not continue to work with them. You typically will have some upfront costs. It could be a percentage as a deposit or for materials to begin the project. Good contractors will be willing to negotiate payment and payment terms with you.
How to Avoid
Double-check with your state laws before making any advance payment, but do not pay your contractor in full upfront. Some states have limitations on how much a contractor can collect for a down payment. For example, contractors in Maryland and Virginia are limited to collecting only 33% of the project's total cost. In California, deposits are limited to $1,000 or 10% of the total costs.
9. Hesitant on Providing References
Researching online reviews on your contractor will only provide so much information. The reviews can be skewed and could be posted by disgruntled clients at no fault of your contractor. Ask for references who have had similar projects as your own to get an idea of what you can expect from your prospective contractor. Some contractors may be hesitant to provide references due to giving personal contact information of their former clients away, or feel that maybe you would somehow be bothering them.
How to Avoid
Contractors should be extremely proud of their work, so procuring positive references shouldn't be an issue. Signs of a bad contractor is one who is hesitant to give you references, in which case you should ask them why. Explain to them the importance of speaking to references to understand the project timeline, pricing, quality, issues that arose after the fact, and their communication style.
Hopefully, this makes the contractor feel more comfortable that you are not infringing on their former clients. If they still refuse to give you references, then let them know that the job is contingent on it.
10. Unable to Provide Proof of Insurance
All contractors performing work on residential or commercial spaces should have general liability, automotive, and worker's compensation insurance. If a contractor does not have insurance and is unable to provide you with proof of certificate, then you could be liable for any damage or injury that occurs during or after the project. Damages can include water damage, fire, or structural issues.
Contractors with employees or subcontractors working in the space should have workers' compensation. This covers any injury caused on the job site.
How to Avoid
Ask your contractor for a copy of their insurance certificate. You can find out if a contractor lied about insurance by contacting the insurance company listed on the certificate. You also want to confirm that the contractor's name and information listed under the "Insured" section is the same information listed on the contract.
It's important to understand insurance limits and ensure the limits listed on the certificate are adequate for the job. An insurance limit is the maximum amount an insurance company will pay for a claim that is covered by the insurance policy.
Tips for Finding a Great Contractor
The ability to find and hire a reliable contractor can make your renovation projects successful. Just because a contractor is licensed or has insurance, doesn't mean the work product and quality would meet your standards. Consider factors like length of work experience, type of past projects, and their overall sense of professionalism during your communication.
We've identified other useful tips to help you find a good contractor:
Ask for referrals from other people you trust: Referrals are the best leads in the real estate industry, and the same applies to finding a contractor. If someone had a great experience, they're more than willing to recommend a contractor who did excellent work for them.
Check their reviews: Do some due diligence on your own. Online reviews are a great place to start, but some states have a Department of Buildings with contractors listed to see their work history. New York, Illinois, and California provide resources to help search contractor records and verify information.
Ask for photos of past work: Images are worth a thousand words. If you can visually see the work and are satisfied with the outcome, you can easily assume yours will fall along the same quality.
Call their references: If you're investing a lot of money into a project, this step is worth the effort. It helps you create a whole picture of who you'll be working with.
Get quotes from more than two contractors: You might be surprised at the price range when you get quotes from multiple contractors. Take a close look at the bids so you can compare apples to apples to get the best deal and professional for the project.
Don't just care about the bottom line: Expenses are important, especially if you're in the business of finding homes to flip. However, sometimes you do get what you pay for, so don't always go with the cheapest quote because that might cost you in the long run.
Homeowners can free up some time by outsourcing their property management to companies like Roofstock. Roofstock has trusted property managers across the country willing to help protect your assets. Its experienced property managers can help seek out qualified contractors to help you increase the value of your investment.
Bottom Line
Dealing with contractors may be the harder part of beginning any renovation work, especially if you're dealing with projects like flipping homes for a profit when expenses are top of mind. By understanding the signs of a bad contractor, you can feel confident that the person you hire next will be right for the job. With the right person in place, you set yourself up for successful, on-time project completion.