Session initiation protocol (SIP) trunking refers to the sending of voice and other communications as data over the internet instead of a landline network. SIP is the underlying software technology that powers voice-over-internet protocol (VoIP) services for small businesses. This technology provides cost savings over landline systems and also provides additional features like chat messaging.
For those in the market for a business VoIP service that offers SIP trunking, we suggest Nextiva. Nextiva is our top overall pick for small business phone service because it comes at an affordable price and also lets you enjoy unlimited domestic calling. Not only that, but the service also offers a toll-free number for your organization. Click here to learn more.
How SIP Trunking Works
SIP trunking is an important underlying technology for VoIP-based business phone systems. In basic terms, you can think of a SIP trunk as a digitized version of an analog line. It works in conjunction with an internet protocol (IP) private branch exchange (PBX) service to deliver calls over a data network.
When you initiate a phone call with a service like Nextiva, the call will go through a SIP trunk, which then connects your phone to the public telephone network, otherwise known as the public switched telephone network (PSTN). This lets you make calls to other VoIP phones, landlines, and mobile phones.
Because internet-based calling occurs over a data network instead of a copper landline, it offers several advantages over a traditional phone system. Most notably, VoIP-based telephony is considerably less expensive than landline setups. They usually include unlimited domestic calling as well as lower rates to call international numbers. They also provide features that are not possible with landline phones, such as text messaging and high-quality audio during calls.
Many internet-based phone services also offer advanced features beyond calling and texting. Leading systems come with features such as video chat, voicemail transcription, and the ability to connect call data with outside business software such as a customer relationship management (CRM) solution. For most small business owners, a VoIP service with SIP trunking is the best possible choice for a business phone service.
Other terms you might encounter related to SIP are VoIP and primary rate interface (PRI).
SIP vs VoIP
Sometimes, you'll see the terms SIP and VoIP used interchangeably. If you aren't familiar with internet phone services, then keeping track of all of these terms could be confusing. What is important to note here is that SIP trunking is one of the technologies that power VoIP systems. If you adopt a mainstream VoIP service, it will come with built-in SIP trunking functionality.
SIP vs PRI
When researching SIP trunking, you may also come across the term PRI. PRI refers to an older form of landline-based phone technology that has been around since the 1980s. Rather than transmit calls over the internet, PRI technology transmits voice, data, and video calls across a traditional landline network. While it can be more reliable than making calls over a data network, it is usually more expensive than SIP-based products.
Who SIP Trunking Is Right For
All told, the SIP trunking technology found in VoIP services is beneficial to nearly any small business user with a reliable high-speed internet connection. VoIP phone systems usually cost a fraction of their landline counterparts and offer features like web chat, video calling, and recording of calls.
If you want to install a new landline service, the process could cost thousands of dollars, as it may involve wiring your office in addition to paying high fees for service. Meanwhile, VoIP technology only requires an internet connection, which your business is already likely to have. Therefore, SIP trunking is a good fit for most teams.
SIP Trunking Costs
SIP trunking comes included with all of today's leading VoIP and unified communications (UC) services. Therefore, the cost of SIP trunking will depend entirely on what service you choose. This could range from $19.99 per user, per month, for Vonage's entry-level package or up to $55 per user, per month, for Nextiva's top tier plan.
No matter what service you go with, you can rely on the ability to make calls over the internet, thanks to SIP trunking technology. When looking at VoIP and UC services, you should consider what advanced features your business needs, such as a toll-free number or software integrations. Check out our guide to the best business phone systems for more information.
SIP Trunking Features
Business phone services are bundled with SIP trunking features to help small businesses make and receive calls as well as text and check voicemail. There are also advanced features such as an automated attendant to greet and route callers and the ability to adopt a toll-free 800 number that also makes these services useful.
Unlimited Calling
Perhaps the most notable advantage of SIP trunking over landline-based systems is the fact that they offer unlimited calling to most locations in the United States. This is a stark contrast from landline phones that could charge per-minute rates for making calls outside of your local area code. Many services even offer free calling to Canada as well.
Toll-free Numbers
The majority of SIP-based internet phone services offer users a free local telephone number with a regional three-digit area code. However, there are also systems like Nextiva that offer a toll-free number with an 800 prefix. This is helpful because it allows customers to call your company at no cost to them. It also makes your company look like a national, established operation.
Mobile Apps
Many leading SIP trunking services offer a mobile app for their phone system. These apps allow you to make calls and send text messages with your work number even when you are away from the office. They work in an almost identical fashion to the default phone and messaging apps found on Android and iOS platforms. This is ideal for remote workers or those who travel frequently.
Automated Attendant
Automated attendants can automatically greet all incoming callers and route them to their desired extension via a voice menu. This is helpful because it saves your employees from having to answer calls manually. It also provides your organization with a more professional business presence over the phone.
SIP Trunking Providers
There is no shortage of phone providers with SIP trunking functionality on the market. Not only that, but they are remarkably easy to use and offer additional features like visual voicemail, high-definition (HD) voice, and video conferencing. There are services to match every unique business need and budget.
Some of the more notable SIP trunking providers include Nextiva, Vonage, and 8×8.

Nextiva is our top overall pick for small business VoIP services. The software, which starts as low as $20 per user, per month, offers unlimited domestic calling, voicemail-to-email transcription, and an automated attendant to greet and route callers automatically. It even offers a 30-day free trial. Click the button below to learn more about Nextiva today.

Vonage is a VoIP service that starts at $19.99 per user, per month, and offers standard features like a mobile app, team messaging, and voicemail-to-email transcription. What makes Vonage stand out is the fact that you can also add a la carte features like automatic call recording and a toll-free number to any plan for an additional fee. Click here to start your 14-day free trial today.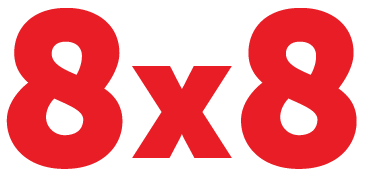 8×8 is an internet-based business phone service that offers unlimited domestic calling and texting starting at $25 per user, per month. However, 8×8 is unique from other services in the sense that it also allows for unlimited calling to up to 47 countries around the world in its top-tier package. This makes it a good fit for organizations with an overseas business presence. Start your 30-day free trial by clicking here.
Pros & Cons of SIP Trunking
SIP trunking allows small business users to harness the power of internet telephony by connecting their system to the greater phone network. However, it might not be a good fit for all companies. Here are some pros and cons to using SIP trunking technology.
Pros of SIP trunking
Cost-effective: Setup and monthly fees for SIP technology are usually a fraction of the cost of a landline system.
Ease of use: Using a phone service with SIP trunking works in a very similar fashion to making calls on a standard desk phone.
Advanced features: Unlike landlines, internet-based phone services offer advanced features like mobile apps, automated attendants, and team messaging over the web.
Cons of SIP Trunking
Requires internet: Because SIP trunking requires a stable internet connection, it could be unviable for those in rural areas or those who do not have access to high-speed service.
Requires electricity: An internet connection requires electricity, so you will not be able to use your VoIP service in the event of a power outage.
Quality issues: If your internet connection is slow, then you will experience spotty audio quality during calls. You can take our VoIP speed test to learn if your network can handle a phone system.
Alternatives to SIP Trunking
If you find that an internet-based phone service with SIP trunking does not suit your business needs, there are alternatives available. If you do not have access to stable high-speed internet, then a landline network will provide reliable call quality. It may be more expensive than a VoIP service, but it could be beneficial to have a phone line that runs independently of your network.
Additionally, a business cellphone plan for you and your employees will also allow your team to stay in touch even in the event of a power outage. All of the major wireless carriers in the US offer specialized plans for business users and may even include free phones with new contracts. Check out our guide to the best business cellphone plans for more information.
Frequently Asked Questions (FAQs)
Does SIP trunking improve audio quality?
In some cases, yes. Many phone service providers offer HD voice capabilities, which offer enhanced audio quality during calls. Check with your provider to see if they include this feature.
Do I need special phones for SIP trunking?
That depends on how you want to use your system. In some cases, you can use a desktop softphone app or a mobile app to make calls with your VoIP service. However, there are a large number of VoIP phones available on the market that work similarly to landline desk phones. For more information, take a look at our guide to the best VoIP phones of 2019.
Can I use SIP trunking to make emergency calls?
The majority of VoIP services on the market offer what is knowns as E911 functionality. This allows you to make 911 calls and share your location with responders automatically. This can help reduce response time in the event of an emergency. When researching services for your business, check with the provider to see if they offer E911 calling.
Bottom Line: What Is SIP Trunking
SIP trunking is an important underlying technology to VoIP communications. It allows you to make a call over the internet to any other VoIP device, cellphone, or landline device, thanks to its ability to connect to the PTSN. It is found in virtually any mainstream VoIP system on the market.
If you are looking for a business phone service with SIP trunking features, we recommend taking a look at Nextiva. The service comes at an affordable price and allows for unlimited calling throughout the US. It also offers an auto attendant and a toll-free number to give your business a respectable phone presence. Click the button below to get started.