A small business debt consolidation loan can lower your interest rates and reduce the size of your monthly payments. They may even enable you to borrow additional working capital. Knowing when it's the right time to consolidate business debt depends on the terms of your existing debt, your business's current finances, and your personal credit.
SBA loans will likely offer you the best rates and longest repayment terms of all business consolidation loan options. SmartBiz may be able to help you consolidate up to $350k in business debt with SBA financing. Their loans have low rates with ten year terms and monthly payments. You can prequalify online in minutes.
When to Get a Small Business Debt Consolidation Loan
You'll typically know if it's the right time to consolidate your debt by events that improve your personal or business credit profile. Consolidating at the right time can get you lower interest rates, better repayment schedules, and longer terms. Consolidating at the wrong time can waste your time, damage your credit, or get you a bad loan that can hurt your ability to borrow in the future.
We asked Mihir Kroke of Able Lending when the right time to apply for debt consolidation was, and this was his reply:
"There are two timelines to keep in mind when consolidating business loans. Timeline #1 applies if you had good credit and took out a short term loan because you needed the quick-turnaround time of a short term loan provider. In that case you can apply for a consolidation loan right away.

Timeline #2 applies if you took out short term debt because your finances or credit wouldn't allow you to qualify for anything better. In that case you would want to wait for three months of positive revenue trends before applying for a consolidation loan in order to increase your chances of approval."
In other words, unless you're consolidating loans you took out for expediency's sake, you should consolidate your business debt when you're a better applicant for a loan than you used to be. There are many ways to accomplish this.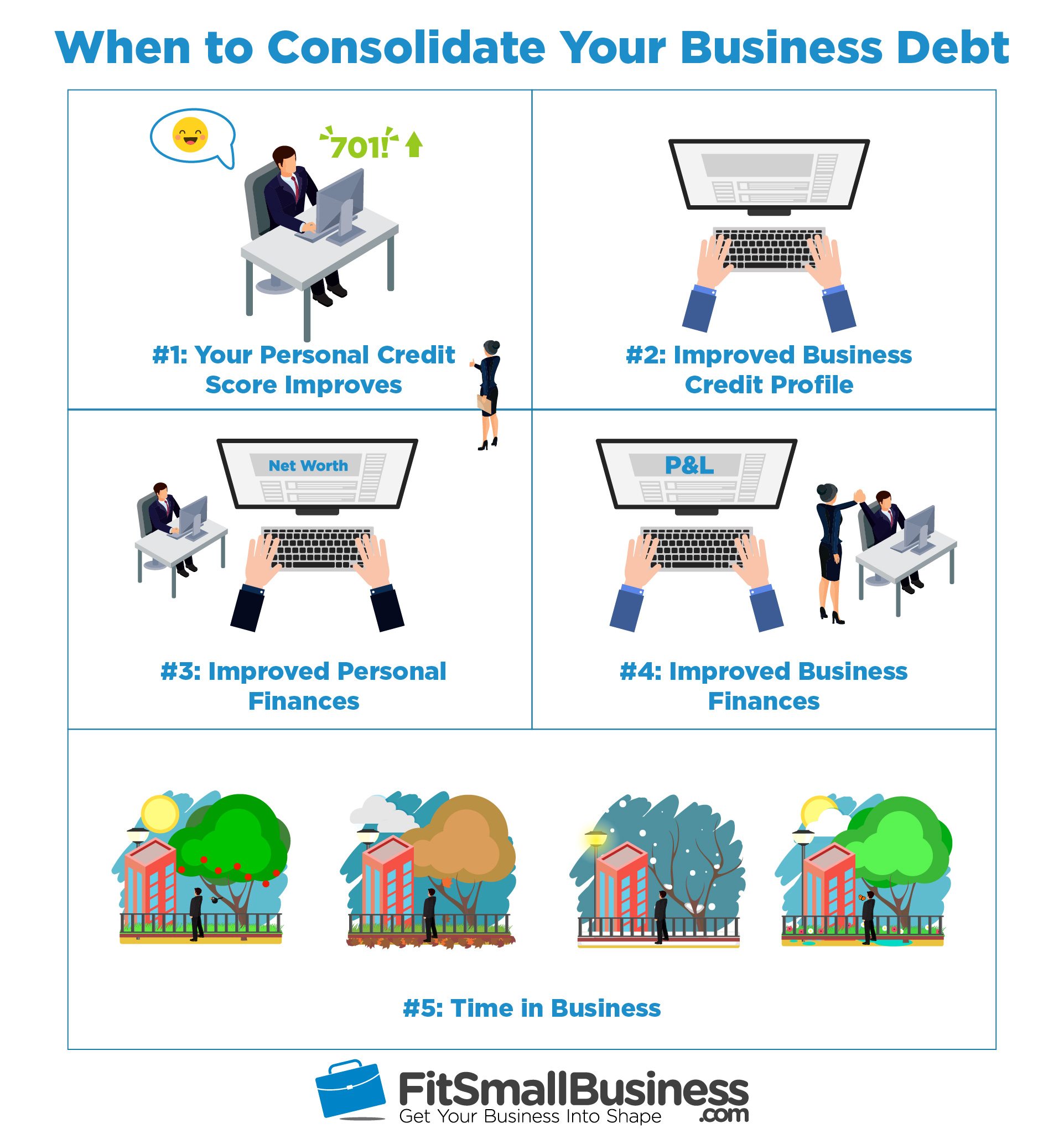 Here are 5 signs it's a good time to consolidate your business debt:
1. Your Personal Credit Score Has Improved
If your personal credit score has significantly improved since you last borrowed money, then now might be a good time to consolidate your business debt. An improved credit score is an important qualification for lower interest rates and longer repayment terms.
Keep in mind that your credit score improving by only a few points is not likely to qualify you for a better loan, because your increase needs to be significant. Also, no matter how much your credit score improves, negative credit events like bankruptcies, tax liens, or repossessions can make qualifying for a small business debt consolidation loan nearly impossible.
Below we look at what credit improvement milestones you need to make in order to potentially qualify for both an SBA loan and an alternative consolidation term loan. These are likely your two best options when looking to consolidate your debt.
SBA Loans with 10-Year Terms
Term Loans with Up To 5-Year Terms
650+ (Check your credit score here for free)
Consistent recent history of making timely debt payments (3-6 months)
Good for refinancing MCAs, short term loans, credit card debt, etc.
If you're looking to consolidate a small amount of debt (under $35K), then business credit cards can be a great option. They're typically much easier to get, and faster to apply for than either term loans or SBA loans. Business credit cards are also likely your only option with 0% rates, even if they only last for the introductory period.
An SBA loan has harder qualification requirements to meet, but they're typically the best option for debt larger than $35K. SBA loans help you lower your debt payments by offering lower interest rates and longer repayment terms than other term loans. SmartBiz offers these SBA loans up to $350K and repayment terms up to 10 years.
2. Your Business Credit Profile Has Improved
Showing an improvement in your business credit usually involves showing that you're a more responsible borrower. This means that you generally don't have more debt than you can handle, and that you're not using the full value of your available credit lines. Improvements in both areas make you a good candidate to consolidate your business debt.
A good business credit profile will generally have:
Multiple companies reporting
Positive (timely) payment histories
A high percentage of available credit line you are not using
No reporting errors
No bankruptcies, repossessions, or tax liens
Understanding business credit reports, how they work, and how you can build your business credit can be difficult. However, it's an important skill to manage if you find yourself struggling with expensive debt, and checking your score is the first step.
3. You Personal Finances Have Improved
As a small business owner, your personal financial health is just as important as your business's financial health. That's because you'll likely be asked to personally guarantee any business consolidation loan. The lender needs to feel confident that if your business were unable to make the payments, you'd personally be able to step in and make those payments.
Here are some ways your personal finances might show improvement:
Increase in income
New sources of income
Recent reduction of outstanding debt
Increased equity in a piece of real estate (that you're willing to pledge as collateral)
Fewer dependents or reduced necessary household expenses
Any significant improvement to your personal finances will increase your chances of qualifying for a consolidation loan with better rates, longer repayment terms, and a more convenient repayment schedule. You should also check your personal credit from time to time to stay on top of what your credit score is, so that you can hit the minimum requirements for debt consolidation loans.
4. Your Business Finances Have Improved
It's best to approach a lender about a business consolidation loan when your business finances (revenues & profitability) have a positive trend. Your ability to qualify for better financing terms can improve quickly if you have a successful month, quarter, or year.
When you accomplish an important business objective, it's often a good time to start thinking about consolidating. Anything you can do to paint an upward swing on your business's revenue and/or overall financial strength is a big positive in getting approved for a loan.
Here are some situations that can improve your ability to get funded for a consolidation loan:
Finished a busy season
Filed most recent taxes (showing improved profitability)
Increased revenues significantly
Lowered expenses significantly
Revenues have grown steadily for the last 3-6 months
Any time your business's revenue or profitability has increased for 3+ consecutive months, it may be a good time to consider consolidating your business debt. If you fall into one of the situations above then here are some general guidelines to keep in mind before you apply, which are again broken up by either SBA loans or alternative consolidation term loans:
SBA Loans with 10-Year Terms
Reach $120,000+ annual revenue
3+ months of upward trends
Term Loans with Up To 5-Year Terms
Reach $25,000+ annual revenue
3+ months of upward trends
5. Your Business Has Reached a New Milestone
The longer your business has been operating, the more financing options are available to you.
Many lenders set a minimum time in business to qualify for their loan products. The most common minimum requirements lenders set are:
3 months
6 months
1 year
2 years
As your business ages, the amount of opportunities to obtain needed debt relief typically increase. For example, an SBA loan typically requires two years time in business while term loans often require only one year. In most cases, lenders will not consider time that your business was idle (not operating or generating any revenue) as counting towards time in business.
When your business hits a new milestone, you have likely just opened up an entirely new type of business financing. If you've been juggling credit cards, short term loans, or MCAs, you are much more likely to qualify for a small business consolidation loan once you hit the next milestone. You can use our consolidation calculator to determine how much you could save.
If you've recently hit one of the milestones listed above, you may qualify for a consolidation loan with SmartBiz. They offer SBA loans with rates between 6-9%, and repayment terms up to 10 years. Getting pre qualified online takes just a few minutes and funding can happen in as fast as 30 days.
Six Benefits of Business Debt Consolidation Loans
While refinancing can help reduce your overall loan costs, it is not the only benefit. Refinancing business debt can generally help your business do 6 things:
1. Reduces APR
Reducing interest rates is a very common goal for small businesses that have taken out a short term business loan or a merchant cash advance. While there is certainly a place for short term financing, the cost makes it unsustainable for a long period of time. A small business debt consolidation loan comes with lower APR than nearly every short term financing option available.
2. Lower Monthly Payments
Business loan consolidation typically results in lower monthly payments. A lower monthly payment can ease current strains on your business's cash flow. That means you'll have more cash available for normal operating expenses and unexpected opportunities. It may also allow you to avoid additional borrowing in the future.
All else equal, small business consolidation loans result in lower monthly payments because they have a lower APR and a longer repayment term. If your goal is to lower the amount you're paying on your debt each month, then an SBA loan is likely going to be your best option.
3. Allows for Additional Borrowing
When small businesses get consolidation financing, they may qualify for additional borrowing. That's a result of the lower APR and longer repayment terms, which increases the business's DSCR (Debt Service Coverage Ratio).
It's not uncommon for small businesses to require some additional working capital when consolidating business debt. The additional working capital should help them deal with the unexpected, or help them afford needed equipment. This will hopefully prevent your business from falling back into getting another expensive short term loan in the future.
4. Simplifies Cash Flow Management
A business consolidation loan can help you better manage cash flow in three ways:
Rather than juggling multiple creditors, you will now manage just a single account
You'll now have just one monthly payment.
The lower rate and longer repayment term will result in a smaller monthly debt payment.
All of these benefits should give you more cash in the bank to cover regular expenses. This will not only improve your financial situation, but it will also streamline your cash flow management process.
5. Free Up Revolving Credit Lines
Revolving business lines of credit, especially credit cards, are an incredibly useful cash flow management tool. They give a business a high degree of flexibility in their spending since you can float bills, essentially interest free, as long as you pay the card in full each month. However, if you've built up a balance on the line, you lose flexibility and are on the hook for expensive debt payments.
Consolidating small business credit card debt with a business consolidation loan not only makes the monthly debt payment more affordable, but it frees up your credit line again. You'll have a more affordable loan and a revolving line of credit that's ready to be put back to work, or to have on reserve to prepare for the unexpected.
6. Make Payments More Predictable
Many short term loans that are consolidated have variable interest rates. This means that the payment changes over time, and you can't accurately budget the same amount on every payment date. This can be very frustrating if your payments end up being more than what you expected.
A consolidated business loan with a fixed interest rate helps you more accurately budget what your loan costs will be through the entire term of the loan. You will not have the unexpected payments or frustrations that a variable interest rate loan can bring.
SBA loans offer all six of these benefits, and they do it with the lowest rates and longest repayment terms available. SmartBiz can get you funded you for an SBA loan up to $350K, and get you funded in as quick as 30 days. This is much faster than other SBA loan providers, that often take 45 – 120+ days to fund. You can prequalify online within a few minutes.
Small Business Debt Consolidation Loans
Not every type of loan is a good fit when looking at refinancing your business debt. Many short term business loans, for example, get refinanced or consolidated themselves. These loans are often more expensive the longer you keep them, and are almost always meant to be paid off or refinanced within 12 months.
Generally, term loans and SBA loans are the main two options for borrowers looking to consolidate their business debt. The table below shows a general summary of qualifications and terms for both medium term business loans and SBA loans.
SBA Loans vs Term Loans for Debt Consolidation
Qualifications: SBA Loan vs Term Loan
In general, qualifying for an SBA loan to refinance your business debt will require a personal credit score of 680+, been in business for 2+ years, and revenue of at least $100,000.
You can generally qualify for a medium term business loan to refinance your business debt if you have a personal credit score of 600+, been in business for at least 1 year, and your gross annual revenue is $25,000 or more.
Time to Funding: SBA Loan vs Term Loan
You can qualify within 1 week, and the underwriting process can complete in 1 – 2 weeks. However, typically funding takes 45 – 60 days.
You can be pre-qualified in 5 minutes, fully approved within 1 to 3 days, and receive your funds as quick as 1 week.
Costs: SBA Loan vs Term Loan
An SBA loan must follow the maximum guidelines set by the SBA, which can change. Generally the interest rates will fall between 6% and 8.5%, with fees raising the total APR as much as full 1% on top of the interest rate.
Origination fees can be as much as 4% of the total loan amount, plus a fee the SBA charges to guarantee the loan on loans above $150,000. That guarantee fee can be as much as 3% – 3.5%. You can see current SBA rates here.
The APR for these loans generally range from 10% to 40%. This includes an origination fee that ranges from 2.5% to 5%.
SBA Loan vs Term Loan Summary
SBA loans can be a great option, but they have relatively strict qualifications. Not only that, but obtaining an SBA consolidation loan from a traditional lender can take 2 – 3 months. However, SBA loans are likely your cheapest consolidation option, making them the best option for many. And companies like SmartBiz have streamlined the SBA loan process so that many business owners are funded in under 30 day.
A more alternative term loan may be a better option for you if you need the loan quickly or if don't want to deal with the frustrations and headaches of an SBA loan process. You're going to end up paying larger interest rates, causing your monthly payments to be larger than they would be if you waited for an SBA loan.
SmartBiz SBA loans have rates between 6-9% and terms of up to 10 years. They are a great fit for businesses that are ready to solve their short term debt issues. You'll typically qualify if you have 2+ years in business, are profitable, and have a personal credit score of 680+. Get prequalified online in just a few minutes.
How to Consolidate Business Loans
Consolidating your business loans generally starts with understanding what type of debt you're consolidating, and what the terms of that debt are. Depending on the amount you need and what your current terms are your consolidation options may change.
For less than $35K of debt, business credit cards may be your best option. You can apply online and typically get access to funds within the same day you're approved. If you're looking for a small business credit card check out our article on the best small business credit cards.
SBA loans will likely be your best option when consolidating larger amounts of debt, if you're able to qualify. These loans can carry a lot of paperwork and take a lot of your time during the application process. You can learn more about the application process by reading our article describing how to get an SBA loan.
Here are the 5 steps to consolidate business loans:
1. Determine What Debt You Want to Consolidate
You may be in a position to consolidate some, but not all of your debt. Or some of your current loans may have good terms that you want to keep while others do not. You need to know how much debt you're consolidating, and which loans you're going to throw into a new loan before you start applying.
2. Understand the Terms of Your Current Debt
Some of your current loans may have obstacles that prevent you from consolidating them, like abnormally high prepayment penalties. According to Michael McCord, CPA and Managing Partner of McCordial & Company:
"Some of the lesser known mistakes I see people make is not factoring in prepayment penalties or intangibles during consolidation. The initial inclination is commonly to consolidate the highest interest rate loans first. However, often times I've seen folks not adequately consider the cost of prepayment penalties or other refinancing costs into the math.

Further, intangibles such as operational covenants or whether loans are full recourse (personal recourse), limited recourse, or no recourse at all can be a huge deal. Consolidating to a slightly cheaper interest rate can be a mistake if it means potentially violating covenants or personally guaranteeing significantly more debt."
Being aware of these aspects of your current loan covenants is important. They may have been unimportant when you first borrowed, but they could make a significant difference when you're consolidating.
3. Compare Your Current Debt to Your Potential Consolidation
Now that you have all the details, you can look at whether consolidating will actually save you money, or if it at least has the potential to do so. Taking everything into consideration, you can then weigh your options.
It may not make sense to move forward with the process at this point. If consolidation could cost you more money then you likely don't want to go through the long application process of getting an SBA loan. However, consolidating your business loans is typically the best option if you currently have debt that you're struggling to keep up with.
4. Gather All Necessary Documentation
Now that you're ready to move forward with a business loan consolidation, you need to make sure you're prepared. SBA financing, even SBA express loans, can take a long time to fund, and the process is only slowed down if you're not prepared with the right documentation before you apply. Collecting all of the needed information up front improves your chances at getting approved.
5. Apply to Consolidate Your Business Loans
Finding the right lender and starting your application process is the final step in consolidating your business loans. This step involves working with a lender to get you and your business approved by their loan underwriting team.
Finding a loan provider, like SmartBiz, will streamline this process because they offer an online application that only takes a few minutes to see if you prequalify. And they handle the administrative work for you.
Qualifying for a Business Debt Consolidation Loan
As a summary, qualifying to consolidate your business debt can be a lengthy process that involves a lot of different terms that you may not be familiar with. The table below represents the key factors that the underwriting team typically looks at with your consolidation loan application.
Key Factors for Qualifying for a Business Debt Consolidation Loan
Definition
Common Minimum Requirements
Credit Score

(Check yours for free here)
A number indicating whether or not a borrower is a risk to lend money to, or do business with.
SBA Loan: 680+

Term Loan: 600+
Time in Business
The length of time your business has been registered and receiving revenues.
SBA Loan: 2 Years

Term Loan: 1 Year
Annual Revenue
Total amount of money your business received for the whole year.
SBA Loan: $120,00+

Term Loan: $25,000+
Profitability
The amount of money the business generated after all expenses were paid.

Calculated by: Revenue - Expenses (including all salaries of owners and other discretionary earnings)
Profitable and trending up
Real Estate With Equity
The equity in real estate is the difference between the fair market value of the property and what is owed on any outstanding loans or mortgages.
15%+ of Property Value
Debt to Service Coverage Ratio (DSCR)

Or

Debt Coverage Ratio (DCR)
The ratio of cash available for debt servicing for interest, principal, and any lease payments.

Calculated by: Net Operating Income / Total Debt Payments
Greater than 1.20 after the new loan terms are calculated in with your financial performance.
Credit Utilization Ratio
The percentage of a consumer's available credit that is being used.

Calculated by: Outstanding Credit Balances / Sum of Total Credit Limits
(Displayed as a percentage)

Less than 35%
Debt Consolidation vs Debt Refinancing Loans
Debt consolidation and debt refinancing are terms that are often used interchangeably. However, they actually refer to two slightly different types of loans.
Debt refinancing is generally referring to lowering your interest rates and payment amounts for a single loan.
Debt consolidation is the process of combining multiple debt payments into a single loan.
An SBA loan offers you the option to either refinance or consolidate your debt. Either could lower your overall payment amounts, and simplify your cash flow process to set your business up for a greater amount of success moving forward.
Bottom Line
SBA loans are a great option for business consolidation, but they can be difficult to qualify for, require lots of paperwork, and take 2-3 months to obtain. Online lenders have stepped in to offer term loans in a fraction of the time and with much easier application processes.
SBA loans offer the best loan consolidation option because of their low interest rates between 6-9%, and their long repayment terms of up to 10 years. SmartBiz offers SBA loans of up to $350K. You can typically qualify if your business has 2+ years of history, is profitable, and you personally have a 680+ credit score. You can prequalify in minutes online.