Business debt relief can be achieved through loan consolidation, expense reduction, renegotiating the terms of your current debt, or by increasing income. Loan consolidation and refinancing are the most common forms of small business debt relief, and can often result in lower interest rates, longer repayment terms, and less frequent payments.
An SBA loan with SmartBiz offers low rates and repayment terms of up to 10 years, making your monthly payments more affordable. This is a great solution if you're struggling with high-interest debt or high-frequency repayment schedules. You can prequalify with SmartBiz online in minutes and get funded within 30 days.
Small Business Debt Relief Options
Business consolidation loans are the most popular option for business debt relief, but other options may be a better fit for your business needs. Small business debt relief can be as simple as reworking your budget, increasing your income, or renegotiating the terms of existing debt. It can also take the more complex form of a debt management plan, hiring a debt consultant, or filing for bankruptcy.
The most important consideration when seeking the best small business debt relief option is whether you plan to continue to operate your business. If you do, it is essential that you find debt relief that preserves your personal and business credit. If you do not plan to continue operating your business, debt relief will be about eliminating debt while protecting your personal assets.
The seven best options for small business debt relief are:
1. Consolidation & Refinance
If you want to continue to operate your business, then defaulting on your current debt is not a viable option. Most small businesses seek debt relief from high-interest loans that require daily or weekly repayments. While this debt is typically taken out to solve a short-term problem, it can make it very difficult for your business to maintain a positive cash flow.
Refinancing those short-term loans with a longer-term, lower interest rate loan can reduce your monthly payments substantially.
Jenny Allen, Commercial Banking Specialist at NBT Bank, advises small businesses to, "Keep an eye on interest rates. Interest rates are extremely low again, which means you may want to consider refinancing your business debt at a lower fixed rate. Lower rates can make your payments more affordable, and reduce the overall cost of the loan over time."
Our small business debt consolidation calculator can estimate what your monthly payments would be if you were to refinance and consolidate your current debts with an SBA 7(a) loan.
SBA loans and alternative term loans are the two primary options for small business owners looking for debt relief through consolidation and refinance. SBA loans are typically the more affordable option, providing lower interest rates and longer repayment terms than other financing. This makes it ideal to be used to lower your monthly debt payments.
However, SBA loans can be difficult to qualify for, and the application process is time consuming. If you have an immediate need, or if you're not a prime borrower, alternative small business loans might be a better fit. Alternative loans often have higher interest rates, so be sure that the new loan you are using to consolidate debt will result in lower payments and total cost of capital.
SBA Loans for Small Business Debt Relief
Small businesses that meet the qualification requirements for an SBA loan will find that these loans offer some of the lowest rates and longest repayment terms available to small businesses. For that reason, they're often the most affordable option for small business debt relief.
However, SBA loan requirements are more stringent than the requirements for other loans and include:
Time in business: At least two years
Minimum credit score: 680
Loan amount: At least $30,000
Annual revenues: At least $120,000
Collateral: Required
In addition to the somewhat restrictive qualification requirements, applying for an SBA loan is a lengthy and time consuming process. In fact, it can take upward of three months to receive funding. However, with a 10 year repayment term and interest rates around 7%, it's difficult to find a more affordable option for loan consolidation. If your business meets the requirements and your refinancing needs are not immediate, you may want to consider an SBA loan.
SmartBiz is an SBA loan provider that can provide loans up to $350,000 to refinance your business debt. If you meet the qualifications above, you can fill out an online application and prequalify in minutes, and if approved receive funding in as quick as 30 days.
Alternative Term Loans
Alternative term loans are another good option for business debt consolidation. They often have repayment terms of up to five years and interest rates ranging from 8% to 36% APR. The minimum qualification requirements are less restrictive than an SBA loan and the loan can typically be funded in a fraction of the time.
General minimum qualification requirements include:
Time in business: At least one year
Minimum credit score: 650
Minimum loan amount: $5,000
Annual revenue: $50,000 in annual business revenues
These alternative loans are often offered by peer-to-peer lenders. There are a number of alternative term loan providers out there to choose from. The best peer-to-peer loan options can provide funding of up to $500,000 with repayment terms extending up to five years.
Applying for a small business loan with Lending Club is simple. You can pre-qualify online in a matter of minutes. Once you have pre- qualified, Lending Club will ask that you provide personal and business financial statements to support your application.
Benefits of a Debt Consolidation Loan
Choosing to refinance your small business debt generally gives you four distinct benefits:
1. Saves You Money
Consolidating and refinancing your debt using a loan with a lower interest rate and longer repayment terms than your current debt is going to most likely decrease your monthly payments. This can free up a significant amount of cash flow to be used for other expenses, or to reinvest back into your business.
2. Spreads Out Loan Payments
Longer repayment terms allow you to spread out the same amount of money you owe over a longer period of time. This means you might end up paying more interest through the entire term of the loan, but it also means that you'll be paying less on that debt every month.
3. Less Frequent Payments
Some businesses may have debt that requires daily or weekly payments. Depending on the payment cycle of your customers, this could be very difficult to manage. Small business debt consolidation loans typically only require you to make one monthly payment. This could help your cash flow throughout the month, even if your payments were for the same amounts.
4. Borrow Additional Working Capital
When you are applying for a consolidation loan for small business debt relief you may also want to consider applying for additional working capital. If you've improved as a borrower, or have paid off a significant amount of your current debt, you may qualify to borrow more than you currently owe. It's a good way to not only lower your payments, but also to get a quick cash infusion for your business.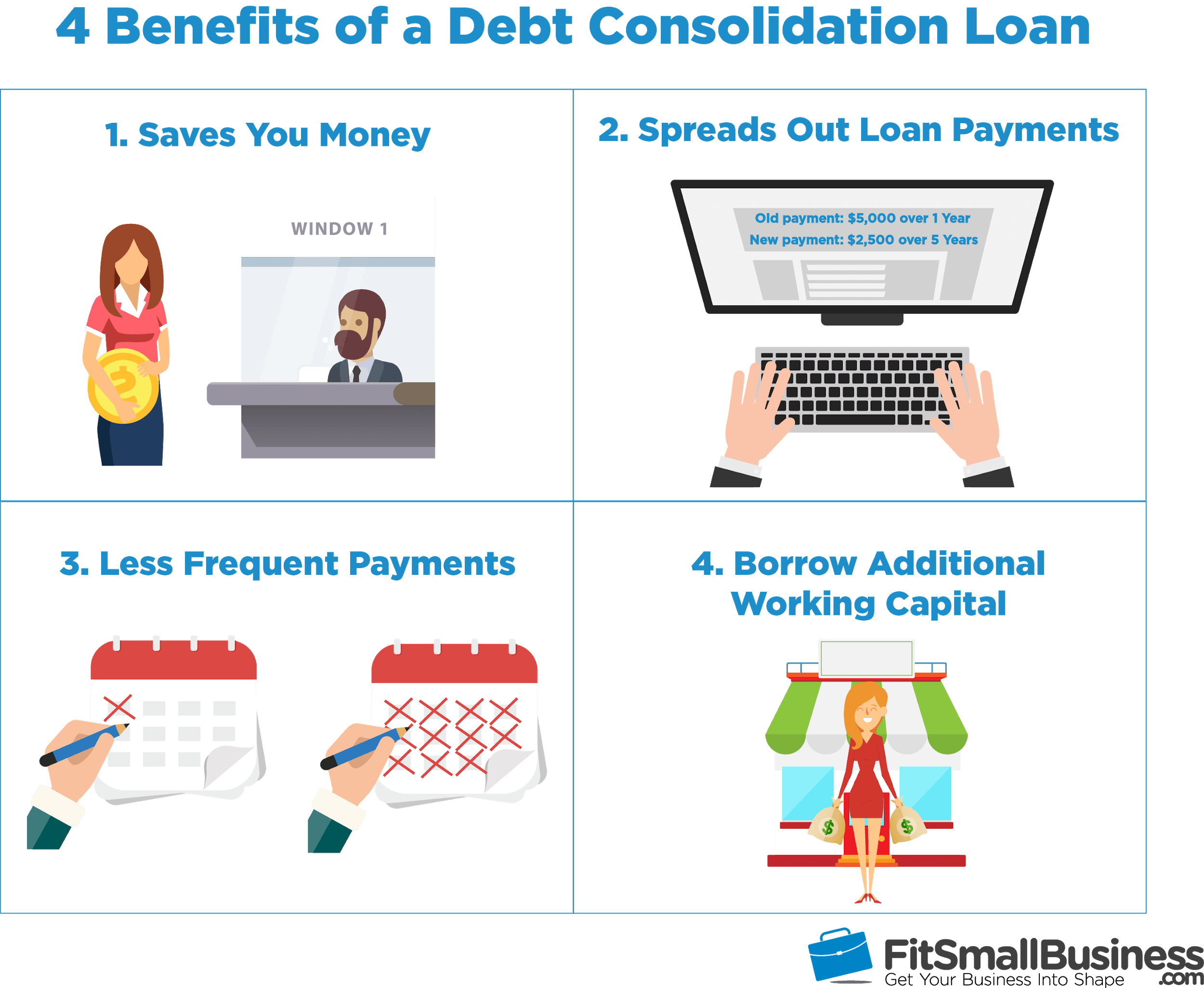 Your best option for debt consolidation is likely going to be an SBA loan, which routinely offers the lowest rates and longest repayment terms. SmartBiz can get you funded for a debt consolidation SBA loan up to $350,000 in as little as 30 days. Pre-qualify online in a matter of minutes.
2. Rework Your Budget
Before you pursue any small business debt relief options, make sure you've optimized your current budget. Being cognizant of the expenses within your budget will help you identify ways to improve your cash flow, which can help you meet your debt obligations. Evaluating your budget is also necessary because SBA loan providers and other lenders will want to see how you plan to make your debt payments after they've funded your consolidation loan.
When evaluating your budget, you need to identify any and all expenses that are not a necessity for your business. While you can't eliminate all expenses, there are likely some areas that you can cut or reduce spending to help you improve your cash flow. Prioritize the expenses that are not a necessity and start eliminating them, beginning with the least important.
Eliminating unnecessary expenses is a good short term solution to help you manage your debt payments, even if you don't see enough debt relief to solve all of your problems. Plus, it will make your loan application even better if you've done this before applying for a consolidation loan.
3. Increase Your Income
One way to improve the debt situation for your business is by increasing your income. While this may seem obvious, it's not always a simple task. Some ways of increasing income, and thereby improving cash flow, include increasing your customer base, promoting higher margin products, raising prices, and contributing additional personal income to your business.
Increase the Number of Customers
The most obvious way to increase your income is by increasing your customer base. By making more sales, you will increase your revenues and improve your cash flow situation. Consider offering inexpensive promotions to elicit new customers and drive traffic to your business.
Promote Higher Margin Products or Services
Consider what products you could add to your line that have higher margins than the products you currently offer. Increasing the sales of higher margin products or services will improve your bottom line and give you more cash to tackle debt relief efforts. Promoting higher margin products and services is unlikely to upset your existing customers or your creditors, and it may even bring in additional customers.
Raise Your Prices
Do a quick market study to determine if you have certain products or services for which you might be able to charge more. If you aren't going to lose customers and your prices will still be competitive in your market, then increasing your prices can provide an immediate boost in revenue. This additional revenue can be earmarked specifically for your small business debt relief efforts.
Contribute Additional Personal Income to Your Business
While you may not be able to directly increase your business revenues, you may be able to supplement your business with other personal income. However, this should not be a long-term plan to achieve debt relief for your business. Ideally, your business needs to be able to cash flow on its own without supplemental income from your personal accounts.
4. Negotiate Terms with Creditors & Trade Partners
Revisiting the terms you have with suppliers and trade partners can also play a role in small business debt relief. Simply requesting small changes in payment scheduling or interest rates can make a huge difference in your business's ability to handle its debt. These negotiated changes do not mean you're defaulting on your debt. In fact, the best time to do this is before you begin missing payments.
"Creditors that are being avoided, or that are not told the truth up front, are less likely to work with you. Many creditors would love to work out a payment schedule or a deal that will work for you because both parties benefit from doing so—especially if the alternative is a default.

The key is to stay in front of the situation, and make sure you communicate with your creditors before you default, if at all possible. Once a default occurs, they're likely to have less faith in your ability to both make timely payments and to communicate the truth to them."

—Al Levi, author of 7-Power Contractor.
Here are the four best items you can negotiate to get relief from your trade partners:
Adjust Payment Due Dates
Your creditors might be flexible with regard to your payment due date. Having a large amount of debt payments due at the same time can make it difficult to meet all of your debt obligations and increase your need for expensive, short term borrowing. Simply adjusting your payment due date may actually help you alleviate the business debt issues you're currently having.
Your creditors and trade partners have a very real stake in your business's ability to avoid a default. If a payment due date is creating a cash flow problem that causes a strain on your business, they would probably rather change the payment date than not receive a payment at all.
Increase Repayment Terms
The repayment term of your loan directly impacts the size of each payment. By extending the repayment terms, you can lower your monthly payment amount significantly. If you can get your creditors to agree to a longer repayment term, you may be well on your way to solving your debt problem.
However, while extending your repayment terms can help your cash flow in the short term, it may also increase your total cost of capital. That's because you may end up paying interest on your business loan for a longer period of time.
Receive More Favorable Terms from Trade Partners
You can negotiate directly with your trade partners to adjust your current payment terms. They may offer you additional terms, up to 90 days, if you have a history of paying on time. If you don't currently have net terms, see if they'll extend them to you but keep in mind that they may charge you a little more to do so.
Having a higher business credit score can help you get more favorable terms with your trade partners. In fact, Dun & Bradstreet reports will indicate your payment history with all of your trade partners. Your business credit report and business credit score can play a large role in the willingness of your trade partners to negotiate new terms.
Seek Flexibility from Your Landlord
If you lease space for your business and have a good relationship with your landlord, you may be able to negotiate some flexibility in your current payment terms. You may get the landlord to lower your payments or even defer them for a few months.
Finding new tenants can be difficult and time consuming for landlords. Usually, they would rather work with their current tenants and continue receiving rent payments on a timely basis. Landlords that aren't large corporations may be more familiar with your business and sensitive to local economic issues. This makes them even more likely to help your situation.
5. Create a Debt Management Plan
Nonprofit credit counseling agencies can help you create a debt management plan. These plans should only be considered if you have exhausted the options above. Debt management plans aim to consolidate all of your unsecured business debt such as credit cards into a single monthly payment.
The credit counseling agency will reach out to all of your creditors and ask for concessions on the interest rates they're charging you. Once agreements are made you will pay the agency directly and they will distribute the payments to your creditors.
While this can get you the debt relief you seek, there are some negative aspects of this option that you should be aware of, including:
It can typically take three to five years to repay your debts.
Your credit accounts will usually be closed.
Your enrollment into a debt management plan will show up on your business credit report, and it could negatively impact your score.
You may struggle to receive additional borrowing in the future.
One benefit to this option is you can outsource the effort of dealing with your creditors. You may want someone else to handle this for you so you can focus on growing your business. This can be a good solution if you don't qualify for financing and you're significantly behind on your debt payments.
6. Hire a Third Party to Settle Your Debts
Debt settlement is a reduction in the principal you owe your lenders, but it will have a negative impact on your credit. This should be the last move you consider before filing bankruptcy. These third parties are typically professionals that generally earn a percentage of the amount they save you.
While you won't lose your assets (beyond those pledged as collateral) if your creditors agree to take less money for your debts, you will be hurt by it. A settlement is typically done to lower the total amount of the debt you owe, but it damages your credit, because it will show up on your credit report as a default. This is not a decision that should be taken lightly.
While there are many non-attorney businesses that offer these services, we recommend working with an experienced attorney. They are the most qualified individuals to help your business navigate the settlement negotiations and to make sure all of the paperwork is handled properly so that your debts are fully settled with no future obligations.
7. File for Bankruptcy Protection
If making payments through a debt management program or negotiated settlement is not an option, you may need to consider filing bankruptcy for your business. At that point, a business bankruptcy may provide you with additional legal protection.
Filing a business bankruptcy can seriously impact both your business and you personally, and it should be a last resort. Make sure you find an attorney who is very experienced in bankruptcies for businesses of your size. This will give your business the best representation through the entire process.
Small Business Debt Relief Frequently Asked Questions (FAQs)
A lot of information has been covered in this article about small business debt relief and the options available to you as a small business owner.
Some frequently asked questions related to small business debt relief include:
How can small businesss get out of debt?
The most common ways for a small business to get out of debt are through consolidation and refinancing of existing debts, reducing expenses, renegotiating terms of current debt, debt settlement, or bankruptcy. The best option for your business depends on whether you intend to maintain or close your business.
What happens to debt when a business closes?
When closing a business you need to notify creditors and negotiate a debt settlement on any unpaid debts. Any collateral used to secure debts can be repossessed if the debt is not paid in full. Additionally, you will still be liable for the remaining balance of any debt for which you signed a personal guarantee.
How can a business reduce debt?
A business can often reduce the amount of its monthly debt payments by refinancing and consolidating debt with a new loan at lower interest rates and longer repayment terms. By reducing interest rates a small business may be able to reduce the overall cost of capital even without extending the repayment term.
Bottom Line
There are many options available to you as you seek small business debt relief such as negotiating with your creditors or improving your budget. The best option is likely going to be a consolidation loan, which can lower your debt payments and free up your cash flow. If you plan to continue operating your business then you should not fall behind on your current debt payments.
SBA loans will typically offer you the best debt relief solution, and allow you to refinance all of your debt into a single monthly payment. SmartBiz can get you funded for up to $350,000 and refinance your debt within 30 days. To qualify you'll need at least two years of business operations, be profitable, and have a credit score of at least 680. You can pre-qualify online within minutes.