Small business loans for women owned businesses (WOB) are essentially the same as any other working capital loan. Lender approval will primarily be based on the fundamentals of your business, your personal credit, and your ability to repay the loan. That said, there are a number of loan programs and lenders that have made it a point to expand lending to women owned businesses.
In this article, we're going to discuss:
Small Business Loans for Women Owned Businesses
Additional Resources for Women Owned Businesses
As we'll discuss in more detail, the SBA loan guarantee program is one of the best financing options for women owned businesses. SmartBiz offers loans of up to $350K with 10 year terms and rates starting at 6.5%. If you have a credit score of 680+ (check here for free), your business has been operating for 2+ years and generates at least $120K in annual revenue, you can get prequalified online in about 5 minutes.
Where to Get Small Business Loans for Women Owned Businesses
As we've mentioned, there is nothing drastically different about loans for women-owned businesses compared to financing for small businesses in general. Minimum qualifications, rates, and terms are the same as they are for any other business.
Startups, borrowers with bad credit or low revenue, and those looking to get a loan to buy a business are going to have a very difficult time qualifying for a business loan regardless of whether they're a WOB or not. In this section we'll review where relatively established women owned businesses with strong credit profiles can find financing.
There are three main options for WOB's to get a business loan.
SBA Loans
CDFI
Traditional Bank Loan
1. SBA Loans for Women Owned Businesses
If your WOB has made it past the startup phase and you are a prime borrower, then the best option for a small business loan will likely be an SBA loan. That's because the Small Business Administration has a policy goal of expanding capital to women owned businesses. As of March 2017, 18% of all SBA 7(a) loans are borrowed by women-owned businesses, so there is still some room for improvement.
When you get an SBA loan you're not borrowing money from the government. Instead, the SBA is guaranteeing the loan a private bank or lender is making to you.
The table below shows a snapshot of the SBA loan terms and qualifications.
SBA Small Business Loans for Women
SBA 7(a) Loans
Loan Amounts
$30,000 - $5,000,000
Annual Gross Revenue Requirements
$120,000+
Credit Score
680+
(Check your credit score here for free.)
Collateral Required
Sometimes Required; UCC Lien filed on business assets
Time in Business Requirement
2+ Years
Time for Initial Approval
1 Week
Time to Funding
30 - 90 Days
Average APR Range
6% - 9.5%
Fixed or Variable Interest Rate
Variable
Payback Time Period
10 - 25 Years
Apply for an SBA Loan
When an SBA Loan is Right for Your WOB
An SBA loan is generally right for prime borrowers with established businesses that are performing well. SBA loans are a great fit for a woman owned business when they're making big capital investments like large equipment purchases or buying real estate. This is not the fastest lending option, so you also must be willing to wait the 30 – 90 days to get funded.
Benefits of SBA Loans for a Woman Owned Business
An SBA 7(a) loan is a long term business loan with plenty of benefits, which include:
Longer Repayment Terms: You can get a 10-25 year SBA loan compared to 5 years or less with typical private bank loans.
Low APR: You will generally get the best interest rates and total APR by getting an SBA loan because the loans are guaranteed by the government.
Low Collateral Requirements: The SBA doesn't require collateralization of your loan. That means that you can still qualify for financing if you don't own property, which is not the case for many traditional bank loans.
You typically must have a credit score of at least 680, been in business for 2+ years, and gross annual business revenue of $120,000 or more. SmartBiz can fund working capital up to $350K and commercial real estate up to $5MM. Their seamless application process and team of experts can have you funded in about 30 days.
2. CDFI Small Business Loans for Women
Community Development Financial Institutions (CDFI) are smaller financial institutions, like community banks, that are dedicated to helping disadvantaged populations and businesses get access to affordable financing.
These CDFIs are certified by the Community Development Financial Institutions Fund at the United States Department of Treasury. The Treasury makes funds available to the CDFIs at special rates with the understanding the CDFIs will provide loans to certain populations and to promote certain projects that meet Treasury's policy goals.

When a CDFI Loan is Right for a Woman Owned Business
A CDFI loan is good if you are in a disadvantaged area or are a less than prime borrower. If your business helps disadvantaged populations or disadvantaged markets then it may be easier to get approved for a CDFI loan than for more traditional financing.
Benefits of a CDFI Business Loan for Women
A CDFI loan is a good option with benefits that include:
Community Bank: When you borrow from a CDFI lender you are typically going to be using a smaller community bank that is familiar with your geographic area. It can be much easier to deal with a local bank through the application process and management of a loan than it might be with a national lender.
Easier to Get Funded: You have a better chance at being approved because the population of qualified applicants of these loans is narrowed.
You can find a local CDFI lender by clicking on your state in the map above. We have not reviewed these lenders, other than acknowledging that they are CDFIs and, as such, may have lending programs specifically for WOBs.
3. Traditional Bank Loans for Women Owned Businesses
Who a Traditional Bank Loan is Right For
These loans are typically right if you have a strong existing business relationship with the bank you are going to borrow from, or if you are a high net worth individual. Either of these circumstances may help you get special terms through traditional banks. In most cases, traditional bank loans will have tighter lending requirements than SBA loans or CDFIs.
Benefits of a Traditional Bank Loan for Women
Finding a private bank that has a special financing option for women-owned small businesses has many great benefits, including:
Less Paperwork: Getting an SBA loan can be document heavy. Providing the documentation for a private bank loan won't be easy by any means, but it typically will require less than an SBA loan will. An SBA loan requires extra SBA Forms you must fill out as part of the application process.
Specialize in Loans for Women: Lenders with these specialized programs typically set a certain amount of funds aside only for women who qualify. This increases your chances of getting funded when you meet their qualifications.
Other Small Business Loans for Women Owned Businesses
Government Socially Disadvantaged Applicant Funding
Many government agencies, such as the SBA and the VA, have programs designed to help women business owners. However, most do not have loans that are specifically designed for women owned businesses.
Instead, agencies like the USDA have set aside funds for their loan programs to lend to applicants that fall into the category of being disadvantaged. These programs aim to help women, veterans, and business owners in disadvantaged geographic areas to get access to the funding they need.
Alternative Business Loans for a Woman Owned Business
All business loans are open to women-owned businesses. Government backed loans and business loans from traditional banks are generally difficult to qualify for and have funding times of around 1 month. Sometimes small business need a loan with easier qualifications, a less time consuming application process, and quicker funding times. In those cases, women owned businesses may be better served by a short term business loan or a peer to peer loan for small businesses.
Women Owned Businesses: What You Need for Loan Applications
To qualify for loans, or programs, specific to women-owned businesses you will need to certify as a woman owned business before applying. You can do this by registering with a third party approved by the SBA, such as the NWBOC or the WBENC. Certification with a group like this shows lenders that your business meets SBA guidelines for woman owned small business (WOSB).
Once you've been certified as a WOB, you should assemble a thorough and complete loan application. That will mean gathering information and documentation to take with you when you initially meet with your lender. For example, here is a list of the personal and business documentation you may need to have ready when you are applying for an SBA loan:
Business Financials
YTD Profit and Loss (P&L) Statement
YTD Balance Sheet
Projected Financials (1-3 years)
Business Overview and History
Proof of Ownership
Business Certificate/License
Loan Application History
Business Tax Returns (last 2 years)
Personal Tax Returns (last 2 years)
Personal Financial Statement
Owner Resumes
Business Lease
Applying for SBA loans with traditional lenders can be a time consuming, tedious process. Plus, they can take up to 3 months to get funded. Our recommended SBA loan provider, SmartBiz, has made the SBA loan application process streamlined and fast. They can fund working capital up to $350K and commercial real estate up to $5MM. Get prequalified online in just a few minutes.
Resources to Help Women-Owned Businesses Get Funded
While there are not many loan programs specifically for women owned businesses, there are many other resources that are specifically available for WOBs. These resources can help you in a number of different ways such as through financial counseling and business planning. Some will even help you find loans that are targeted towards you and your business.
We've grouped these WOB resources into four main categories:
SBA & Government Resources
Bank Sponsored Resources
Women-Focused Incubators
Grants for Women Owned Businesses
1. SBA & Government Resources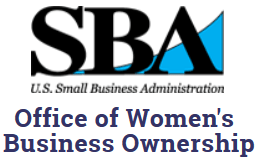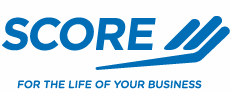 2. Bank Sponsored Resources




3. Women-Focused Incubators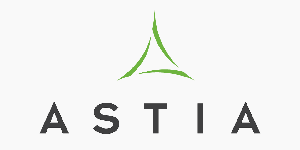 4. Grants for Women Owned Businesses
Grants can be a great option for women who need cash but are not in a position to make payments on any debt. Typically grants are received in the idea or very early business stage to help women get their businesses off the ground, but there are grants for all business stages. There are many grants available just for women-owned businesses, and even more available if you fall into other disadvantaged categories like being located in a rural area. Some of the resources you can search to find the right grant for you include:
Find Investors for Your Small Business
If what you're really looking for is to find investors to partner with then you may have plenty of options as a female business owner. Many venture capital firms and family offices devote investment money to women-owned businesses, especially if you have an early stage business. Some examples of firms looking to invest in businesses led by women are:
Bottom Line
Despite there not being many small business loans for women specifically, female small business owners are still borrowing at a significant rate. A study done by Bank of America shows 23% of all small businesses owned by women obtain a bank loan similar to the ones discussed in this article. A further 28% are regular users of small business credit cards.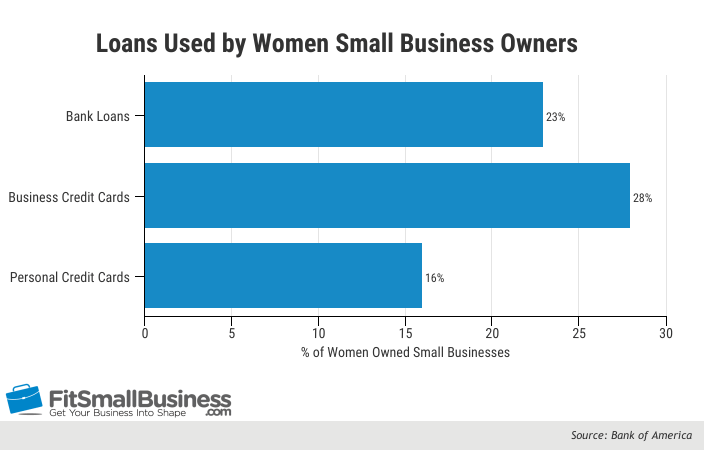 The best small business loans for women are likely going to be SBA loans. The strongest borrowers might find good terms with a traditional business loan through national banks as well, while less than prime borrowers might have better luck with a CFDI.
To qualify for SBA loans, you typically need a credit score of 680+, have been in business for 2+ years, and gross annual business revenue of $120,000+. If you meet these criteria, SmartBiz can fund working capital up to $350K and commercial real estate up to $5MM. Get prequalified online in just a few minutes.