There are numerous small business loans available to you, depending on your creditworthiness, current business performance, and desired use for the funds. You can learn which one might be right for you by filling out the quiz above or by reading through the brief summaries of each loan type below.
The 11 most common small business loans are:
1. SBA Loans
An SBA loan is guaranteed by the Small Business Administration (SBA) and they typically have the best rates and longest terms of all small business funding options. They're a great fit for long term financing and can be used for working capital, to buy a business, or to refinance your business debt.
SBA Loan Details
Loan Amount: Up to $5 million
Interest Rate: 5% – 10% (check current SBA loan rates)
Origination Fee: 0.5 – 3.5%
Loan Packaging Fee: $2k – $4k
SBA Guarantee Fee: 3 – 3.5% (waived if loan amount is under $150k)
Repayment Terms: Up to 10 years
Time to Funding: 30 – 90 days
---
2. Working Capital Loans
Working capital loans are typically offered by online lenders who can leverage technology to analyze your credit profile and get you funded in as quick as 1-3 business day. These loans are great for short term working capital needs. They have an expensive APR, but the total cost of capital can be less than carrying a long term loan for 5 or 10 years because of the repayment term.
Working Capital Loan Details
Loan Amount: Up to $500k
APR: 30 – 50%
Repayment Terms: 1 Month – 3 Years
Time to Funding: 1 – 3 Days
---
3. Small Business Line of Credit
A business line of credit is a revolving line you can repay and use over and over again. You'll only pay interest on the amount you borrow and you won't have to get approved every time you need funding. In this way, it works like a small business credit card with higher limits. This is a great financing choice for businesses with unexpected expenses or recurring cash flow gaps.
Business Line of Credit Details
Credit Line: Up to $100k
APR: 9.99 – 40%
Repayment Terms: Up to 12 Months
Time to Funding: 1 – 3 Days
---
4. Business Credit Cards
Business credit cards offer a small credit line you can borrow against over and over again. They're the easiest form of financing to qualify for and should be a part of every small business owner's financial toolkit. Many come with 0% introductory rates or benefits like cash back or rewards points for using the card. You can use these rewards to benefit your business for working capital expenses you'll pay.
Business Credit Card Details
Credit Line: Up to $100k, but typically less than $30k
Interest Rate: 12 – 29%, some have 0% introductory offers
Annual Fee: $0 – $350+
Repayment Terms: 30 days or you'll be charged interest with no official due date
Time to Funding: Instantly – 1 Week
---
5. Equipment Financing
Equipment financing is the best choice for businesses looking to purchase large equipment with a long shelf life. The equipment itself serves as collateral for these small business loans, which makes this a very affordable financing option. This can be structured as either small business loans or leases, with the amount you'll pay to own the equipment being the biggest difference.
Equipment Financing Details
Loan Amount: $10k – $500k (up to 95% of equipment costs)
Interest Rates: 6 – 9%
Repayment Terms: 2 – 7 Years
---
6. Accounts Receivable (AR) Financing
Invoice financing – or AR financing – is a loan collateralized by the invoices you've billed your customers due in the next 90 days. Essentially, the lender will provide the money you're expected to receive from your customer invoices in exchange for a percentage of that invoice value, or a small fee. This is a great option for businesses that bill on net terms.
AR Financing Details
Financing Amount: Up to $5 million (value of invoices)
Fees: 2 – 5% per month
Repayment Terms: 1 – 24 Weeks
Time to Funding: 1 – 3 Days
---
7. Invoice Factoring
Invoice factoring is available to businesses that invoice B2B or B2G businesses. It is short term working capital in exchange for a percentage of the value of your invoice. Unlike AR Financing, with factoring you'll sell your invoices to the Factor (lender) who will collect the invoices on your behalf and refund you anything leftover after they take out their fees.
Invoice Factoring Details
Line Amount: $10k+ per month (up to 80% of invoice value)
Fees: 0.5 – 5% per month
Repayment Terms: No payments up to 90 days
Time to Funding: 3 – 10 Days
---
8. Purchase Order Financing
PO financing is an advance from a financing institution to your supplier for goods you're re-selling or distributing to customers who've completed a purchase order. You can finance up to 100% of the purchase order costs with rates starting at 1.8% per month. This is a good option for companies that need capital to fill existing orders that are billed on net terms or upon delivery.
PO Financing Details
Line Amount: Up to 100% of the costs of goods needed to fulfill your customer's written order
Fees: 1.8 – 6% per month
Repayment Terms: 60 Days or less
Time to Funding: 1 – 2 Weeks
---
9. Rollover for Business Startups (ROBS)
A ROBS is a way to finance your business or pay for the downpayment of an SBA loan by rolling over your retirement savings without paying taxes or early withdrawal penalties. This is a great option for business owners with $50k+ in a qualifying retirement account. A ROBS can be a complicated transaction, which is why we recommend working with an experienced provider.
ROBS Details
Funding Amount: $50k+ to work with a ROBS provider that can with the rollover
APR: None
Setup Fee: $4,999 (if you work with a ROBS provider)
Ongoing Fee: $129 – $139 per month for up to 10 eligible employees
Repayment Terms: None – no loan payments because it isn't a loan
Time to Funding: 2 – 3 Weeks
---
10. Microloans from Nonprofit Lenders
Borrowers with average to bad credit or who lack sufficient collateral for long term loans can look at a microloan if they fall into a specific group like veterans, women, or minorities. These are small special interest loans up to $50k for borrowers with rates as low as 8% that are geared towards helping new or small businesses.
Microloan Details
Loan Amount: Up to $50k
Interest Rate: 8 – 13%
Repayment Terms: Up to 6 Years
---
11. Merchant Cash Advance
A merchant cash advance (MCA) is a lump sum cash advance given in return for a daily percentage of your credit and debit card receipts. These are expensive loans with APR as high as 120% or more, and should be considered a last resort financing option. You'll only qualify if you bring in most of your revenue through credit card payments, and is good for seasonal businesses that need to plug cash flow gaps.
Merchant Cash Advance Details
Finacing Amount: $10k – $1 million
APR: 80 – 120%
Repayment Terms: Daily, up to 24 months
---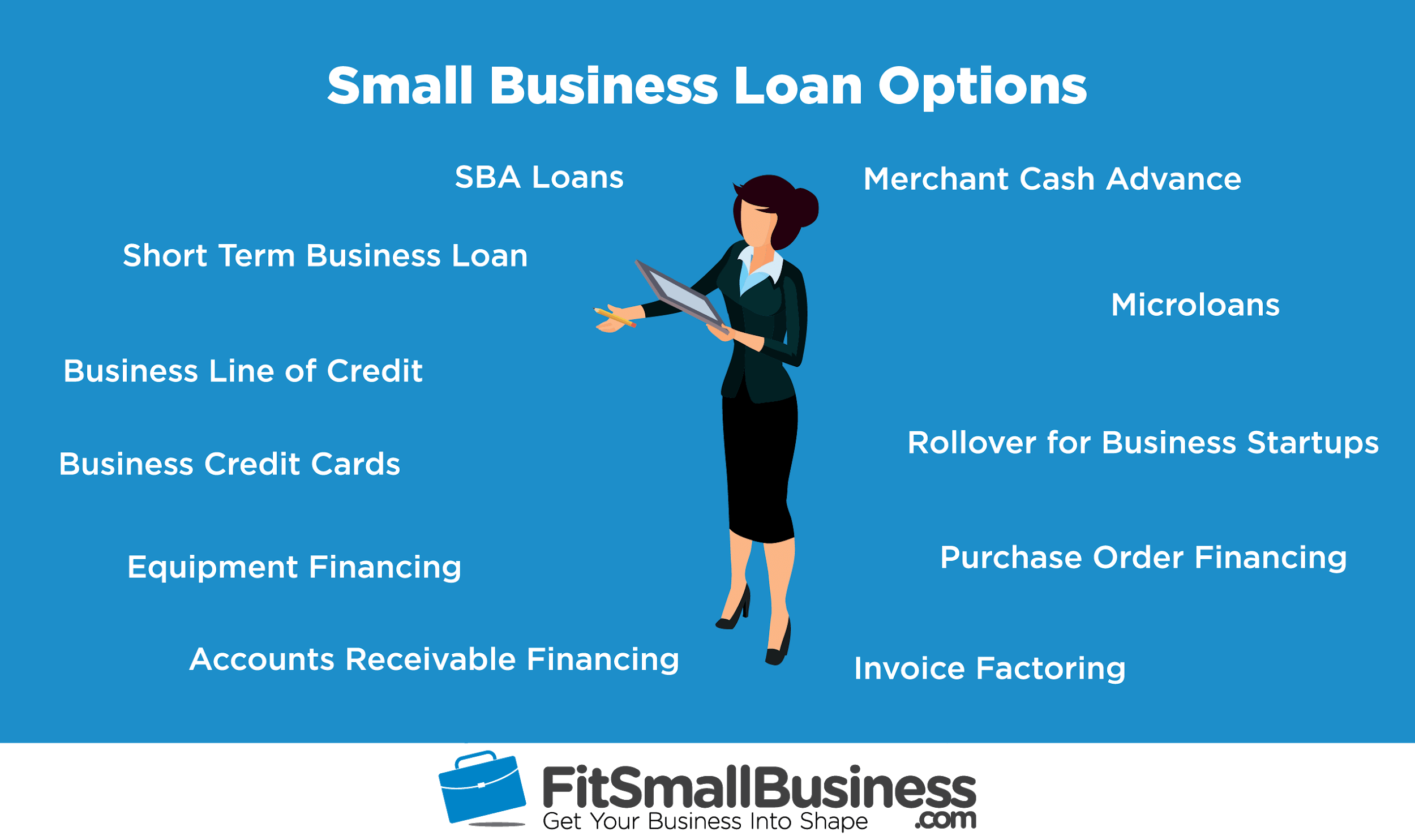 Bottom Line: Small Business Loans
As you can see, there are plenty of small business loans available for all different types of borrowers. For prime borrowers, we recommend getting an SBA loan which has the best rates and longest terms of all financing options. For a revolving credit line to handle recurring payments, we recommend looking at a business line of credit or a business credit card.