Small Business Saturday, an idea conceived by American Express in 2010, was created to put small businesses with fewer than 150 employees under the limelight and help them generate revenues during the busy holiday season. This year, you can show your love to local businesses and shop small with friends and family on November 25, 2017.
Sales Trends on Small Business Saturday
Small Business Saturday has been making waves since its 2010 inception. The US Senate even officially recognized the day in 2011, and last year, President Obama took his daughters out to buy books and sweets to show support for small businesses. As public officials have publicized the day, more and more consumers have gone out to shop, generating billions in revenues for main street entrepreneurs.
The graph below shows how the number of consumers shopping on Small Business Saturday has grown over the last five years: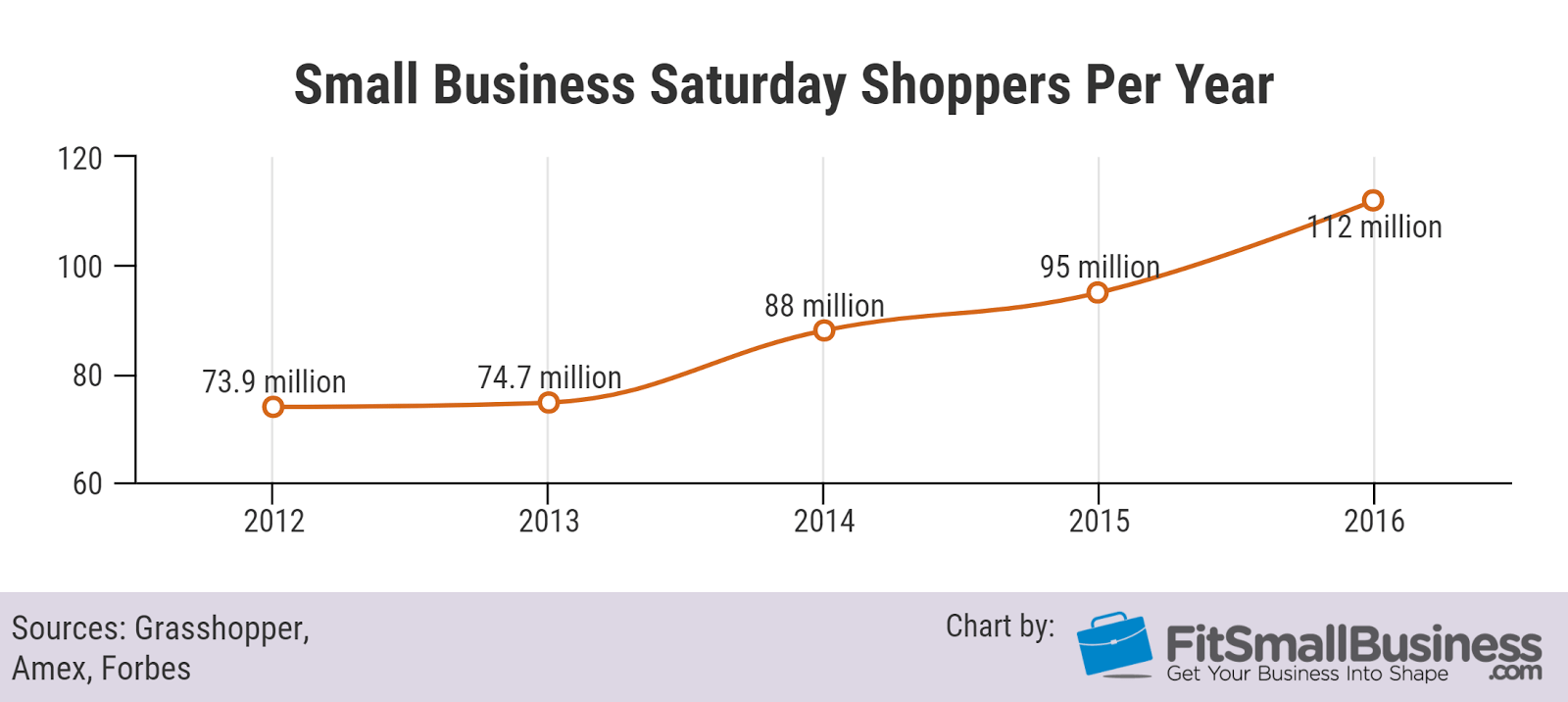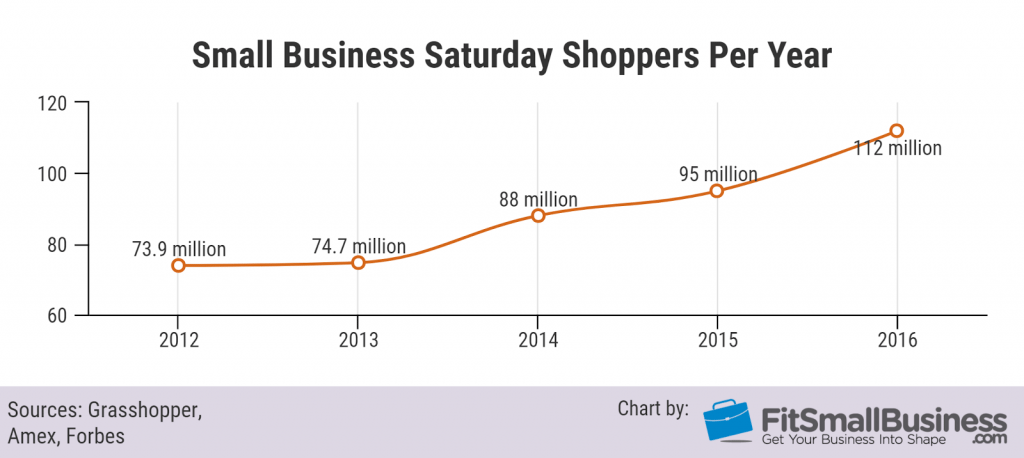 With the number of participants growing year after year, Small Business Saturday sales have also risen. From $5.5 billion in 2012, sales skyrocketed to $15.4 billion in 2016.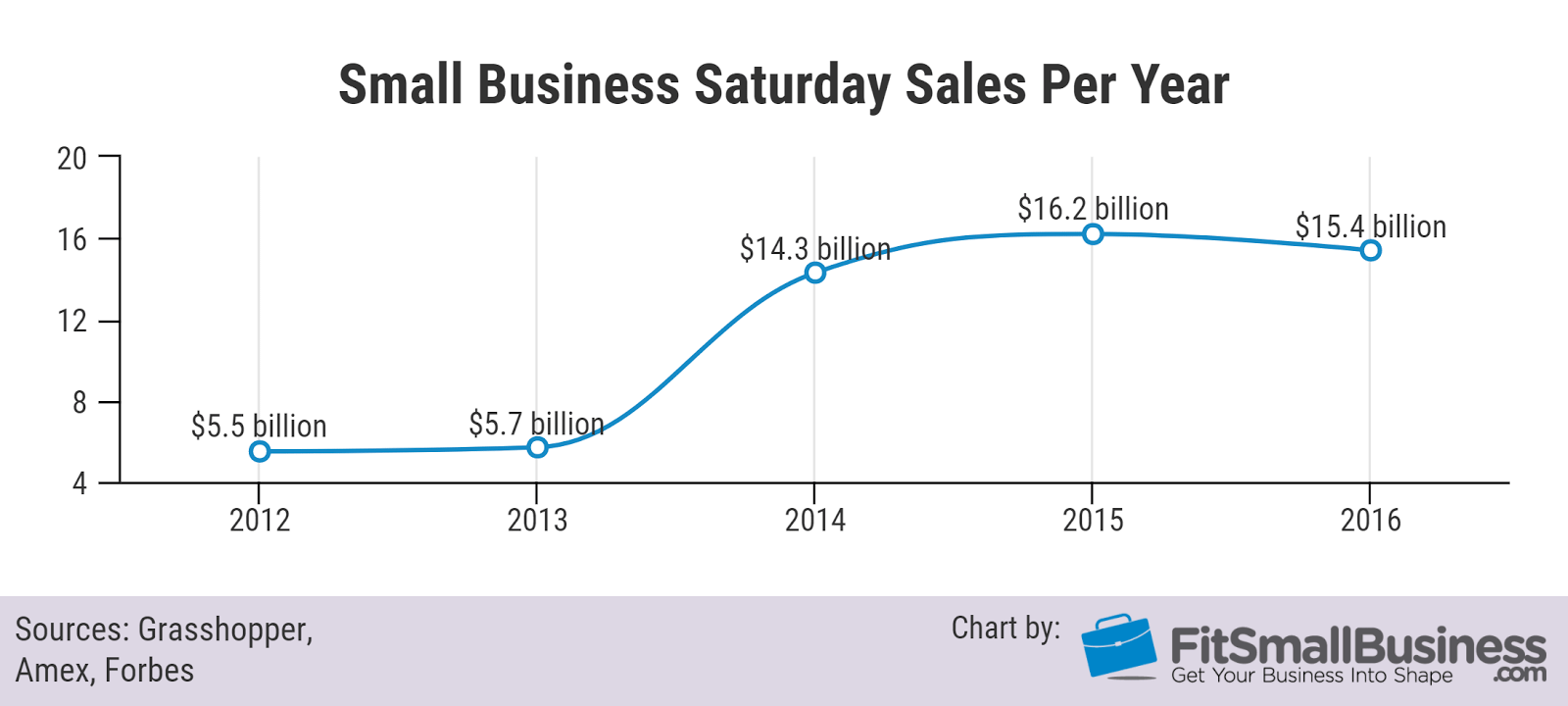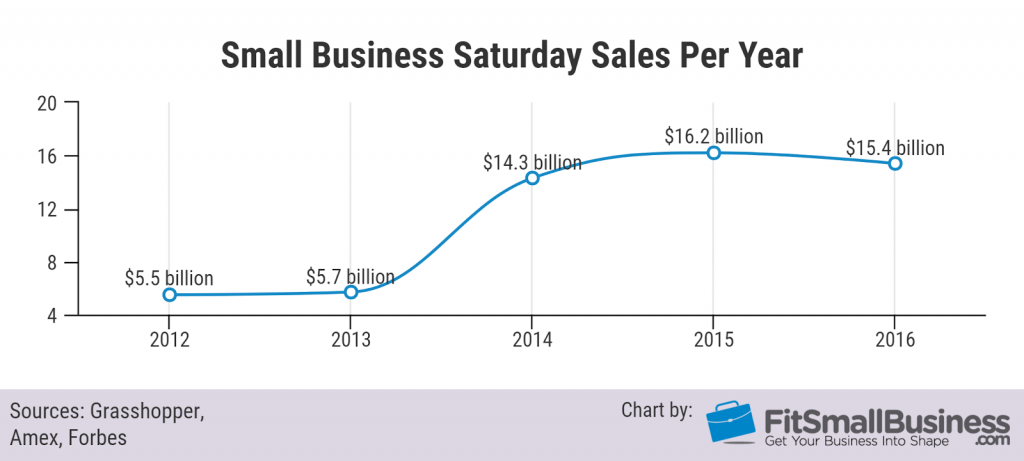 What Consumers Buy On Small Business Saturday
According to a SalesFuel study, 23 percent of US adults shopped during Small Business Saturday last year, and here's what they bought.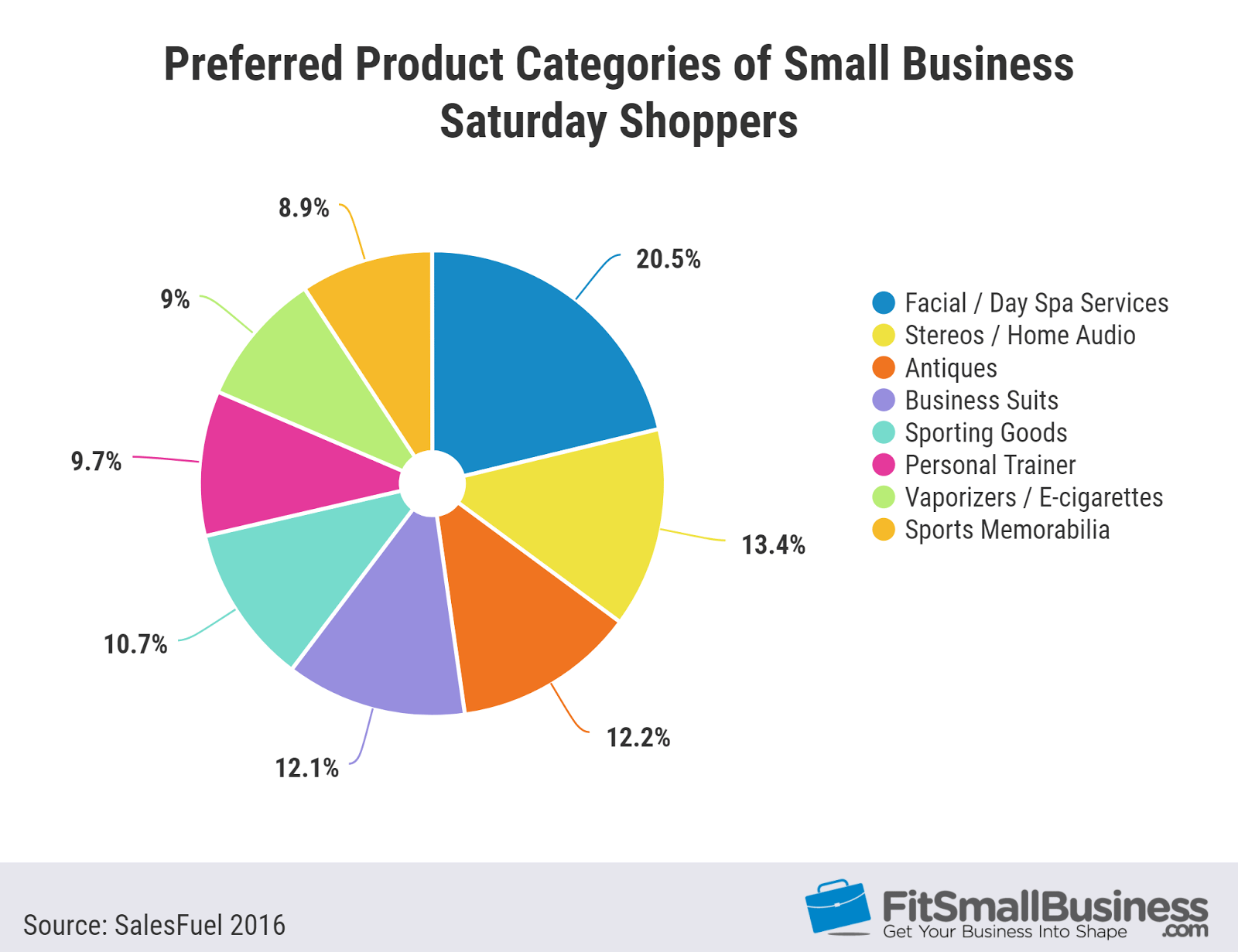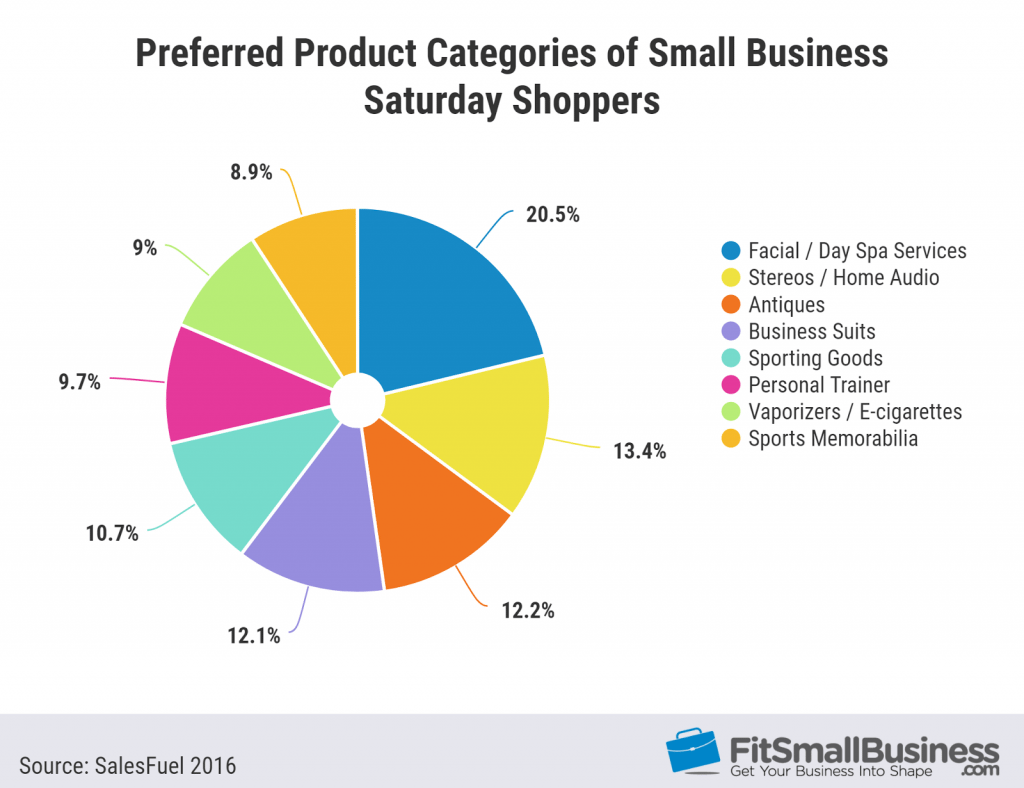 Not all consumers will come out just to shop. Others are looking to dine as well. American Express revealed that consumers who plan to shop on Small Business Saturday also intend to taste the offerings of local establishments. The survey showed that roughly 4 out of 10 consumers expect to visit restaurants, bars, pubs, and bakeries.
5 Top Small Business Saturday Trends For 2017
Building on the success of previous years, here are trends to look out for this year as we approach Small Business Saturday on November 25:
1. Prepare for Early (& Late) Shoppers
You don't have to have wait until Small Business Saturday to offer deals and discounts and start your promotional efforts. Last year, almost a third of shoppers started shopping as early as October. There's every reason to believe that people will be hitting the stores.
This is good news for small business owners. Early holiday shoppers can give you clues on the items that will probably be in demand come Small Business Saturday.
There are also always some stragglers that will do their shopping late. 15 percent of people plan to do their holiday shopping in December. So, save some of your holiday promotional budget for the last month of the year.
2. Target Millennials
Millennials hold considerable spending power, and they show it on Small Business Saturday. A Fit Small Business poll conducted in 2016 revealed that over 20 percent of consumers likely to shop on Small Business Saturday are Millennials. We expect this trend to continue or even grow next year as Millennials love to support local businesses.
Reach out to Millennials by running Facebook ads that target 25 – 34 years old on the days leading to Small Business Saturday. You can also come up with unique items or packages with this age group in mind. One more thing: consider offering free in store wifi. A little investment can pay off in a huge way as Millennials love to use social media to broadcast their location and activities.
3. Highlight Unique Items
One of the main reasons people love to shop small is to find one-of-a-kind products.
Get shoppers' attention by featuring products that they won't find in large retailers or other stores. If you're a local bookstore, for example, draw attention to limited edition titles or books signed by the author. If you're a local restaurant, advertise that you are offering a very special dish just for today. If big box retailers lure customers by discounting products, you can get people through the door by differentiating products.
4. Create a Website & Design It For Mobile First
Create a website if you don't already have one. Even if you have a brick and mortar shop, consumers research products and services online before hitting the stores on the holiday. For example, 68 percent of consumers research books, movies, music, and video games online before purchase.
When creating your website, think of mobile-first design. That means it's not enough to create a mobile-friendly website. You need to prioritize mobile for consumers that make their purchases on a mobile device. According to Facebook, people of all ages, but especially those under age 49, are completing purchases on mobile. And according to NetElixer, 35 % of holiday purchases this year will be on mobile!
5. Offer In-Store Pickup
You can even leverage the growing trend of mobile shopping by featuring products on your website and offering the option for consumers to pick up the item in store. A Google analysis reveals that almost 7 out of 10 consumers says that it's important for a retailer to offer the choice to pick up products in store or buy online. With the option to pick up in store, you eliminate the need to ship which saves you time and resources. Moreover, you still get to satisfy consumers' urge to touch the product and feel good about what they're buying, whether it's a gift or a purchase for themselves.
Perks for Small Business Saturday Participants
While any business can offer promotions or discounts on Small Business Saturday, there are certain benefits and free promotional materials that you can get from Amex's Shop Small website. Establishments that accept American Express Credit and Debit Cards are entitled to even more benefits.
Here are the benefits for all Small Business Saturday participants and merchants that accept Amex cards:
Small Business Saturday Perks For Participants
| | All Small Business Saturday Participants | Merchants that Accept Amex Cards |
| --- | --- | --- |
| Printable Signage | ● | ● |
| Shop Small Logo and Infographic | ● | ● |
| Email Templates and Sample Social Media Posts | ● | ● |
| Free Online Ads for Small Business Saturday | ● | ● |
| Printable Post Card | ● | ● |
| Digital Banner | ● | ● |
| Free Online Ads Throughout the Year | | ● |
| Appearance on the Shop Small Map | | ● |
| Inclusion in the AMEX Card Member Offer for Small Business Saturday | | ● |
Source: Amex
Out of these benefits, the two most important are probably the free Facebook ads and the Amex card member offer.
Amex purchases advertising inventory on Facebook and gives it away to its small business account holders for free. Small businesses can appear on people's Facebook feeds as a recommended place to shop. Everyone who signs up on the Shop Small website can enjoy this benefit on Small Business Saturday, but Amex members can take advantage of this perk throughout the year. Learn more about how to advertise on Facebook during Small Business Saturday and other times of the year.
Small business owners that accept Amex cards can also take advantage of the American Express Card Member Offer. Last year, Amex gave eligible card members 2X rewards points when they shopped at small businesses. In other years, Amex cardholders received statement credits of $10-30 as an incentive to shop at small businesses. Small businesses can get free promotional materials, such as signage and email templates, to tell their customers about the card member offer and motivate them to shop.
Bottom Line on Small Business Saturday
Small Business Saturday, which falls on November 25 this year, continues to see record participation from consumers and business owners year after year. People go out to show their love to nearby small businesses and communities, including politicians and celebrities.
Do you have other Small Business Saturday insights? Share them in the comments section below.