Fit Small Business polled 293 small business owners and employees to offer a glimpse of how small businesses leverage software to facilitate their day-to-day operations. For this year's run, the results provide insight on the types of software widely used by small businesses, the types used least often, and the most popular brands.
Key Findings from Small Business Software Survey
1. Most Small Businesses Are Not Leveraging Software
The biggest revelation from this study is the fact that small businesses, even in 2017, are still not taking full advantage of software to simplify and speed up day to day operations.
The survey reveals that no software category gained a 50 percent usage rate. In fact, many software categories earned less than a 40 percent usage rate.
Here's how the categories stacked up:
There are a few reasons why many small business owners may not use software. Some of them include:
Cost
Time to learn the software and train staff to use it
Issues integrating the software with other software that they currently use
Security concerns
While cost is often the biggest barrier to purchasing software, the time that's saved from using the right tools can more than make up for the cost of buying the software. Some software can also directly save you money. For instance, accounting software can help you spot financial inefficiencies in your business and tax saving opportunities.
2. Popular Brand Names Dominate Some Categories
In six of the software categories, one brand possesses the lion's share of the market. Among business owners and employees who used accounting software, 64.5 percent chose QuickBooks. MailChimp controlled 42.2 percent of the market in email marketing. 41.5 percent of respondents who use payroll software chose Intuit Payroll. Lastly, GoDaddy, WordPress, and Square reigned supreme in their respective categories of Web Hosting, Website Builder, and Merchant Services.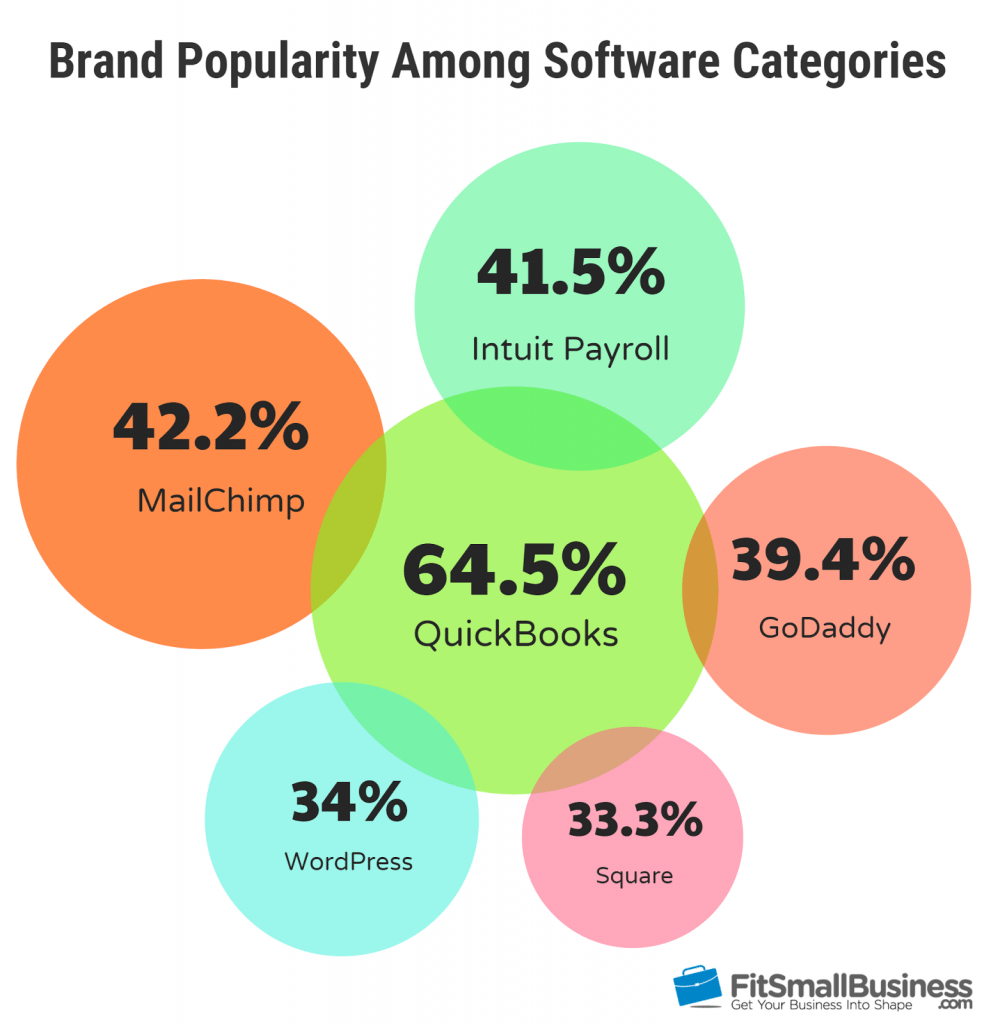 3. No Clear Consensus in Other Categories
It appears that small businesses do not have a strong brand preference when using POS, Lender, VoIP, and CRM software. No one provider made up more than 21 percent of any of these categories. For instance, respondents use over 40 different CRMs and more than 30 different VoIP brands. This shows that there is no clear market leader in these categories.
4. HR & Lending Software Are the Least Popular Categories
These two software categories were largely ignored by small business owners. These results support conventional wisdom that most entrepreneurs finance their business using personal funds. In terms of recruitment, there might be little need for small businesses to use an HR software because of their company size.
Survey Methodology

247 small business owners participated in our survey. They were asked to select all the software they use among these categories:
Email Marketing
Website Builder
Customer Relationship Management (CRM)
Accounting
Payroll
Point of Sale (POS)
Phone Service
Web Hosting
Merchant Services
Lender
HR Software
We asked a follow-up question to respondents who selected a particular software category. They were asked to either select or provide the brand name of the software they use. For example, if the respondent selected email marketing, the follow-up question offered a selection of well-known email marketing software brands like MailChimp, AWeber, Constant Contact, etc. If the brand is not on the list, the respondent was asked to manually enter the brand name. Respondents who selected multiple software categories were given a follow-up question for each category selected.
Bottom Line: 2017 Small Business Software Survey
Our Small Business Software Survey reveals that a huge percentage of small businesses are missing out on the advantages offered by software. But as your business grows, it may be necessary to invest in the right software tools to maintain a competitive edge.
Are you surprised by the results of our survey? Share your thoughts in the comments below!