A business system is a set of recurring tasks that helps your business operate efficiently. Software is often used to manage these systems. If there is a task in your business that you're doing over and over again, you can bet there's software—possibly free— to help with that task.
In this article, you will find 30 recurring or important tasks needed to get your business up and running. As a former small business consultant, I've personally helped clients set up many of these systems such as payment processing, email storage, and search engine optimization. Once these systems are in place and running smoothly, you'll be able to spend your time on the most profitable tasks in your business.
Payment Processing
Unless you're running a cash business, you'll need a merchant service to accept credit card payments. One of the most common merchant services for a small business is Square.
When you sign up for a merchant service, you'll also be able to accept online payments. Several merchant services, including Square, provide a free credit card reader. If you'll be accepting several payments a day, you may want a more secure system, such as a payment terminal. A payment terminal has built-in fraud protection and can print receipts.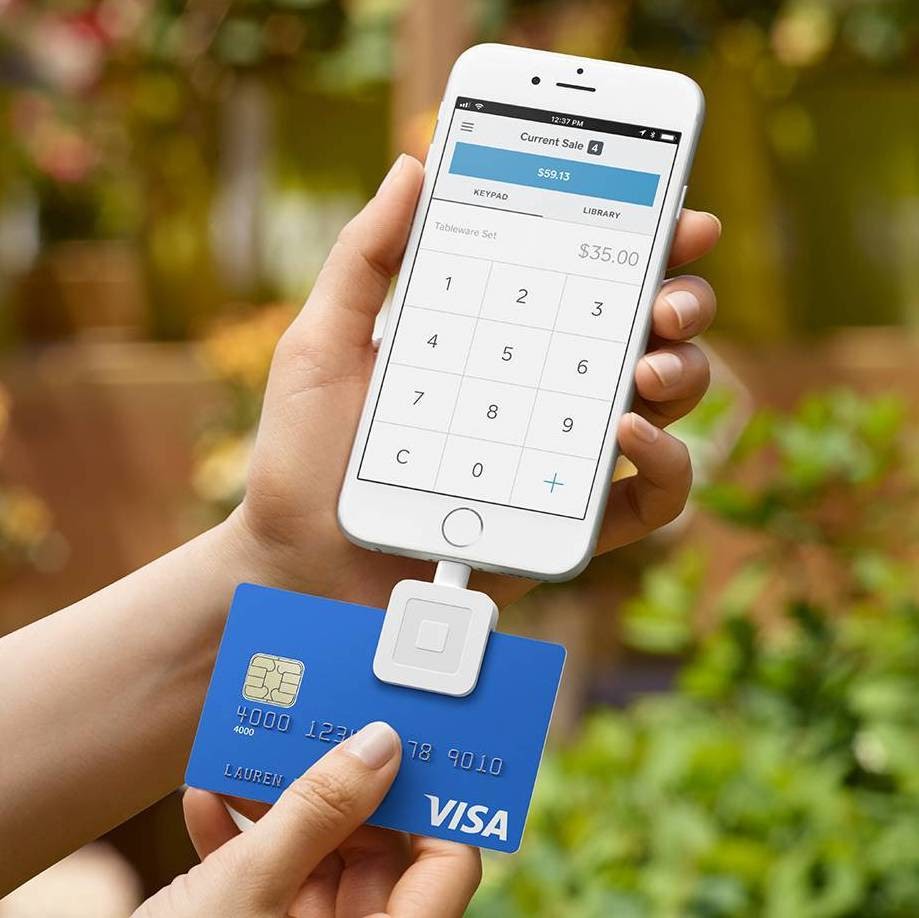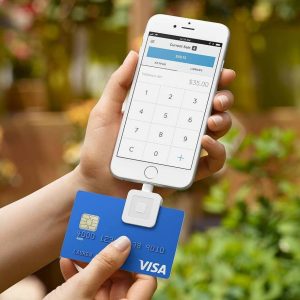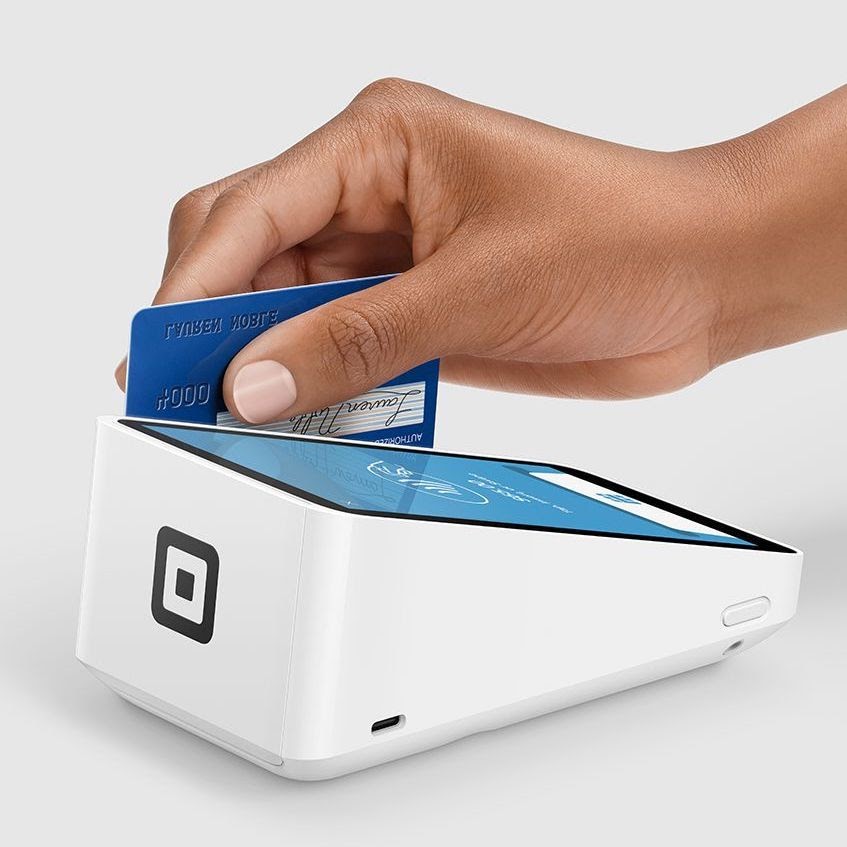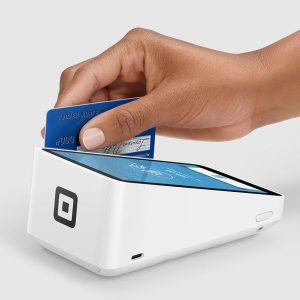 Square swipe reader versus terminal device
Bookkeeping
It's a best practice for all businesses to keep track of income and expenses. When first starting your business, you may track this yourself. As your business grows, you may find it more useful to hire a part-time bookkeeper to assist.
If you're overseeing the income and expenses yourself, using bookkeeping software will save you time. QuickBooks Online is one of the most popular accounting software for small businesses. Getting past the learning curve will be a challenge at first, but there are several free online training sessions to help you speed up the process.
Payroll Processing
If you have one or more employees, you'll need to set up payroll processing. This process ensures you're paying employees consistently, tracking their hours worked, and deducting payroll taxes.
Use a software to save time and put payroll processing on autopilot. Gusto is a low-cost payroll software that assists with benefits deductions, submitting payroll taxes, and depositing employee pay. If you don't have employees and pay 1099 contractors instead, Gusto can help manage those payments as well.
Business Tax Payments & Filing
As a business owner, you'll need to pay taxes owed by your business. The Internal Revenue Service (IRS) requires you to pay estimated taxes quarterly, and your state may as well—if it has an income tax. Federal and state governments require taxes be paid quarterly, so small businesses won't have huge tax bills at the end of the year.
The type of business legal entity you form determines how much you pay in taxes. To give you a simple example, if you form a single-member LLC, the income your business earns will be taxed as regular income (standard personal income tax brackets).
If you operate a business that has straightforward income and expenses, you may choose to file your taxes through the IRS. However, using software to file your taxes can save you time; H&R Block and TurboTax are good options.
Business Phone Number
A business phone number keeps company calls separate from personal calls. Often, you can add an additional phone number to an existing device so you don't need two cell phones or to add a landline.
There are a few different types of business phone numbers to choose from:
Local phone number: Starts with the local ZIP code. Costs $0-$10 per month.
Toll-free/800 number: Indicates a more professional or nationwide business. Costs $10 per month.
Vanity phone number: Memorable and great for advertising—includes a word or phrase in the number, such as 1-800-TELEPHONE. Costs $10 to $50 per month or higher.
Virtual phone number: When called, forward to an existing phone line. Costs $0 to $39.99 per month.
Branded Business Email Address
Every business owner needs a branded business email address because it is considered professional. What's considered a branded email address? Any email that ends with your business's name. For example, "(your-first-name)@abcdrycleaning.com" is considered professional.
Using a free email account that ends with a company that is not your business isn't professional. For example, when potential customers and vendors see "abcdrycleaning@gmail.com" they won't take your business seriously. Budget about $6 a month for a branded email address.
To get a branded email, I personally recommend Gmail For Business because it is the most affordable and secure email system—which means it's likely not to be hacked. If you're committed to starting your biz on a small of a budget as possible, you can get a free business email address. However, the software is not as easy to use as Gmail, and it's more vulnerable to hackers.
Business Website
Every business needs a website because it establishes credibility with potential customers. You don't want someone searching for your business online and not be able to find it.
Depending on the source of customers for your business, your website may be more or less important to your success. If your website is similar to a billboard where people only learn about your business, you can set it up and forget it.
However, if you're selling products, accepting payments, taking reservations, or booking appointments through your website, it has to be a system that is well-designed and functional. If there's a problem with functionality, you may lose customers.
You have several options on how to create your business website. First, you need to decide whether to build the site yourself or hire a pro? If you have the time and have a decent amount of tech skills, consider creating it yourself. If not, hire a local freelancer. Plan on spending a minimum of $2,500 for a quality website created by a freelancer.
Search Engine Optimization
Building a website and managing its content will help you get found online if a potential customer searches for your business name. However, most business owners want their business to be found in a search engine when someone searches for the product or service they provide. If you'd like this to happen for your business, then you need to do search engine optimization (SEO).
SEO is the practice of doing tasks online so that potential customers find your website in the search engines. If you're looking for local customers, then you'll need to do local SEO. Fortunately, it's not that difficult to understand what steps to take if you use a local search tool such as Moz Pro or Bright Local. Additionally, you could pay a company to manage your SEO for you.
Mass Email Storage and Marketing
No matter what business you operate, you need to stay in contact with your customers. Before you accept your first customer, create a system to collect and store email addresses (with their consent).
What many new business owners don't know is that you have to purchase an email marketing software to send mass emails. A typical email provider, such as Gmail, limits the number of addresses that can be emailed at once. Additionally, if you want to deliver a free digital resource from your website to someone's email inbox, you'll need email marketing software to do that.
Mailchimp is the software I typically recommend to new business owners. It has one of the best pricing plans available: The first 2,000 email addresses you store are free—which could take years to reach!
Social Media Management
You will likely use at least a couple of social media platforms for your business. As a full-time new business owner, it can be challenging to keep up with the different platforms— posting content and answering questions from followers. To make your life easier, use a social media management tool.
Many of these tools allow you to connect your various social media platforms to your account so that you can better understand your content and following: What type of posts are performing best? What social media platforms are getting the best engagement? Where are customers sending the most messages?
Sell Online
Selling your products online is a great way to diversify income for your business. There are two opportunities with online selling: current customers and new customers. Current customers may find it convenient to re-order products online. New customers may discover your business and products online and make a purchase.
Remember, in addition to your website, there are several platforms you can use to sell online:
Live Chat
Live chat allows visitors on your website to ask questions with the expectation that there will be a quick response. Many business owners assume live chat will be a nuisance and consume a lot of their time. That is not always the case.
Many live chat software sends questions directly to your phone, similar to a text. If you aren't available, you can post an away message on the chat. The typical small business only receives a few live chats a day. If a potential customer is choosing between you and a competitor, and they can chat with you immediately, that may be enough to earn their business.
Sourcing and Recruiting Employees
When you're ready to hire your first employee, your first task is to find that employee. Many business owners rely on word-of-mouth to find their first candidate—such as posting the job on Facebook.
If you're struggling with finding qualified candidates for your job opening, consider using a recruitment software. This type of software posts your job to online job boards and helps you keep track of candidates who have applied. This is a great way to outsource a sliver of your small business operations.
Employee Background Checks
Before hiring any employee, it's wise to conduct a background check on them. There's a few reasons for the background check.
To ensure your potential employee is who they say they are by verifying their Social Security number
So you know if they've been involved in any crimes and if so, the severity of those crimes
To confirm they can legally work in the United States; you'll need to submit an I-9 form
To easily conduct your background check, there is background check software available. They vary in cost and the services they offer. Expect to pay around $30 for a basic check.
Employee Scheduling
Your business may require you to schedule employees to work shifts. While you could write schedules by hand, consider using a free software to schedule employees.
When I Work is an employee scheduling software that allows you to create shift schedules that are published online for all employees to see. And it's $2 per user per month.
Employee Time & Attendance
Once your employees are signed up for a work schedule, you need to track the time they work. Instead of tracking it by hand, consider using a software that tracks hours automatically and allows the employee to clock in and out.
The ability to track employee time and attendance is often available for use in other software. For example, if you use When I Work for scheduling, you can also use that software for employees to clock in and out. Additionally, many point of sale (POS) systems include this feature as well.
Appointment Scheduling
Scheduling appointments can be a pain when you have to manage your and your employee's calendar, answer appointment phone calls, and send out reminders. One way to save time and energy is to use a free appointment scheduling software. If you're already using Square as a payment processor, it integrates nicely as an appointment scheduler as well.
Appointment scheduling software syncs with a work calendar and allows you to show the times you have open for appointments. Customers are able to schedule online without having to speak to anyone at your business. Additionally, the software will send out email or text reminders to customers who have upcoming appointments.
Employee Benefit Management
If you'd like to provide employees benefits, such as 401(k), health insurance, and life insurance, consider signing up with a professional employer organization (PEO). A PEO allows small and medium-sized businesses to pool employees together to get benefits that were once only offered at larger organizations.
If you sign up for a PEO such as Justworks, you'll also save money on payroll processing because it includes it as a service in its plan. Depending on the PEO services you sign up for, the cost may be as low at $42 a month or, with health benefits, as high as 8% of an employee's wages.
Lead Generation
Think of leads as potential customers. You'll want to create a system that earns you consistent, high-quality leads for your business. A common software small businesses use for lead generation is HubSpot. Use its Market Hub software to transition website visitors into qualified leads.
Leads can come from many sources:
Referrals
Organic search (website)
Paid search advertising
Online contact forms
Cold calling
Cold emailing
Trade shows
Advertising
When first starting your business, put additional resources into the sources you believe will result in the most leads. For example, if you believe your website will provide a substantial number of leads, consider hiring a quality developer to create a unique website with an appealing contact page.
Customer Management
As you grow your customer base, it's a smart business decision to store their information and track your communication. A customer relationship management (CRM) software assists with both of these tasks.
For example, if your business has a long sales cycle, you'll want to track customer interactions—document what is discussed and when. A CRM allows you to log initial customer information and update it as the relationship progresses into your first sale and beyond.
There are several types of CRMs available. Most new businesses will want to start with a free CRM software. For businesses that need a simple CRM now and want more features as they grow, consider Freshworks CRM.
Sales & Inventory Tracking
If your business makes multiple sales every day or has inventory to track, you'll likely need to purchase a point-of-sale (POS) system. A POS is a software and hardware package that helps track sales, monitor inventory, and assist with business operations such as employee management. One of the more feature-rich POS systems which also includes ecommerce is Lightspeed.
The point-of-sale software offers detailed analytics that allow you to understand your sales better. Learn what product sales are increasing, which are decreasing, and—if you have employees—who are making the most sales. Your POS sales data can sync to your accounting software, which will save you time.
Cybersecurity
Having a cybersecurity plan in place protects against both online and in-person threats. Two of the most common cybersecurity threats come from a disgruntled employee or a link clicked in an email, which is called phishing.
To protect yourself against an attack by a disgruntled employee, ensure no single employee has access to all passwords. For additional protection, change your passwords every three to six months. To avoid information losses, back up company data daily.
To avoid a phishing attack, train your employees to identify suspicious-looking emails and to never click on a link within an email. The link should be copied and pasted into a new web browser and inspected as a potential phishing URL.
Digital Document Sharing & Storage
As your company records processes, saves important documents, and creates marketing materials, you will need to save and share this information. Instead of storing documents on your computer and sharing as an email attachment, consider storing the docs in the cloud.
Storing documents in the cloud allow you to easily share documents with a single link. You can designate if those you share the link with can edit or only view the document.
If you're already using Gmail, you may want to use Google Docs, which is free to get started. If you're using Outlook as your email service, you may want to use Office 365 for digital document storage.
Document Shredding
If you're handling physical documents with sensitive data, such as Social Security numbers or medical information, you will need a system in place to shred the docs. Typically, a business will hire a paper shredding company to save on shredding costs and time shredding.
When hiring a company, there are three paper shredding options to consider. A company will either offer to pick up documents from your business and shred them at their location or shred them on-site at your business. Another more affordable option is to drop secure boxes of documents off at the shredding location.
Office Setup
When setting up your first office, consider layout, furniture, and business services. Regarding layout, will you be working alongside your team or have your own office? Will you have an open office environment or cubicles with more privacy? Make sure your layout is following the requirements outlined in the Americans with Disability Act (ADA).
For furniture, if you have employees working eight or more hours a day, it's wise to invest in quality chairs, desks, and computers. With quality equipment and technology, they won't become as fatigued or frustrated.
Also think: What does your furniture communicate to employees or customers? Do you have a structured, disciplined office or a more casual and creative office?
In regards to business services, consider your supplies, file storage, security, and communication systems. When setting them up, go low-cost, and then expand as needed. For example, you don't want to get in an expensive security system contract if it won't be needed long term.
Home Office Setup
Many first-time business owners choose to save on overhead expenses and work from home. Even if you have a business location, you want to prepare to work from home. You never know when family responsibilities, a natural disaster, or a pandemic may require you to spend less time in the office.
When setting up your home office, you'll want to consider furniture, decor, and productivity. For furniture and decor, you may want to create a separate area in your home for work. It's easy to blend a workspace with leisure space. Long term that may lead to a lack of focus. Regarding productivity, if you have other roommates, family members, or children in the home, you may need to enforce office hours to limit distractions.
Virtual Office Address
A virtual office address is a physical mailing address that you can rent. Virtual office companies can also provide a phone number and receptionist.
If you're starting a new business or working from home, having an address in a larger city may make your company look more established. Expect to pay anywhere from $50 to $200 per month for a virtual office address.
Internet Setup
Setting up the internet in an office can get complicated. You may need both private Wi-Fi for employees, and public Wi-Fi for customers. The building your office is located in may provide different types of internet, including digital subscriber line (DSL), cable, fiber optic, or T1/T3 (similar to DSL, but more reliable). You'll also need to determine your internet speed needs.
Before purchasing an internet package, it's best to talk to your business neighbors and ask what type of internet service they're using. Also, ask how many megabytes per second (Mbps) they are using. Mbps essentially determines the speed of your internet. The more internet data you use, the more Mbps you'll need—and the more costly your internet bill will be. A small office with two to three employees will need about 30 Mbps.
Video Calls
COVID-19 has led to decreased in-person meetings and a skyrocketing of video conferencing. People are now more comfortable than ever using video conferencing software. If you have a business that has customers across the US or around the world, video is a great way to keep up the relationship.
The pricing for video conferencing is affordable for the new business owner. Zoom is free-for-all one-on-one meetings. Any meetings with three or more participants are limited to 40 minutes. To get over 40 minutes per meeting, you'll have to pay $14.99 per month.
Business Phone Lines
If your business receives frequent calls from customers, and your employees will be speaking to several customers at once, you need multiple business phone lines.
A business phone line term you need to know is VoIP (voice-over-internet-protocol). VoIP is an alternative to the traditional landline. The main difference between VoIP and a landline is the use of the internet to transmit voice as data instead of using a copper wire.
When compared to a landline, VoIP provides more features such as voicemail-to-email translation, instant messaging, and advanced call-routing. Regarding pricing, VoIP with five lines will cost anywhere from $124.99 to $249.95 per month, whereas a landline will start at $295 per month.
Free Small Business Software
In addition to the software discussed in this article, I recommend you learn about other free software for small businesses. As a new business owner on a budget, I recommend starting with the basics of any software, see if you enjoy using it, and if so, purchase the full version.
Bottom Line
Whatever systems and software you decide to implement in your business, be patient. It's going to take several months before you become a pro in any given software. Plus, you may apply a system, such as getting leads, and quickly decide a more cost-effective method is available. Look at it from the long term: Create systems now and use software that makes your life as a business owner more manageable, not more difficult.